Coming back to Ithaca from cities across the United States and from countries as far away as Singapore, they are business leaders, accomplished professionals, and tireless community organizers. To the Big Red community, they are known as Cornell's "secret weapons"—as Frank H. T. Rhodes, president emeritus of the university, once described them.
Members of the Cornell University Board of Trustees and the Cornell University Council, more than six-hundred strong, gathered  for the Trustee-Council Annual Meeting (TCAM), October 19–21, 2017, on the Ithaca campus. Their mission: to plan for the university's future.
"In one place, during arguably the most beautiful time of the year in Ithaca, Cornell's most dedicated volunteers come together with faculty, staff, and students to celebrate and realize Cornell's potential," said Laura Denbow, senior director of the Office of Volunteer Programs, which coordinated the event.
"This year's theme, public engagement with a public purpose, especially highlighted the unique talent and commitment of our faculty, staff, and students who want to create and implement solutions to the world's greatest challenges through active partnerships with community members."
As TCAM attendees contributed their energy and knowledge to Cornell over the weekend, the university offered an abundance of insight and inspiration.
"We wanted to make sure that each one of you came away from this experience knowing what's going on on campus, knowing what the faculty are doing, knowing what students are thinking," said John Kuo '85, who co-chaired the TCAM planning committee with fellow council member Jonelle Bradshaw de Hernandez '96, in a speech at the all-council lunch.
He urged attendees to "take away how best we can contribute […] how we can be better ambassadors on behalf of the university."
Giving back and going back
Outside of their closed-door committee meetings, trustees and council members savored their time on campus by catching up on one of the things they missed the most: going to class.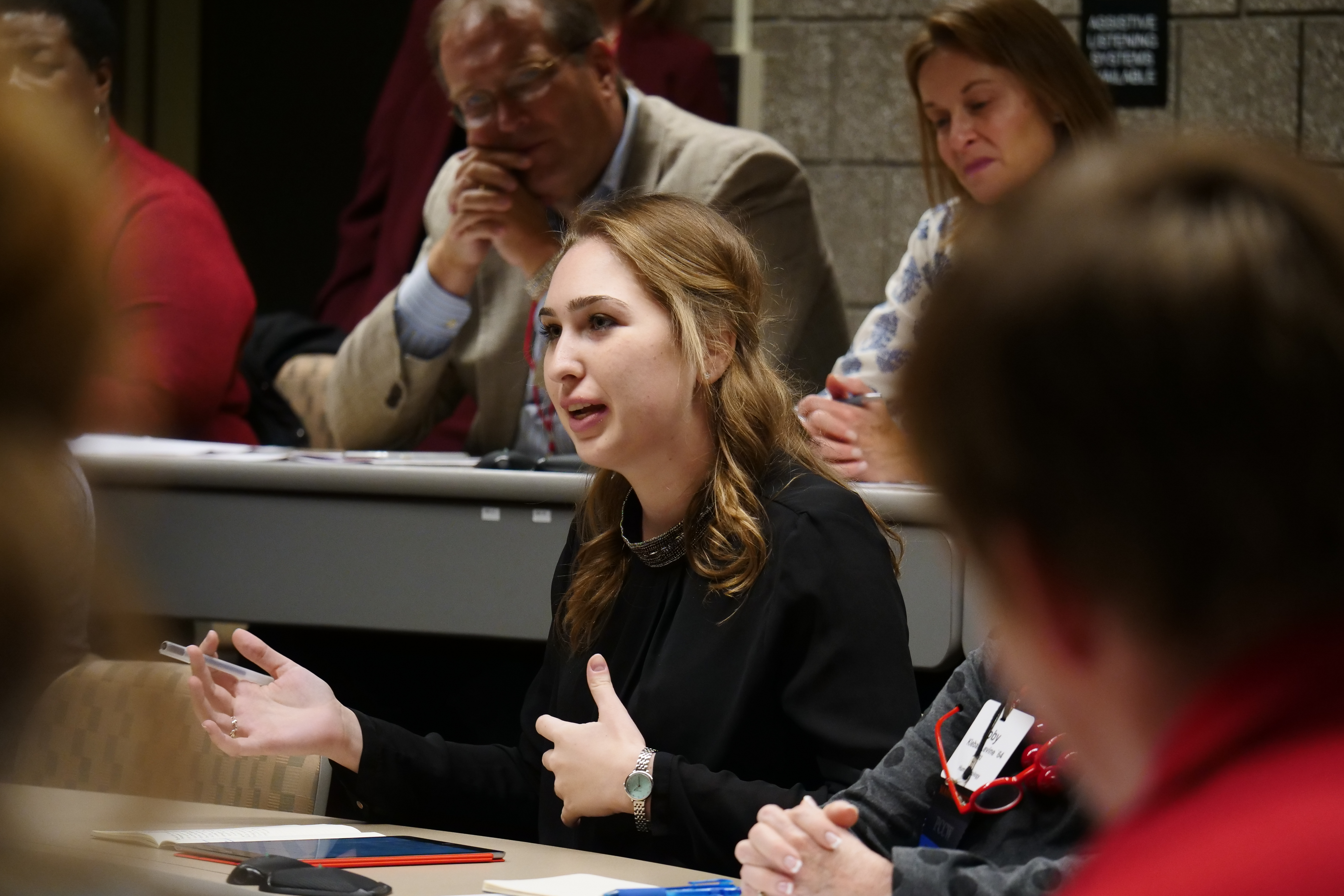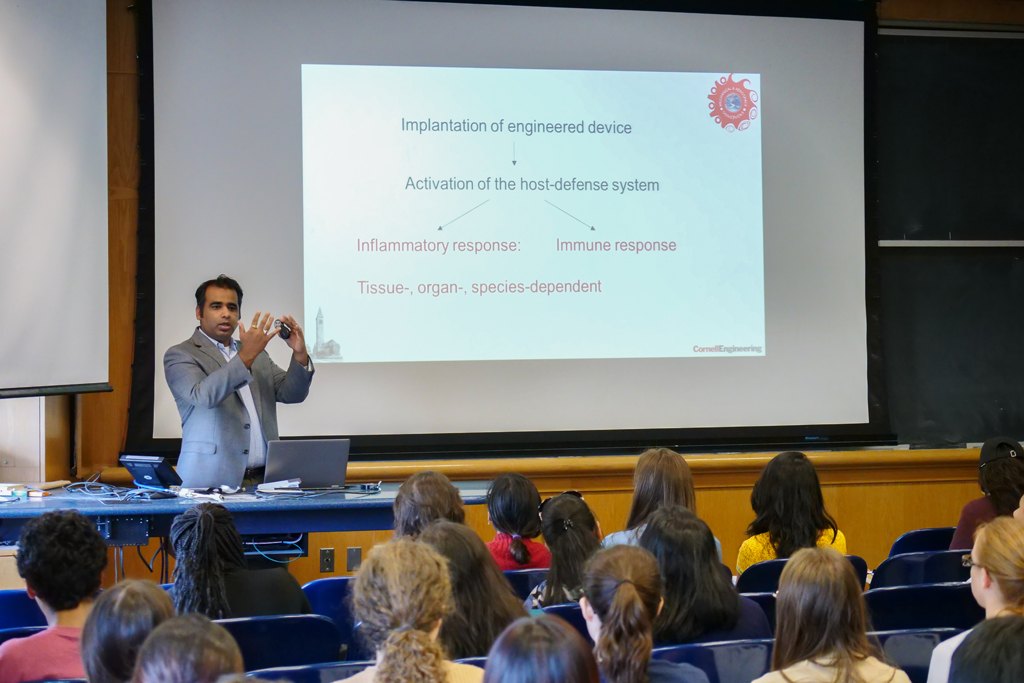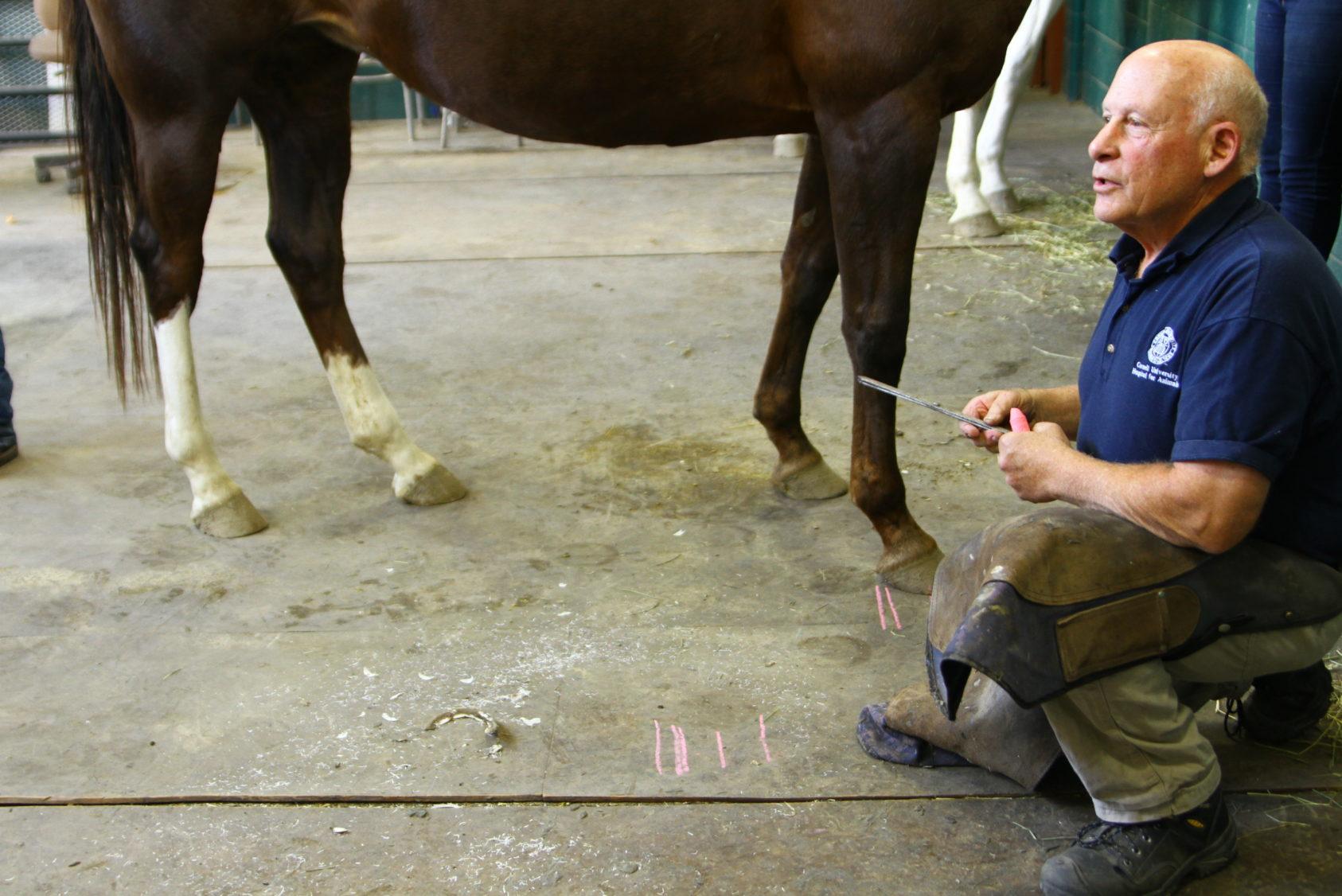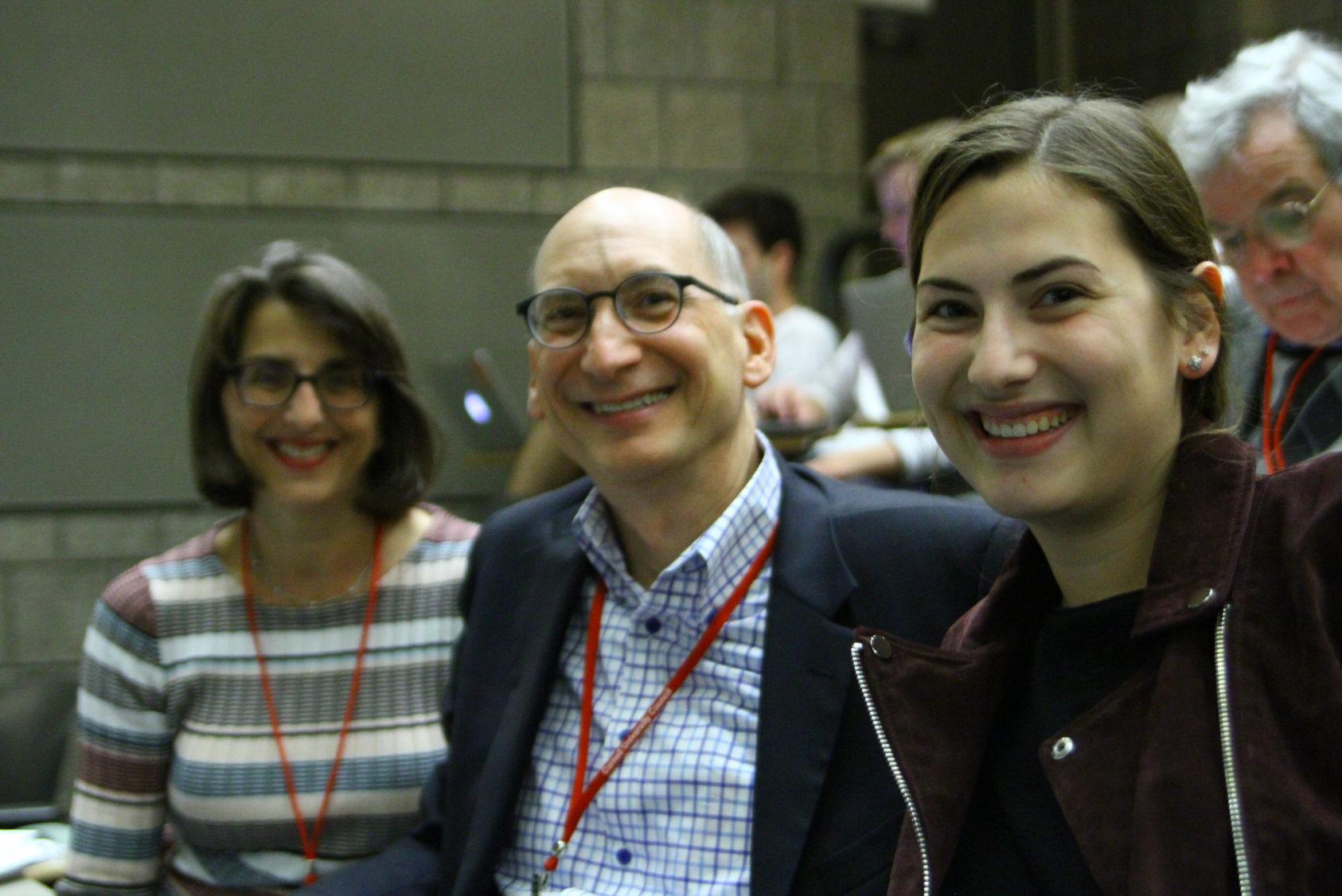 By popular demand, TCAM organizers expanded the classes that alumni were able to visit this year (25 all in all), and the topics were wide-ranging—from the history of hip-hop to the rarefied craft of farriery; from sports psychology to race and ethnicity in the United States. Alumni clustered in small classrooms and disappeared into large lecture halls, all the while sitting elbow to elbow with students.
A few attendees even joined their children in the classroom, like Dan Simpkins '80, MEng '81 and Irene Simpkins who dropped in on their daughter, Nina '19, at her "Designing Technology for Social Impact" course.
Engaging issues
Panel discussions featuring Cornell leaders and faculty members, together with community partners, explored critical issues and topics like immigration reform, racial inequality, and mass incarceration.
Cornell's many strengths in engaging both near and far-flung communities took center stage, including Engaged Cornell, Global Cornell, the Atkinson Center for a Sustainable Future, Weill Cornell Medicine, and the Cornell SC Johnson College of Business, among others.
Attendees also got exclusive front-row seats to new programs and initiatives.
In "Building Bridges between Ithaca and Cornell Tech," trustees and council members celebrated the just-announced launch of the Milstein Program in Technology and Humanity.
"The new Milstein Program in Technology and Humanity will provide not only a foundation for students to develop the technical, intellectual, and organizational skills they need to drive progress in the digital age, but also a context and ethical framework that will equip them to shape society for the better," said Cornell President Martha E. Pollack.
Council member Cindy Green '79 came away energized from "Crossing the Photographic Divide: Mining and Making Meaning," one of six university spotlights: "I was so thrilled and excited to learn about the new and institutionalized collaboration between the Johnson Museum and the library in terms of their plan to work together, document, and begin to present the photographs that they have."
"I cannot wait to tell all my old friends, 'Wait till you hear and see what Cornell has that you never knew about!'" she added.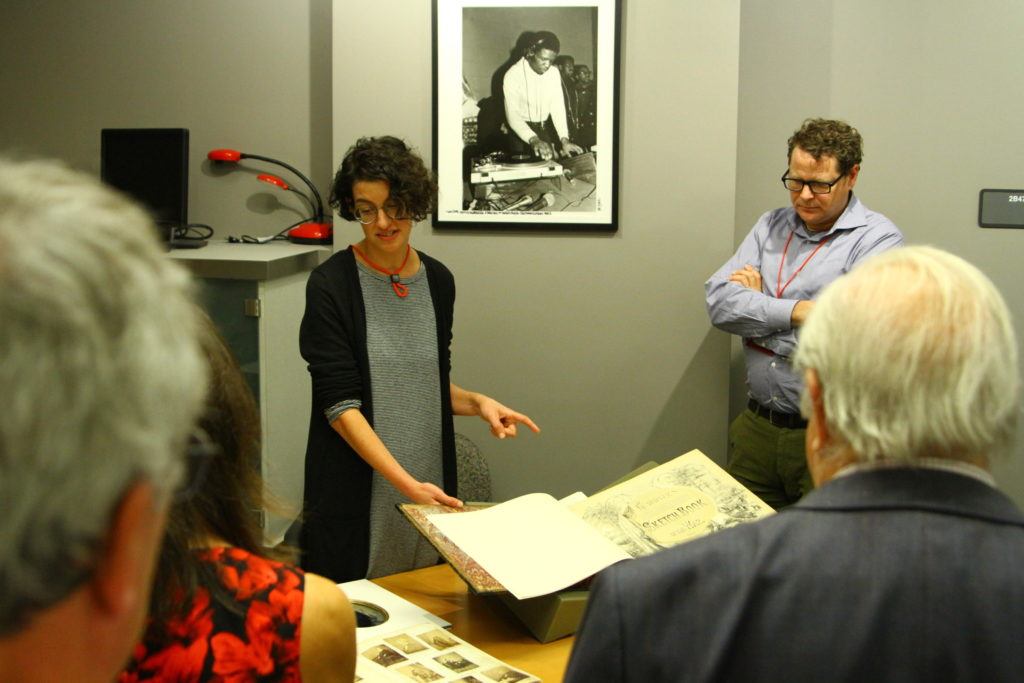 The Big Red pulse of student life
Trustees and council members heard directly from students themselves about what it means to be a Cornellian today.
"I get the most fulfillment from dealing with current undergraduates, talking to them about their experience, my experience, and talking to them about their future," said Dennis Williams '73, who attended the student-alumni networking reception.
A life member of the Cornell University Council and an attendee of TCAM since 1984, Williams added that he's inspired by the students and their "sense of life beyond academics."
"They seem to have a broader vision than students did when I was here. That's where I get my optimism," he said.
"It's always great to see all the cool stuff students are doing. Every year there are new opportunities," said Corey Earle '07, who has been attending TCAM for the past decade, first as a student, and then as a staff member, and now as a council member.
"Touring the new Upson Hall facilities for the Engineering project teams was phenomenal," he added.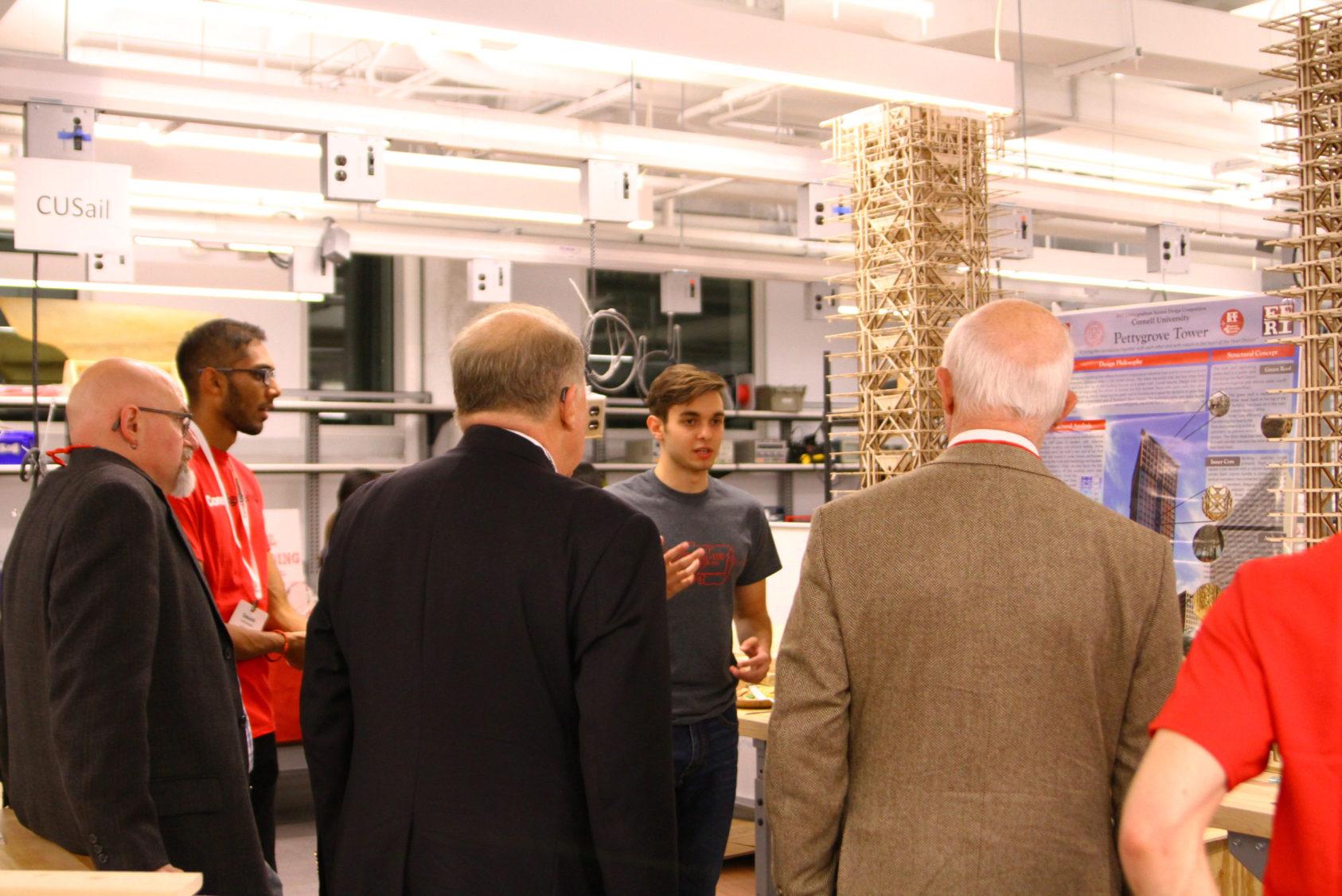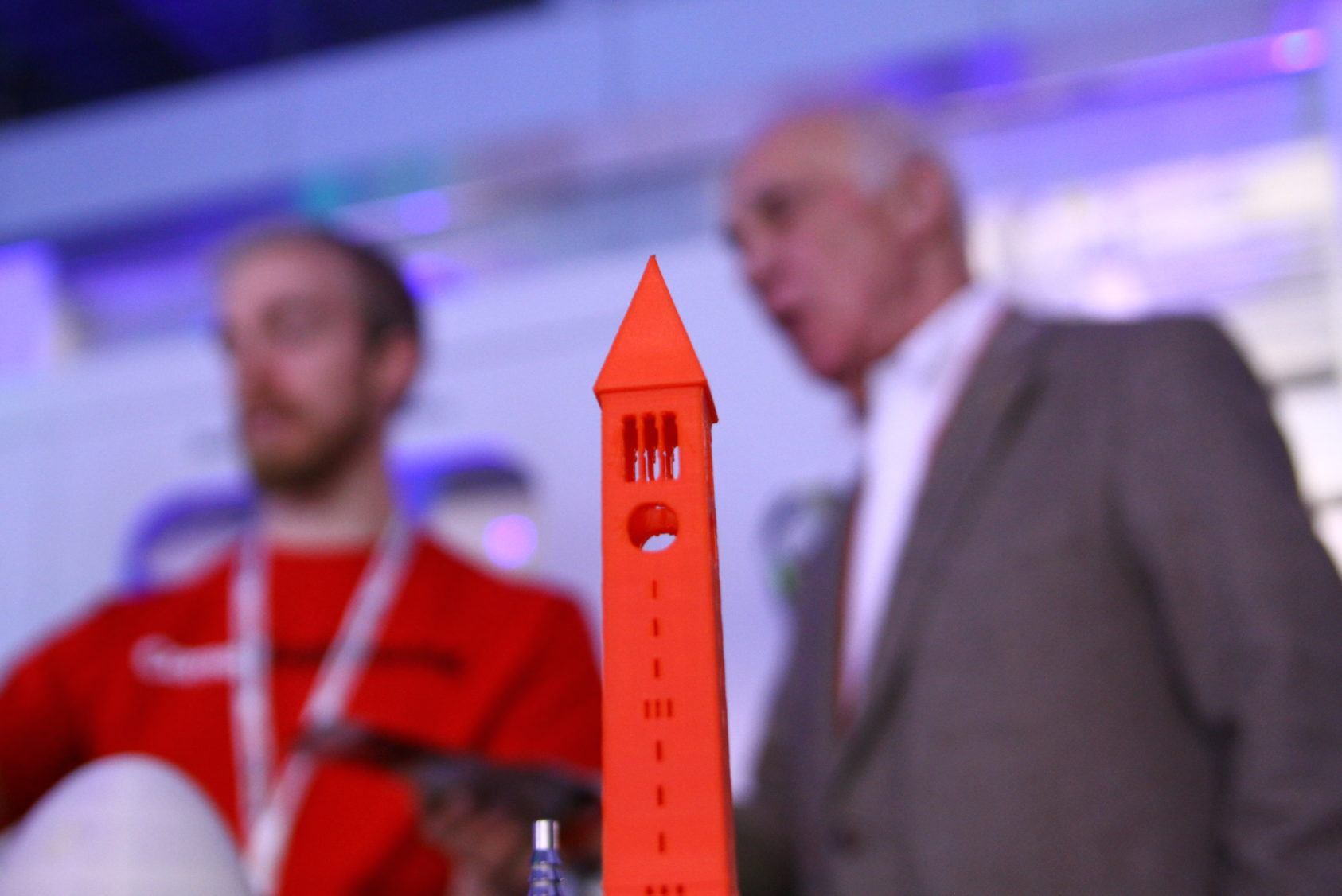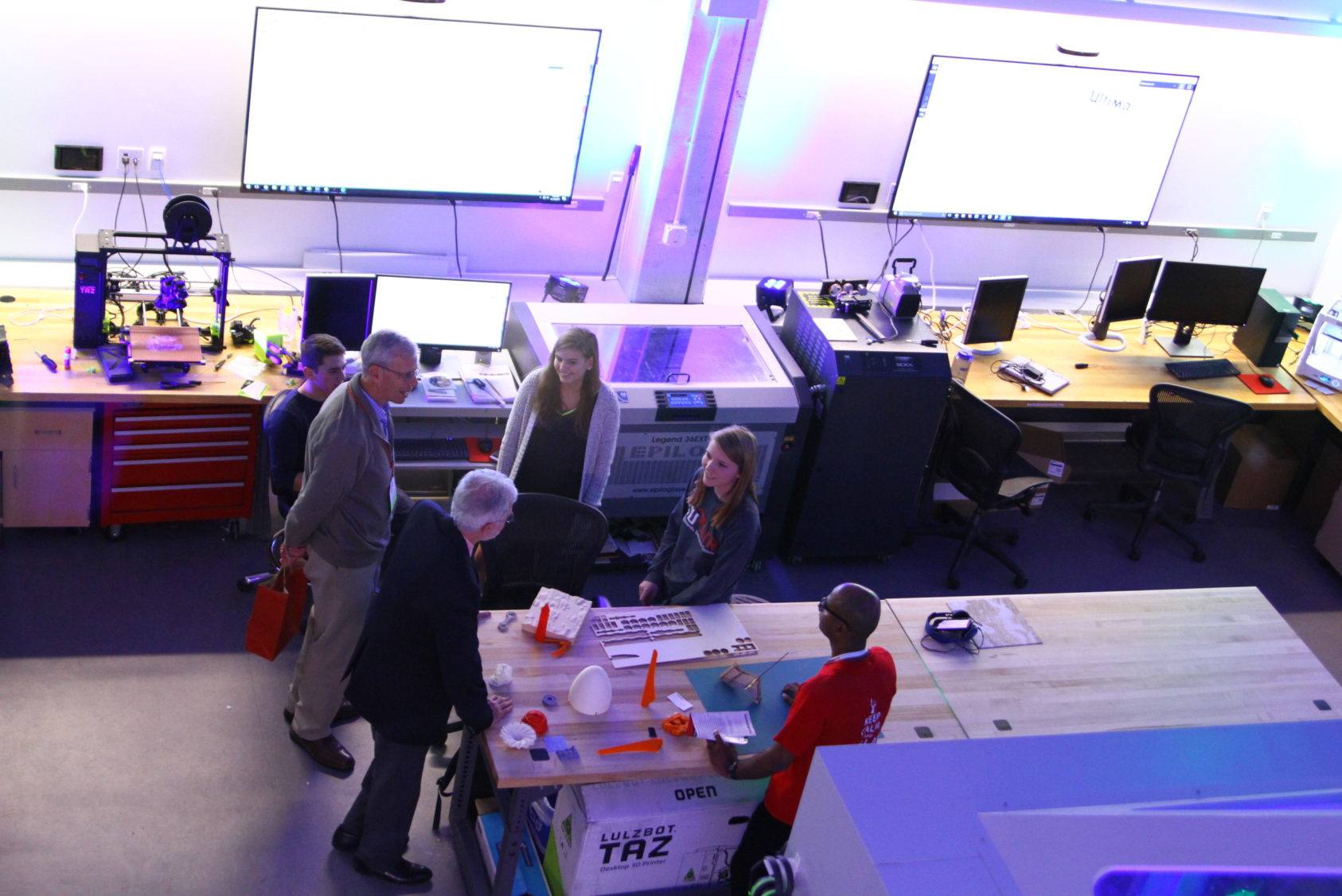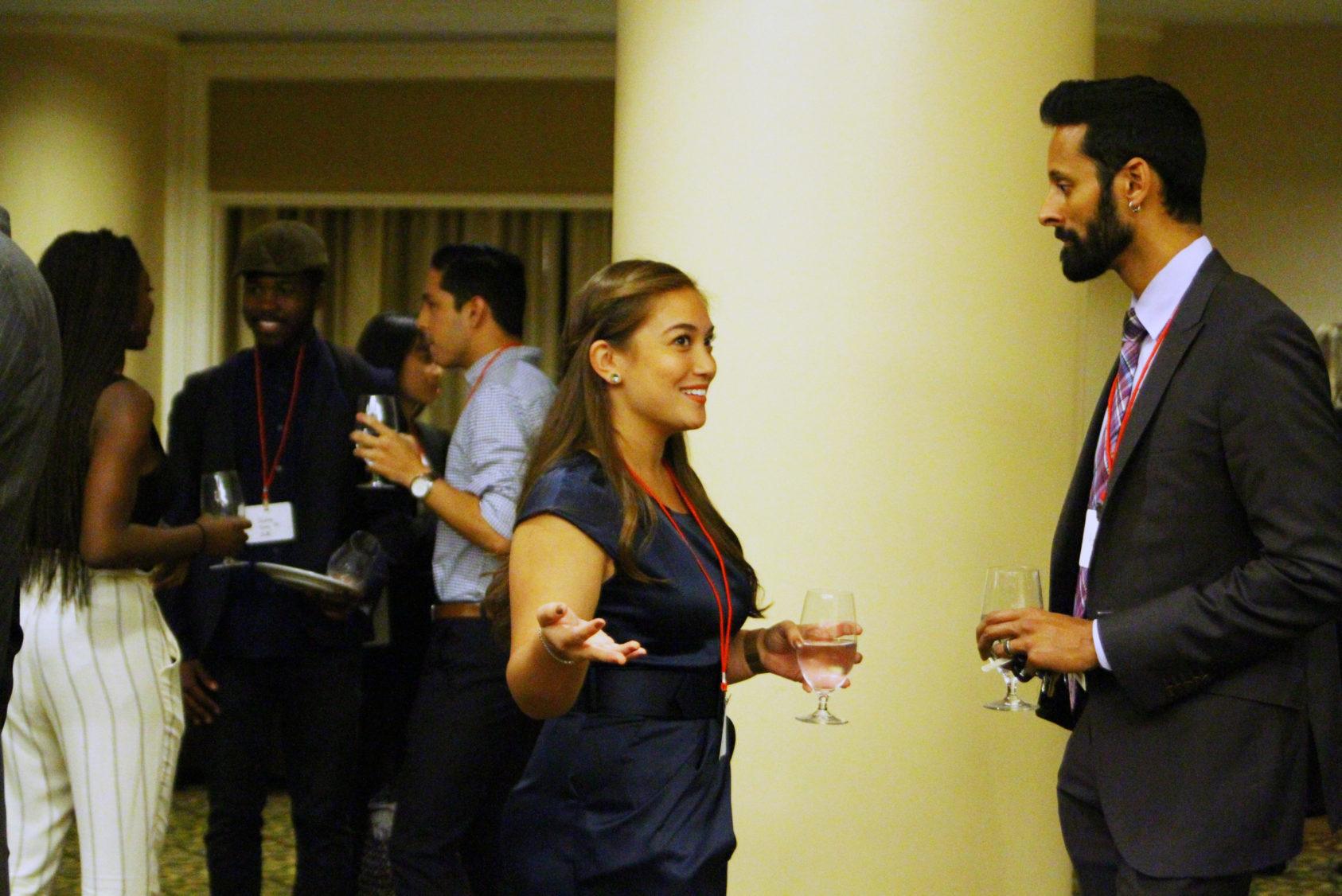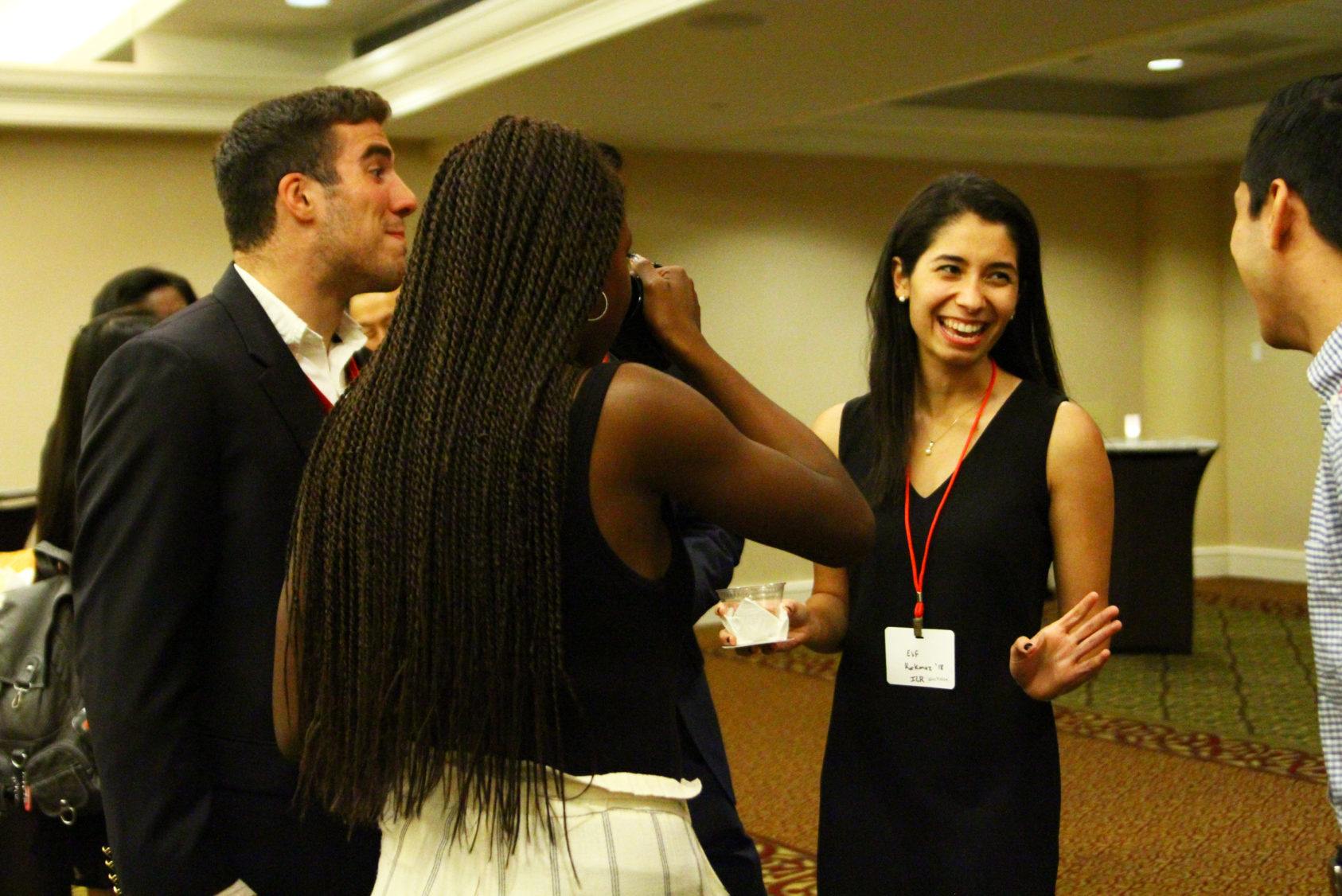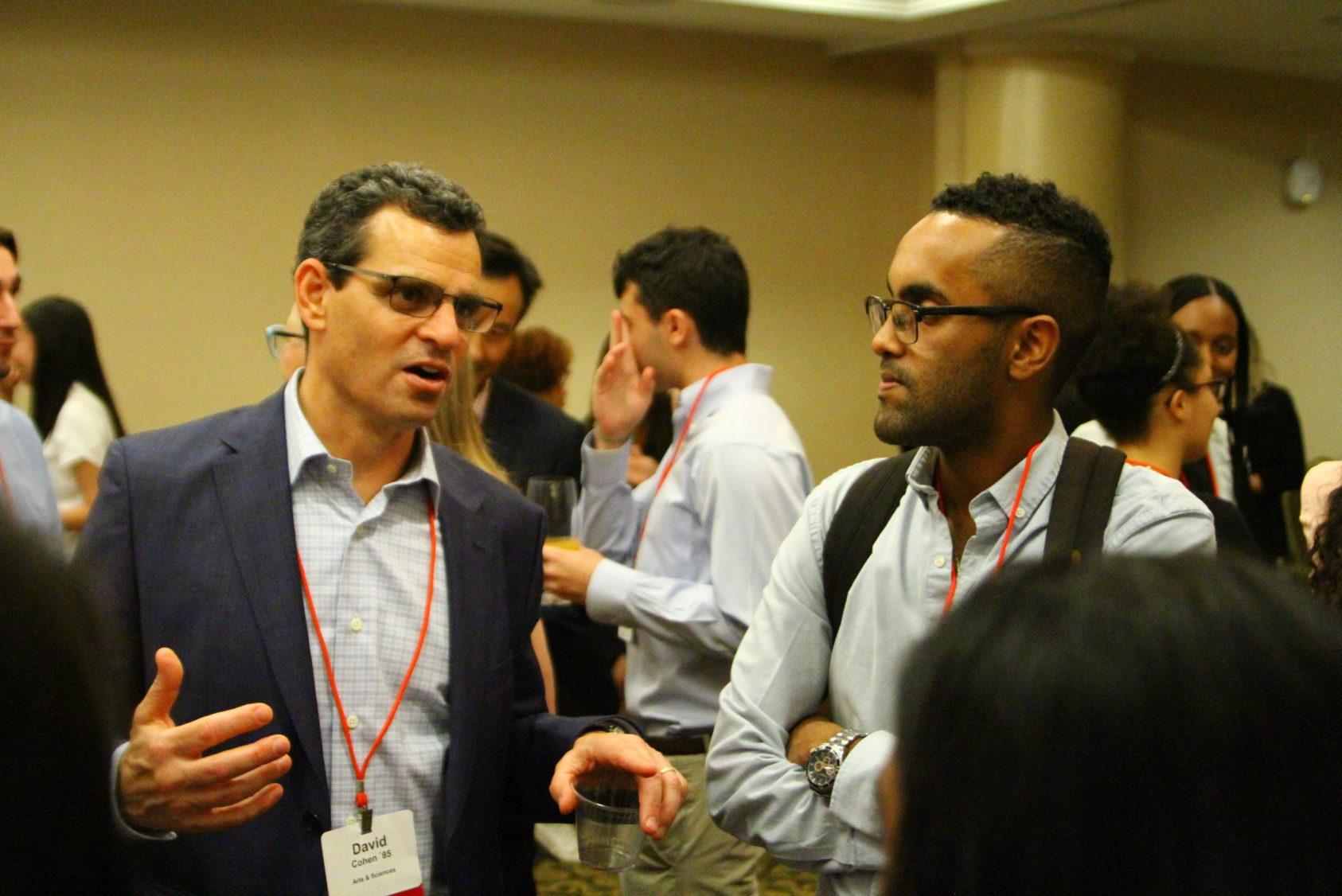 First-generation college students, in particular, were featured in a university spotlight, where they shared their experiences to a packed auditorium of alumni.
The students emphasized the importance of resources like those offered by the Office of Academic Diversity Initiatives, and they expressed the need for continued support from Cornellians—from providing paid internships to funding scholarships—to alleviate the financial burden of underprivileged students.
"Cornell provided me with the best financial aid package," said Miguel Martinez '18. "Thank you to all the alumni donors who made that a possibility."
Malek Jacobs '19 also recognized invaluable advice from alumni. "We're all very appreciative of anything that you've got to say to us," he said.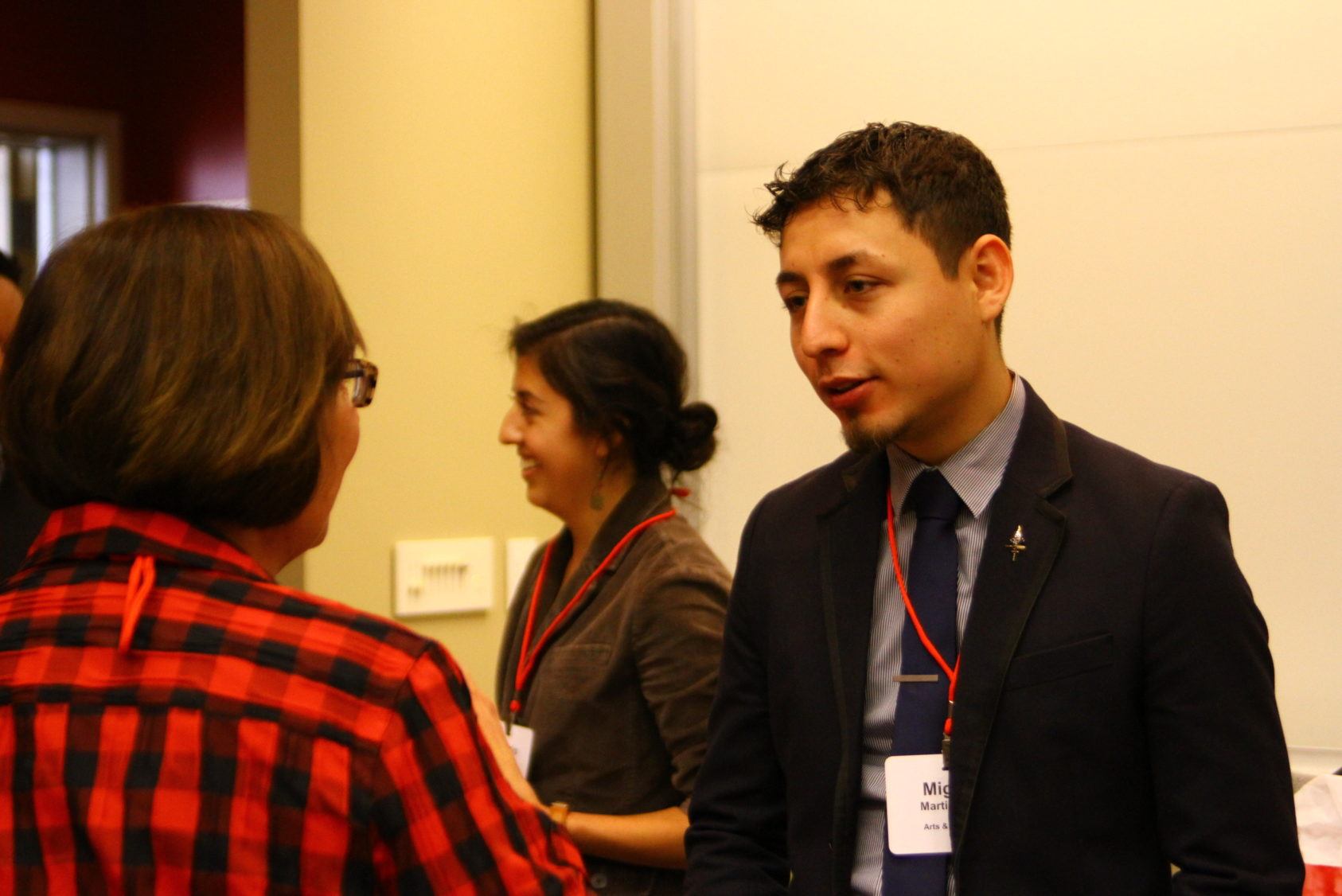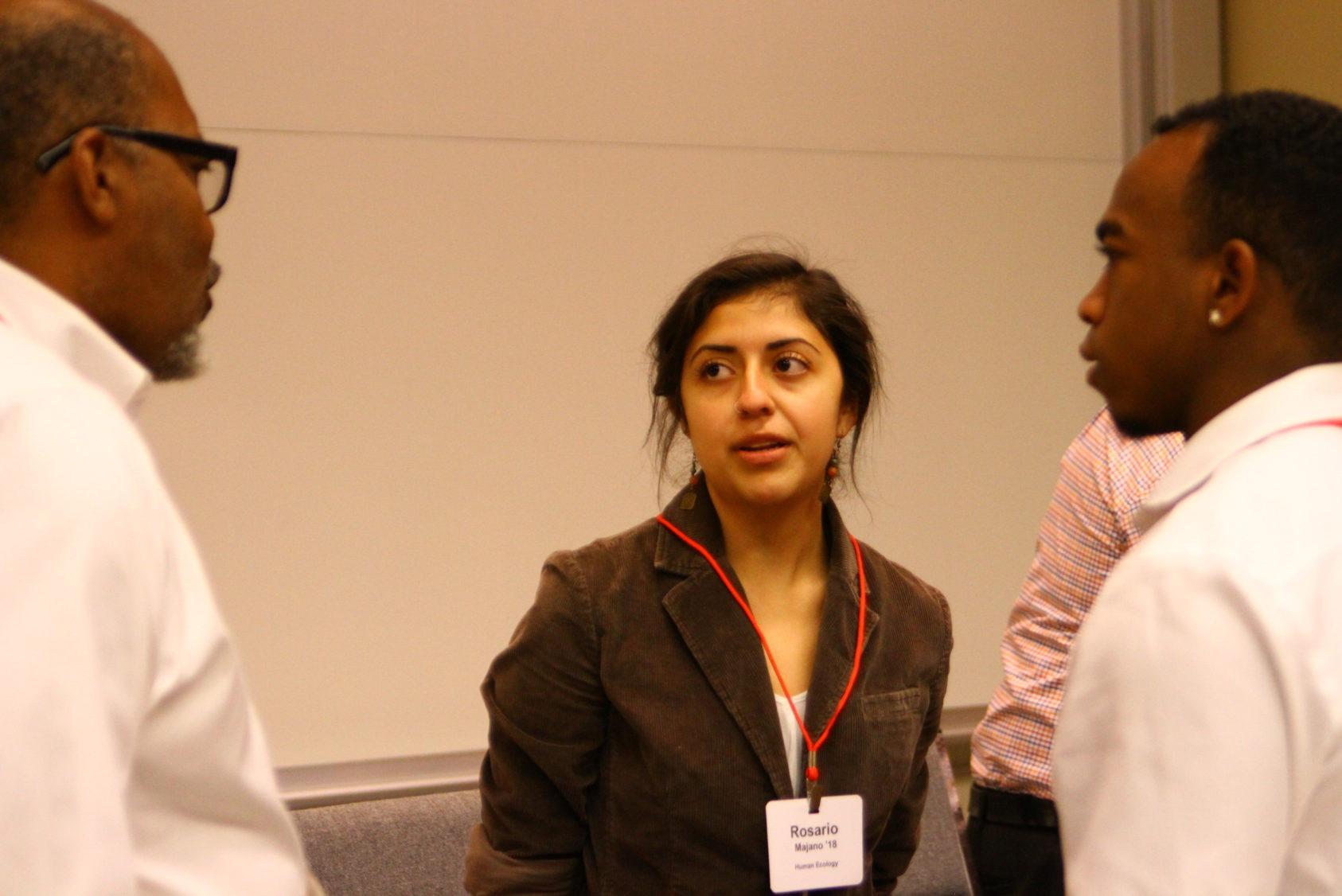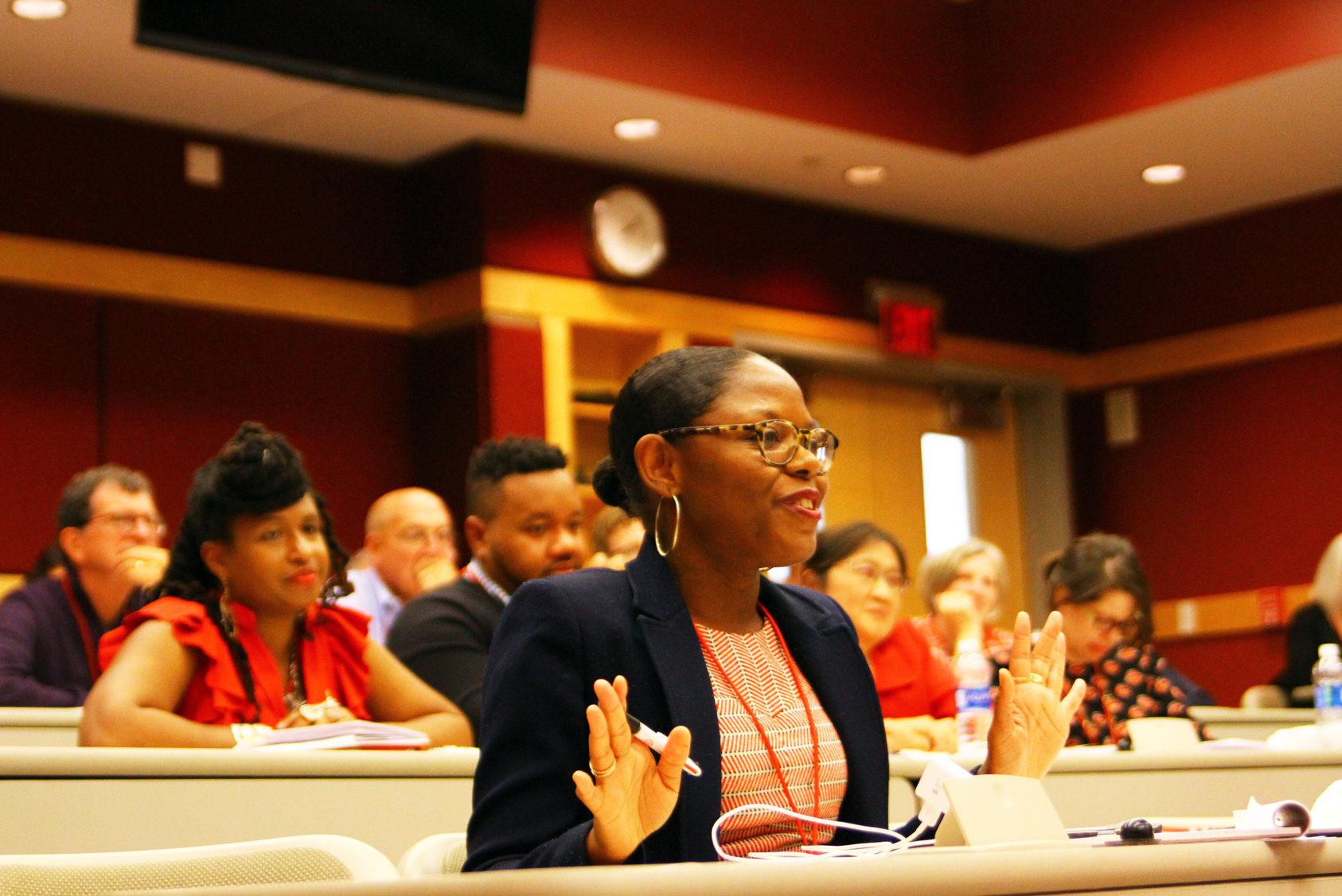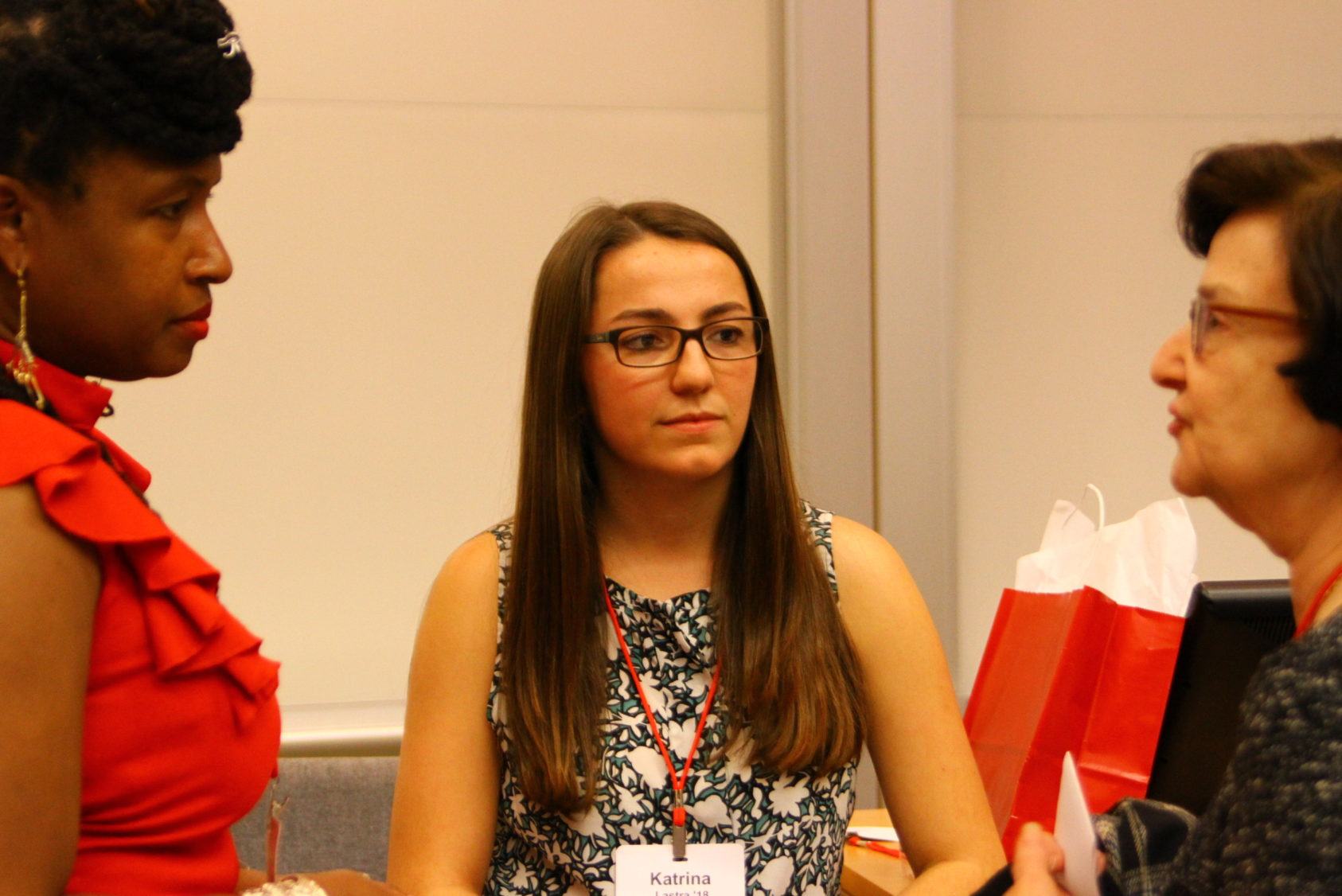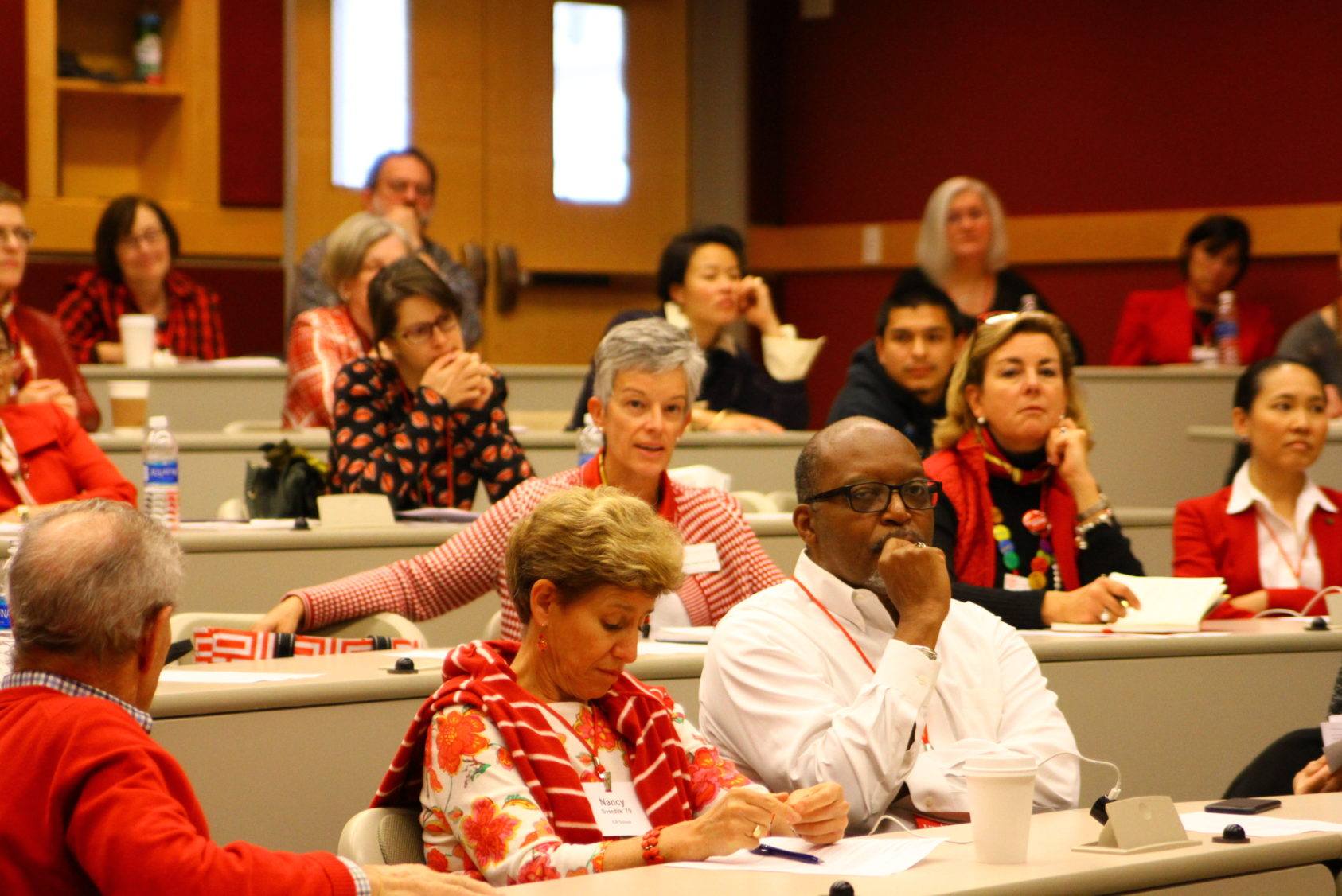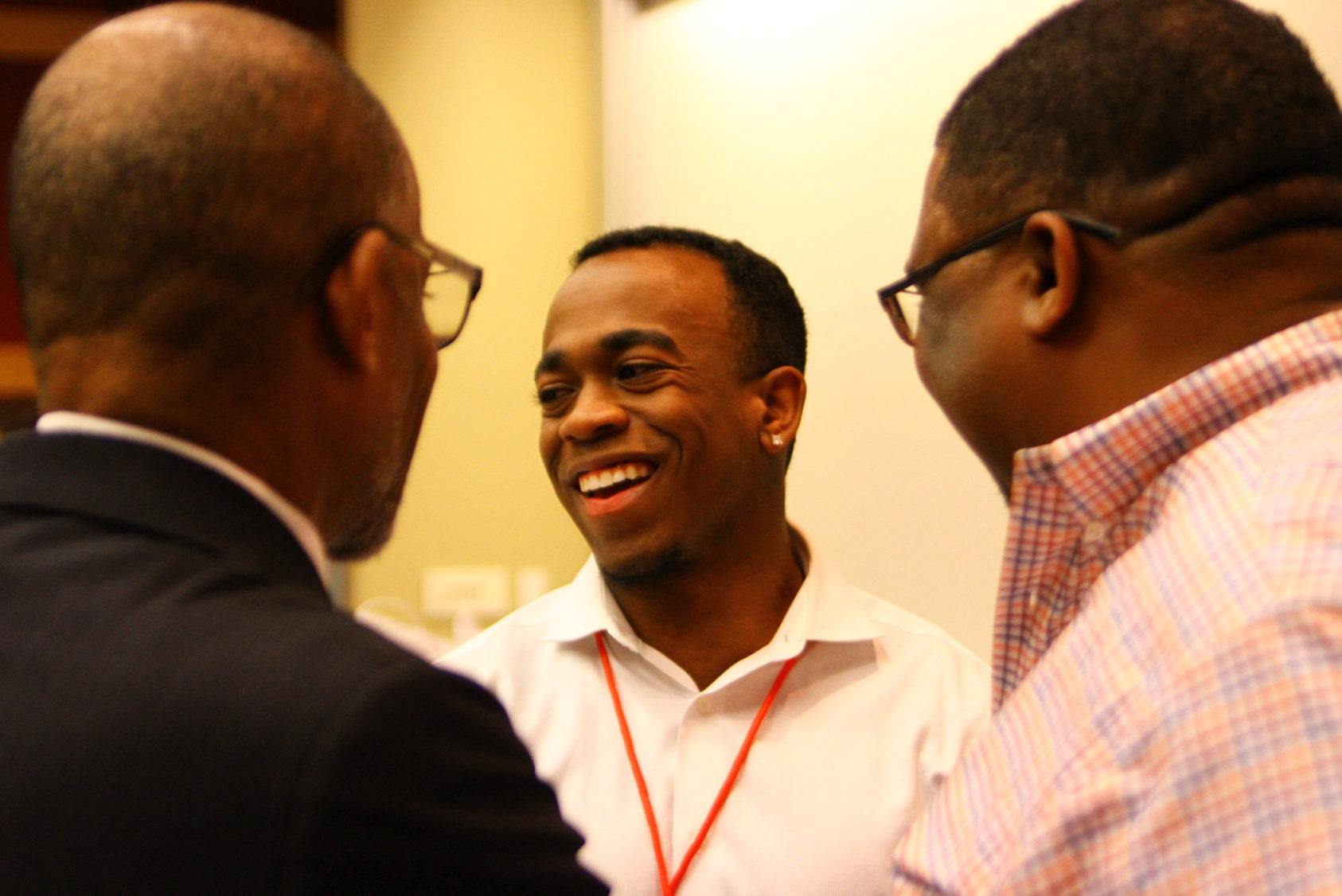 Student voices also directly shape the decision-making of the Cornell University Board of Trustees.
"Cornell University is one of the few schools in the nation that has a student-elected trustee, and that speaks to Cornell's affirmation of student governance as well as its commitment to uplifting the student voice," Dustin Liu '19, the student-elected trustee, said in an interview.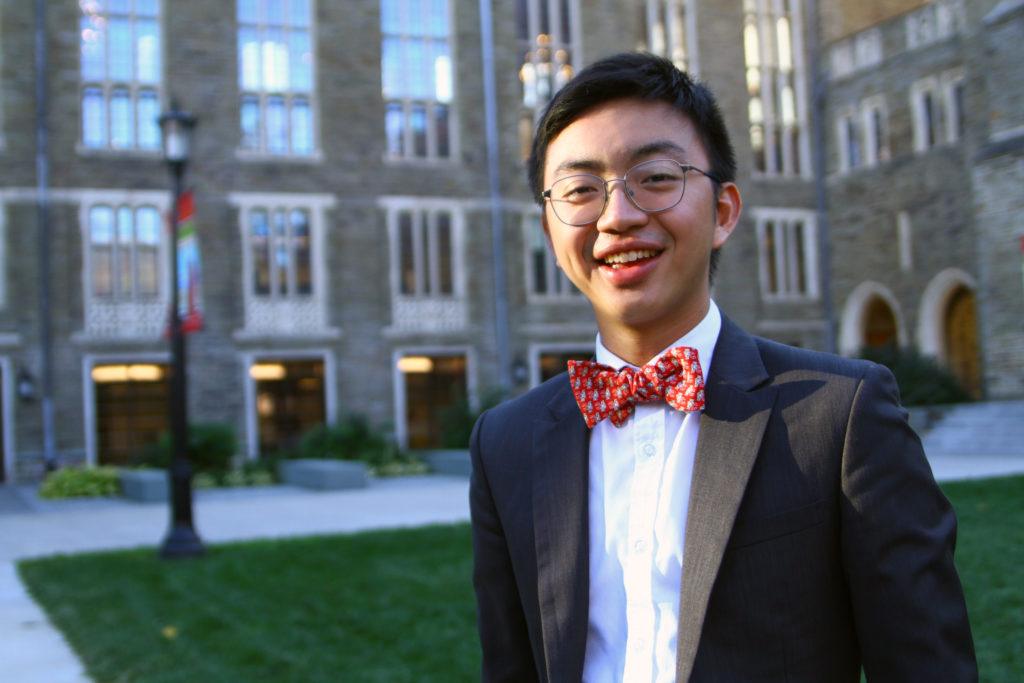 Advancing diversity and inclusion is a top priority for Liu, and he aims to strengthen students' sense of belonging at Cornell through his work on the board.
He also praised Cornell for its inclusion of different voices on the board, through employee-, faculty-, and alumni-elected trustees. (Learn more about your alumni-elected trustees.)
"I think it's been an absolute honor to serve on the board that's so receptive to constituent responses," he said.
Looking forward, paying tribute
Attendees got updates from Cornell's leaders at several events, including the "Meet Cornell's Administrative Leaders" panel and the State of the University Address/Joint Annual Meeting during which Cornell president Martha E. Pollack outlined her vision for the university.
Led by Robert S. Harrison '76, chair of the Cornell University Board of Trustees, the joint meeting was an occasion to welcome nine new trustees. The gathering also paid tribute to Peter C. Meinig '61, chairman emeritus of the board, who passed away in September.
"This is the first time since I became chairman six years ago that my friend and predecessor Pete Meinig has not been sitting in the front row," Harrison said. "Many of us knew Pete very well, and every Cornellian around the world was touched by the impact that Pete has had on the university."
Cornell University Council chair Enrique Vila-Biaggi '94, MEng '95 had to miss TCAM to take care of urgent business and family matters back home in hurricane-ravaged Puerto Rico, but he, too, sent words of tribute to Meinig.
His eldest daughter, Sofia Vila '20, delivered the speech on his behalf, including a message addressed to newly elected trustee Ann Meinig Smalling '87, Meinig's daughter: "Please know that your dad is and always will be an incredible role model for the many people whose life he touched, including me."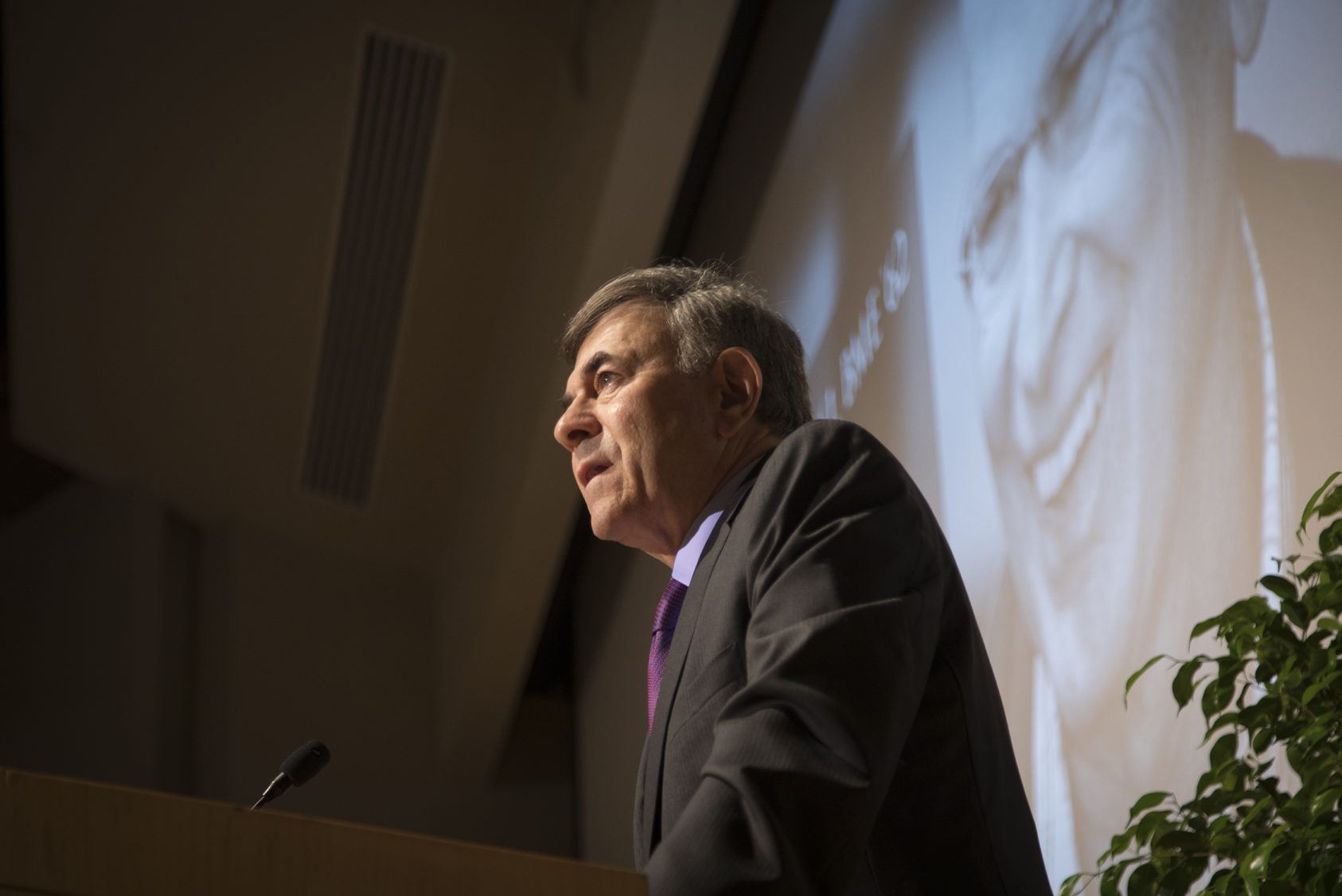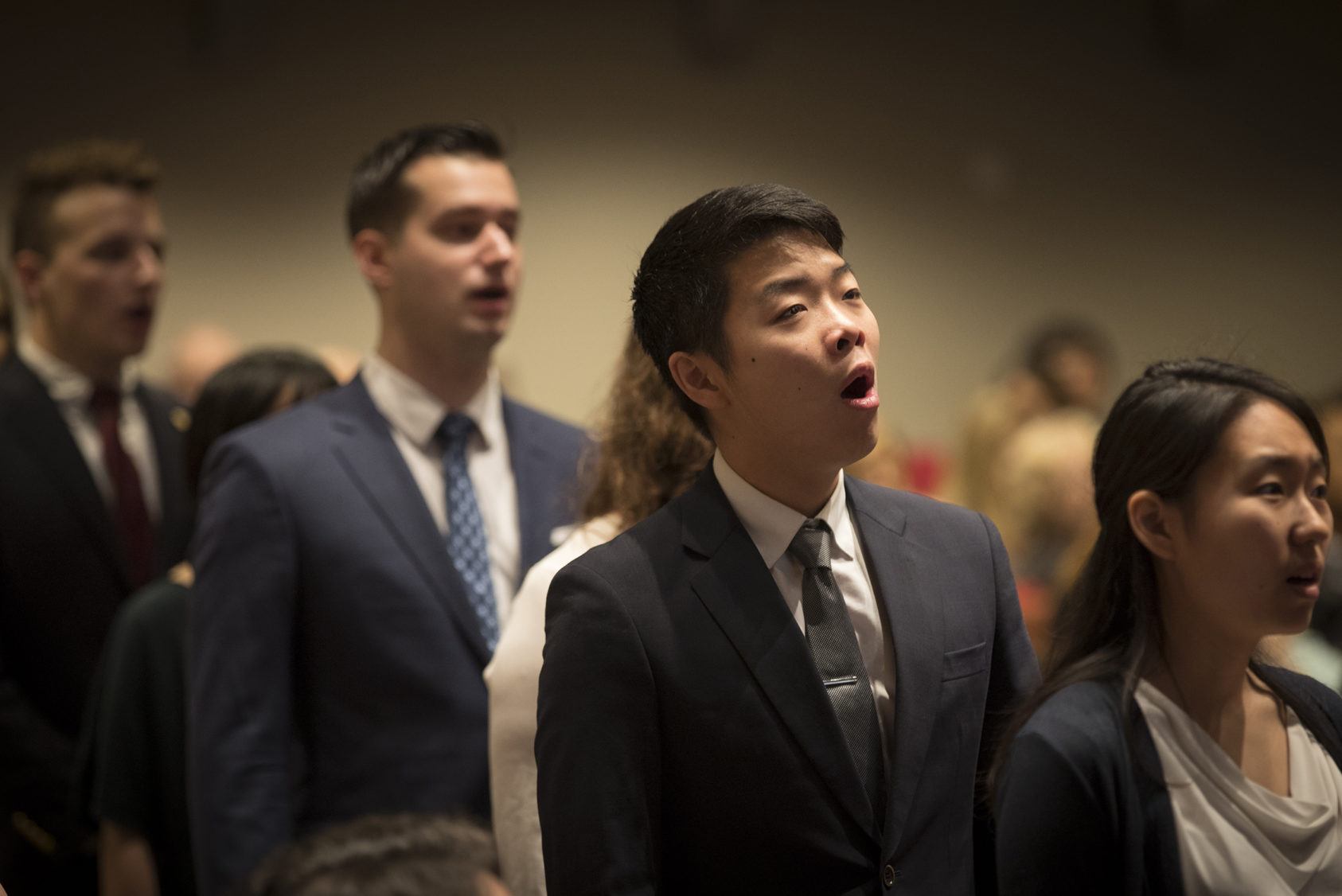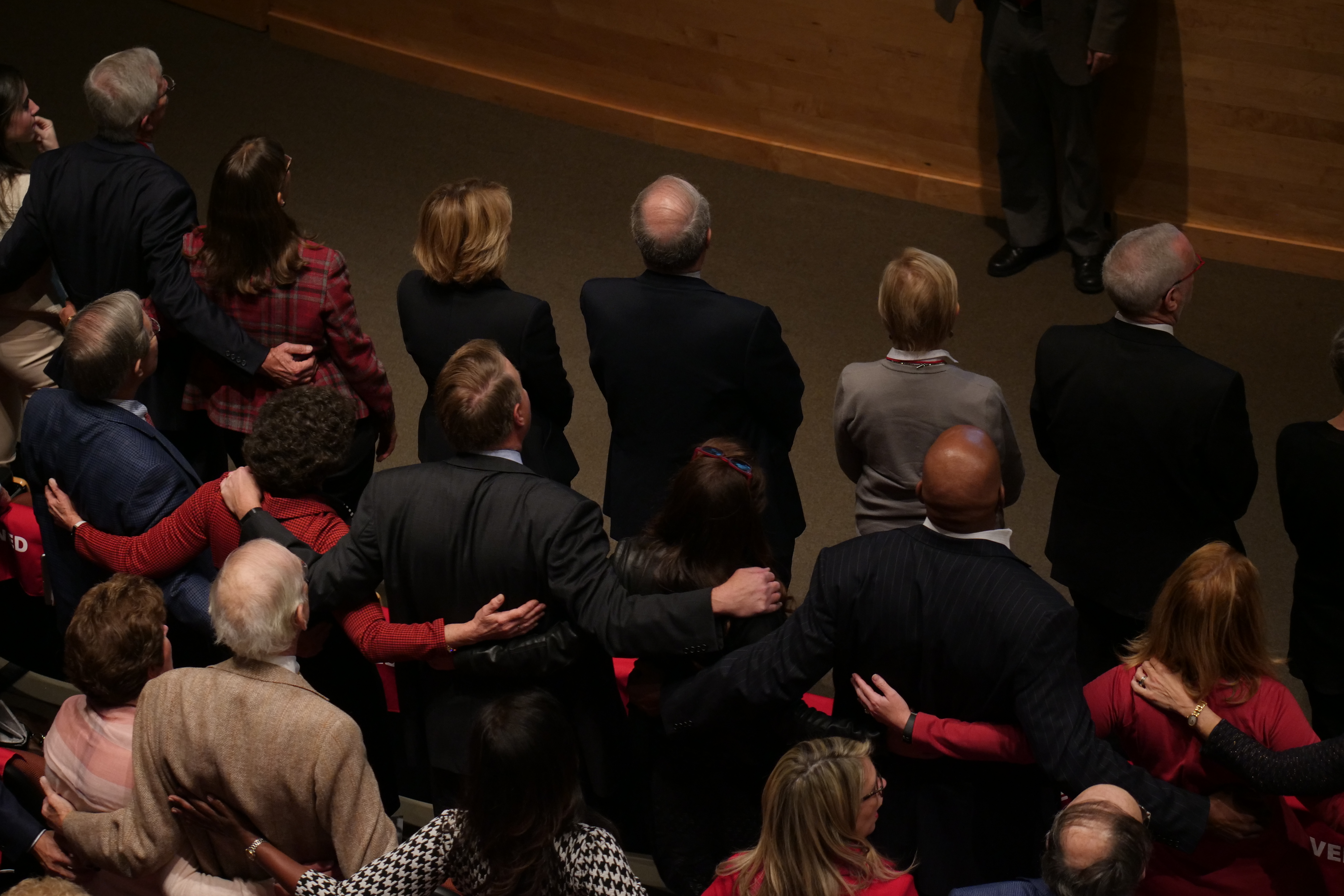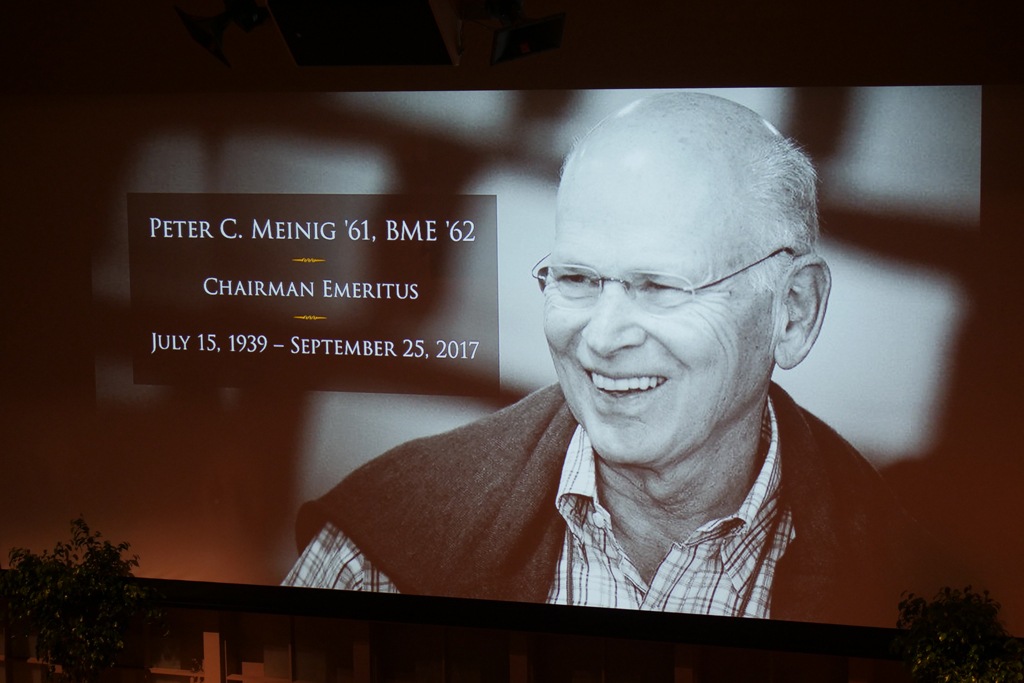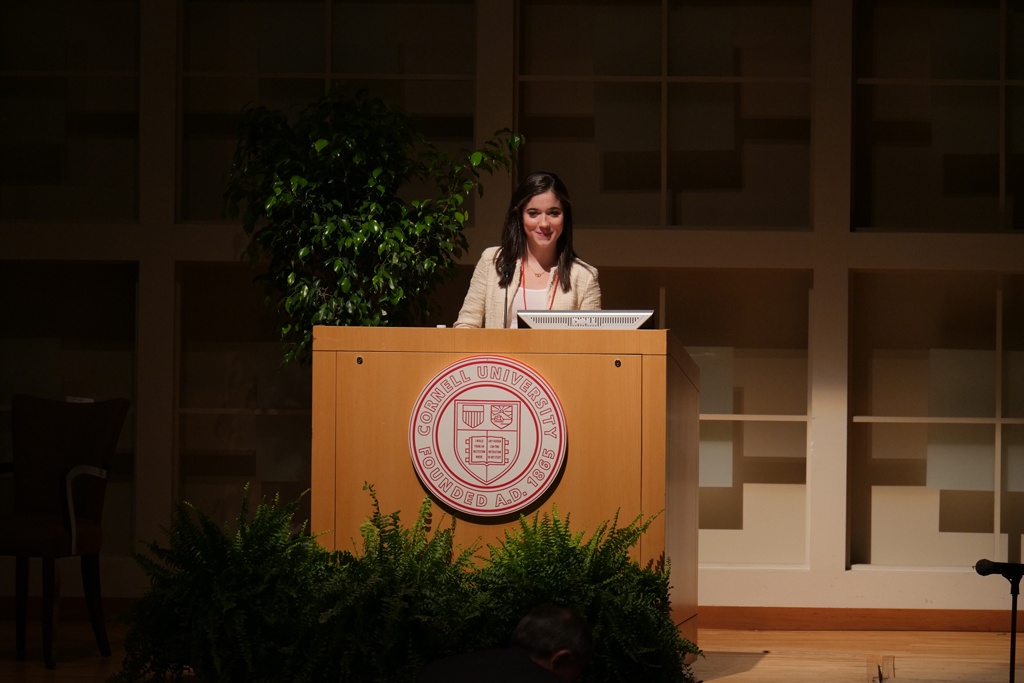 Honored and humbled
The Frank H. T. Rhodes Exemplary Service Award ceremony capped off the last TCAM event on Saturday night.
"These are an exceptional group of Cornellians who have not only the served these past decades since graduation but some of them even before graduation, and they continue to serve," Jim Mazza '88, associate vice president of the Office of Alumni Affairs, addressed the intimate group of honorees and their guests. "This is not their final outing. We know that they will continue to serve our alma mater with distinction for many years to come."
As with previous awardings, President Emeritus Frank H. T. Rhodes and Rosa Rhodes were there to celebrate with the recipients: Jeff Berg '79, MEng '80, MBA '81, Laurie Berke-Weiss '71, Ronald Demer '59, Thomas W. Jones '69, MRP '72, Karen Rupert Keating '76, and Alexander Boone Vollmer '62, MCE '64. (Learn more about the awardees.)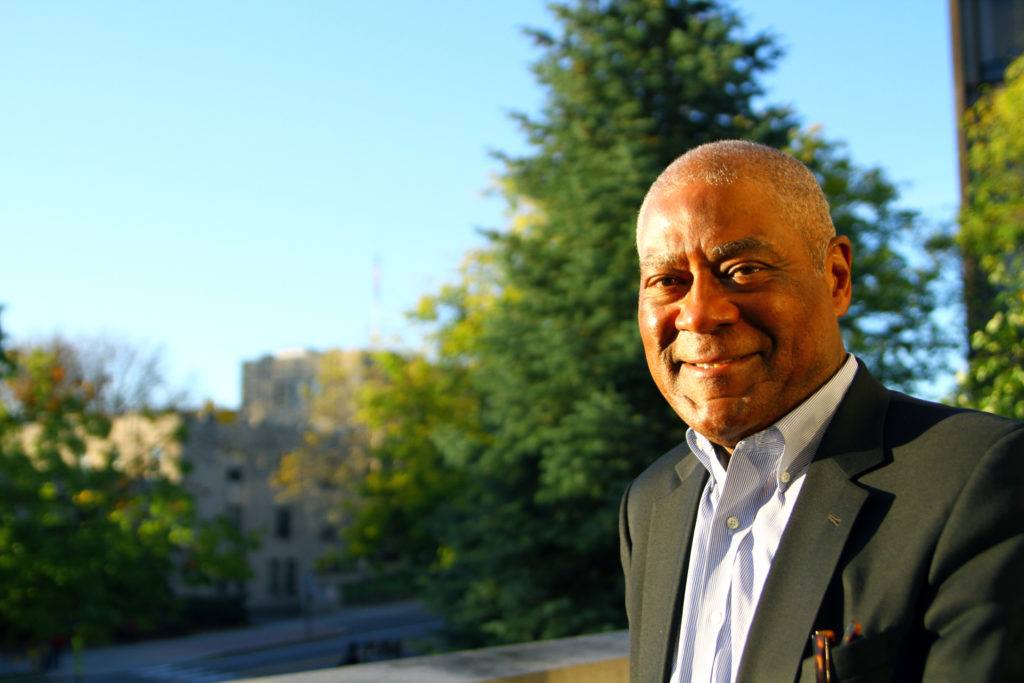 In an interview, Jones, a Presidential Councillor and trustee emeritus, shared his thoughts on the award: "I'm honored because this recognition from Cornell means a lot to me. It cements what's been close to a 50-year relationship from when I first came to campus in September 1965 to now in the fall of 2017. But I'm humbled because—being familiar with Cornell's board and extraordinary leaders like Pete Meinig who unfortunately just passed—I know how generous so many Cornellians have been with their time, their talents, and their treasures."
For Jones, there is always more to be done to make Cornell a better university and a better community: "It's never going to be finished."
As the last night of TCAM drew to a close, trustees and council members started making their way home, while some stayed behind to join the Homecoming festivities also happening throughout the busy weekend. For them, TCAM was a nourishing stop on a fruitful, lifelong Cornell journey.