There were almost as many reasons to come back for Homecoming 2017 as the number of Cornellians who journeyed home to Ithaca.
They watched the fireworks, shared memories with good friends, and petted a pony. They cheered for Big Red athletes, heard a lecture, and stomped grapes in the CALS Zone. They raised their glasses at tailgate parties, danced to the DJ, and sang along with the Big Red Marching Band.
Alumni, parents, students, staff, and community members shared these and other reasons why they came back and the many things they found to love at the annual community-wide celebration of Big Red spirit, October 20–21.
Welcome tent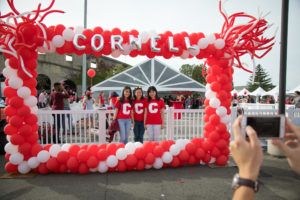 "One of the most exciting parts of Homecoming is the wide variety of people who participate and how much they enjoy our offerings. This, to me, says a lot about the high level of Cornell spirit we share and, for many, carry with us throughout our lives."—Jim Mazza '88, associate vice president for the Office of Alumni Affairs
"There's so much school spirit, and there are so many diverse groups here. At Homecoming, there's an energy in the air."—Gwendolyn Pieper '20
Big Red Fan Festival
"We live here in Ithaca, so we come to Homecoming most years. We had a wonderful time at the fireworks and laser light show."—Hank Dullea '61, a former Cornell administrator, with his wife, Sally Dullea '63
"We came to Homecoming to see our daughter, Addison. She's a sophomore and a cheerleader. We only get to see her cheer once each year because we're from Cincinnati, and we come during Homecoming because it's so exciting. I love the school spirit."—Julie Bell P '20, with William Bell P '20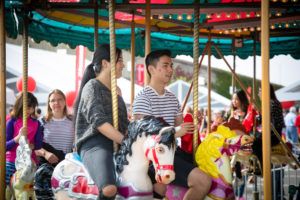 "Homecoming really is one weekend when Big Red spirit shows its true colors. Many students came out to show their school spirit, support the Big Red, and enjoy a perfect fall day. Alumni, parents, and friends traveled from nearby and all over the world to be here. We even had more than one hundred Cornellians from all over the country join in through the virtual 5K this weekend!"—Terry Hahn, director of Homecoming and special interest programs
"As a Big Red Band alumnus, coming back to play Homecoming is a big thing. It's really emotional, coming back."—Anthony Ayers '12, percussion alumnus with the Big Red Marching Band
"I loved all kinds of lasers and shapes they made during the fireworks show."—Ella Thomford, age 11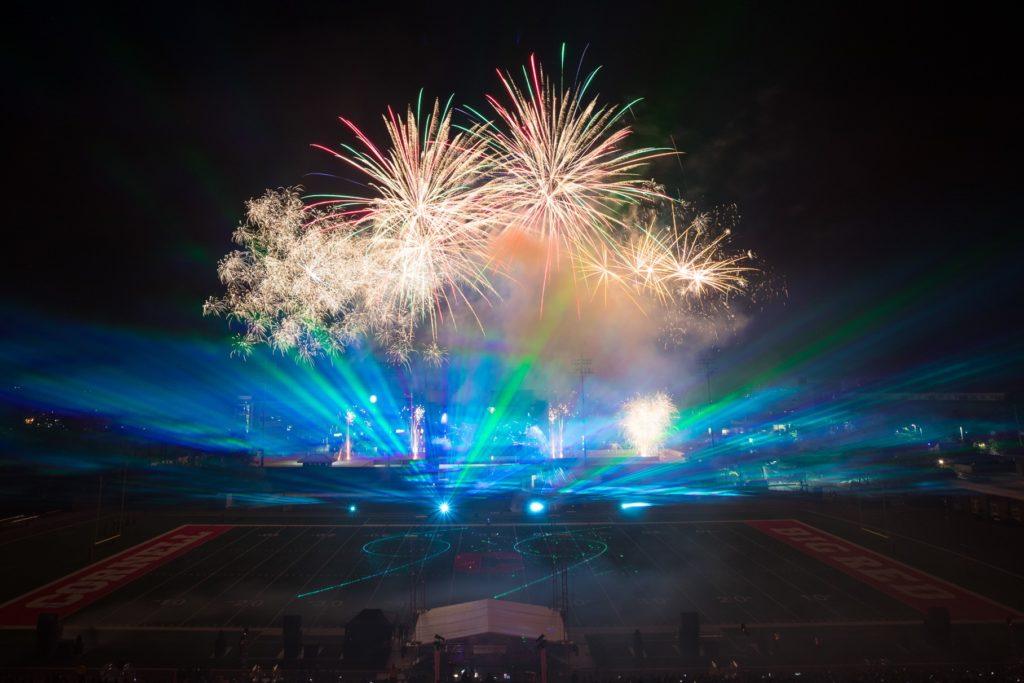 "My family lives in the Ithaca community and we work with some of the students at Cornell. We're here to support a lot of the football players."—Liz Thomford, Ithaca resident and mom of Ella Thomford
"My car brought me to Homecoming! I always come from New York City—every year. Homecoming and Reunion, which I also attend every year, are powerful events—powerful enough to draw you in."—Jim Hanchett '53, president of the Continuous Reunion Club
Arts tour
"With Trustee-Council Annual Meeting (TCAM) and Homecoming combined this year, we get to experience the school spirit of Homecoming. The arts tour is one of the activities we could sign up for as part of TCAM. I want to see what's hidden at Cornell. The university is just so big."—Susan Chang '84, a member of the Cornell University Council who traveled from Singapore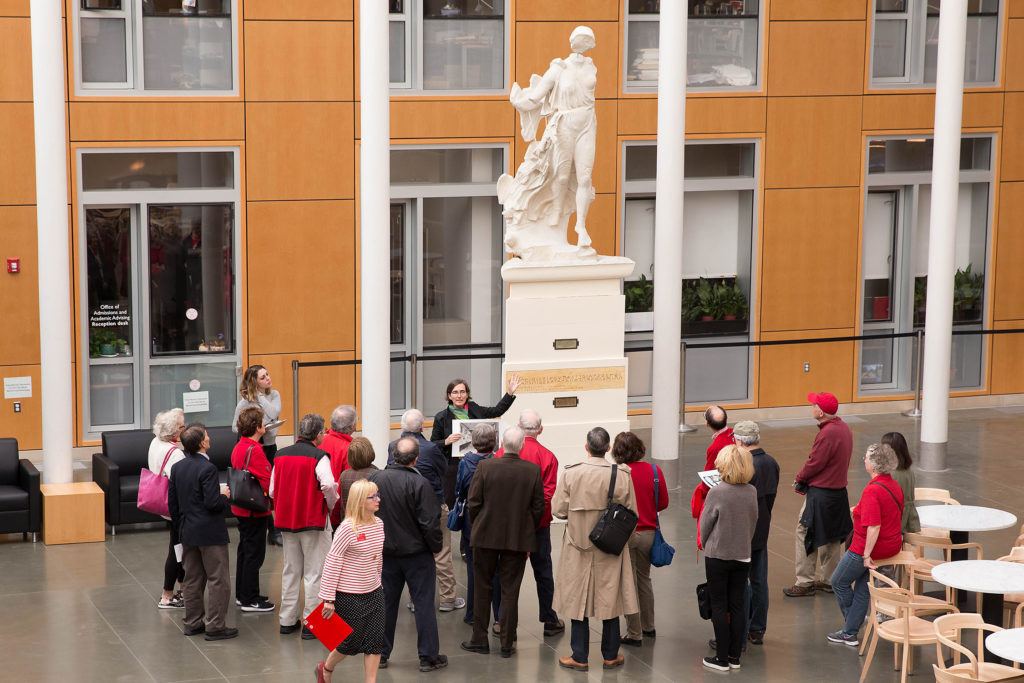 Tailgates
"I have only ever missed one Cornell Homecoming. I'm an involved alumna, and I love this place."—Terry Kilmer Oosterom '82
"The best part of Homecoming is visiting with people. Friday night, we planned to go to the fireworks, but we ended up staying at the hotel, telling stories and laughing."—John Hand '83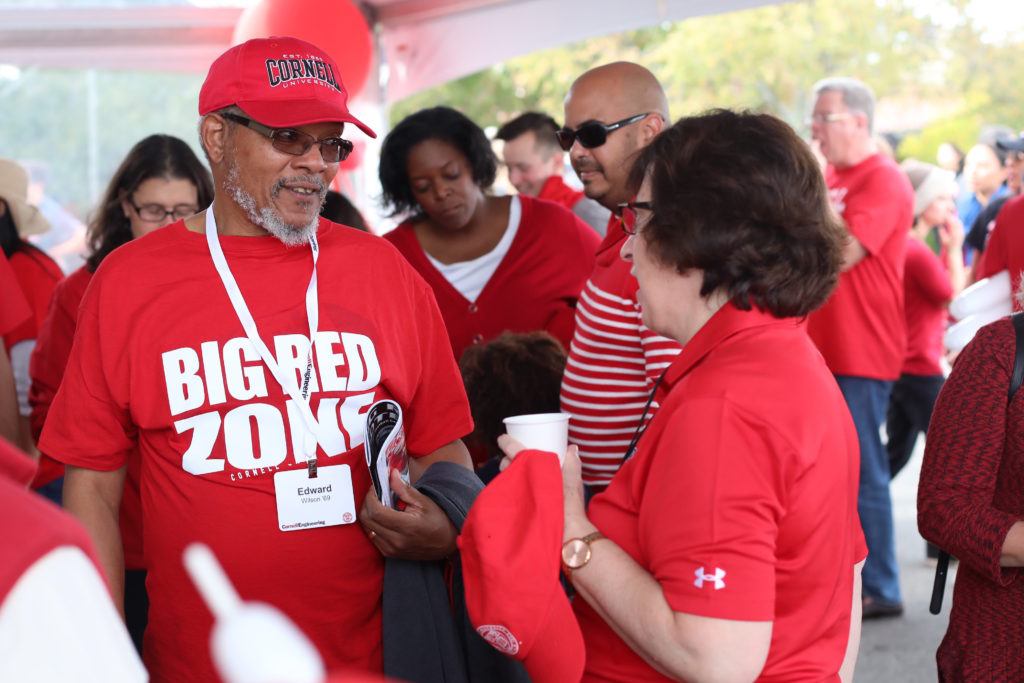 "Homecoming is a time for alumni to come back and see each other and enjoy memories. After you graduate and move on, it's important to have that connection."—Michael Stewart '16, who now lives in New York City and enjoyed watching a performance of BreakFree Hip Hop, a dance troupe he belonged to as a student
"Cornell Homecoming is truly impressive: the fireworks, the show, the lights. This is my first time. The best part is just the experience and seeing the students so into it."—Nicole Toran P '20, who flew in from Texas to spend the weekend with her daughter, Anastashia Alfred '20
"Homecoming is one of the times of the year when everyone's not stuck in the library. Plus, we get to support our fellow athletes."—Ellen Shepard '18, a member of the women's track and field team
Return to the Classroom: "Trashy Fun or Secret Treasure? The Hidden Value of Detective Fiction"
"You're all inside on such a nice day. It's a sign that we on the side of literature are winning."—Caroline Levine, the David and Kathleen Ryan Professor of the Humanities, who gave a lecture to a packed Hall of Fame Room in Friends Hall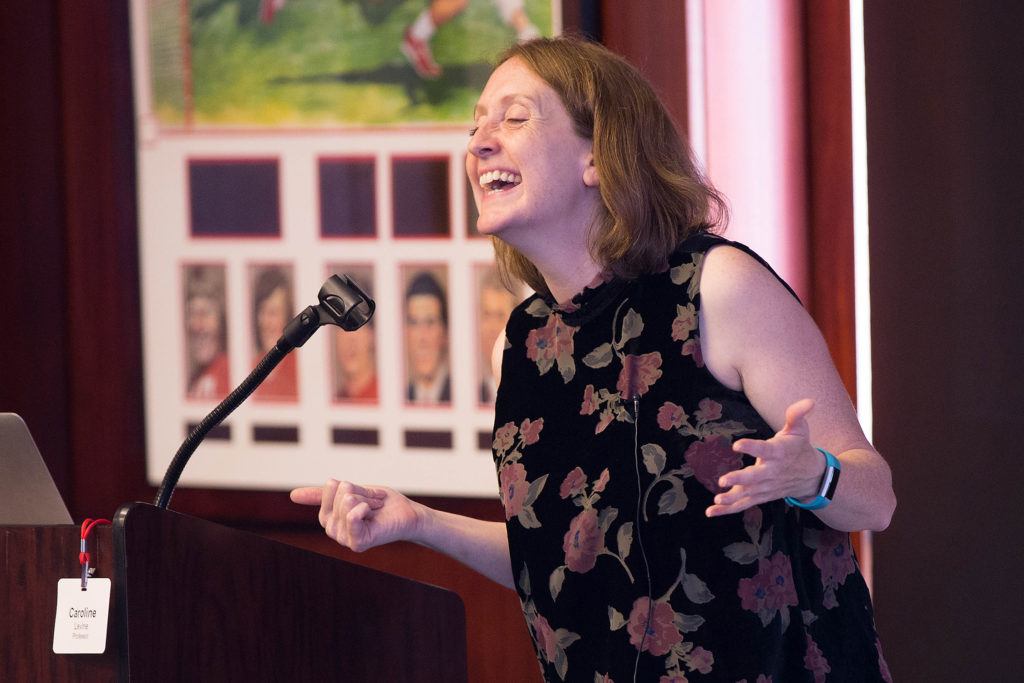 College of Veterinary Medicine demonstration tent
"Nelson, my golden retriever, and I are on a list for Cornell Companions, and we responded to the call today. Nelson is here with other companion animals to just say hello to people at Homecoming and to represent Cornell Companions. He gets more attention here than I could ever give him."—Irene Komor, P '08, an Ithaca resident, and her dog, Nelson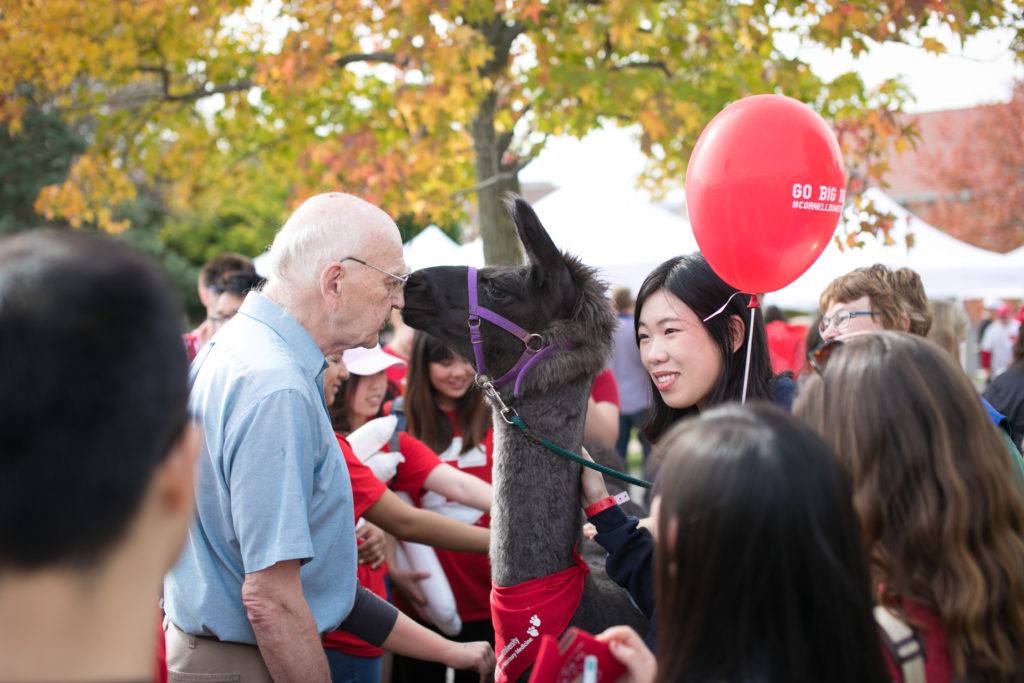 All told, organizers say, more than 15,000 attended this year, enjoying hundreds of events and attractions.
Mark your calendars for Homecoming 2018, September 21–22!