Whether you are new or experienced, have an hour or a year, remember that your support is one of Cornell's greatest treasures. CUVolunteer is the place to go to find your match and get started.
VOLUNTEER
On Oct. 21, six outstanding Cornell volunteers will be honored for their service to the university, receiving the 2017 Frank H. T. Rhodes Exemplary Alumni Services Awards. Established in 1994 by the Board of Trustees Committee on Alumni Affairs, this prestigious awards program honors alumni who have demonstrated extraordinary service through long-term volunteer activities and leadership within Cornell's various alumni organizations.
A selection committee chooses honorees from candidates, proposed by Cornellians, who serve on organizations that include the Board of Trustees, the Cornell University Council, the Cornell Alumni Association, the Cornell Association of Class Officers, college advisory councils, class councils, Cornell Clubs, and other organizations.
"Over the years, many of the volunteers honored with this award have been involved with Cornell since their graduation—many even before that," said Jim Mazza '88, associate vice president for Alumni Affairs. "The six 2017 honorees are no exception. Although their passions and activities vary widely, they all display a remarkable level of commitment to the future of our alma mater. They are inspiring!"
The 2017 Rhodes Award recipients
Jeffrey F. Berg '79, MEng '80, MBA '81
Laurie Berke-Weiss '71
Ronald Demer '59
Thomas W. Jones '69, MRP '72
Karen Rupert Keating '76
Alexander Boone Vollmer '62 MCE '64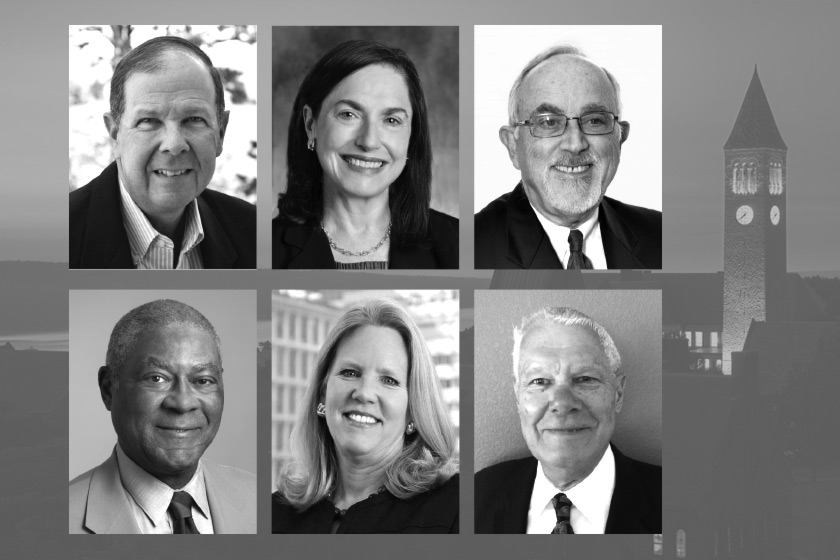 Jeff Berg '79, MEng '80, MBA '81
Jeffrey Berg's record of volunteer service to Cornell began when he got involved as a young alumnus with the Cornell Club of Boston and grew from there. Most significantly, he served as an alumni-elected trustee, the role he found most meaningful. A volunteer who likes to lead from the front, Berg says he most enjoyed serving for 13 years on the Dean's Advisory Council of the Samuel Curtis Johnson Graduate School of Management, where he was able to make a significant impact on one particular part of the university. He continues to serve on the board of eCornell, the university's 15-year-old online learning company.
The Class of 1979 continues to receive significant support from Berg. He is immediate past president and nominating chair. He has also served as class major gifts chair, major gifts committee member, and Reunion committee member. He continues to lead the Class of 1979's Distinguished Classmates Reunion recognition program. He served as vice president, director-at-large, and trustee representative for the Cornell Association of Class Officers (CACO). He is a member of the university's Major Gifts Committee. He and his wife, Debra Paget P '09, are Foremost Benefactors of Cornell.
Laurie Berke-Weiss '71
Laurie Berke-Weiss made significant contributions to the ILR School as a longtime member of the Alumni Association Board and of the ILR Dean's Advisory Council. She worked closely with ILR deans Harry Katz and Edward Lawler. Berke-Weiss is now an emerita member of the Advisory Council, working with Dean Kevin Hallock. She also continues to support the Alumni Association and its officers.
For many years, Berke-Weiss has supported the school's young alumni association and internship programs. She has assisted students through the Career Services Office, as well as sponsoring ILR undergraduates as interns in her law firm. Laurie supported mentoring programs for undergraduates and graduate students as a member of the President's Council for Cornell Women, of which she is now a sustaining member.
Her many terms on the Cornell University Council benefitted students, as well. She served as a member of the Student and Academic Services Committee and the Career Services Committee, as well as on the administrative board.
Berke-Weiss is vice president and nominating chair for the Class of 1971. She was class president from 2007 to 2011 and filled other leadership roles as well, including serving on her 30th, 40th, and 45th Reunion campaigns. She was a Cornell Alumni Association representative and director-at-large and served in the Cornell Alumni Admissions Ambassador Network in New York City.
Ronald Demer '59
Ronald Demer's first alumnus activity was Class of 1959 Cornell Fund representative in the early 1960s. He is now the president of his class for a second term.  He has served his class in various roles, often adding a personal touch to his leadership. For a class membership mailing during his first tenure as class president, Demer added handwritten notes to approximately 400 letters addressed to the classmates with whom he was personally acquainted, precipitating a jump in dues payers.  He was co-chair for his 50th Reunion in 2009, and he is the Class of 1959 Reunion Chair for his 55th in 2019.
In addition to leadership of his class, Demer served as president of the Cornell Club of Boston and as president of the Cornell Alumni Association of Atlanta. He was also a Cornell Alumni Admissions Ambassador Network volunteer in both cities.
His example in volunteer leadership is his fraternity brother, the late Curtis Reis '56. Both were elected to the Quill and Dagger Society as undergraduates, and both became Foremost Benefactors and recipients of the Frank H. T. Rhodes Exemplary Alumni Service Award.
Since retiring to Ithaca in 2001, Demer has become alumni president of Quill and Dagger and particularly enjoys working with current student leaders. He has also served multiple terms on the Cornell University Council and on the Fraternity and Sorority Advisory Council.
Thomas. W. Jones '69, MRP '72
Cornell leadership came naturally to Thomas W. Jones when he was an undergraduate, a formative time in his life and in the life of the university. Elected first-year class president and active on the student judicial board, Jones was a liaison in the controversial takeover of Willard Straight Hall in 1969; two days after the takeover's peaceful resolution, he addressed thousands at Barton Hall.
His extensive alumni service to the university began as a Cornell Alumni Admissions Ambassador volunteer in the Boston area. He then joined the board of overseers of Cornell Medical College (now Weill Cornell Medicine) and shortly after being appointed to the Cornell Board of Trustees. As a board member, Jones brought the strength of his financial expertise and also participated in the Committee on Academic Affairs and Campus Life, the Committee on Alumni Affairs and Development, the Executive Committee, and others. He was conferred Presidential Councillor status at the start of President Martha E. Pollack's tenure.
Jones was also involved with the Cornell Black Alumni Association and the Cornell Club of New York and appeared in several of Cornell's Sesquicentennial events in 2015. He currently serves on the Class of 1969 Council, and looks forward to his 50th Reunion in 2019.
Of all his contributions on behalf of Cornell, establishing the James A. Perkins Prize for Interracial Harmony and Understanding means the most to Jones. He established the prize in 1995 in honor of his mentor to recognize Cornell programs and individuals who further the ideal of university community while respecting values of racial diversity and harmony. Jones faithfully participates in the annual awards ceremony held in the Memorial Room at Willard Straight Hall.
Karen Rupert Keating '76
Karen Rupert Keating's engagement began as an undergraduate participating in phone-a-thons for her hometown Cornell regional office in Cleveland. She has continuously served the Class of 1976 in multiple capacities, including as president, major gifts chair, and Reunion chair. Keating has been a member of the Cornell University Council and the President's Council of Cornell Women (PCCW) for decades; she chaired the PCCW 10th Anniversary weekend celebration in 2000. For her leadership and volunteer efforts on behalf of the Samuel Curtis Johnson Graduate School of Management, Keating was awarded the 2011 Samuel C. Johnson Distinguished Service Award, a lifetime achievement award that recognizes extraordinary alumni for their sustained and exemplary commitment to Johnson and its alumni.
Keating served two terms on the Board of Trustees from 2001 to 2009 and was a member of the Finance, Audit, Investment, Student Life, and Development Steering Committees and chaired the Alumni Affairs Steering Committee. Keating was elected trustee emeritus at the end of her term and was recognized as a Presidential Councillor.
As a managing director in the Risk Management Division of JP Morgan's Investment Bank in New York City, Keating has kept Cornell close in her professional life, as well. She is the senior executive sponsor for the Cornell–JP Morgan relationship and counts recruiting and mentoring Cornell graduates as one of her most inspiring responsibilities.
Alexander Boone Vollmer '62, MCE '64
Alexander Boone Vollmer built his career overseas for 15 years after graduating with bachelor's and master's degrees in civil engineering; he then moved to California where he found community and purpose within San Francisco's Cornell alumni network. The large alumni base in northern California welcomed him, and soon he was involved in the alumni association leadership and Cornell Alumni Admissions Ambassador Network (CAAAN). He finds interacting with prospective students particularly rewarding.
Until June 2017, Vollmer served the Class of 1962 as immediate past president and continues to serve as its nominating chair. He is currently a member of the Class of 1962 55th Reunion campaign, a position he also held for his 40th, 45th, and 50th Reunions. He was president of the Class of 1962 for two terms and also served the class for several years in various roles: vice president, membership chair, and Reunion chair. Vollmer was also a director-at-large of the Cornell Association of Class Officers from 2004 to 2005. He served three terms on the Cornell University Council, and he was the board chair of the Cornell Alumni Association of Northern California from 2005 to 2009.
For more than 30 years, he has been a member of one of the San Francisco Bay CAAAN committees and is an emeritus member of the CAAAN Advisory Committee, having been a member since 1983 including two terms as its chair.