About the series
Rachel Krug '04 and Juanita McGonagle '04 founded the Leadership Lunch and Learn webinar series in 2014. Since then, the Class of 2004 and a team of Second Decade alumni organize 2-3 webinars per year, featuring Cornell alumni speakers, moderators, and participants.
The series focuses on building skills and knowledge around career success, work-life balance, and leadership. Previous topics included "Igniting Your Inner Leader," "The Killer Resume," and "Social Styles in Leadership Communication." Webinars follow a format of prepared remarks from the speakers, followed by a Q+A session of pre-submitted and live questions.
Upcoming webinar
October 19th, 2022 | Noon EST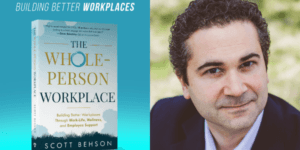 Scott Behson '94, PhD
Moderated by Vanessa Matsis '04 and Janelle Teng '11
Class officers from Class of 2004 and 2011 continue the series in its 9th year with an incredible guest, author Scott Behson '94, PhD. Scott's recent book, the Whole Person Workplace illustrates how important it is that employers support employees as whole people for mutual, long-term success. In this webinar, Scott will bring this expertise to the hiring and onboarding process of the employee journey. He will also touch on what job seekers can do and what they should look out for when evaluating employment opportunities. Questions related to hiring, job-seeking, or Scott's books are welcomed in advance. There will also be a live Q+A after prepared remarks. Please submit your questions for Scott in advance when your register.
Start watching the latest webinar
Patricia Jurewicz '90 and Niki Rivers '94
Moderated by Elyse Richardson '06
They offer insight into sustainability in their line of work and provide practical tips on how to incorporate sustainability into your day-to-day.
Watch previous webinars from the series on Cornell University's On Demand site.
Contact

Analysia Arroyo
Assistant Director, Class Programs Engagement Officer
Want to volunteer or suggest a classmate to be a speaker and/or moderator? Complete this form and the planning team will connect with you on how you can help.

Browse previous webinars in the Leadership Lunch and Learn series.

Find ways to stay connected with alumni from the Second Decade.