Thousands of alumni, parents, students, and friends from around the globe participated in StayHomecoming 2020, the first time that a Cornell Homecoming was held entirely online. The Trustee Council Annual Meeting (TCAM) was also held online during StayHomecoming week, October 6–10, with many events open to all alumni.
Alumni and students alike said that, while the virtual programming for TCAM and StayHomecoming wasn't exactly the same as the typical in-person celebrations, the events did inspire Big Red spirit and provided opportunities to network, learn, and have some fun.
"Despite having to hold TCAM in a physically distant manner, we were able to offer content and interactions amongst Cornell stakeholders that were intellectually stimulating and furthered the mission of Council," said Praveen Anumolu '01, MEng '03, TCAM Planning Committee Chair. "I think the week was extremely successful. I expect, going forward, we will find ways to incorporate remote participation at in-person events, to get the best of both worlds."
Gathering online for StayHomecoming was definitely different, but the Cornell Big Red spirit still shone through.
— Amanda Tripodi '21
Responding to COVID-19
To kick off StayHomecoming week, thousands tuned in to hear directly from Dr. Anthony Fauci MD '66 and NBC News' Kate Snow '91. Dr. Fauci discussed vaccine trials and what makes him hopeful about the future, and he responded to three student questions. Many attendees expressed gratitude and pride that Fauci and Snow have been such outstanding representatives of Cornell for the wider public, on such an important topic.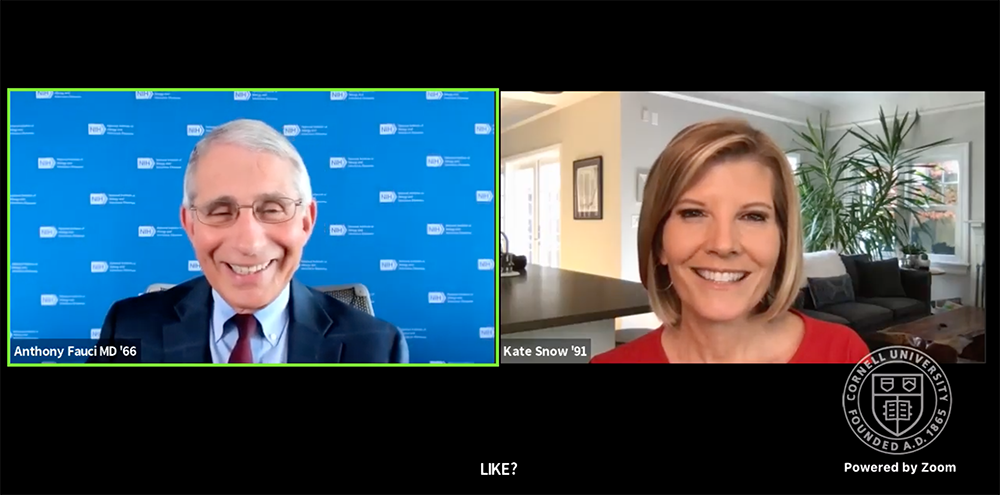 "I felt an immense amount of Cornell pride watching the event with my roommates in our Collegetown apartment, hoping that one day, we will be on the big screen offering knowledge to future students," said Amanda Tripodi '21.
President Pollack called out the innovative and successful COVID-19 testing protocols on the Ithaca campus during her State of the University Address Friday morning. She credited the Cornell Coronavirus Testing Laboratory for making it possible to successfully reopen the Ithaca campus, noting that the lab distinguishes Cornell from other universities that have reopened in-person classes. Pollack said that the low infection rate is something Cornellians, and students especially, should be proud of, but that it "doesn't mean we can let our guard down."
She also spoke about the increased financial need of many students due to the pandemic, thanking donors for making gifts that have allowed students to continue their studies. "There is no way that we could have managed to meet the financial need of our students without the incredible generosity of so many of you," she said.
Remembering Toni Morrison and RBG
Cornellians honored the legacy of the late Supreme Court Justice Ruth Bader Ginsburg '54 and the late celebrated author and Nobel Prize winner Toni Morrison MA '55 during several events throughout the week.
"Justice Ginsburg and Toni Morrison both had a profound impact on the world and embodied all that it means to be a Cornellian: to stay curious and continue to learn, and to use your knowledge to do good," said Michelle J. Vaeth '98, associate vice president for Alumni Affairs. "We are honored to have remembered them this weekend, and we are thrilled that the next generation of Cornellians will feel their presence on campus in clear and tangible ways."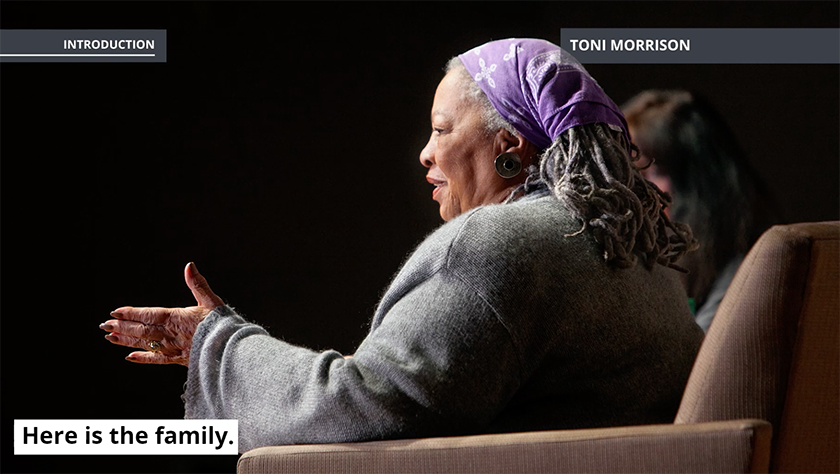 On Thursday, the College of Arts and Sciences hosted a day-long readathon of The Bluest Eye by Morrison. The event was part of a year-long celebration of the late author and the 50th anniversary of this award-winning literary work. The event began with a past recording of Morrison reading the book's introduction, followed by more than 100 individuals from across the U.S. reading parts of the novel in five different languages. Hundreds tuned in throughout the day.
During her State of the University Address, President Pollack announced the Ruth Bader '54 and Martin D. '53 Ginsburg Program Fund, which will support a new series of lectures, drawing inspiration from Justice Ginsburg's lectures on "Opera and the Law." The fund will bring speakers to campus, allowing students to explore topics the Ginsburgs cared about deeply – including law, music, and the humanities.
Also announced during Friday's State of the University Address, two new residence halls, built as part of the North Campus Residential Expansion, will be named for Ginsburg and Morrison.
Justice Ginsburg and Toni Morrison both had a profound impact on the world and embodied all that it means to be a Cornellian: to stay curious and continue to learn, and to use your knowledge to do good.
—Michelle J. Vaeth '98, associate vice president for Alumni Affairs
"For both of these extraordinary Cornellians," said President Pollack, "we wanted to create a memorial that would be seen by and have its doors open to any person at Cornell, reminding all of our Cornell students, not just those in a particular field or college, that their path from Cornell can take them anywhere."
Events to honor the late justice continued Saturday afternoon with a panel highlighting Ginsburg's impact on government, law, fashion, and more. Moderated by Congressman Steve Israel, Director of Cornell's Institute of Politics and Global Affairs, the panel included faculty from Cornell Law School, College of Arts and Sciences, and College of Human Ecology.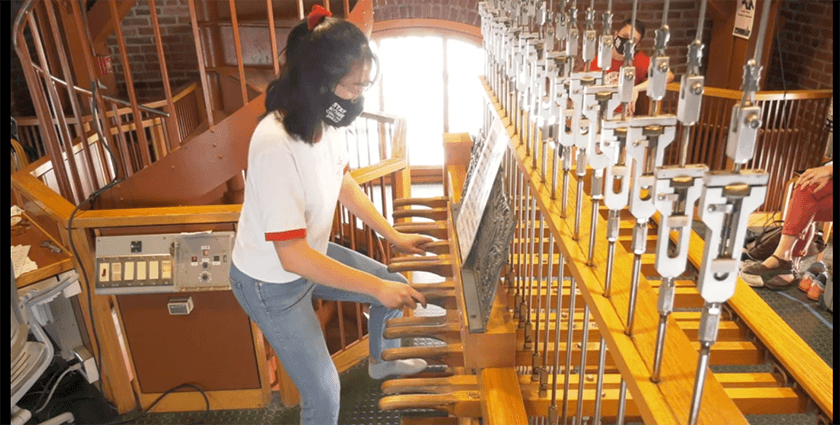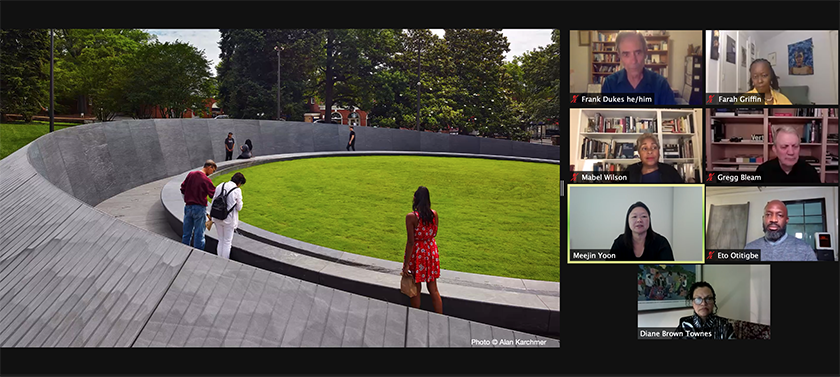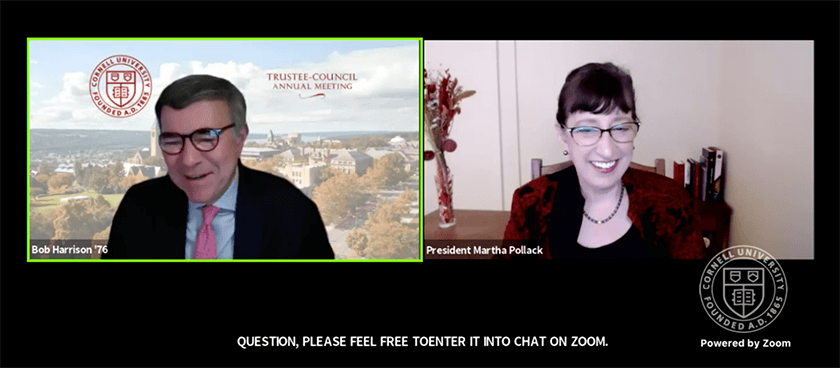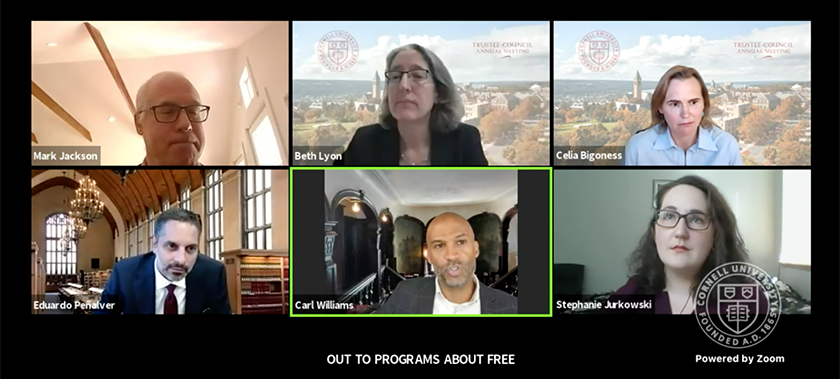 Spotlighting Athletics
While the typical Homecoming football game and fireworks show weren't possible this year, Cornell Athletics was still a main staple of StayHomecoming. Alumni athletes, "Big Old Bears," competed against student athletes, "Bartels Brainiacs," in a virtual game show Friday evening, Big Red Battle of the Brains, competing for bragging rights.
Although both teams put up a fight and had great responses, the student team won the battle, bringing in 347 total points.
Cornell alumni athletes were also featured in a panel discussion Saturday afternoon hosted by ESPN Sports Reporter, Sarah Spain '02. Panelists discussed how they have helped major sports teams navigate the new normal during the COVID-19 pandemic.
Spain and others mentioned the challenges of reporting on and working for sports teams after most games were cancelled early in the pandemic. Spain says the industry is now experiencing what she called "a veritable 'sports-pocalypse,'" as many major sports come back at the same time.
Kevin Boothe '05, director of Football Strategy and Development for the National Football League, spoke about the challenges the NFL has experienced as the season continues, noting that they have continually encouraged players and staff to wear masks and maintain social distance. "Obviously there's always risk," he stated. "That's been the most difficult part of this, the unknown."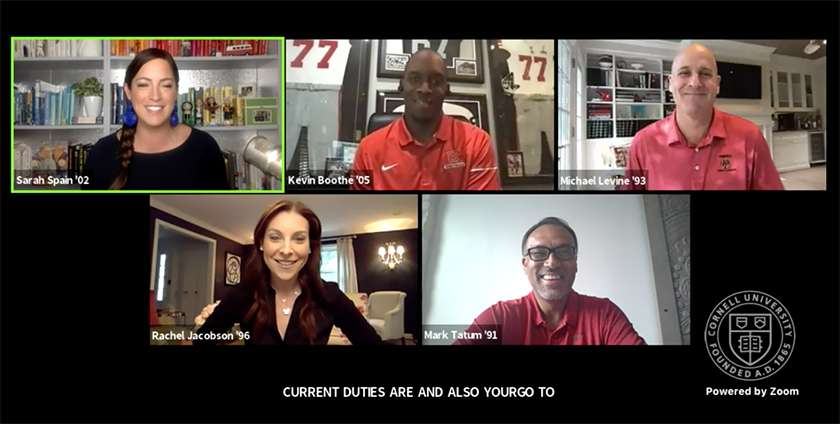 Celebrating Spirit Week
In addition to these online panels and events, students on the Ithaca campus were able to gather safely, following all COVID-19 guidelines, for special Spirit Week activities. They picked up complimentary StayHomecoming face masks and pumpkins to decorate their dorm rooms, tie-dyed bandanas on the Arts Quad, and participated many of the virtual activities throughout the week.
The StayHomecoming digital concert was also a hit with students and alumni alike, attracting hundreds of viewers on Saturday night with performers Lennon Stella and Betcha.
"Gathering online for StayHomecoming was definitely different, but the Cornell Big Red spirit still shone through," said Amanda Tripodi '21. "There was not the same rush we would feel in the stands of Schoellkopf, but there was still a strong sense of community among many generations. It was actually easier to connect with other Cornellians online than I thought It would be."