What do Robert S. Harrison '76, former chair of the Cornell University Board of Trustees, and a handful of recent alumni have in common? Answer: a track record of volunteer service to their alma mater.
"Cornell does an outstanding job of recognizing students' and graduates' achievements," says Julie Vultaggio '02. "This recognition often comes in the form of longer-term or lifetime service awards, such as the William "Bill" Vanneman '31 Outstanding Class Leader Award."
Early in 2022, the Student and Young Alumni committee of the Cornell Association of Class Officers surfaced the idea of honoring recent alumni volunteers (those who've graduated within the past ten years). Julie is chair of this committee.
"We realized there was no analog (to the Vanneman Award) for recent graduates," Julie explains. "We wanted a way to both acknowledge their work and encourage continued service."
Thus, the Robert S. Harrison '76 Recent Alumni Volunteer Awards were born—celebrating the service of a new generation of alumni volunteers and honoring Harrison's long-standing commitment to Cornell. Harrison served as a student trustee from 1975 to 1976, launching what would become nearly five decades of service to the university.
Big community, big impact
Nominations for the new award were solicited through Cornell's global network.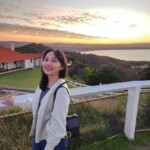 Kai Lin Tan '15 leads with a Big Red heart—serving as an ambassador between the university, our Malaysia-based alumni, and generations of Cornellians on the ground.
—Hongnan Ma MA '01, P '16, regional head for Asia development and former director of international alumni relations
"The candidate pool was very strong," notes Amanda Massa, associate director of young alumni programs and a member of the selection committee. "All of the winners have extensive volunteer service to Cornell and deep leadership and commitment to the university."
Winners represent a range of class years, colleges, volunteer organizations, geographies, and types of service. They will be honored in person at the Cornell Alumni Leadership Conference in San Diego in February.
"It was humbling to read the nominations," observes Julie, adding that these individuals embody the spirit of Ezra Cornell's desire to do the greatest good. "They—like every Cornellian I meet—have equal parts brilliance and curiosity, with the common denominator of deep commitment to improving the lives of those around us," says Julie, whose own volunteer service now spans two decades.
The first-ever cohort of Robert S. Harrison '76 Recent Alumni Volunteer Awards winners includes:
Vernice Arahan '14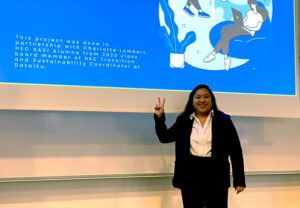 Vernice graduated in 2014 with a degree in urban and regional studies from the College of Architecture, Art, and Planning, with minors in Asian American studies and inequality studies. She served as president of the Cornell Asian Alumni Association from 2018 to 2020—the first woman of Filipina descent to serve in this role. During her term, she oversaw structural improvements to the organization, including revising its bylaws and constitution, as well as raising $20,000 for scholarships and students. Vernice is currently a member of Cornell University Council.
"We all realize that the Cornell community and impact is much bigger than just those in Ithaca or on the East Coast. Cornellians are everywhere and part of critical conversations and movements bettering the world. Alumni involvement provides a positive cycle of learning, where students gain access to the expertise and experiences of professionals across industries and geographies."

—Vernice Arahan '14
Julia Buffinton '14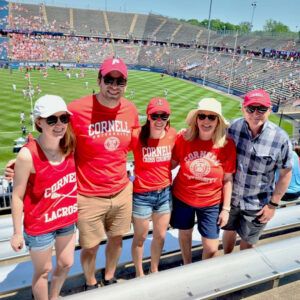 Julia graduated in 2014 with a degree in linguistics from the College of Arts and Sciences. Her leadership has spanned regional clubs, affinity groups, and her class; she currently leads her class as president and is a member of the Cornell Alumni Advisory Board and Cornell University Council. She is also a key leader for the Cornell Media Guild/WVBR-FM and recently created and chaired a committee to oversee succession planning and identifying and onboarding of new volunteers.
"Young alumni should stay involved first and foremost because it's fun! Staying involved also helps build a sense of community as you navigate the post-Cornell world. I've met many friends, mentors, and neighbors through my Cornell volunteering."

—Julia Buffinton '14
Kamillah Knight '13, MPA '15, MBA '22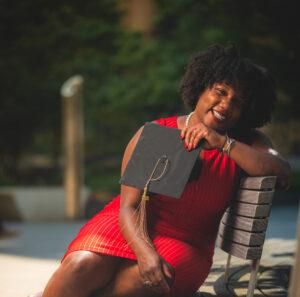 Kamillah graduated from Cornell with degrees from Arts and Sciences, the Jeb E. Brooks School of Public Policy, and the Johnson Graduate School of Management in 2013, 2015, and 2022. Committed to a mission of diversity, equity, inclusion, and belonging in both her professional and volunteer endeavors, Kamillah works with a myriad of Cornell organizations: the Cornell Black Alumni Association, Cornell Association of Class Officers, Cornell Campaign Cabinet, Cornell University Council, Johnson Recent Alumni Council, Mosaic Members at Large, the Class of 2013, Cornell Advocacy Program, Cornell Alumni Admissions Ambassador Network, and Johnson Leadership Council on Combatting Racism and Promoting DEIB.
"When I was in the spring semester of my junior year at Cornell, I gave birth to my now 11-year-old daughter. I decided that I would stay and complete my double major and minor on time, with my daughter by my side. The love and support of the Cornell community got me through it all. I knew as soon as I graduated that I had to give back in any way that I could, to ensure that—no matter who you are and what your situation is—you too could have just as great an experience as I did."

—Kamillah Knight '13, MPA '15, MBA '22
Olivia Moore Nicoletti '12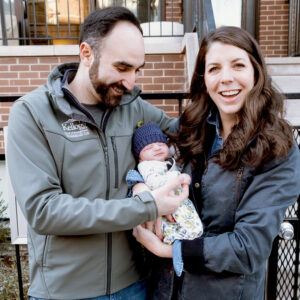 Olivia is a 2012 graduate of the School of Industrial and Labor Relations. Since graduation, Olivia has been dedicated to her class, serving as its president for ten years. She now serves as Class of 2012 nominations chair, helping to identify future class leaders. She is also convener for the Cornell Alumni Advisory Board and a member of the Cornell University Chorus Advisory Council, where she played a key role in the recent centennial celebration and fundraising campaign.
"All members of the Cornell University Chorus and Glee Club have the opportunity to travel on tour. The chorus strives to make their annual tours accessible to all interested students by offering the trips for free, with the support of alumni dollars. When I first learned this, it absolutely floored me! It was right then, as a young student, that I knew that I wanted to give back to the chorus to make such important experiences available to all students."

—Olivia Moore Nicoletti '12
Kai Lin Tan '15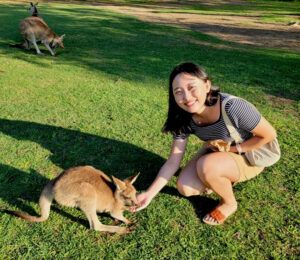 Kai Lin Tan graduated from Cornell with a degree in marketing and strategy from the Charles H. Dyson School of Applied Economics and Management in 2015. She is president of the Cornell Club of Malaysia, which has grown exponentially under her leadership. Kai Lin has organized social, educational, and networking events for the club, including first-year student sendoffs, fireside chats, and social gatherings with alumni from peer institutions. These events have enriched the lives of her fellow Cornellians and contributed to the edification of her region.
"My first alumni event was the 2018 Asia Pacific Leadership Conference in Hong Kong. This event inspired me to revive the Cornell Club of Malaysia, after the club went dormant in 2008. Since then, the club has held more than 20 events and has reunited both old and young alumni in Malaysia, giving them a platform to connect and exchange ideas. I am proud of what we've achieved in the past few years, as we bring more Cornellians together."

—Kai Lin Tan '15