Volunteer Erica Healey-Kagan '05 sat down with Ankur Bajaj '13 for a conversation about Ankur's numerous involvements. Hear his thoughts about the communities that shaped his Cornell experience as a student, and why he continues to stay involved as a volunteer.
Ankur's alumni activities and positions:
Erica Healey-Kagan '05: Cornell is a big place; how did you find your corner of the university?
Ankur Bajaj '13: I remember coming to campus, and just falling in love with the breadth of Cornell. That is one of the biggest reasons I chose Cornell, in addition to the academics and everything I got out of the curriculum, just the breadth of opportunities and the ability to create something outside of your school work. I was one of those annoyingly involved people on campus. I was focused on what I could do to build myself as a campus leader and as an organizer in some ways.
I love the Cornell LGBT community as a component of my broader coming out experience and maturation because I'm now at a place in my life where I'm proud and happy. I actually live the pride. The Cornell LGBTQ community, both in Haven and obviously CUGALA, where I'm on the board, is such an important aspect of my life and I met people who have been such an important part of my coming out experience and becoming who I am.
What was going on on campus in 2009-2013?
A couple things come to mind. Oprah Winfrey came to campus when I was there, for our MUN (Model UN) conference. I literally remember walking in a hallway and seeing her from across the way; I didn't get to meet her that day but it was still such a cool experience to have someone who cares so much about giving back to the world, but also is so prominent, participate in this conference that we were running.
The other is something I talk about with everyone in my class: the Avicii concert that happened in 2012. Avicii has since passed, which is very sad, but we had the opportunity to host him on campus and the Cornell Concert Commission, and I had a few friends who were very involved. Most people looking back in the LGBTQ community — I had just come out, I remember, I think this was six months after coming out — got to experience together, so it was huge.
What is your favorite memory of being a class officer?
Being the five-year Reunion chair was one of the most challenging but rewarding experiences of my Cornell volunteer and even undergrad experience. Being responsible for an event that was literally $350k, being responsible for many classmates' first significant trip back to campus and offer improvements and maybe my unique voice and perspective on the event, leading a team of roughly 10 classmates on the committee was such a positive and meaningful experience I had as a volunteer. I sip the Big Red Kool Aid. I'm a huge Reunion queen. I was like 'ok, there should be an option for us to continue to dance, there really aren't many dance venues during Reunion.' So, we decided to throw a big party and we co-hosted this event with 90s-00s music. We had 90s-themed snacks and giveaways and a bunch of Backstreet Boys cutouts; it was such a fun experience. I look back on that as, okay I did something good, I was able to contribute to a good experience for the class. The experiences I have with my class are huge and something I want to continue to be involved in.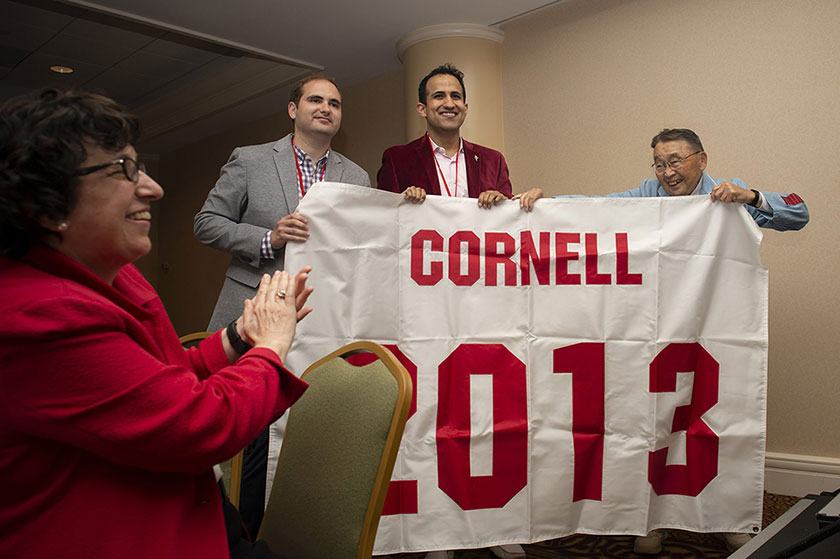 How are your various alumni volunteer roles different or similar to one another? How do you see them coming together to be a worthwhile way to spend your time?
I definitely feel like I get to express different parts of my experience, personality, who I am, with the various things that I do. In some of the CIAS stuff, I get to be the older (even though I'm still relatively young) advisor to the undergrads, thinking through how we can build the organization. In my CUGALA experience, I get to be laser-focused on an aspect of my being that is so important to me, my queer identity. Finding opportunities to connect and celebrate queer people, queer Cornellians, and find ways to interact with other institutions around our queer identity. With my class community, it's all about connecting back and reliving some of those campus experiences and friendships: it's all about reconnection and giving back to the class that has given you so much. I just love that there's so many ways to get involved. From a professional and development perspective, I get to learn different things from the different organizations.
What advice would you give to someone who wants to be more engaged and involved with the university as an alum?
Figure out what you want to do. There are so many opportunities, so many paths. You might be super interested in working with the undergrad club that you were passionate about. If you want a certain type of experience like planning a concert or an event or a party, there are so many opportunities that you may not get to do in your day job. Not to live a gay stereotype, but I will; in another life, I absolutely would be a party planner because I love throwing events and I get to live that fantasy and live that realness with some of the CUGALA and class stuff I do. And, if your passions are connecting with students on campus or connecting with alumni or even professional development, there are so many opportunities. The advice I would give is: think about what you want to do and you'll get so much back from your volunteering, it's more of a what, not an if! Figure out what you want to do, just be selfish! What do you want to get? What skills do you want to learn? How do you want to advance your own ambitions in your broader career or life? There is someone at Cornell that could use your help, and you'll benefit from it too.
What is the tie that binds you to Cornell University?
In part, the tie is the people I know and the experiences I have. But it really, at its core, the deep feeling that I have in every fiber of my being that I am who I am today because of my Cornell experience, and I'm in the opportunities that I am, both professionally in my job and personally in who I am, being an out proud gay man about to get married, because of Cornell. I'm someone who drinks the Kool Aid super early. Once I believe in something, I want to give it all I can. Sometimes I fall short of my ambitions; I'm definitely the person who signs up for nine million things and want to help everyone and help Cornell be the best institution and CIAS to be the best organization and my class to be the best class and CUGALA to be the best in DAP and across our peer institutions, but it comes from a place of wanting to give back and continue build on what others have done. I am who I am because of it and I want to continue to make it better.