Friends Alexandra Gutierrez '20 and Elizabeth Farkouh '21 had a full day on October 5, the Saturday of Cornell Homecoming 2019.
First, they picked up their free Class of 2020 and Class of 2021 t-shirts—with a unique design for each class—outside Lynah Rink. Then, they got some free sunglasses and bags from the Big Red Fan Festival in the Crescent Parking Lot. After stopping by the Human Ecology showcase tent (Farkouh is a HumEc student), they got their faces painted and got in line to ride the Ferris wheel.
Both students had finished multiple prelims the week before, so the time was right to have a day of fun, explore, and see Cornell from a new perspective.
"Homecoming is such a fun day," said Farkouh, who was attending Homecoming for the first time. "It's a sense of community. Students and alumni—everyone is here because of Cornell."
More than 17,000 alumni, students, parents, staff members, and residents of the Ithaca area joined in October 4–5 for two days of Homecoming events.
"You could see the Big Red pride on everyone's faces in the perfect October sunshine," said Lisa Bushlow '91, senior director of student and alumni, class, and affinity programs. "This year's Homecoming brought our entire Cornell community together."
Homecoming headliners
Several featured events appealed to Cornellians and community members of many different ages and interests. On Friday night, thousands filled the Schoellkopf Field stands. They were entertained by DJ ha-MEEN (aka Ben Ortiz, assistant curator of the Cornell Hip Hop Collection) and the Big Red Marching Band before the Fireworks and Laser Light Show highlighting Cornell student experience.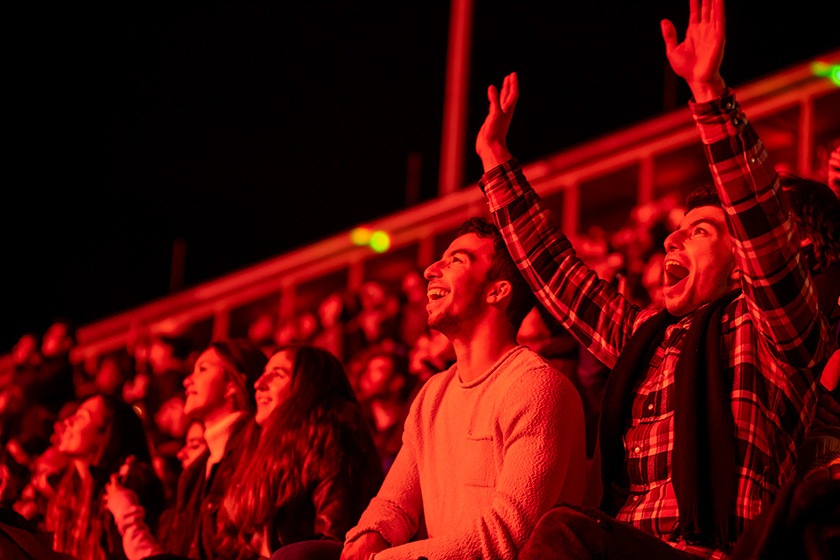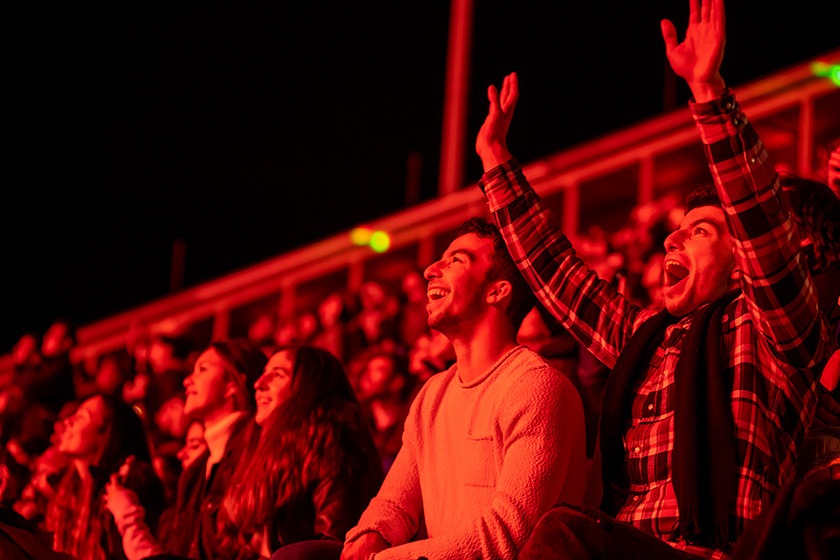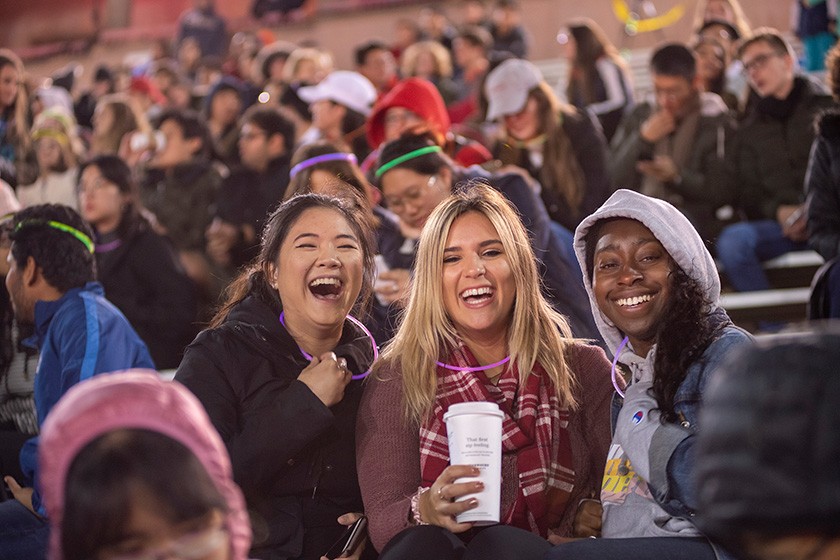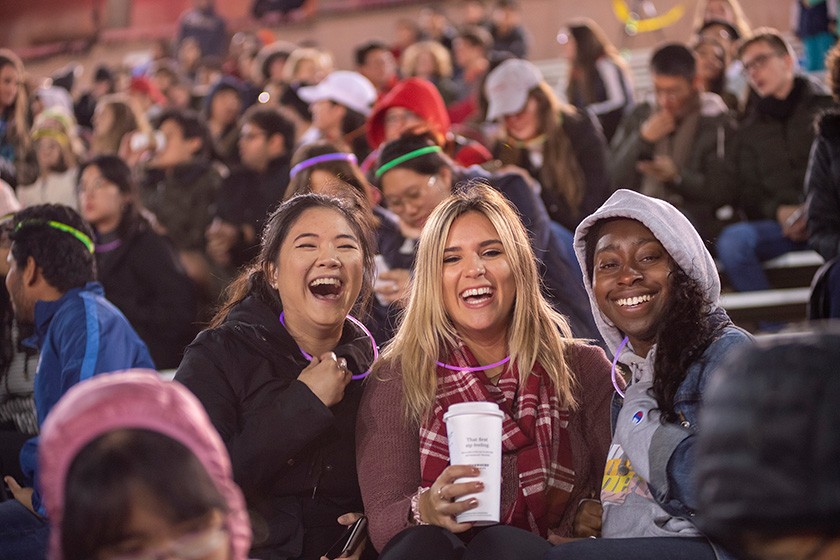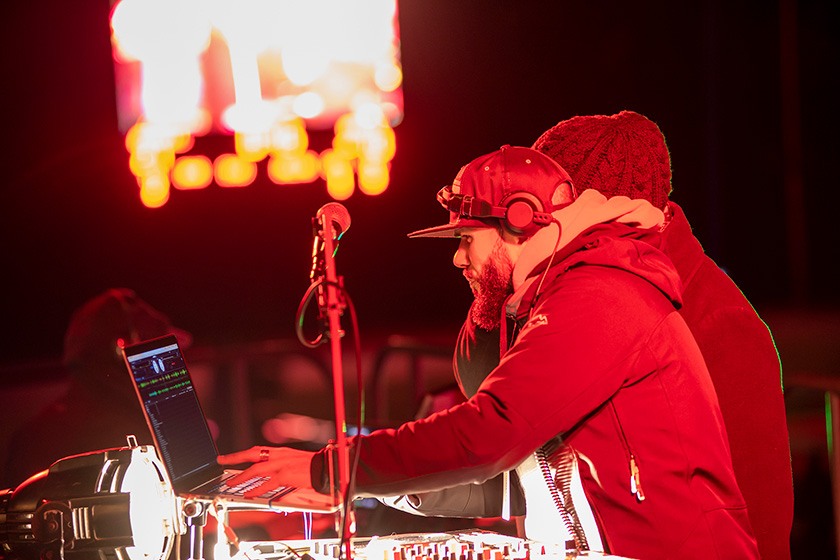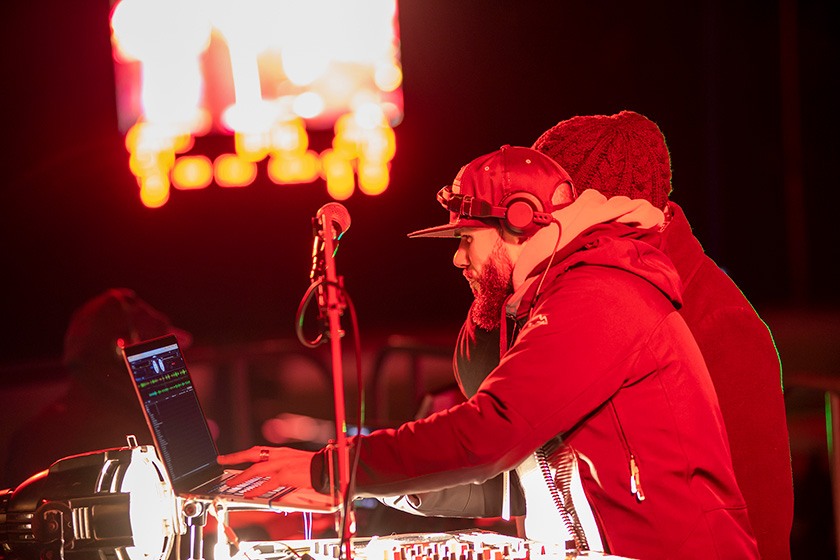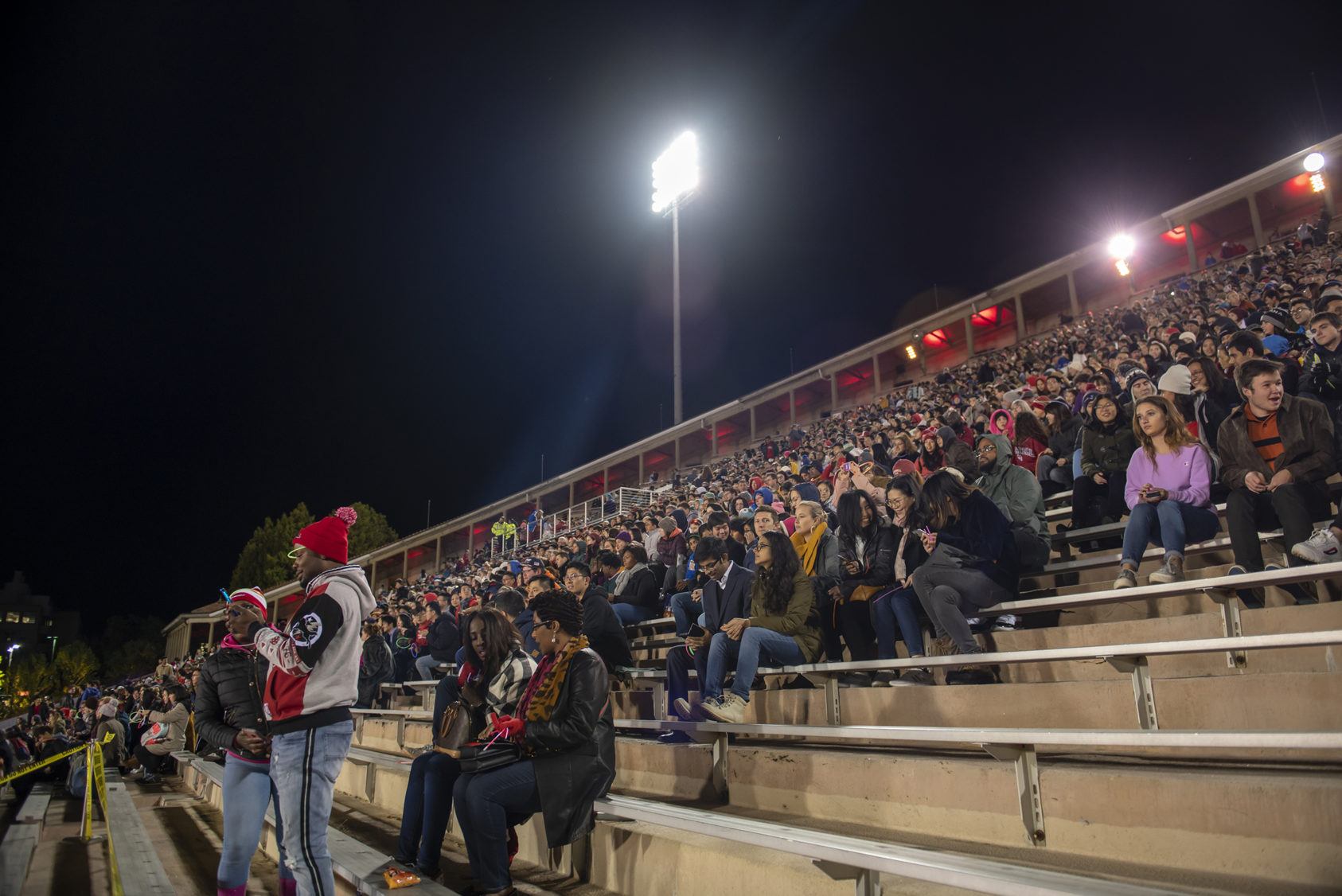 On Saturday, the Big Red Fan Festival was in full swing before the football game against Georgetown. There were tent parties sponsored by Big Red Athletics, Classes of the 1970s and 1980s, Cornell Mosaic, the Tower Club, Sororities and Fraternities, and Young Alumni Programs, as well as some of the university's colleges and professional schools.
Musical acts Saint Motel and Daya played the Homecoming concert Saturday night in Barton Hall.
Excellence on display
College showcases displayed fun, engaging facts and takeaways from Cornell's academic departments and centers. For example, visitors learned 10 ways to use less plastic at the Atkinson Center for Sustainability table, as well as viewing current work by Tasha Lewis, who is an Atkinson Center Fellow and associate professor in the Department of Fiber Science & Apparel Design.
Staff from Cornell University Library educated students and alumni—who can use library services and collections after graduation—about online privacy.
The Department of Mathematics booth featured geometry games and polyhedrons made from balloons. The Department of Performing and Media Arts (PMA) booth showed off various props from past theatrical shows, including ice cream bars that don't melt and a small blue goat on wheels from a Shakespeare production.
"Little kids love this goat," said Cindy Greco, performance and events coordinator at PMA.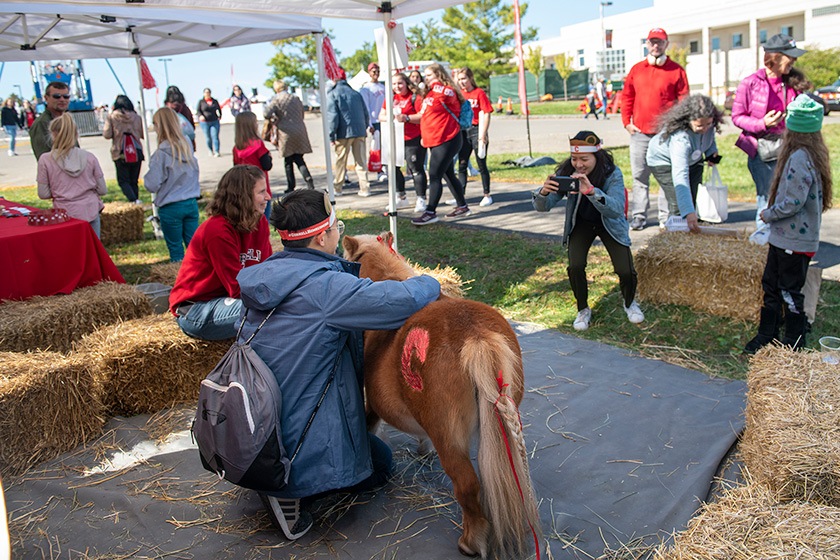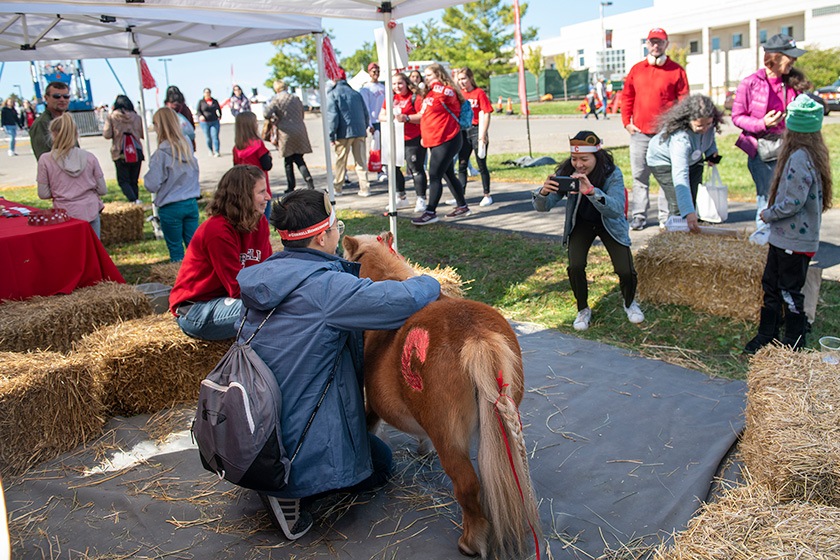 Also beloved by children at Homecoming 2019: grape stomping at the College of Agriculture and Life Sciences Viticulture and Enology Club tent and Minnie the pony, the unofficial mascot of the College of Veterinary Medicine. "I met Minnie" stickers were seen all over campus all day.
Elsewhere on campus, an arts tour included several of Cornell's cultural treasures at the College of Human Ecology, the College of Arts & Sciences, the College of Architecture, Art, and Planning, and the Herbert F. Johnson Museum of Art. Across campus, the Africana Studies & Research Center was the starting point for a Commemorative Walk: A Cultural Remembrance of the 1969 Occupation of Willard Straight Hall.
Homecoming their way
In addition to the main events, hundreds of gatherings, lectures, and celebrations, both planned and impromptu, showcased Cornell and offered opportunities for fun. Spread out through the Cornell athletics complex and the rest of campus were thousands of Cornellians doing Homecoming 2019 their way.
Martin Schulz '86 was still wearing his Homecoming 5K race number, 1865 (the year of Cornell's founding, the same as everyone's race number) as he set up a tailgate near the Kane Sports Complex with Jay Sbrollini '87 and Wendy Williams Sbrollini '87. Homecoming was special for all three this year because they all have children who are current students. They divided their Homecoming weekend between time with kids and time with classmates.
"Friends!" brought Mahrusah Zahin '16, MPA '20 to Homecoming and to an MPA program tailgate, where classmates and alumni were snacking and affixing temporary tattoos to their faces. Nearby, at a tailgate organized by the Cornell Glee Club and Cornell University Chorus members, students and alumni mingled and enjoyed the fall weather.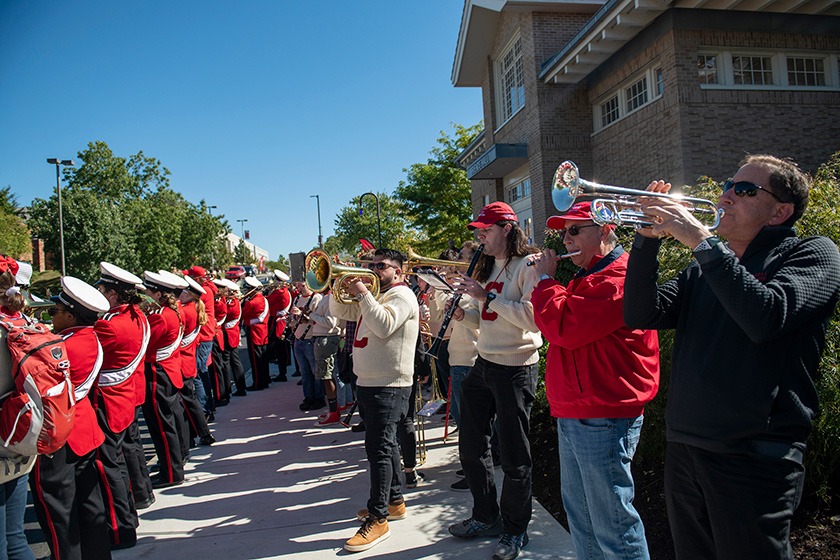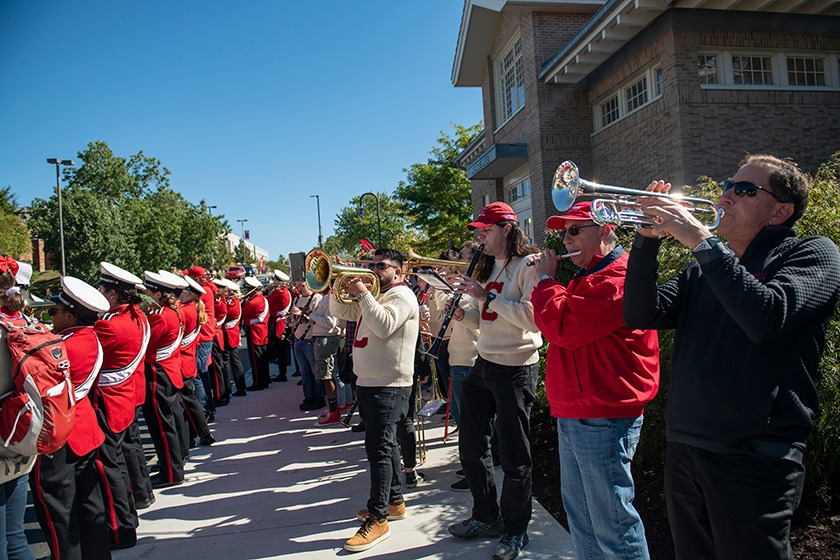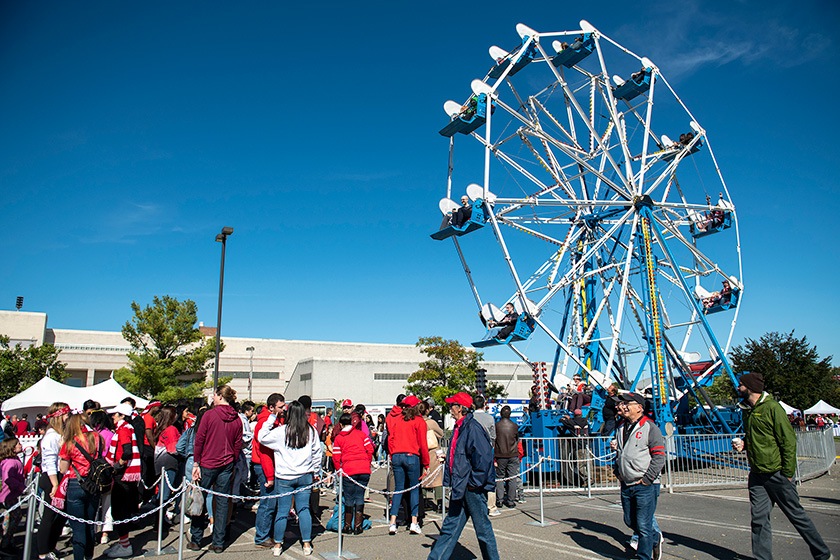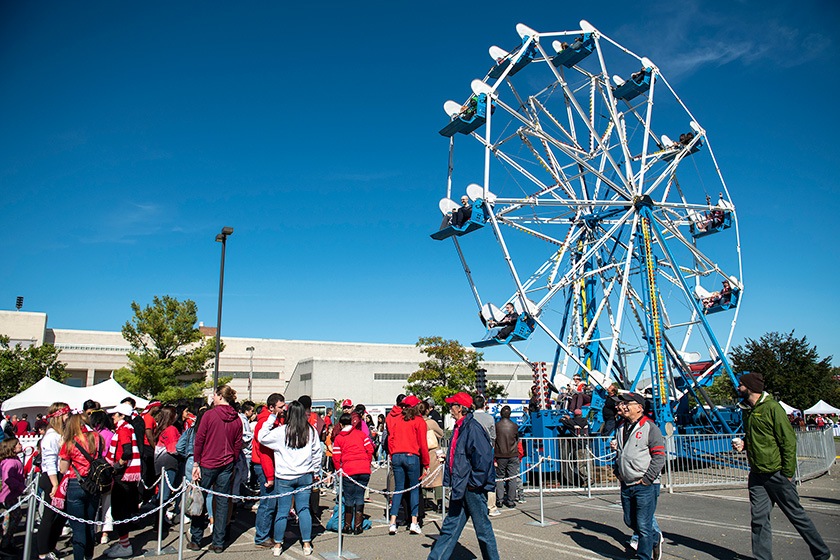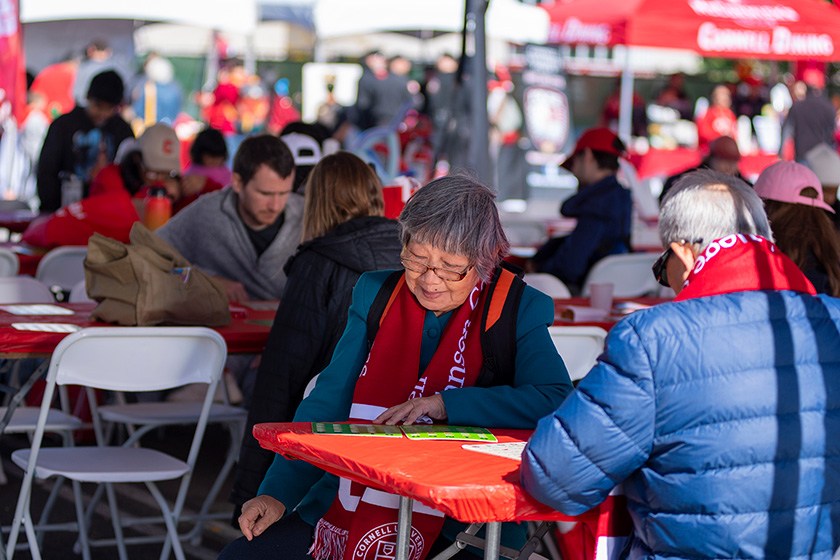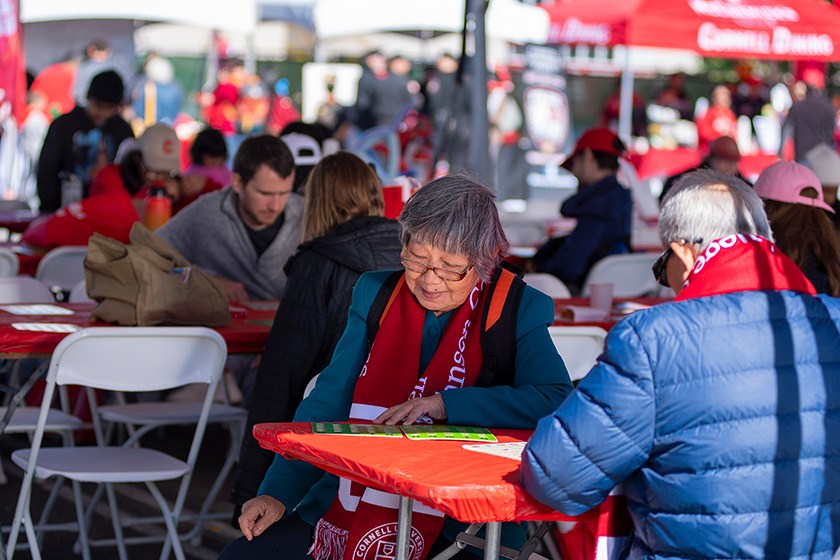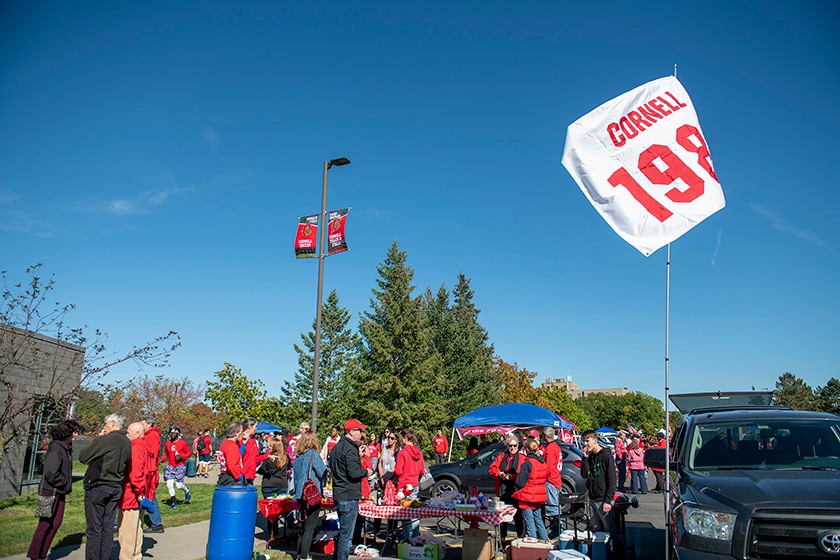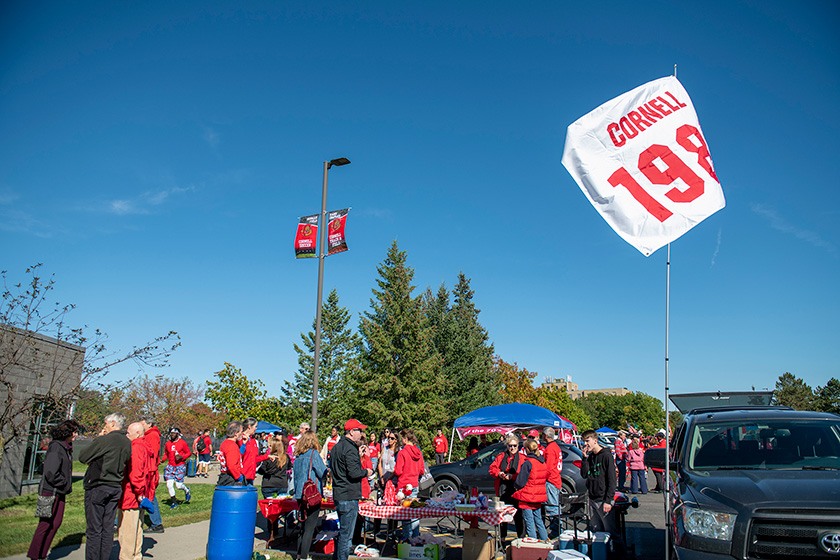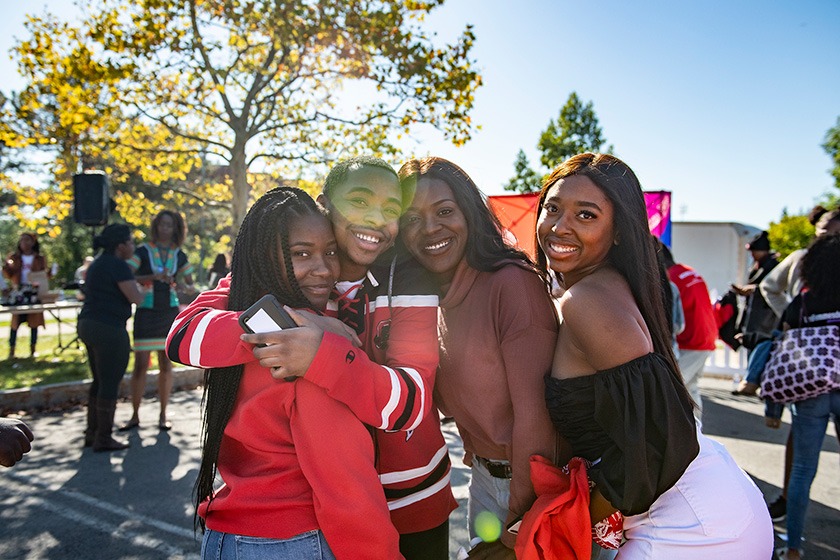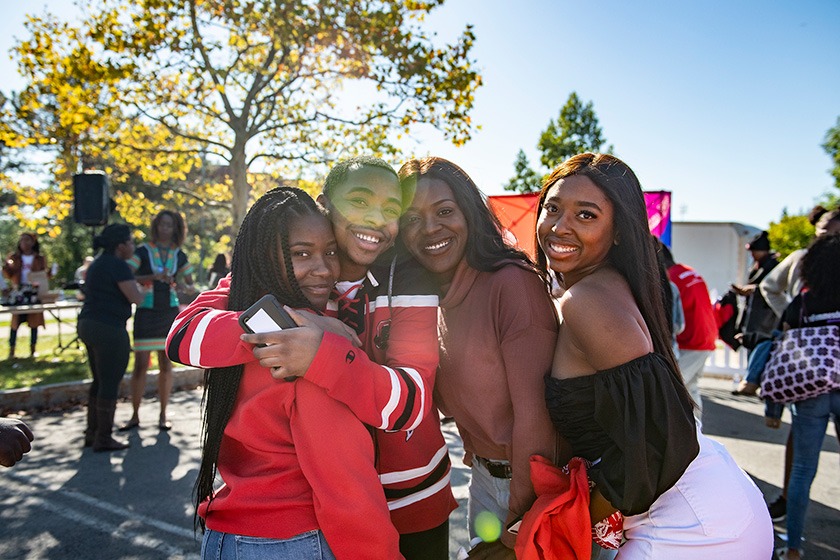 "It's one of the most beautiful times to be in Ithaca," said George Epstein '15, who comes back every fall for Homecoming.
Members of the 1976 freshman football team, who first bonded through an undefeated season in 1972 and keep up strong ties, tailgated from a customized van decorated in Big Red colors. "The legend is, it's a nice group of guys who still get together," said Steve Garcia '76.
At the young alumni tailgate, Jenise Carter, Grant Gilbert, and Erin Grohe, all Class of 2019, reported that a lot of the people in in the tent had just graduated in May.
"We left…and we're back," said Grohe. "We're using Homecoming as a reunion. It makes sense to come back the first year out because you know a lot of people who are still undergraduates, too."
Experiencing Cornell
As the 3 p.m. kick-off approached and the Big Red Fan Festival crowd migrated into Schoellkopf Field, Jackie Brewer waited near the Ferris wheel for her husband, Gregory Brewer '84, to join her and their daughter, Briana.
"My husband wants the family to see Cornell," said Jackie.
A passionate Cornell alumnus, Gregory took the opportunity during Homecoming 2019 to show his family around. They traveled from North Carolina for the weekend. Briana Brewer, who works in the athletics department at Wake Forest University, said at Homecoming she experienced the Cornell her father had always told her about.
"People talk about southern hospitality," she said, "but everyone has been so nice here."