It's six-thirty a.m. in Paris in May. Angelica Allen-McMillan '91 and Randy McMillan '92 join hands in the shelter of an elevated track. The steel beams supporting the train echo the distant spans of the Eiffel Tower. Angelica wears a wreath of flowers in her hair. Even the cool spring rain is romantic.
"We were the only people there," said Angelica, remembering.
In the early hours of a Parisian morning, these two Cornellians renewed their marriage vows 13 years after first tying the knot, making the most of their trip with the Cornell Alumni Association Travel Program.
"We seized the moment," Angelica said during a July phone interview. "We thought, what a wonderful way to express our love—by renewing our vows in the City of Love."
'We complement each other'
Randy and Angelica met as Cornell undergraduates. Both were active with the student organization Black Students United, among other clubs, and each served as editor of the Ethos yearbook, Angelica in 1991 and Randy in 1992. They didn't date, however, until reconnecting years later at a Cornell alumni event in Manhattan. They married in July 2006.
We seized the moment. We thought, what a wonderful way to express our love—by renewing our vows in the City of Love.
—Angelica Allen-McMillan '91
The couple now lives in the New York metro area. Randy is vice president and head of business affairs at Broadcast Music, Inc., and Angelica is an executive county superintendent in the New Jersey Department of Education. Although they had recently vacationed in southern France, a mailing about the Cornell Alumni Association trip to Paris inspired them to join the tour group.
"When we saw the trip focused on the African American expatriate experience, we realized this wasn't something we were going to be able to duplicate on our own," said Randy. "It was so unique. We also felt as if they were finally offering something that was aligned with our interests and our culture. If we wanted to see more of this, we needed to support it."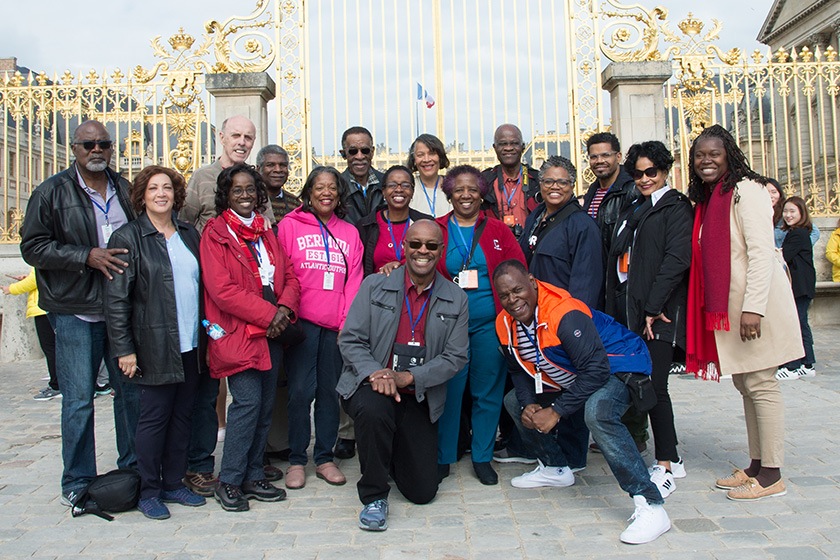 A group of 16 Cornellians visited Paris for nine days, May 5 to 13, exploring the rich history of the African American experience in and influence on the city. Black alumni made up the majority of the tour group, says Calicia Mullings '98, associate director of Diversity Programs. She joined the trip as a Cornell staff representative.
"Usually, there are one or two people of color. This time, the dynamic was reversed. I think the folks on the trip enjoyed that," she said. "This group bonded really fast."
It was Angelica's idea to renew their vows while she and her husband were in Paris.
"She's the idealist," said Randy. "She comes up with these things, and I entertain the logistics."
"We complement each other well," said Angelica. With her vision and Randy's tactical planning skills at work, the two found someone who specializes in marriage vow renewals.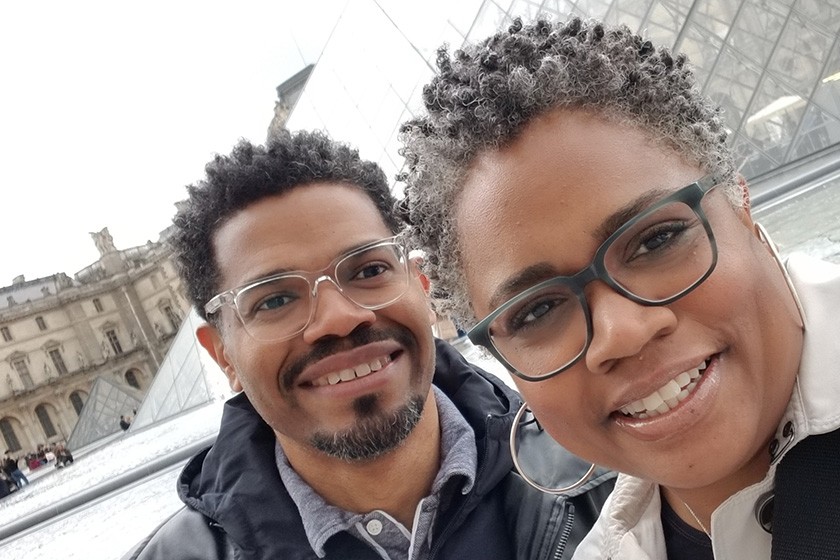 "We had a detailed questionnaire that caused us to reflect on what brought us together when we first met," said Angelica. "It asked for all kinds of intimate details about us that the officiant then wove into a wonderful …"
"… set of original vows that were specific to us," Randy continued the thought. "That was pretty cool."
They enjoyed the brief ceremony and posed for a professional photographer—then went directly to a lecture. "We didn't miss a beat," said Randy.
No questions off limits
Each morning the tour group attended a lecture on a topic such as the influence of the Harlem Renaissance on Paris. They then visited a site related to the lecture. Activities included a visit to the Louvre Museum focused on how people of color are depicted through centuries of art; a gastronomical walking tour; and a screening of 2016 documentary, Paris Noir: African Americans in the City of Light, followed by a discussion with the filmmakers.
The group visited a monument dedicated to the abolition of slavery in France. "We also visited the homes of James Baldwin and Richard Wright, and learned how complex and influential Josephine Baker was," said Mullings.
When we saw the trip focused on the African American expatriate experience, we realized this wasn't something we were going to be able to duplicate on our own.
—Randy McMillan '92
On another excursion, a jazz musician led a visit to a music club—known in France as a "jazz cave." Writer Jake Lamar, a Bronx transplant to Paris, shared his experiences living in the city and invited open discussion.
"He said no questions are off limits, and he spoke very frankly about his experiences as a black man in Paris," said Randy. "At every turn during the week, there were these experiences that were exceeding our expectations."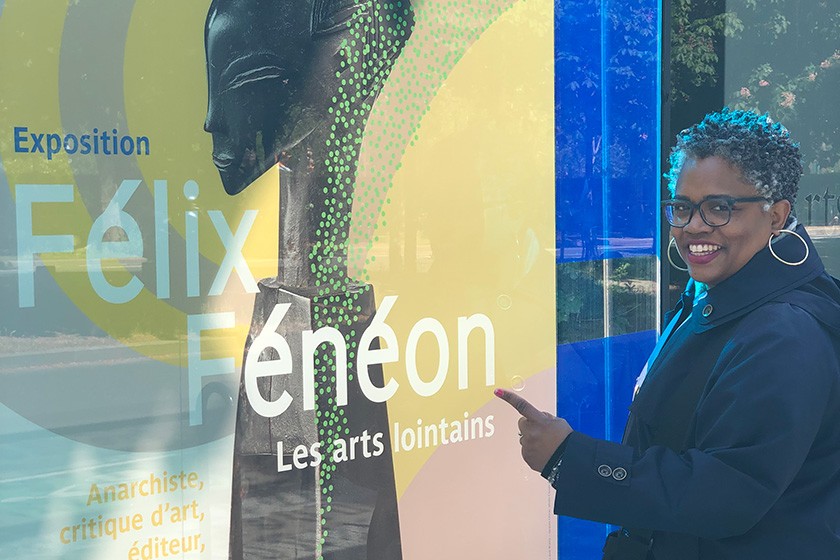 Angelica enjoyed the group's lodgings in a neighborhood distant from usual tourist haunts. She observed and mingled with Parisians as they went about their daily routines of shopping, dining out, and picking up children after school. "It was wonderful to feel immersed in the Parisian culture," she said.
After Paris
The immersion into culture, history, and knowledge helped to form lasting friendships for many on the tour. Randy and Angelica made friends with a couple based in Maryland. In June, the foursome attended a Broadway play. "We're going to stay in touch with them for a while to come," said Randy.
The Paris experience also strengthened the couple's commitment to one another: "When you stop to reaffirm who you are, what you value, and what you've built, it reinforces your belief in the immense power of your love," Angelica said.
"The trip had a significant impact on my psyche and how I move through the world," said Randy. "I learned how robust living can be."