We asked two alumni-elected trustees finishing four-year terms of service to reflect on their time with the Cornell University Board of Trustees. Hear what they are proud of, what they learned, and what their hopes are for the future of Cornell.
Sheila W. Allen '76, DVM '81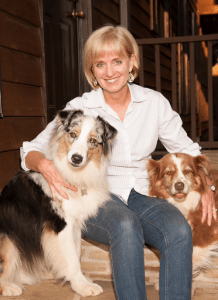 It has been an honor and a pleasure to serve as an alumni-elected trustee for Cornell University. I have learned a great deal about the tremendous breadth and depth of excellence within our great university, both in Ithaca and in New York City. The "radical collaborations" that have resulted among students and faculty in Ithaca, at Weill Cornell Medicine, and on the Cornell Tech campus are truly inspiring. Cornell has faced and met many challenges during my time on the board, including supporting free speech and diversity, equity, and inclusion on campus, and, of course, responding to the COVID-19 pandemic. I am so proud of how Cornell is navigating through the pandemic, while keeping the safety of students, faculty, staff, and the surrounding communities as its top priority. I am especially proud of the role the College of Veterinary Medicine played by conducting over a million COVID tests in Cornell's effort toward ensuring a safe place to discover and learn. Cornell is emerging stronger than ever, and will always be viewed as an outstanding example of how a comprehensive university should serve society.
Cornell University is poised for continued advancement in the coming years, and will always, no doubt, "do the greatest good." Thank you for the opportunity to serve Cornell.
Linda M. Gadsby '88, Esq.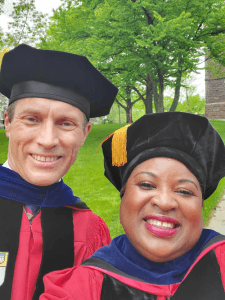 As my term as alumni-elected trustee comes to an end, I'd like to thank my fellow alumni for entrusting me with the honor of serving on the board. It has truly been a pleasure to work alongside some of our most committed and passionate alumni.
My time on the board has consisted of some wonderful highlights: attending President Martha E. Pollack's inauguration, witnessing the opening of the Cornell Tech campus in New York City, introducing President Pollack at Reunion, and celebrating our graduates on the Arts Quad with my fellow trustees. I am most proud of my contribution to elevating the board's conversations and actions around mental health services for students, my role advising President Pollack on diversity, equity and inclusion issues as a part of a small advisory group, financially supporting the Cornell Promise campaign in support of our students with financial need, and the many meetings and engagement opportunities I have had with students throughout my term.
There have also been some painful and challenging times that really tested our mettle: racial violence and tensions on campus, the tragic deaths of several students, and the COVID-19 pandemic. Through it all, the board has remained steadfast and demonstrated leadership. Our most important achievement by far, in partnership with President Pollack and the entire administration, was successfully leading the university through the pandemic. We were a model for higher education! The unprecedented nature of the crisis demonstrated the importance of having the right people in the right positions and the tremendous value of the intellectual firepower that Cornell is blessed to have. I will always be proud to have been a part of the team during this tumultuous time.
Cornell's future is bright and I am excited to play a part in our continued success as I begin my second term. I am thankful to the board for appointing me and I commit to serving with authenticity and forthrightness, to working diligently on the big issues we will face, and to always keeping our amazing students at the forefront of my mind.