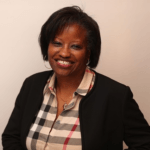 Valisha Graves
Cornell degree: AB '85 (A&S)
Read Valisha's interview.
"One of the most important issues facing the Board of Trustees is how Cornell advances its 21st century education model in novel and innovative ways that resonate with, and are accessible to, a diverse set of global learners and educators, and maintain traditions that embolden alumni to engage and support."
Professional experience:
Executive Director, JPMorgan Chase, Community & Consumer Bank, Senior Digital Product Lead – API Marketplace, 2021–present
Executive Director, Morgan Stanley, 2006–2021

Head Account Onboarding Fraud Controls & Product Strategy, Wealth Management, 2020–2021
Head of Onboarding Strategy, One Client Data Initiative, Wealth Management, 2018–2020
Practice Lead, Enterprise Infrastructure & Computing Practice, 2017–2018
Product Owner, Technology Asset Inventory (TAI), Enterprise Computing, 2015–2017
Business Technology Officer, Global Capital Markets, 2011–2015
Product Manager, Research, Investment Banking & Equity Derivatives, 2006–2011
Vice President, ModelWare Team, 2005–2006
Alumni service:
President's Council of Cornell Women, chair, 2021–present; vice chair, 2020–2021; Communications Committee co-chair, 2018–2020; member at large, 2016–present
Cornell University Council, member at large, 2019–present; Administrative Board member, 2020–2021; ex officio, 2021–present
Cornell Mosaic, member at large, 2018–present; Executive Committee member, 2014–2020; Development Committee chair, 2019–2020
W.E. Cornell Advisory Board, member, 2019–present
Arts & Sciences Career Connections Committee, Finance Team member, 2015–present
Cornell Alumni Admissions Ambassador Network, member, 2009–present
Cornell Black Alumni Association, lifetime member
Cornell Alumni Association of New York, member
Community/public service/ philanthropic priorities:
Suffield Academy, Trustee, 1988–present; Strategic Planning and Audit & Finance Committee (current), Investment Committee (past)
Council for Urban Professionals (CUP) Tech Catalyst, 2022–present
NYU Fubon Center Fintech Advisory Board, 2021–present
CFA New York Fintech Thought Leadership Committee, chair, 2020–present
92Y Women inPower Fellow, 2019–present
Big Brothers, Big Sisters, 2007–2016
100 Women in Fintech, member
Abyssinian Baptist Church
Alpha Kappa Alpha Sorority, Inc. (AKA), general member
Morgan Stanley EDIT (Enhancing Diversity in Tech) forum co-founder
Other education:
Master of Business Administration, Columbia Business School, 1994
Carpigiani Gelato University (Bologna), Basic Gelato Course, 2013
Student involvements/activities:
Alpha Kappa Alpha Sorority, Mu Upsilon Chapter
Cornell in Washington
Cornell University Ambassador
Cornell Tradition Fellowship
Olin Library student employee
Additional information:
Valisha is an executive director at JPMorgan Chase and has spent most of her career in leadership roles in fintech product management. A native of Cleveland, Ohio, she entered Cornell after graduating from Suffield Academy where she was an A Better Chance Scholar and has been a trustee since 1988. Education is her passion. She co-founded AACEP (African American Cultural Enrichment Program) with two fellow Cornellians and is a guest lecturer on fintech at leading business schools. She also helped launch EDIT (Enhancing Diversity in Technology), the first Wall Street forum aimed at advancing the careers of Black and Latino technologists.