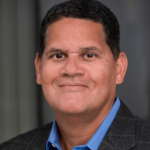 Reginald Fils-Aimé
Cornell degree: BS '83 (Dyson)
"The most important issue facing the Cornell University Board of Trustees is delivering on Ezra's founding principle—any person finding instruction in any study—because affordability is a limiter to any person attending without massive debt as their study concludes, and to instruct in any study, Cornell must recruit a broad new cohort of talented and diverse professors as current staff retires."
Professional experience:
Brentwood Growth Partners, Founder and Managing Partner, 2019–present
Nintendo of America Inc., President and Chief Operating Officer, 2006–2019, retired; Executive Vice President of Sales and Marketing, 2003–2006
Board service

UTA Acquisition Corp., Board Chair
Brunswick Corporation
Spin Master Corporation
Rogue Co., Special Advisor
Alumni service:
College of Agriculture and Life Sciences (CALS) Dean's Advisory Council, member, 2020–present
Cornell University Council, member, 2020–present
Dyson Undergraduate Advisory Council, member, 2015–2021
Communication Department Advisory Council, member, 2008–2021; Outstanding Service Award, 2019
CALS Outstanding Alumni Award recipient, 2020
Inaugural Dyson Leader in Residence, 2019–2020 academic year
Community/public service/philanthropic priorities:
The New York Videogame Critics Circle, Board Director
Partnership for Learning, Board Director
The Washington Roundtable, Council of Former Directors
Student involvements/activities:
Dyson School, teaching assistant
Phi Sigma Kappa, President, and various leadership roles
Additional information:
Reggie is an award-winning innovator and disrupter who helped launch Nintendo's greatest successes. Reggie graduated with distinction from Cornell's Dyson School which launched a 35+ year career spanning the consumer-packaged goods, restaurant, beverage, and media/entertainment industries. Since retiring, Reggie has focused his energy to cultivate the next generation of business leaders. In August 2019, he was named the inaugural Dyson Leader in Residence for the 2019–2020 academic year. He is currently sharing his learning and principles through public speaking, board service, and an upcoming book published by HarperCollins Leadership. Reggie founded Brentwood Growth Partners to help emerging companies scale and enable leaders to create world-class cultures.