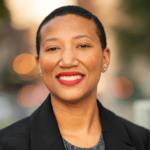 Kimberly Nicole Dowdell
Cornell degree: BArch '06 (AAP)
"Cornell University's Board of Trustees is currently called upon to successfully navigate an evolving pandemic, while further positioning Cornell for a strong future as an institution distinguished by academic excellence, public impact, environmental stewardship, alumni engagement, and a sense of belonging where any person can study while truly feeling welcome."
Professional experience:
HOK, Principal, 2008–2011; 2019–present
University of Michigan, lecturer, 2016–2019
Detroit Real Estate Development Venture, 2016–2019
City of Detroit, Executive Manager of Public/Private Partnerships, 2015–2016
Levien & Company, Real Estate Project Manager, 2011–2014
Ayers Saint Gross Architects, intern architect, 2006–2008
U.S. General Services Administration, intern, 2005–2006
McKissack & McKissack, intern, 2004
Alumni service:
Cornell University Council, member, 2014–2018, 2020–present
President's Council of Cornell Women (PCCW), member, 2019–present; panelist, What does it mean to be a powerful Black working woman in America today?, 2021; speaker, PCCW Symposium, 2021
Cornell Alumni Admissions Ambassador Network, member, 2012–present
College of Architecture, Art, and Planning (AAP) Committee on Diversity, member, 2015–2021
Committee on Alumni Trustee Nominations, member, 2015–2019
Moderator, Lifelong Engagement with Cornell, Cornell Alumni Leadership Conference, 2018
AAP Advisory Council, member, 2010–2017
Cornell Black Alumni Association (CBAA), lifetime member
Cornell Future Architect Award (CFAA), Co-founder
Community/public service/philanthropic priorities:
Alpha Kappa Alpha Sorority, Inc. (AKA)
American Institute of Architects (AIA)
Architect's Foundation
Association of Real Estate Women, former board member
Chief Chicago, founding member
Chicago Architecture Biennial
Chicago Central Area Committee
Children's Hospital of Michigan
Cranbrook Kingswood Alumni Association, lifetime member
Harvard Kennedy School Center for Public Leadership Alumni Council
HOK Impact, Co-founder
Ingenuity Chicago
Madame Architect National Council
National Organization of Minority Architects (NOMA)
Social Economic Environmental Design (SEED), Co-founder
Trinity United Church of Christ Chicago
Other education:
Master of Public Administration, Urban Policy and Real Estate Development, Harvard University, John F. Kennedy School of Government, 2015
Student involvements/activities:
Alpha Kappa Alpha Sorority, Inc., Mu Upsilon Chapter President
Dragon Day 2002
Multicultural Greek Letter Council
Minority Organization of Architecture, Art and Planning
Order of Omega
Sphinx Head Senior Honor Society
Additional information:
Kimberly Dowdell is an architect and frequent speaker on sustainability, diversity, and the future of cities. As the 2019–2020 national president of NOMA, she increased opportunities for women and people of color in architecture, and more than doubled the organization's membership. Kimberly's career aspirations are rooted in her Detroit upbringing, where she was inspired to utilize architecture as a tool for revitalization. Her professional experience spans from architecture to government and teaching to real estate development. Kimberly is a principal in the Chicago studio of HOK, a leading global design firm. Kimberly's overarching mission is to improve people's lives, by design.