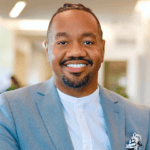 John W. Rawlins, III
Cornell degree: BS '06 (HumEc)
Read John's interview.
"Amid culture shifts in higher education, the board must address how the university will continue to recruit, attract, and retain one of our greatest assets: our faculty and staff. Their work actualizes our mission, and we must make sure their experience is as world-class as our beloved alma mater."
Professional experience:
University of California San Diego, Campus Diversity Officer and Director, Black Resource Center, 2022–present
California State University San Marcos, Director, Black Student Center, 2019–2022; Special Assistant to the Chief Diversity Officer, 2020–2022; Interim Director, Gender Equity Center, 2019–2020
Alpha Phi Alpha Fraternity, Inc. Corporate Headquarters, Director for Leadership Development and Training, 2017–2019
Johns Hopkins University, Assistant Director, Leadership Development/Multicultural Affairs, 2016–2017; Special Assistant to the Dean of Student Life, 2014–2016
Ithaca College, Assistant Director for Multicultural Affairs, 2006–2014
Alumni service:
Cornell University Council, member at large, 2022–present, 2016–2020
College of Human Ecology Advisory Council, member, 2021–present
Cornell Mosaic, member at large, 2021–present
Fresh from the Hill, podcast host, 2020–2021
Facilitator, Communicating Across Differences, Cornell Alumni Leadership Conference, 2020
Cornell Black Alumni Association, President, 2021¬¬–present, 2018–2021; Vice President of Programming, 2016–2018; Reunion chair, 2017–2018; Reunion committee member, 2014–2015; member, 2011–present
Class of 2006, Affinity chair, 2016–present
Cornell Alumni Admissions Ambassador Network, member, 2013–2014
Community/public service/ philanthropic priorities:
Alpha Phi Alpha Fraternity, Inc., life member
Bayview Church of San Diego
Bryant Educational Leadership Group Advisory Board
NASPA, Student Affairs Administrators in Higher Education
Other education:
Master of Arts in Communications, Johns Hopkins University, 2018
Student involvements/activities:
Association for Students of Color, Human Ecology
Black Student Union, co-chair
Campus Life Student Advisory Committee
Chosen Generation Gospel Choir, co-founder
Cornell Tradition Fellowships
How Excellent Gospel Choir
Men of Color Council, co-founder
Quill and Dagger Senior Honor Society
Pamoja-Ni Gospel Choir
Resident Advisor, Ujamaa Residential College
Additional information:
I am a diversity, equity, and inclusion/student affairs practitioner and leader with 16 years of experience as an administrator and advocate for all students, faculty, and staff. I have expertise working with those from marginalized backgrounds; I believe that institutions must be able to hold space for the voice and visibility of all experiences in the community. I am a D.C.-area native currently residing in Southern California. I am also a gospel recording artist and vocalist who has performed on national and international stages with artists such as jazz icon Wynton Marsalis and gospel legend Kirk Franklin.