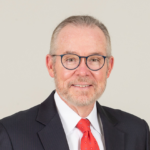 John R. Toohey-Morales
Cornell degree: BS '84 (CALS)
Read John's interview.
"With the university admissions landscape likely to be dramatically altered by the U.S. Supreme Court this year, Cornell University's Board of Trustees and leadership must shoulder the responsibility of protecting our alma mater's steadfast tenet of '… any person … any study'—an achievable goal if approached creatively and vigorously."
Professional experience:
Founder and Lead Certified Consulting Meteorologist, ClimaData Corporation, 1991–present
Columnist, Bulletin of the Atomic Scientists, 2020–present
Chief Meteorologist, WTVJ, 2009–2022; WSCV, 2003–2008; WLTV, 1991–2002
Adjunct Professor (meteorology), St. Thomas University, Miami Gardens, FL, 2005–2012
Meteorologist, NOAA/National Weather Service (NWS), 1984–1991
Alumni service:
Cornell College of Agriculture and Life Sciences (CALS) Outstanding Alumni Award recipient, 2022
CALS Advisory Council, member, 2021–present
Cornell Atkinson Center for Sustainability Advisory Council, member, 2019–present
Cornell Class of 1984, president, 2019–present; Class Council, Development Committee member, 2014–2019
Cornell University Council, member, 2021–present, 2015–2019
Cornell Alumni Admissions Ambassador Network, member, 2013–present; committee chair, 2016
Cornell Club of Greater Miami and the Florida Keys, member, 1992–present
Community/public service/philanthropic priorities:
CLEO Institute (nonprofit), Vice President, Board of Directors, 2015–present
Open Door Health Center (nonprofit), member, Board of Directors, 2010–present
AMS Henry T. Harrison Award for Outstanding Contributions by a Consulting Meteorologist, 2022
Best Buddies International (nonprofit), nominated as Orlando Champion, 2022
National Academy of Television Arts & Sciences Suncoast Chapter Silver Circle Inductee, 2018
National Tropical Weather Conference John Coleman Broadcast Award, 2018
Emmy Awards (Suncoast Chapter 4), 1993, 2006, 2010, 2018
NOAA Science Advisory Board, member, Environmental Information Working Group, 2009–2015
Fellow of the AMS, elected 2008
AMS Award for Outstanding Contribution to the Advance of Applied Meteorology, 2007
U.S. Delegation to the World Meteorological Organization (WMO), private sector advisor, 2005
American Meteorological Society (AMS) Award for Broadcast Meteorology, 2004
National Weather Association Broadcaster of the Year Award, 2003
American Meteorological Society (AMS) Award for Broadcast Meteorology, 2004
U.S. Department of Commerce Silver Medal, NWS San Juan, Hurricane Hugo, 1989
Other education:
Master of Science, Johns Hopkins University, 2021
Student involvements/activities:
Cornell Catholic Community
Friends of Astronomy
Cornell Rowing team
Robert Purcell Union Dining, Cook's Aid
WVBR
Additional information:
John Toohey-Morales has broken down barriers in meteorology and is a strong advocate for diversity. After Cornell, John entered civil service at the National Weather Service. When he pivoted to broadcast news, Morales became the first degreed meteorologist in Spanish language media in the U.S. and later the first Latino meteorologist to appear on the Today Show. He also launched a commercial weather firm and an effort to recruit young minority students in meteorology by funding the ClimaData Minority Scholarship at AMS. His Cornell Red runs deep—John and his wife, Carmen, married under McGraw Tower during his 10th Reunion!