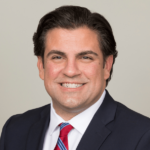 Dr. Nathan Theodore Connell
Cornell degree: BS '01 (CALS)
"Cornell University's Board of Trustees must carefully balance the current and long-term needs of the university community in a way that encourages academic exploration by students, recruits and develops diverse faculty scholars, and facilitates innovative research in an ethical and responsible way to address questions of global significance."
Professional experience:
Harvard Medical School, Assistant Professor of Medicine, 2017–present; Instructor in Medicine, 2014–2017
Brigham and Women's Hospital, Associate Physician, Hematology Division, 2014–present
Brigham and Women's Faulkner Hospital, Clinical Chief of Hematology, 2014–present
Active staff, Department of Medical Oncology, Dana-Farber Cancer Institute, 2014–present
Dana-Farber/Harvard Cancer Center, Cancer Care Delivery Research member, 2021–present
Associate Faculty, Ariadne Labs, Brigham and Women's Hospital and the Harvard T.H. Chan School of Public Health, 2020–present
Brown University, Teaching Fellow in Hematology and Medical Oncology, 2011–2014; Assistant Instructor in Medicine, 2010–2011; House Staff Officer in Medicine, 2007–2010
Alumni service:
College of Agriculture and Life Sciences (CALS) Advisory Council, member, 2021–present
Cornell University Council, 2013–present; Nominating Committee Chair, 2020–present; Immediate Past Chair, 2020–present; Chair, 2018–2020; Vice Chair, 2015–2018; member, 2013–2017; Ambassador Program Chair, 2015–2016; Administrative Board member at large, 2014–2015
Cornell Club of Boston, member, 2017–present
Cornell Pride LGBTQIA+ Alumni Association (formerly CUGALA), member, 2012–present
Class of 2001, 2001–2021; Class Council, 2006–2021; Nominating Chair, 2016; 10th Reunion Campaign, member, 2010; Vice President, 2001–2004; Cornell Annual Fund Representative, 2001–2006
Frank H.T. Rhodes Exemplary Alumni Service Award selection committee, 2019–2020
CALS Outstanding Alumni Award recipient, 2019
Cornell Alumni Magazine Committee, member, 2010–2013
Cornell Association of Class Officers, 2007–2013; Vice President, 2009–2013; Director at large, 2007–2009
Community/public service/philanthropic priorities:
National Hemophilia Foundation, Advisory Panel member, 2020–present
New England Hemophilia Association, volunteer, 2019–present
American College of Physicians, 2003–present; Fellow, 2017–present
John Winthrop House, Harvard College, non-resident tutor, 2015–present
International Society on Thrombosis and Haemostasis, 2013–present
The Michael H. Flanagan Foundation, Board member, 2012–present
American Society of Hematology, 2011–present
Other education:
Master of Public Health, Harvard University T.H. Chan School of Public Health, 2014
Doctor of Medicine, University of Miami, 2007
Master of Science, Barry University, 2002
Student involvements/activities:
Biology Student Curriculum Council
CALS Alumni Association Student Leadership Committee
CALS Ambassadors
CALS Director of Admissions Search Committee
Campus Life Student Advisory Committee
Class of 2001 Council
Cornell Catholic Community
Cornell Herpetological Society
Resident Advisor, West Campus (Edgemoor, Lyon, Mennen, McFaddin, Sperry)
Senior Class Campaign
SlopeFest Planning Committee
Student Assembly Committee on Residence and Community Life
University Commencement Committee
Additional information:
I am an academic hematologist focused on bleeding and clotting disorders such as von Willebrand disease and hemophilia. My research evaluates cost-effective strategies for the diagnosis and treatment of blood disorders, and I have been involved in the development of international clinical practice guidelines to facilitate quality care delivery. After graduating from Cornell, I moved to Miami, Florida, where I went to medical school, started my Cornell volunteer career, and immersed myself in my Cuban heritage. Currently, I live in Boston, Massachusetts, with my husband, Jorge Alex Alvarez, a cardiologist at Brigham and Women's Hospital and Harvard Medical School.