Where life will take you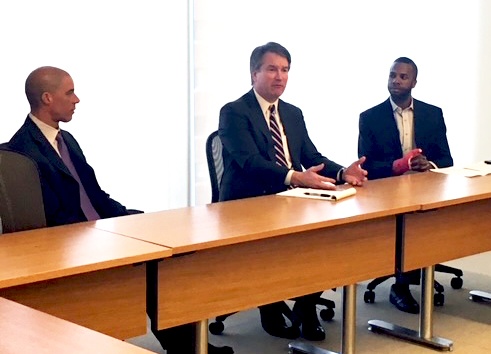 Cameron Pritchett '15 will clerk for the Honorable Justice Brett M. Kavanaugh for the 2022-23 Supreme Court term, starting in July 2022.
Cameron and his family credit Cornell and his Cornell connections with opening doors and changing the trajectory of his life. "None of it would have been possible without the faculty, staff, student leaders, and fellow Cornell alumni who helped him along the way," says his mother, Sharon Landrum.
"The biggest lesson I learned at Cornell is to keep an open mind about where life will take you," Cameron says. "I selected the Hotel School because I wanted to pursue a career in hospitality. But, as a result of my classes and relationships with professors like Professor David Sherwyn in the Nolan School, I eventually tried legal internships, and later decided to take the LSAT."
"Throughout my four years at Cornell, I learned not only to accept the unexpected, but to embrace it. I could have never imagined how central my fraternity (Sigma Chi) would become as part of my Cornell experience, and in the years afterward," he adds.
Congratulations to Cameron as he begins this exciting new chapter in his professional career.