Robert Langer '70 receives engineering's highest alumni honor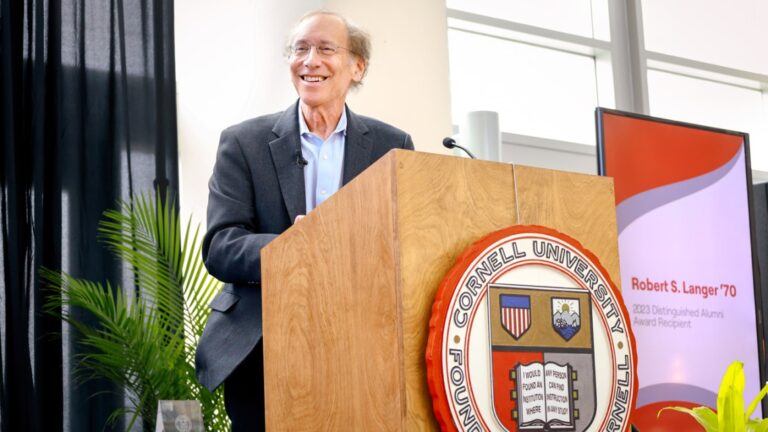 Read the full story by Syl Kacapyr in the Cornell Chronicle. 
He is the most cited engineer in history. He holds more than 1,400 patents. His pioneering work in biotechnology, drug delivery and tissue engineering has made him one of the most prolific inventors in medicine, and he has co-founded more than 40 companies, including Moderna.
For this and many other achievements, Robert Langer '70 received the Cornell Engineering Distinguished Alumni Award during a celebration hosted April 19 in the Duffield Hall Atrium.
Langer, who leads the nation's largest academic biomedical engineering lab at the Massachusetts Institute of Technology, studied chemical engineering at Cornell. Since that time, he has distinguished himself as "one of the most creative, brilliant and influential alumni in Cornell's history," Provost Michael I. Kotlikoff said.
Langer's research has led to new treatments for cancer and heart disease, advancements in the creation of engineered blood vessels and skin, and new methods for speeding drug discovery through organ-on-a-chip technology. Kotlikoff said Langer's patents have been licensed or sublicensed to over 400 companies, and said his research has had a global impact – notably, the groundwork Langer laid for the development of mRNA vaccines.