President Martha E. Pollack celebrates Cornell's 155th graduation class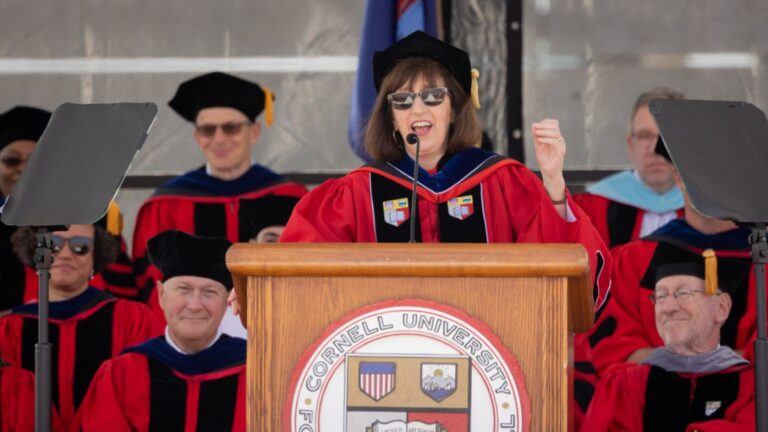 Read the full story by Susan Kelley in the Cornell Chronicle.
Four years ago, the Class of 2023 started its academic journey at Cornell excited, nervous and probably a little scared, President Martha E. Pollack said to graduates at Commencement, held May 27 at Schoellkopf Field.
"You're a different person than you were when you arrived here. Like Dorothy in 'The Wizard of Oz,' you started down a path, when you couldn't see where it would end," Pollack said. "And like Dorothy, you kept going, even as you met challenges along the way – some of which you'd never imagined."
Cornell's 155th graduating class comprises approximately 9,000 students, including nearly 5,000 graduate and professional students and around 3,900 undergraduates. Ceremonies took place at 10 a.m. and 2:30 p.m. to reduce crowd size. In the morning, the sun shined as graduates and their families took smiling selfies and group photos, some holding bouquets of flowers and red and white balloons.
In her speech, Pollack reminded the graduates of a piece of advice she'd offered four years ago: to take off their headphones, to be present in the moment, to connect with people and experiences, and to listen to the points of view of people with whom they disagreed.
"I reminded you that it was OK, and normal, to struggle sometimes," Pollack said, "that a Cornell education is rigorous, and if you never struggled here, it probably meant you weren't pushing yourself hard enough."