Historic caftan augments a diverse fashion collection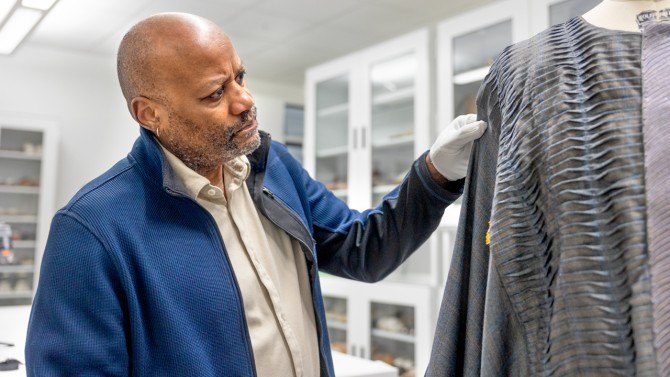 Read the full story by Susan Kelley in the Cornell Chronicle.
In late January, Professor Denise Green and her colleague Catherine Blumenkamp received an email with remarkable news. The auction house Christie's would be selling off the wardrobe of the famed fashion figure and Vogue editor-at-large André Leon Talley, an influential Black editor at the top of a notoriously white field. Talley had died a year earlier, in January 2022.
"What raced through my mind was, 'We need to preserve this important history,'" says Green, associate professor of human centered design in the College of Human Ecology (CHE).
A few weeks later, she successfully bid on a voluminous robe made of gray wool herringbone twill with intricate detailing on the chest. The caftan is the latest of several recent additions to Cornell Fashion + Textile Collection that represent a diversity of cultures – a goal of the collection since its founding in 1915. The piece, not yet on public display, is jointly owned by CHE and Cornell University Library and is housed in the fashion collection.
"It's a continuation of our efforts to diversify the collection and decenter the Eurocentric narrative that has come to define 'fashion history,'" says Green, who directs the fashion collection. "We're expanding and redefining that narrative to become one that's inclusive of the immense range of fashions worn and made by peoples from across the globe."