"Happy Place" strawberry-rhubarb pie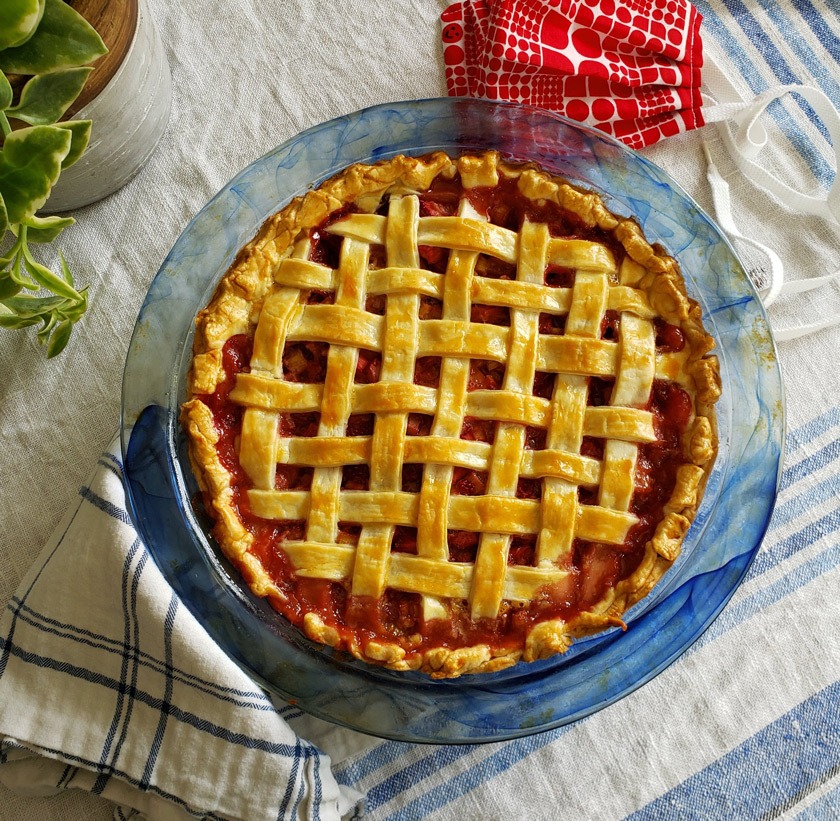 'Tis the season for strawberry-rhubarb pie! Enjoy this recipe from the Cornell Family Cookbook submitted by Alumni Affairs staff member Lauren Graham Garcia. "Best enjoyed lakeside with a loved one and two forks :-)," Lauren says.
Filling:
3 cups Fresh Rhubarb (small dice)
2.5 cups Strawberries (diced)
1/3 cup light brown sugar
1/3 cup sugar
1/4 cup corn starch
1/4 tsp. salt
1/4 tsp cinnamon
1 tablespoon orange or lemon juice
Top:
2 tabs unsalted butter
1 egg + splash of milk for brushing
2 sheets of pie crust (store bought or homemade)
Stir all filling ingredients together and let sit for 10-20 minutes (while oven preheats). Preheat the oven to 400 degrees. lay pie dough in pie dish, and pour filling in. Add the 2 butter tabs in small chunk scattered around the top of the filling. Arrange pie dough top (either in lattice strips, vented sheet, or other fun creative decoration!) Pinch pie dough edges and crimp with fingers to seal in the filling. Brush with egg wash. Bake 20 minutes at 400 degrees, then lower oven temperature to 350 degrees. Add foil or pie edge protectors if browning. Bake 25-30 minutes at 350 degrees. Let cool completely (2 hours) before cutting and serving.