Curbing hunger: Students build inventive outdoor food pantry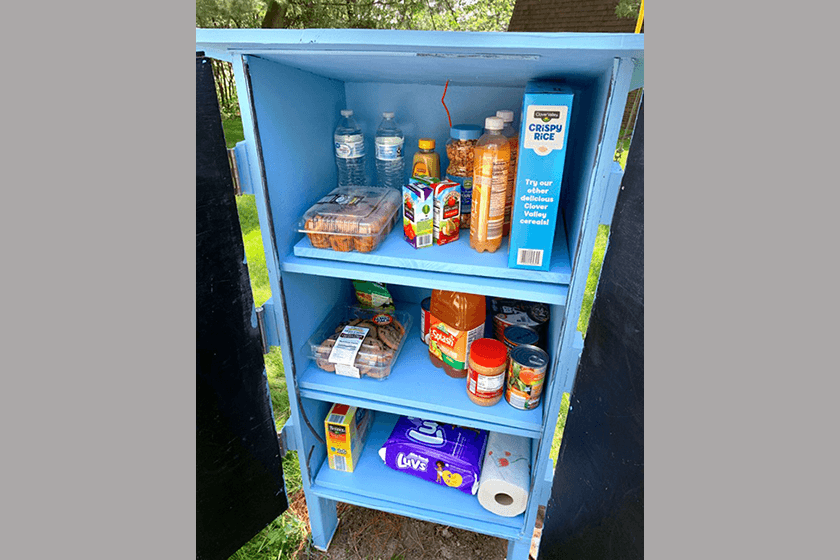 Read the full story by Blaine Friedlander in the Cornell Chronicle.
Social justice and engineering blend beautifully.
In a spring semester class, seven Cornell engineering undergraduates planned and built an outdoor food-sharing pantry cabinet for Mutual Aid Tompkins, hoping to take an edge off chronic hunger among Tompkins County residents.
The blue wooden cabinet in Lansing, New York, sports technology that other communities may someday want: It can alert Mutual Aid Tompkins volunteers to the need for more food when the shelves become bare, so they don't have to manually check this pantry or the nearly 60 food cabinets the organization maintains.
"This was different from other projects I've done," said Jerry Jin '23. "This has social impact. We worked with Mutual Aid Tompkins to understand what they needed and we designed it by ourselves. There were no pre-planned instructions."
The pantry features three shelves – where donors leave food and those in need can freely take – with weight sensors, weatherproof cabinetry, wiring for an electrical system and a spring door to keep wild animals out. It runs on solar power for up to two weeks, and it employs the Slack instant message communication tool to help the cabinet use low-power radio (LPWAN Network Server) to send a message via the internet to Mutual Aid Tompkins volunteers.