Cornellians come home: Reunion 2022 brings thousands to campus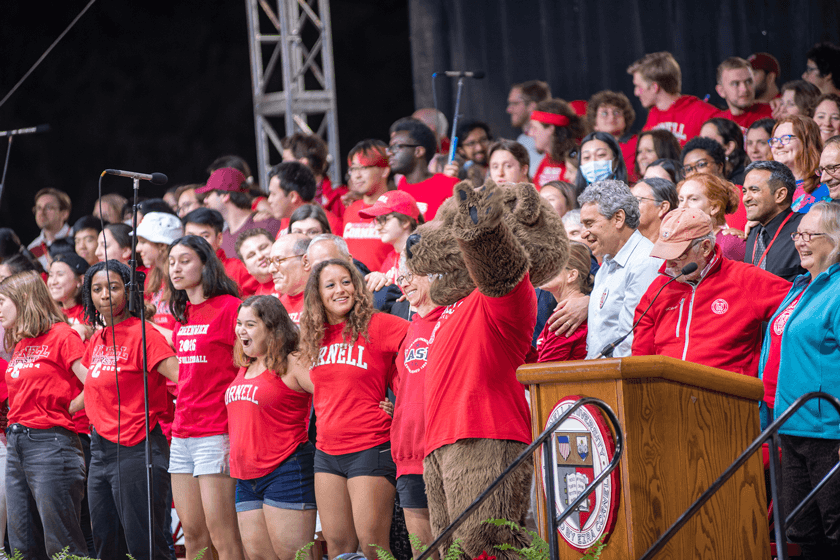 For the first time since 2019, alumni gathered on campus to celebrate milestone Reunions. Over 6,000 alumni and guests came back to Ithaca from as far away as Australia, representing 48 states plus Puerto Rico.
Events like Bill Nye '77 comes home for Reunion!, the Olin Lecture, Cornelliana Night, and more attracted large crowds of alumni and guests, who expressed their excitement to be celebrating in person again this year.
"It's been so wonderful to be back on campus all together this weekend," said Erica Healey-Kagan '05, the president of the Cornell Association of Class Officers (CACO), during Cornelliana Night.
Over 125 programs took place throughout the weekend, from goat yoga to art viewings to a conversation between President Pollack and current students. Four of the featured Reunion events were livestreamed, which allowed alumni around the world to share the Big Red spirit of the weekend and connect with classmates.
In addition to the undergraduate classes of the 2s and 7s and professional schools celebrating milestone Reunion years, over 100 alumni from the Cornell Chorus gathered to mark their 100th anniversary. The centennial celebration included performances at a Friday concert and Cornelliana Night on Saturday.
Missed one of the featured events? Watch the recordings.