Alumni Wine by Cornell Alumni Affairs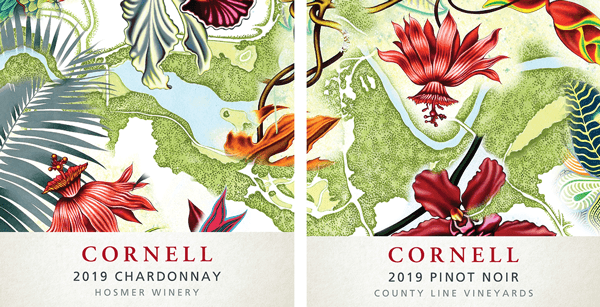 Several Cornell alumni were involved in the creation of the limited edition 2021 Alumni Wine collection. It features wines by County Line Vineyards by Eric Sussman '90 and Hosmer Winery by Cameron Hosmer '76, selected by sommelier Thomas Pastuszak '06, with label artwork by Peter D. Gerakaris '03.
Here, Gerakaris shares an explanation for the unique label design:
Botanic Diptych interweaves Gerakaris' signature botanical motifs with his hand-painted interpretation of the Cornell Botanic Gardens as imagined from a bird's eye perspective. The sinuous topography, exotic flora, and panoramic format play off one another in a vibrant game of call and response. Ultimately, this tableau unfurls organically as two intertwined vignettes honor the campus' natural features and our globe's many precious ecosystems.
The imagery's interconnectedness also references the possibility of interdisciplinary study across myriad fields at Cornell. Additionally, as with both fine art and wine, the most passionate collectors are inspired to collect both wine varieties in order to possess the entire Botanical Diptych label artwork. With both labels placed side by side, the artwork becomes complete.
Interested in ordering the wine? Get yours now.