Gracielle Reyes Cabungcal '09 graduated from the College of Arts and Sciences as a biological science and government double major. As an alumna, Gracielle has been a volunteer captain for the NYC Marathon for ten years and counting. She is key to the Cornell tradition of volunteering at the Mile 25 Fluid Station as New Yorkers approach the finish line!
Tell us about your journey to Cornell.
As a freshman back in 2005, I remember being in shock and awe at the ten-pound Courses of Study catalog in front of me—so much to explore, so little time! Cornell instilled that drive to be always curious that I carry with me to this day.
How has Cornell impacted who you are today?
If you can climb through a foot of snow up Libe Slope, you can conquer anything! I'm constantly in awe of the resolve and purposefulness of Cornellians and when things get tough, I've always been able to rely on the lessons Cornell has taught me, both in and out of the classroom.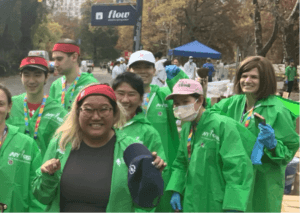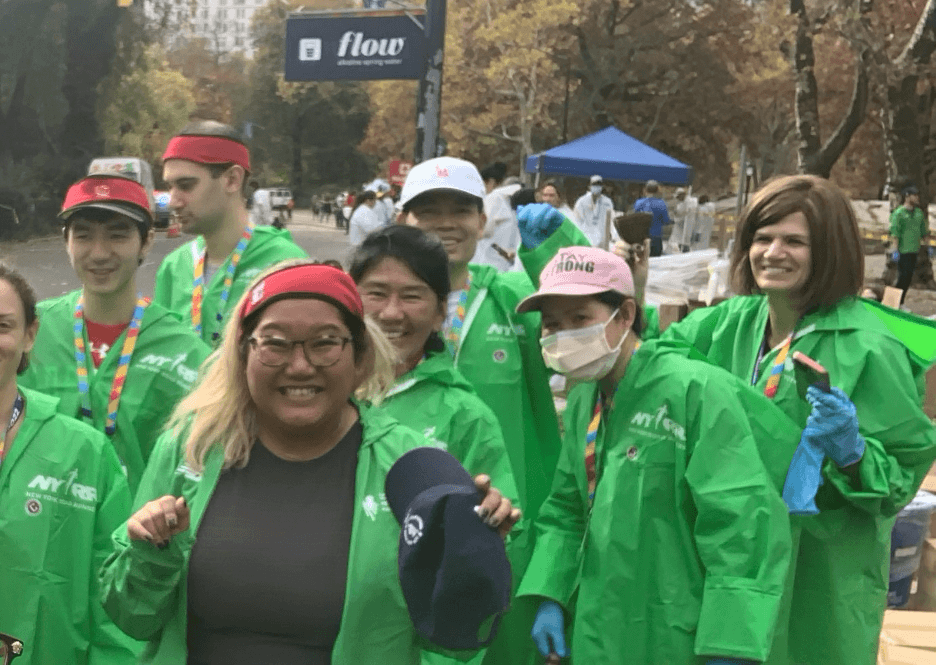 How did you get involved as a Cornell volunteer at the NYC Marathon?
I began volunteering through a friend and fellow co-captain back in 2012, so this year will have been my 10th year as volunteer captain! I'm not a big runner myself but have friends I love cheering on, so I saw volunteering as a great opportunity to support them and all the marathoners from the front line.
What does leading a Cornell alumni group volunteering at the NYC Marathon mean to you?
For the marathoners—and the friends, families, and communities encouraging them—getting to that final mile has taken a lot more steps than those 25 miles they ran earlier that day. From the alumni runners' stories to the dedication that volunteers have to support an iconic NYC event, every year is as inspiring and memorable as the next. It's our chance to connect with each other and to be part of Cornell's commitment to uplifting its communities—both on the Hill and beyond.
What I love most are the everyday moments, whether it's a post-work catch up at the Cornell Club or an impromptu chat with an alumnus wearing a Cornell hat while walking my dog.
—Gracielle Reyes Cabungcal '09
What makes you feel most connected to Cornell while living in New York City?
Cornell has such a strong presence in NYC and it's great to have mainstays like the Frozen Apple and the Sy Katz '31 Parade to look forward to. But what I love most are the everyday moments, whether it's a post-work catch up at the Cornell Club or an impromptu chat with an alumnus wearing a Cornell hat while walking my dog. I'm grateful for the friendships and connections that have grown since my days on the Slope and still develop to this day through Cornell.
Is there a Cornell program or initiative that is near and dear to your heart?
Working now in the tech industry, I'm so excited in the role Cornell has had in expanding the East Coast tech space. I also love checking into the Big Red Reads book club!
Do you have a favorite class or extracurricular from your time at Cornell?
I was heavily involved with international relations as an undergrad—shout out to the Cornell International Affairs Society and Cornell International Affairs Review! My favorite class was International Relations with Professor Peter Katzenstein. It was definitely demanding but inspired me to take my part as a global citizen.
Do you have a message for alumni looking at volunteering with the Cornell group at future NYC Marathons?
We'd love nothing more than to have Mile 25 basking in Big Red! It's an incredibly fun, action-packed day and a chance to be part of a bucket list event. Registration for next year's race has already begun, so I hope to see you in 2023!