Alumni chose Katrina James '96 and Pamela Marrone '78 to serve on the Cornell University Board of Trustees in May 2016. They took office in July and participated in their first board meeting in October. Now, with the 2017 election underway through May 2, Marrone and James say their first months as trustees have deepened their understanding of how the university works and expanded the scope of their service to Cornell.
"For me, volunteer service to Cornell has always been about the students," said Marrone. A graduate of the College of Agriculture and Life Sciences (CALS), she served previously on the Cornell University Council and on the Cornell Alumni Admissions Ambassador Network and continues as a member of the CALS Dean's Advisory Council. "Now, I'm getting an inside view of what's happening at the institution that I've had a lot of contact with over the years. It's quite interesting."
James said her new role as an alumni-elected trustee allows her to serve the university from a new and expanded perspective. An alumna of the College of Human Ecology, she served three terms as chair of the Cornell University Council in addition to service on several other boards.
"My work benefited Cornell, but it was directed at our alumni community," she said. " As trustees, everything we consider is from the perspective of all the constituencies: students, administration, faculty, and alumni. There's a broader scope, a broader sense of duty."
The role of trustee requires a breadth of knowledge about the university, which both new trustees gained during a comprehensive orientation last summer. James was astonished by the volume of information trustees need to know.
"I knew a lot about the university from the perspective of alumni service, but now I'm learning so much more through different lenses," she said.
James lives in Jersey City, New Jersey, and is the senior director for College and Career Programs at the Harlem Children's Zone, participating in a two-year residency designed to help executive-level professionals bring their experience to urban education. Marrone lives in Davis, California, and is the founder and CEO of Marrone Bio Innovations, Inc., which discovers and develops bio-based products for pest management and plant health. Each brings a wealth of volunteer and professional experience to the board.
Alumni-elected trustees serve on the Committee for Alumni Affairs throughout their four-year term. During their first year, Marrone and James have also rotated through other committees to decide where they would eventually like to serve.
James participated in trustee committee work in the areas of development, student life, academic affairs, and building and properties. "It's been wonderful," she said. "So much of the work gets done in committee."
Marrone tries to attend all the committee meetings she can, regardless of assignment, to stay informed: "I want to know everything that's going on," she said. Her business background—she has founded three companies—has prepared her for understanding the work of the Audit Committee, and she was invited to serve on an ad-hoc Tech Transfer Committee. She says her prior experience as a member of for-profit and non-profit boards has prepared her for the issues facing Cornell.
"It's very stimulating to serve a large, complex educational institution," she said. "Budgeting is an ongoing issue facingany university." In the coming year she will also closely pay attention to e-learning initiatives and the opening of the Cornell Tech campus in New York City.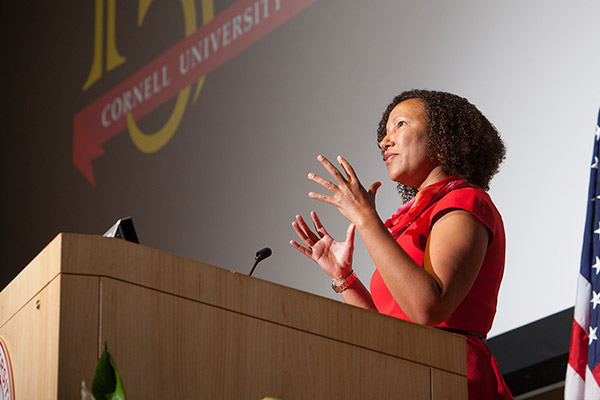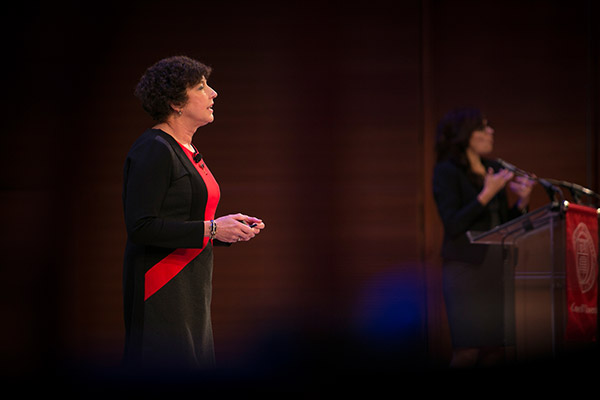 In their first year as trustees, both Marrone and James have had memorable connections with the alumni who elected them and with the decisions they have made as trustees. At a Cornell-related picnic last fall, Marrone spoke with an alumnus of the College of Architecture, Art, and Planning who had specific feedback about recent building projects on campus.
"I encouraged him to give some input, particularly because he is an experienced architect in the business," she said.
Since becoming a trustee, she's had many conversations with alumni, particularly those living on the West Coast. "I think alumni out here are happy to have a West Coast representative," she said. "That seems to be one of the great pluses to having alumni-elected trustees. You get to have that connection."
James remains active with MOSAIC, and she continues to have contact with alumni she has known through her earlier alumni volunteer work. . A vivid moment for her in the past year was meeting Martha E. Pollack, who will be inaugurated as Cornell's 14th president in April.
"As a trustee it's a special and unique time when you have an opportunity to vote for who will be the university's next leader. Sitting together and hearing from her about her vision, and then voting for her and welcoming her as our new president, is a feeling I don't think I'll ever experience again."
Marrone is also excited to welcome the new university president and looks forward to working to implement her vision. She and her fellow trustees will also work on budgeting, student housing, and enrollment considerations, as well as new issues introduced by the new national presidential administration.
"There are new challenges coming up because of statements coming out of Washington and congressional budgets that affect higher education," she said. "We have to be ever vigilant."
James encourages alumni to get to know the six alumni-elected trustee candidates and to vote before May 2.
"There are amazing candidates on the ballot this year, and it's always a challenging decision," said James. "I encourage everybody to take time to read the candidate material and vote for who they think will do the best job."
Voting for the 2017 alumni-elected trustees is open March 21 to May 2. Meet the candidates.