Julie Hulali Morikawa '01 cherishes her roots in the rural district of Kohala on the north end of the Big Island of Hawai'i. "We were always outside in the pastures or on the rocky shores of the Kohala Coast fishing or diving," she says, adding that she fondly recalls snacking on 'opihi (a type of marine snail) and ha'uke'uke, a local type of sea urchin. "On my fourth birthday, I ate so many that my lips and fingers were stained purple from the urchin shells for days," she recalls.
Julie says her childhood was rich with experiences that money could never buy. From a young age, Julie danced hula and soon began performing in hotels around the island.
Julie's exposure to Hawai'i hotels inspired her to consider a career in hospitality. "This interest guided me to a university with a hospitality program," she says, and she chose the School of Hotel Administration at Cornell, where, "if I was lucky enough to get in, I was going!"
I loved it all!
—Julie Hulali Morikawa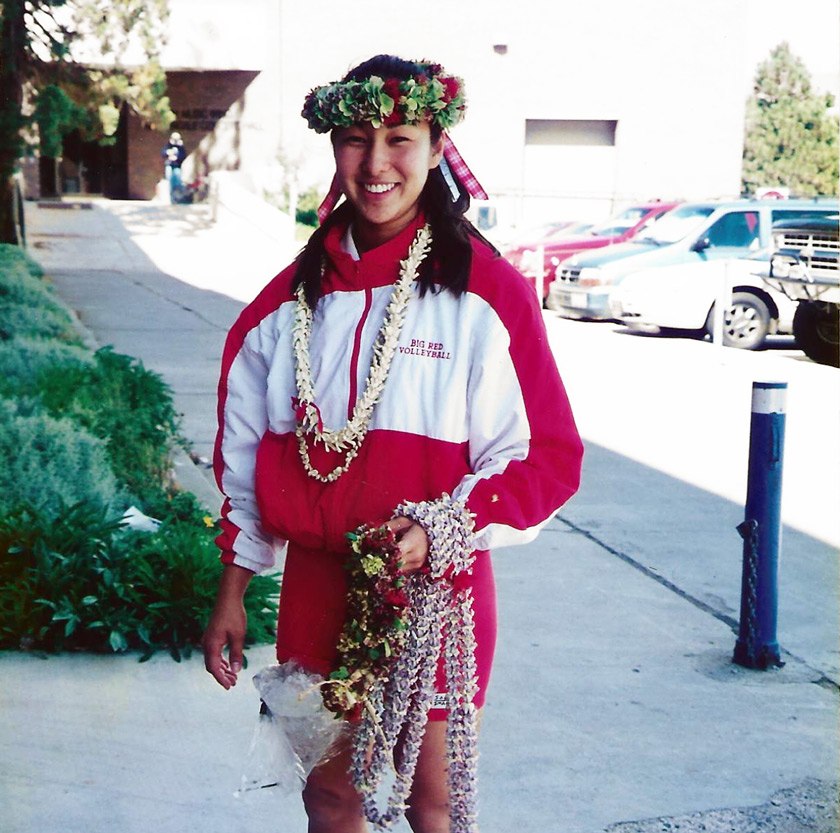 When asked how she—a hula dancer from Hawai'i—adapted to Cornell, Julie was emphatic: "I loved all the new experiences I had in Ithaca, from seeing leaves change color during my first fall to wearing my full length down jacket in October, thinking it couldn't possibly get any colder. I loved weekend hikes to the gorges, lakes, and roaming around the colorful farmer's market. I loved crossing a gorge to get to my classes, hearing the bell tower, and getting into the Big Red hockey game night traditions. I loved it all!" she says.
Around the world and back home
At Cornell, Julie was exposed to the vast array of career paths within her field. "I wanted to learn more about so many of them," she says. She spent the next nine years exploring her options, through positions in:
Housekeeping at Trump International Columbus Circle in NYC
Front desk at Walt Disney World's Polynesian Resort
Food and beverage at Bellagio in Las Vegas
Hospitality consulting in Boston
Sales and marketing at Aston in Hawai'i
Online travel with Expedia in Australia and Hawai'i
I grew up in Hawai'i dancing hula in hotels and on cruise ships, and that inspired me to share my culture and home with others.
—Julie Hulali Morikawa
In the end, she returned to her Hawaiian values to guide her. "To know what is important in life, I needed to to pay attention to my na'au (gut), and to always seek what feels right inside," she explains.
"I realized how important exposure is," Julie says, adding, "We look to everything we've experienced to figure out what's right." Julie's dream was to build bridges for youth in Hawai'i to gain exposure to various career paths—but without having to travel all over the world trying out different jobs, as she had done.
In 2010, she decided to start her own nonprofit, ClimbHI, to help Hawai'i middle and high school students explore career options, uncover what they really enjoy doing, and get a better sense of the practical steps necessary to pursue their goals.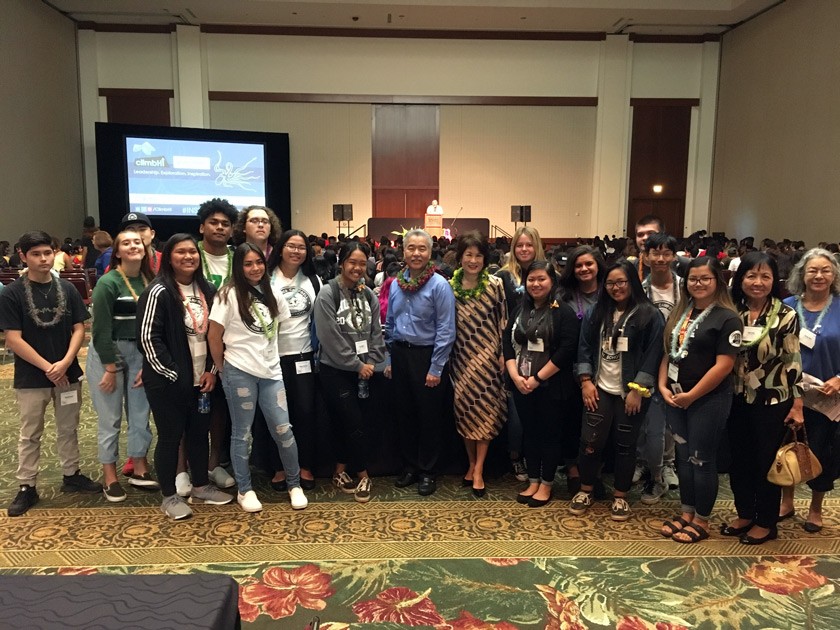 Julie shares that she knew nothing about starting a nonprofit, so she worked "diligently, late at night" doing research online and reaching out to others for advice. After completing her 100+-page application, she shared it with two attorneys, both of whom believed it would never be approved.
"That's when my na'au kicked in," she says. "The sense I learned as a child in Kohala about what is right and good and true told me to submit my application."
Eight weeks later Julie received an approval letter from the IRS. "I ran straight to the Hawai'i Tourism Authority (a key ClimbHI partner) to get started connecting youth to career opportunities, and we have not stopped since!" she says.
Where I live, there are rainbows
ClimbHI has been working with businesses across the state for the past nine years to expose middle and high school students to various career paths, primarily in the hospitality sector. "Hawai'i's number one industry is tourism," Julie says, "and I wanted to help educate our youth about the industry and the wonderful opportunities available to them," she explains.
"Hawaiʻi is faced with a negative resident sentiment issue towards the industry, which has been exacerbated by the pandemic," Julie explains. "ClimbHI worked before the pandemic to change this sentiment, but even more so during the pandemic," she says.
High school student on Hawai'i Island participating in the annual LEI overnight stay at the Mauna Kea Beach Resort in 2019. Students participate by serving and welcoming guests at the resort lu'au.

"When people around the world come to visit Hawai'i, the tourism industry treats their guests with aloha and makes sure that they start to love Hawai'i not only for the environment and the beaches, but for the culture and the special bond that everyone has with one another. One of the main reasons why people join the tourism industry is to make people notice how beautiful Hawai'i really is, and without the tourism industry people wouldn't have that opportunity." —Wai'anae High School student
The state's hospitality sector provides opportunities for stable careers with competitive salaries. According to May 2021 data from the Economic Research Organization at the University of Hawai'i (UHERO), Hawaiʻi residents working in hospitality accommodations earn an average salary of $76,393. These are jobs that pay enough to help stem the tide of out-migration—in a state where the population has been shrinking since 2017.
It's important that we provide opportunities for our keiki (children) that allow them to stay.
—Julie Hulali Morikawa
According to August 2020 UHERO data, the rate of population decline in the state doubled in 2020, as a result of the pandemic. Hawaiʻi's labor force lost 16,000 workers in just six months (from March to August 2020), with departure from the islands being a major contributing factor. Similar to many places in the U.S., Hawaiʻi is currently grappling with a shortage of labor for key jobs in hospitality and other industries.
Delivering the best of Cornell, island style
In 2019, ClimbHI developed a hospitality pathway certificate program for high school students throughout the state, under a contract with the Hawai'i State Department of Education (DOE) and with support from the Hawai'i Tourism Authority (HTA).
Raven Petersen in 2021 at the Ko Olina resort on Oʻahu

"I wasn't sure what I wanted to do, and ClimbHI has helped me every step of the way in pursuing a career in the hospitality industry." —Raven Petersen
The certificate program teaches students fundamental skills for employment in the hospitality industry and beyond. The curriculum was exclusively developed in partnership with the School of Hotel Administration at the Cornell SC Johnson College of Business. Upon completion of the program, students receive a Service Excellence Certificate of Achievement from Cornell University and ClimbHI. The program started during the 2020-2021 school year, and more than 600 students received certificates in the first year.
The Cornell community is always willing to get involved and help, and there are many individuals who have given their time to ClimbHI's projects.
—Julie Hulali Morikawa
"The program brings together Cornell's world-renowned hospitality curriculum with aloha and the aloha spirit law. We teach not only work skills, but life skills that reach well beyond any single career path—touching any interactions that students have," Julie says. "Employers in Hawai'i greatly value the skills that the program provides and consider the certificate when hiring," she adds.
The ClimbHI Service Excellence Certificate will be available to all DOE high schools in the state in 2021-2022 school year and has become the standard certificate offering for the school system's hospitality pathway.
Watch this short video to learn more about the certificate program.
When it gets hard, aloha shines through
After developing innovative programs over the past decade, ClimbHI has become an integral part of Hawai'i's education system. In addition to the certificate program, ClimbHI hosts an annual LEI (Leadership Exploration Inspiration) program and ClimbHI Bridge, an online tool to connect businesses, educators, and students through career fairs, job shadowing, internships, and more.
Over 12,000 students engaged with ClimbHI through opportunities that only seven months ago did not exist.
—Julie Hulali Morikawa
Julie admits that turning her dream into a reality that reaches students across the state has been hard. Over the past nine years, she has worked with countless individuals, businesses, nonprofits, and public sector partners who believe in her vision and have stepped up to help promote, support, and fund ClimbHI.
She calls out a few of those who have stepped up to keep the effort going:
When it was hard, Chef Roy Yamaguchi accepted a guest speaking engagement for 300 Campbell High students to address the challenges he was facing, while still inspiring them to chase their dreams in the culinary field.
When it was hard, and it's been hard for Hawai'i Island since 2018 with the Kilauea eruption, Craig Anderson of Mauna Kea Resort hosted 60 teachers and students from high schools across the island for an overnight hotel industry exposure program at his gorgeous resort.
"These businesses are the inspiration for our next generation of leaders," Julie says. "During a time of separation and distance, we stayed united to help our next generation flourish," she adds. "We are moving mountains together."
Watch this short video, "Value of Tourism to Me," to hear feedback from local students.