Viewed from the Hill at Reunion, the past appears vivid and near. For leaders who organize their class or group events and rally their peers back to campus, Reunion also brings into focus the dynamism of Cornell today and the vitality of Cornell tomorrow.
The "would"
Alice Katz Berglas '66 considers Reunion as a "subjunctive" state of mind, connecting to the university's motto articulated by founder Ezra Cornell: "I would found an institution where any person can find instruction in any study."
"It's a privilege to be a part of the 'would'—to be in Cornell's present to affect its future," Berglas said.
She has served as her class Reunion chair since 1981 and often as class president. She thinks of Reunion as a unique and ever-changing event—driven by the hearts and imaginations of alumni leaders themselves, in strong partnership with the Office of Alumni Affairs. Berglas said she delights in "inviting classmates who were my best friends—and classmates whom I never knew—to come and share Cornell time, and for us, together, to discover that we are ever Cornellians: ever students, ever curious, ever informal, ever making new friends, and wondering why we all didn't know more of us, way back then."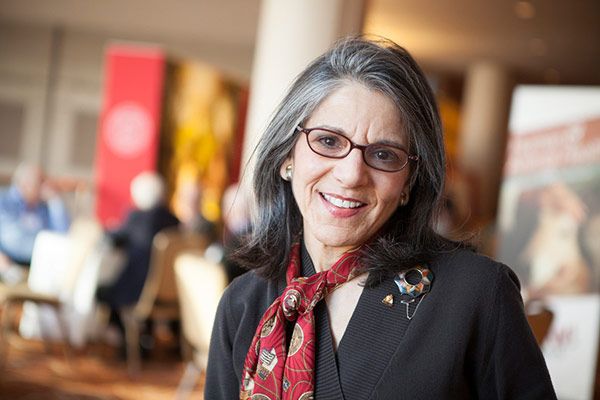 Alice Katz Berglas '66. Photo by Lindsay France/Cornell Marketing Group
This year, Berglas and her Reunion co-chair, Jeanne Brown Sander '66, welcomed classmates back with a forum on Cornell student life today, "The Inside Low-Down from Our Higher-Ups," with Susan Murphy '73, PhD '94; Ryan Lombardi, vice president for student and campus life; and Gretchen Ritter '83, the Harold Tanner Dean of the College of Arts and Sciences.
The Class of '66 also spearheaded ThrivingRED, a 50th Reunion class gift to foster the well-being of student residents of the West Campus house system. The campaign set a $50,000 goal. Through overwhelming support, ThrivingRED more than tripled its target for an endowment gift to benefit generations to come.
Raising the bar
Inspiring classmates to revisit campus in huge numbers and pitch in for the class gift are some of the greatest challenges and joys experienced by Reunion leaders.
"I am most proud of my class's participation and how we continue to embrace and support the university," said Jeff Weintraub '91, MD '95, an emergency room doctor who has served as Reunion chair since he earned his undergraduate degree.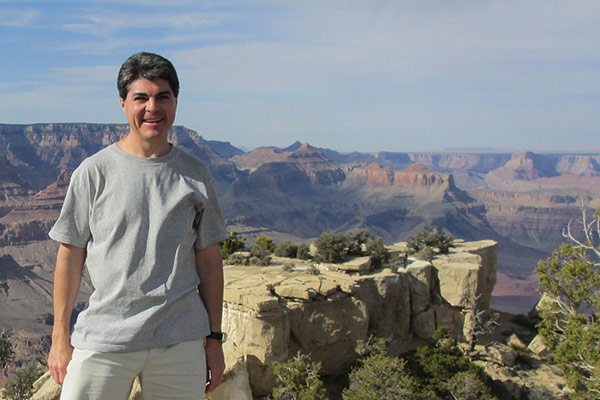 Jeff Weintraub '91, MD '95. Photo provided
For its past four Reunions, the Class of '91 has set new attendance records. This year, it raised the bar for both the biggest class gift and the greatest turnout for the 25th Reunion with 544 classmates.
"Breaking this attendance record is particularly special as no other class has done so in 31 years," said Weintraub who also talked about hard-to-measure, but equally heart-warming, rewards. "The smiles, hugs, laughs, shrieks of joy, and so many other wonderful things that happen when friends who haven't seen each other for a while reconnect in person are absolutely priceless."
Staying in touch
The time between each five-year Reunion cycle is just as crucial as the four days on campus, emphasized Rachel Flynn '06, MBA '16, a Reunion co-chair for her undergraduate class that celebrated its 10th Reunion this year.
"We focus on bringing people together, but we also keep tabs on where our classmates are in their lives and what's going on with the university so everyone can still feel connected, even though we graduated years ago," she said. News of classmates' personal milestones, including getting married and starting families, are as equally momentous as major developments at the university—such as the establishment of Cornell Tech in New York City.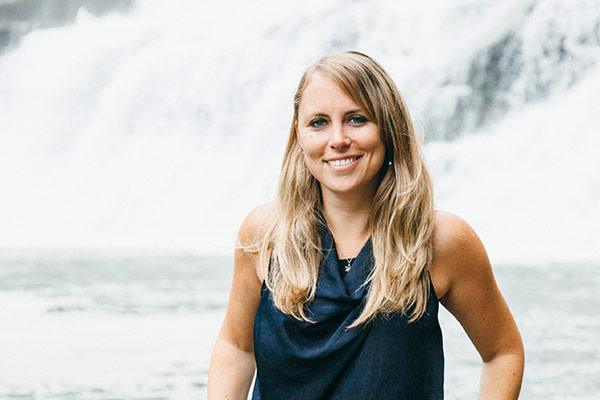 Rachel Flynn '06, MBA '16. Photo provided
A recent graduate from the tech campus, Flynn helped to organize this year's Cornell Tech Talk, featuring Dan Huttenlocher, dean and vice provost, along with recent alumni.
"In the Cornell Tech MBA program, it was so exciting to see that even though campus isn't even done yet, we already have several years of alumni coming out of the school," she said. "In the same way that I like to help bring my class back to Cornell, I really like to be a part of building something new for the university."
For the Class of '06, Flynn, who was an event planner for her senior class, also organized special activities, including a dinner at the Herbert F. Johnson Museum of Art and a sneak preview of an exhibit of precious stones curated by gemologist Katie Bartels '06.
Passing it forward
Keeping classmates abreast of campus goings-on has been "fun and interesting" for Bob Mueller '41, class president. Mueller and his wife have never missed his class Reunion since he moved back to Ithaca in 1948. He always looks forward to the music and singing—the Cornell University Chorus and Glee Club Concert, Cornelliana Night, the NY Dueling Pianos—and "all sorts of wonderful things happening," he said, referring to the more than 400 events sponsored by different classes, groups, colleges, and program areas.
But spending time with peers is at the top of Mueller's list. "The most fun is sitting down at meals with close friends," said the retired architect, who, along with other members of his generation, has endured many major historical events, from experiencing the Dust Bowl and the Great Depression to serving in World War II.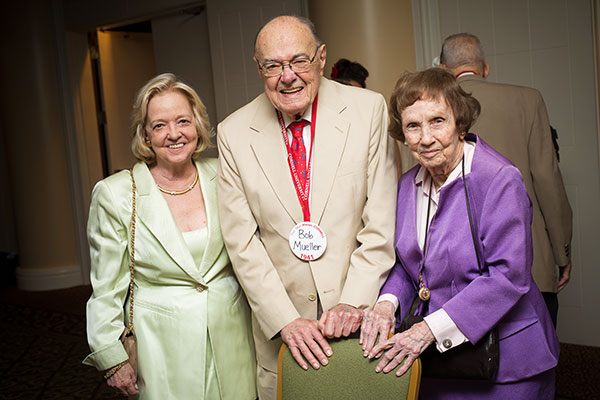 Bob Mueller '41, flanked by daughter Paula Mueller '68, JD '73 (left) and wife Betty (right) at the Passing It Forward Ceremony. Photo by Rachel Philipson
This year, 10 members of the Class of '41 came back to campus, a new record for the 75th Reunion. "Most of my classmates I know are all gone. We're in our 90s, you know, and that's what happens," Mueller said matter-of-factly.
At the Spirit of '31: Passing It Forward ceremony organized by the Office of Alumni Affairs, an energized Mueller reconnected with his classmates as well as with alumni from the Classes of '46 and '51 and with representatives from '11, the youngest Reunion class, which was presented its Reunion banner this year by Henry Heimlich '41, MD '43.
Remembering a time before Cornell
For the Cornell Native American Alumni Association (CNAAA), which celebrated its 8th Reunion, the gathering bridged generations of Cornellians and connected the Cornell community to the history of the Cayuga people and the Haudenosaunee Confederacy—the region's original inhabitants, long before European settlers and long before A. D. White and Ezra Cornell.
CNAAA Reunion co-chairs Barbara Abrams MS '84 and Leisha Conners Bauer '82 organized a talk by Jane Mt. Pleasant, associate professor of horticulture, about the university's founding on Native American land and about the struggles and triumphs of the American Indian Program (AIP), established in 1983, which will be expanded this summer to become the American Indian and Indigenous Studies Program.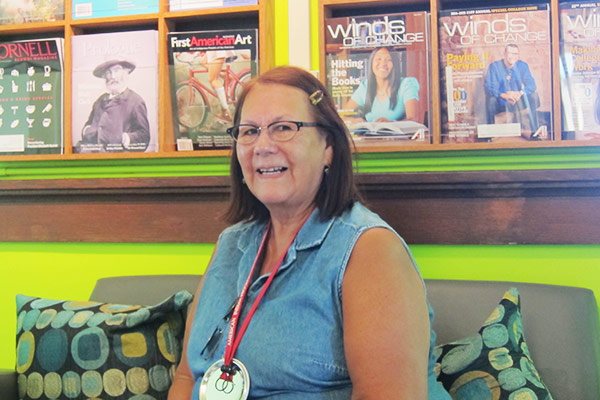 Barbara Abrams MS '84. Photo by Jose Beduya
Reunion is a powerful tool for community building among Native American alumni, emphasized Abrams, a former director of the AIP. "Even though we came at different times we have common experiences. Reunion gives us the chance to complete the circle."
Abrams also emphasized the importance of dialogue among Cornellians as one big community: "It's not just what you learn academically, but also what you learn about other people and otherplaces and how you learn to interact with people that makes the Cornell experience really exciting."
Watch videos of Reunion highlights.