Close to 700 members of the Cornell University Board of Trustees and the Cornell University Council converged on the Hill for the Trustee-Council Annual Meeting (TCAM), October 27 to 29. The turnout was the highest ever.
The group of alumni leaders from various fields serves as Cornell's brain trust, helping to chart the university's course now and into the future. Over three days, they met with Cornell's administrators and staff members to address challenges that include bolstering financial aid for students, recruiting top-notch faculty, and fostering diversity and well-being on campus.
Outside meetings, board and council members also made the most of their return to campus—connecting with the university they love and the community they love to serve. Below, get a glimpse of what they did in and around TCAM.
They spoke up.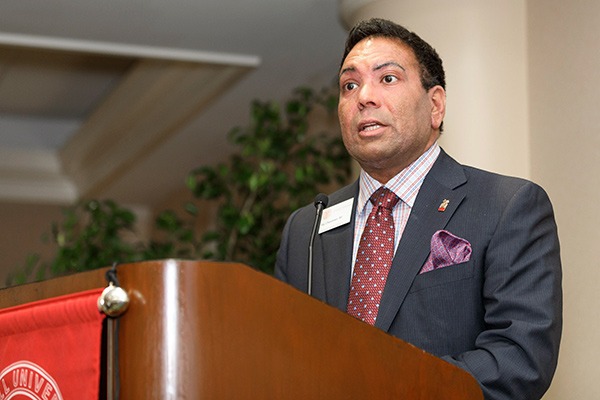 At the all-council lunch on Thursday, Raj Chandnani '95 (above)—founder and co-chair of the Dean's Council of Young Alumni for the School of Hotel Administration—welcomed his colleagues. Through various presentations and discussions during TCAM, attendees gave updates on their designated initiatives and shared their experiences. View more pictures.
They caught up.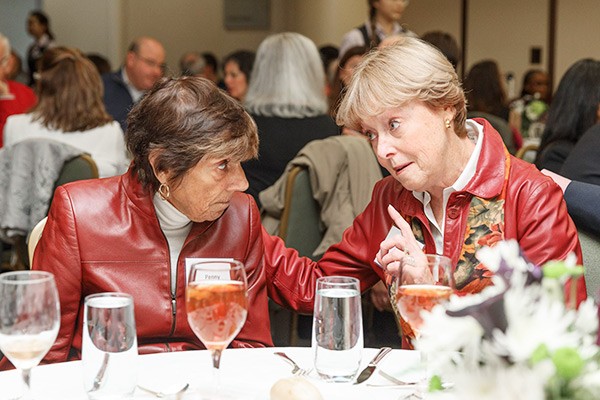 Council member Penny Haitkin '65 (above left) and Judith Arangio (spouse of council member George Arangio '65, MD '69) enjoyed a conversation over lunch. Throughout the weekend, attendees had many opportunities to mingle between sessions. View more pictures.
They listened.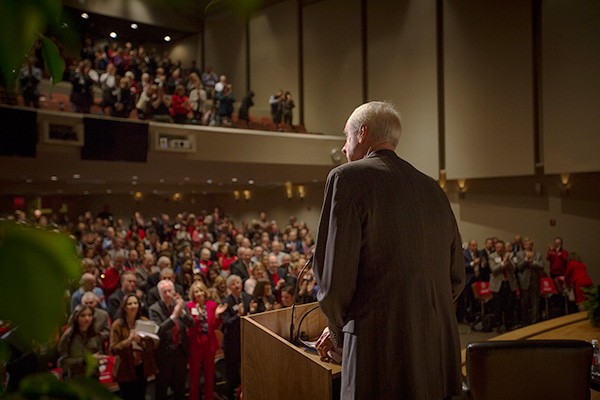 Hunter R. Rawlings III (above), Cornell's interim president, delivered the State of the University Address to a packed Statler Auditorium. A staple of TCAM, the presidential speech was delivered to this exclusive in-house audience and live-streamed on CornellCast. Read about it or watch the video.
They asked hard questions.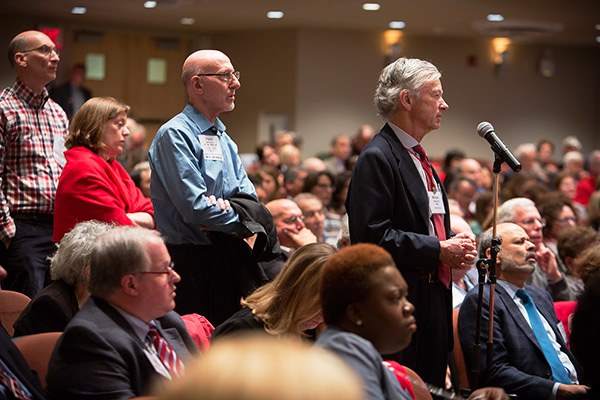 At the end of the panel titled "My Parents Say I Can't Study That: Helping Students Find Their Intellectual Home in an Era of Personal Skepticism," board and council members queued up to ask their questions. Trustee William Perez '69 (above) headed the line. View more pictures or watch the panel and Q&A.
They learned new lessons.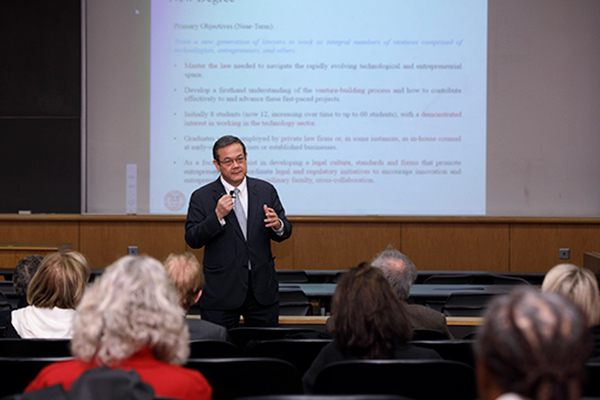 Several concurrent crash courses were presented by faculty members like Charles K. Whitehead '83 (above)—the Myron C. Taylor Alumni Professor of Business Law and the director of the Law, Technology, and Entrepreneurship Program—who co-taught a session titled "Law, Technology, and Entrepreneurship on the New York Tech Campus." View more pictures.
They joined a special lecture.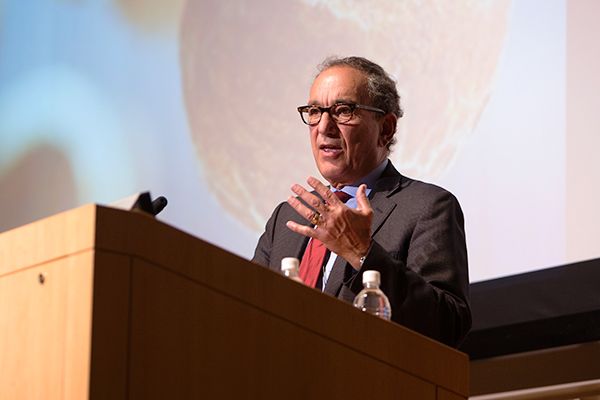 TCAM attendees got front-row seats to the 2016 Hatfield Lecture. A former council member, George Scangos '70 (above) was awarded the Robert S. Hatfield Fellowship in Economic Education for his exemplary contributions to the biotech industry. Read about his talk or watch it on CornellCast.
They enjoyed entertainment.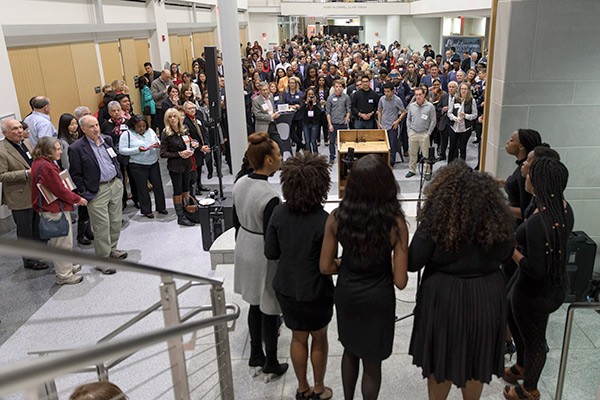 Student a capella group Baraka Kwa Wimbo (above) serenaded attendees at a wine-and-dine event. TCAM-goers often say that getting to know today's brilliant and talented students is one of the highlights of their visit. View more pictures.
They networked.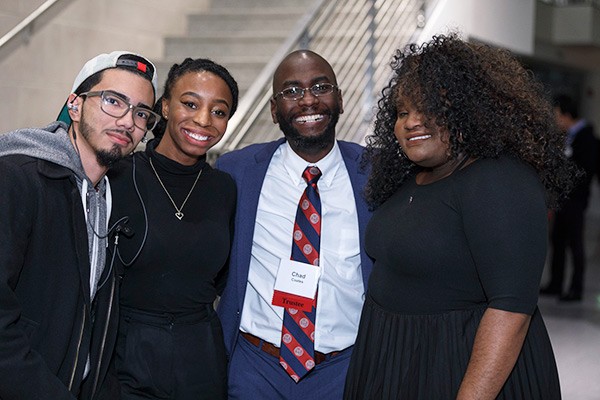 At one event, over dessert, alumni leaders got a chance to connect with students and share career advice. Chad Coates (above)—the employee-elected trustee who is the assistant dean of admissions and advising in the College of Arts and Sciences—had fun mingling with young Cornellians. View more pictures.
They paid their respects.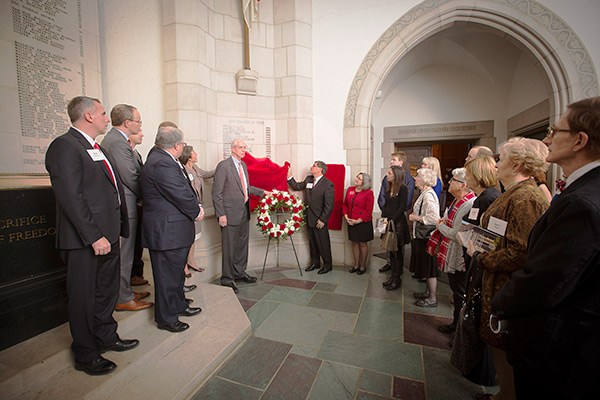 A permanent memorial to alumni lost to the terrorist attacks of September 11, 2001 was dedicated at a ceremony in Anabel Taylor Hall. Friends and family members of those lost were at the private event. Paying their respects, TCAM attendees visited the memorial over the weekend. Read more.
They paid tribute.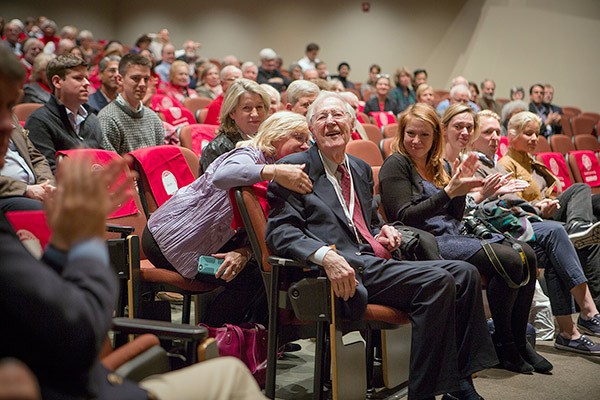 On the last day of TCAM, attendees joined the Cornell community in a symposium and reception in honor of President Emeritus Frank H. T. Rhodes on his 90th birthday. Read more.
Get to know more about the Cornell University Board of Trustees and the Cornell University Council.
View Cornell Alumni Association's Flickr collection of images in and around TCAM 2016.