Manhattan's Rockefeller Plaza was crowded but festive on Nov. 17, the Saturday evening before Thanksgiving. Holiday lights glowed, crowds milled between stores and skaters glided around the rink.
A distant drumbeat struck up and grew louder. Hundreds of Cornell alumni, parents, and friends with banners, blinking red lapel pins, and kazoos turned toward the plaza entrance, and the Big Red Marching Band burst around the corner playing "Give My Regards to Davy" at full volume. The sounds of the horns and cymbals reverberated off the surrounding buildings.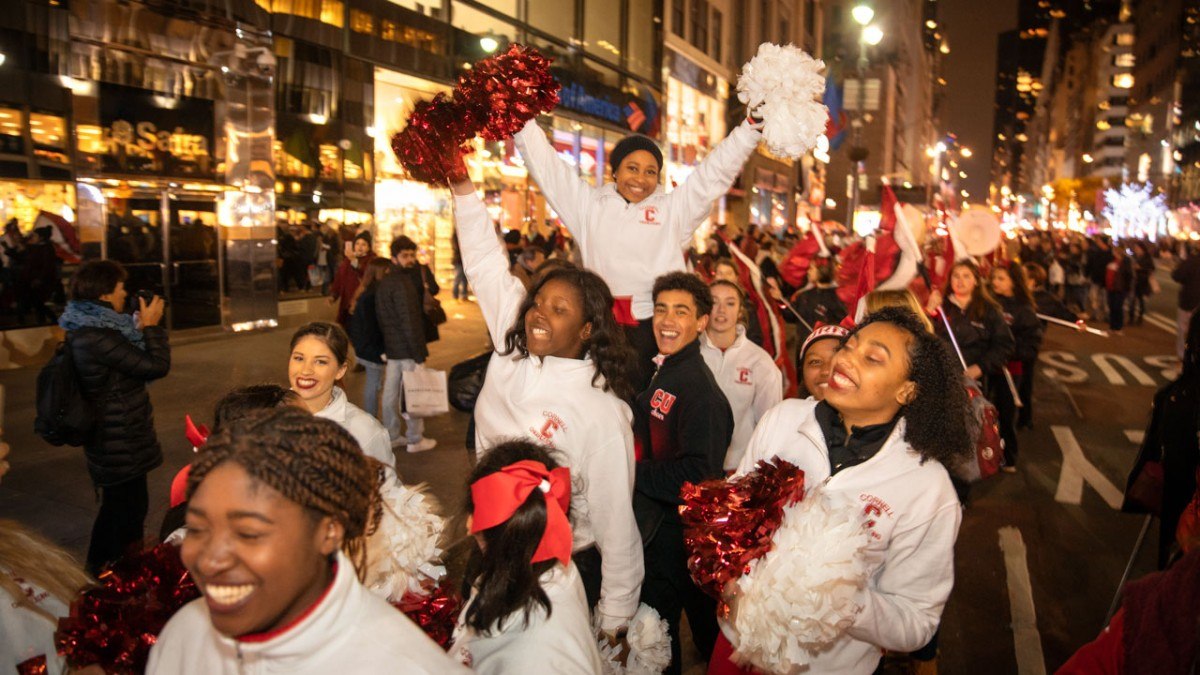 Strangers stopped to watch. Cell phones started recording. It was the start of the 2018 Sy Katz '31 Parade.
President Martha E. Pollack, who served as grand marshal this year accompanied by her daughter, Anna Gottschlich, led the parade out of Rockefeller Plaza and down six blocks of 5th Avenue to 44th Street, where the band played a 20-minute concert outside the Cornell Club–New York.
"I had a wonderful time leading the march and representing Cornell in my first Sy Katz '31 Parade. New York City took notice," said Pollack. "The school spirit, the sense of fun—Cornell alumni are one of a kind."
An estimated 1,000 Cornell alumni, family members and friends joined the band, cheerleaders, and Touchdown the bear this year.
Begun in 1972 by Seymour "Sy" Katz '31 as a small but hearty celebration to honor (and provide lunch for) his beloved Big Red Marching Band, the parade has grown to be a major alumni event and a showcase for the Big Red in the Big Apple.
"My father had a dream of a parade for the Big Red Marching Band down the streets of New York," said Alice Katz Berglas '66, the parade's longtime organizer along with her brother Bob Katz '69 and Penny Haitkin '65. "He was filled with pride when he would say, 'No other Ivy has its own parade in New York City.'"
'A little rogue parade'
Sy Katz, a New York City doctor, was known for carrying a trombone at Reunion and Big Red football tailgates. He and his friends got into the practice of providing lunch for the members of the band when it traveled to New York City for the football game against Columbia.
In 1972, Katz wanted to thank the Big Red Marching band by giving them not just a meal after the game, but a chance to march in New York City. Within a week, he had secured a permit to hold a parade.
"This was a little rogue parade," said Berglas. "It went on every two years, rain or shine, win or lose. The team plays, the band plays and the alumni come out to march."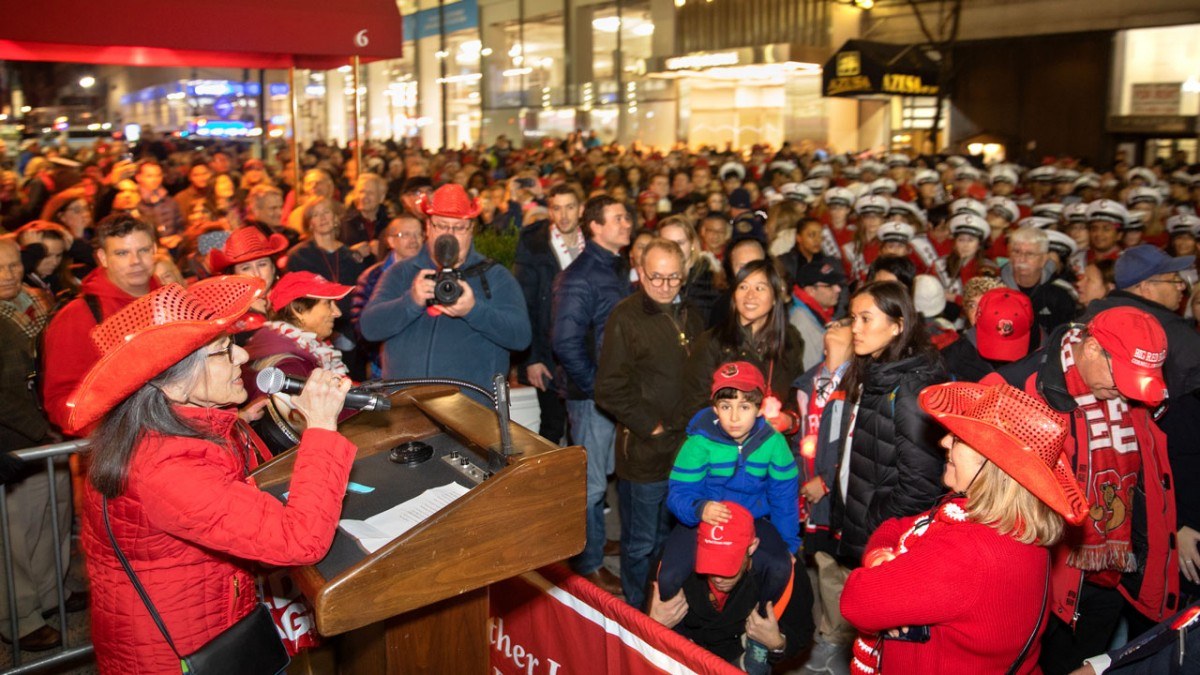 In the early years, the parade was only one block long—from 50th Street and Lexington Avenue to the former Cornell Club at 50th and Third Avenue—and attracted 30 to 40 alumni and family members by word-of-mouth, Berglas recalls. Alumni, especially those who graduated in the 1960s, started to promote the event and bring their small children. The following grew. Alumni distributed flyers at the Columbia game, inviting others to join. Now, Cornell Alumni Affairs and Development plays a large role, promoting the event through email and social media.
Through the years, the parade has followed various routes with various starting points, including the steps of St. Patrick's Cathedral. On the 25th anniversary of the parade, it was named after Katz, who died in 1999.
The parade's grand marshals have included President David Skorton, 105-year-old alumna Happy Reichert '25 (on her 105th birthday), alumni leader and volunteer Bill Vanneman '31, and former New York Gov. David Paterson.
This year, Michelle Vaeth '98, associate vice president for Alumni Affairs, greeted alumni family and friends in Rockefeller Plaza and helped to organize the parade order. Vaeth knows the line-up: She marched as a student band member, playing the flute, in the 1994 parade, an experience she cites as the first time she recognized the power of the Cornell alumni community.
"Be safe, have fun, and go Big Red!" she told the crowd, and they marched behind a police vehicle, lights flashing, down Fifth Avenue.
'Controlled chaos'
Cornellians marched with the Sy Katz '31 Parade banner in the lead. Following were cheerleaders, drum major and color guard, and the band. Then came the Little Red Parade—for families and children—and the crowd of alumni. At one point the parade routed onto the sidewalk to avoid a bus, and then back into the street to avoid construction scaffolding.
"Every year it's like this controlled chaos. You never know what's going to happen," said Kara Klein '89, whose grandfather, Bill Vanneman, played a key role in supporting the parade.
Band members relish the unpredictability of marching in the heart of New York City, said Graham Bashan '16, who played sousaphone. "You're at the game, then they stuff you on a bus. You unload and you're marching again," he said.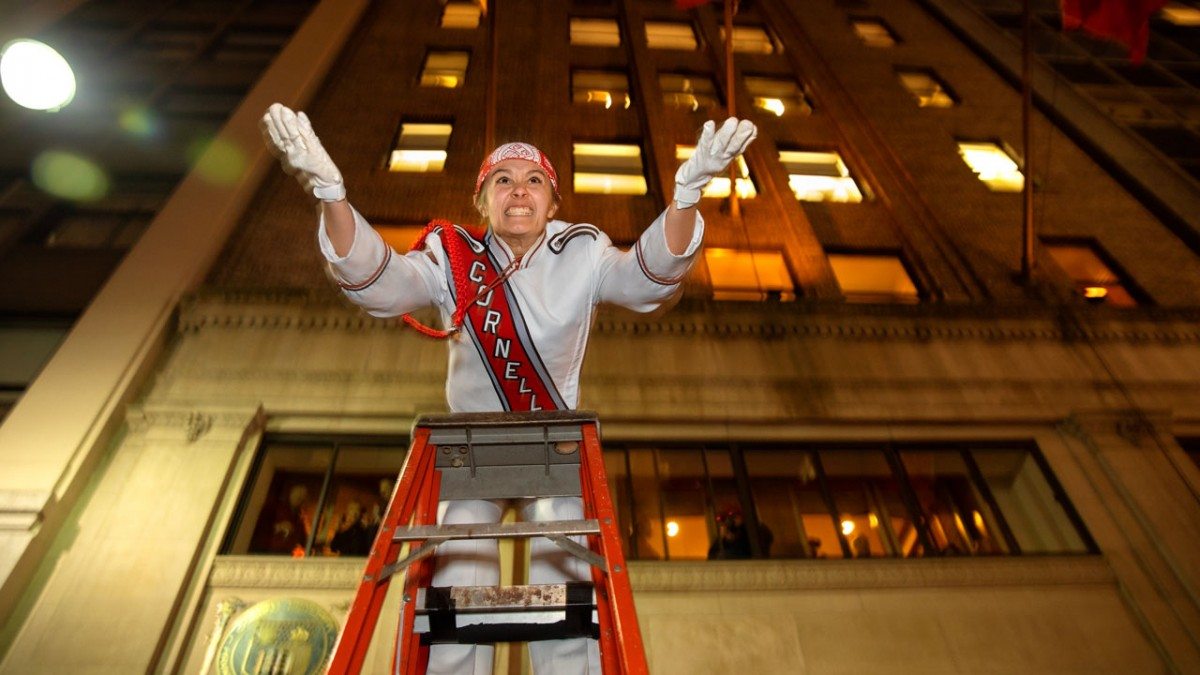 "They blocked off a section of Fifth Avenue for us," Kiyana Nangle '21, a cymbal player who grew up in Queens, said with a sense of wonder. "I can't wait for the next one."
Many band alumni attended the parade this year, a few marching with the band and many more following in the alumni section playing along—in harmony—on kazoos.
A vibrant Cornell community
Many alumni join the parade year after year. Nancy Butler '64 said the camaraderie of friends across classes and across generations, together with the magic of marching in Manhattan, keep bringing her back. This year, she attended with her husband, Ed Butler '63, MS '65, daughter Katie Butler '96, MBA '04, and 2-year-old granddaughter.
Others came for the first time.
Zoya Segelbacher '14, who lives in Brooklyn and works at a mobile app startup in Manhattan, brought her mom. She met up with other 2014 and 2015 graduates after the parade.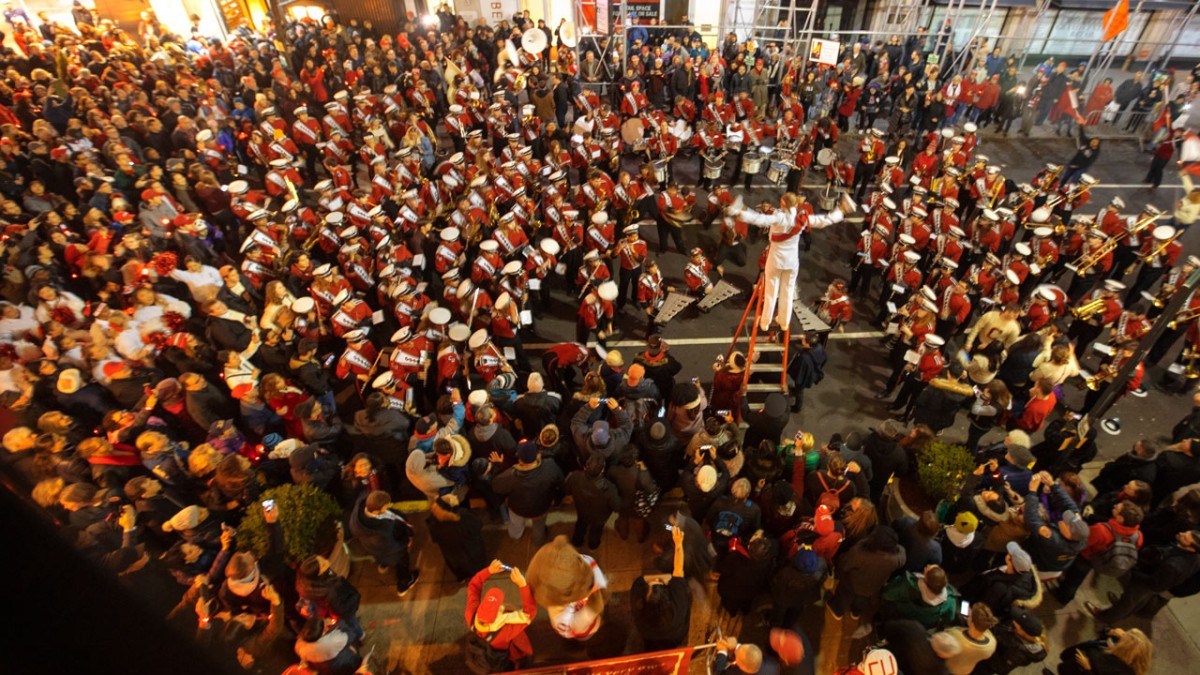 "It is a great reason to bundle up and get fresh air with friends and family," she said. "Being around other Cornellians and the band is a reminder of the very special time we spent on campus."
Sam Turer '18 has been looking for ways to feel like he's back on campus, and attending the parade was a great start.
"Like Sy Katz, I am an avid supporter of all things Cornell," he said. "There is such a vibrant Cornell community in New York City, and I am excited to continue to get to know the other members of the Big Red family and remain involved with Cornell."