Kamillah Knight '13, MPA '15, MBA '22 and Stephan Spilkowitz '10 didn't know each other as students at Cornell, but Cornellians have a way of finding one another, no matter where they go in the world.
Their mutual Cornell networks and friends brought them together in 2013, out and about in New York City, and kept bringing them back together until they began dating. That same network came through for them again on January 8, 2021, to help the couple celebrate their Zoom wedding—with guests from 26 U.S. states and ten countries, representing every single continent. Because of the magic of the Cornell network, that included a guest in Antarctica.
Their Big Red wedding
"Being in a landscape where nobody could be together," Stephan says of COVID restrictions, "there's actually a way to reimagine that [with Zoom] and have everyone together, regardless of where they are, and bring together the beauty and the mosaic that is cultural diversity. That was, for us, one of the most special things."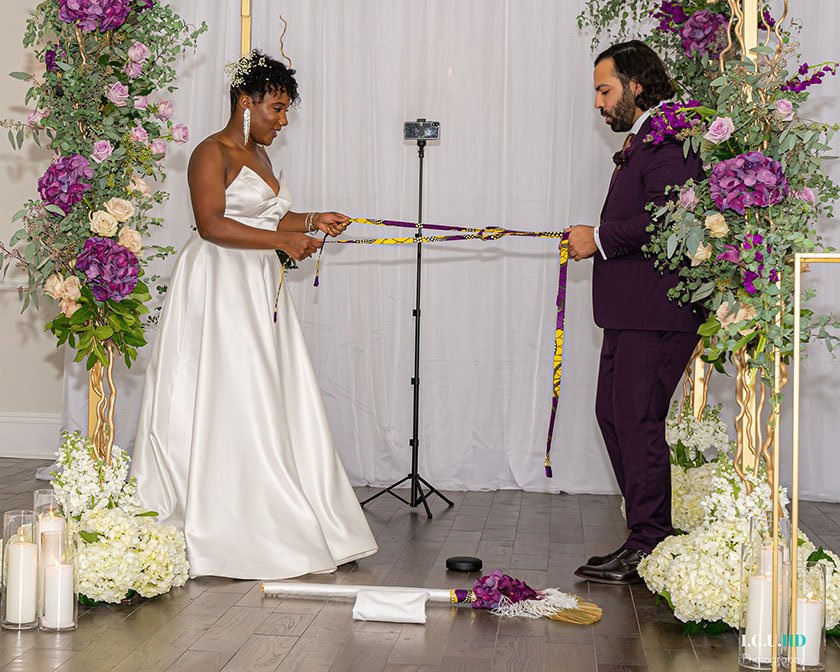 Stephan and Kamillah note that they have friends and family on six of the seven continents who were planning to attend their wedding digitally (many of them Cornellians), and they were just missing Antarctica. They both felt that if anyone could help them find a guest to invite to represent the seventh continent and truly make their wedding a global event, it would happen through the Cornell network.
That network delivered. After many emails and texts, with Cornellians reaching out to other Cornellians and to their own personal networks, a researcher stationed on Antarctica was located, and RSVP'd yes. "The day before our wedding, I got an email saying we did it, we found somebody," Kamillah says.
"We are big believers in cultural fusion and celebration and integration," Stephan adds, and says they were thrilled that their Zoom wedding allowed them to bring together so many family members, friends, and Cornellians from far away, while also honoring the wedding traditions of their heritages.
"This was the best of both worlds," Kamillah says. "We could invite everybody we wanted to, but at the same time it could be very intimate in person," with just their immediate family attending.
A ton of Cornell pride
There's no network as strong, interesting, and diverse as Cornell.
—Stephan Spilkowitz '10
This was not the first time that Kamillah and Stephan have been impressed by the power of the Cornell network. Their connections to the university are broad, varied, and reflective of their global values.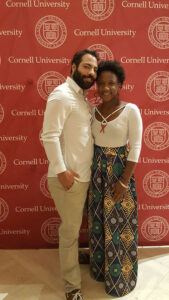 "There's no network as strong, interesting, and diverse as Cornell," Stephan says. "There's something to be said about meeting another Cornellian. There's an acknowledgement of talent and intellect, and there's a lot to be said for why there's so much Cornell pride."
Cornell, Kamillah adds, "accommodated me and celebrated me" during her time on campus. She had her daughter as a junior, and was able to graduate and continue on to get her master's degree at Cornell, with her daughter by her side. "Despite it being a challenge, I still was met with a ton of love," she says.
Kamillah now gives that love back through a number of volunteer roles, including serving as vice president of programming for the Cornell Black Alumni Association, serving on the Cornell Mosaic council, as a class officer for the Class of 2013, and a Cornell Alumni Admissions Ambassador Network (CAAAN) member, among others.
Both Kamillah and Stephan are excited to continue growing and nurturing their many Cornell connections, and they feel grateful for the ongoing support of their Cornell network.
"You can learn from all different people from all over the world," Kamillah says. "I feel forever indebted to the university."