Cornell has named a Cornell Entrepreneur of the Year every year since Robert F. Smith's junior year as a chemical engineering student. On Nov. 3, Smith—one of the world's top business minds—received this year's award from President Martha E. Pollack.
"Your leadership and thoughtful, socially responsible philanthropy mean a great deal to me and to Cornell," Pollack said. "As one of the university's most distinguished alumni, you are an outstanding example for our students by demonstrating the extraordinary impact Cornellians can have across the nation and around the world."
Smith, a member of the Class of '85, is chairman and CEO of Vista Equity Partners, which he founded in 2000.
Solving problems in an elegant way
"Cornell was such a wonderful experience in a fundamental time in my life," Smith said during a "fireside chat" with Lance R. Collins, the Joseph Silbert Dean of Engineering.
Cornell's College of Engineering "helped me learn to solve problems in an elegant way," Smith told Collins.
Indeed: Vista Equity manages $30 billion in capital and oversees a portfolio of more than 50 software companies that employ at least 45,000 people internationally. Smith has overseen 294 buyout transactions since he founded Vista, totaling more than $73 billion in value. "We have never lost money in a buyout," Smith said, triggering applause from the more than 500 people at Cornell's sixth Entrepreneurship Summit at the Times Center in Manhattan.
Cornell believes in rigor. We bring a different degree of rigor.
—Robert F. Smith '85
Smith guides Vista's focus on enterprise software, data, and technology-enabled solutions. Last month, he was named one of the 100 Greatest Living Business Minds by Forbes. For a second year in a row, Vista was named the world's top performing private equity firm by the HEC–Dow Jones annual ranking.
Smith, a fourth-generation Coloradan, said he could have very well ended up at another university—such as Stanford—if not for a minority program that he attended as a high school junior. And it was summer, the best time to be in Ithaca, Smith joked. About 10 years later, Smith said he visited the West Coast and Silicon Valley for the first time and wondered, "What was I thinking?"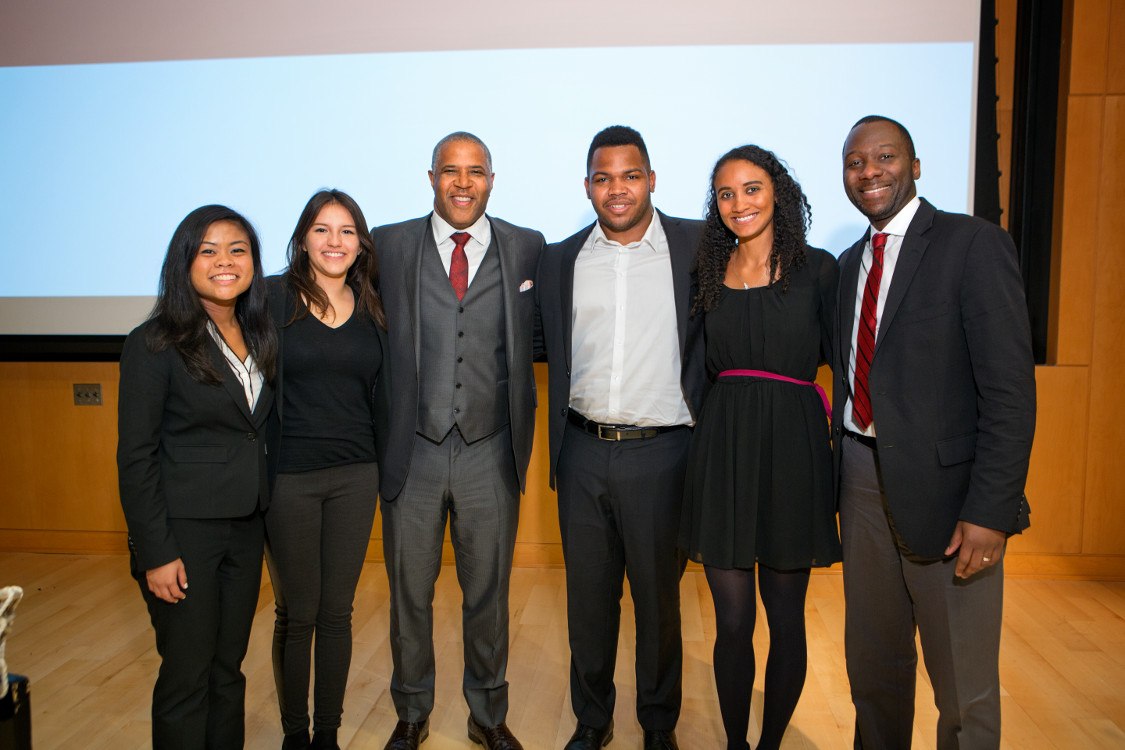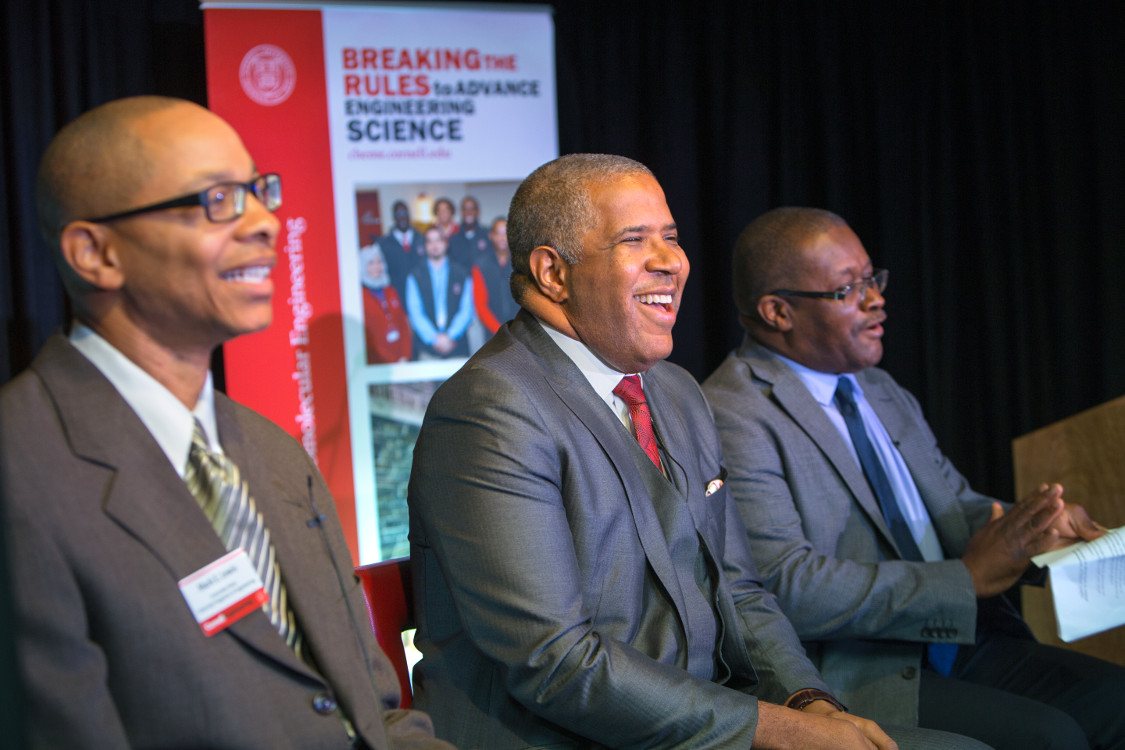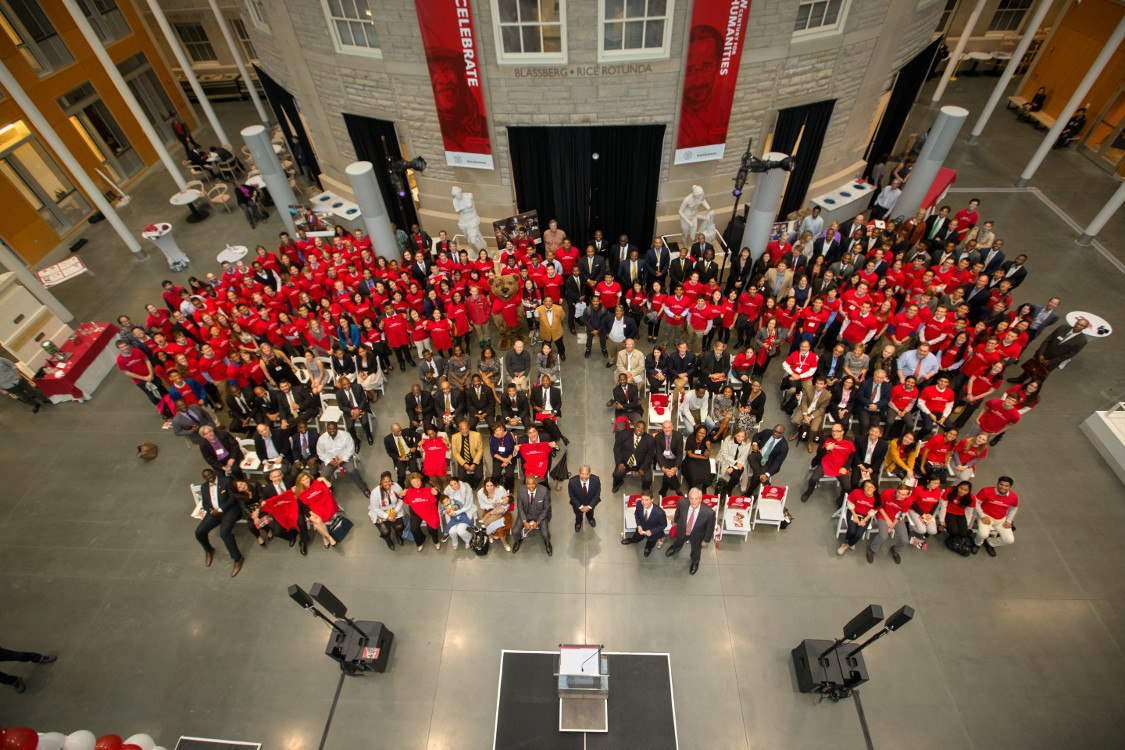 Smith said the work ethic and competitive rigor instilled in him as a Cornellian remains with him today. When hiring new employees, Smith assured the standing-room-only audience, "I would choose a Cornell engineer over any other student."
"Cornell believes in rigor. We bring a different degree of rigor," he said, prompting wide applause.
Cornell engineers also have grit, tenacity, and doggedness that is envied by others, Smith said.
In addition to his Cornell BS in chemical engineering, Smith received his MBA with honors from Columbia Business School.
As an undergraduate, Smith explained, his engineering studies taught him to "understand the importance of sticking with problems and thinking them through."
Career experience
Smith combined his knowledge of technology with early career experience in finance: Before founding Vista, Smith worked for Kraft General Foods—earning four patents—and Goldman Sachs, where he had a key role in mergers and acquisitions involving Apple, Microsoft and Texas Instruments. Other clients early in his career included Yahoo and eBay.
Smith realized he was a hardworking engineer making $42,000 annually in the 1990s while his friends on Wall Street were making more than $100,000 a year. He realized the business he loved was mergers and acquisitions. "No one was doing buyouts in tech startups," Smith said.
Engineers are skilled at creating order out of messes, and that's what Smith said he thrived at with Vista.
Smith said international business continues to be starved for high-technology experts. There are 7.6 billion people on the planet, he said, but "only 19 million of them know how to write code."
As chief executive officer, Smith said it's Vista's philosophy to train, mentor, and listen to every employee. Corporations that make all the decisions at the top, without input from employees further down the chain of command, won't grow like Vista has, Smith insisted.
He said Vista has a "best practices sharing summit" where employees in various departments collaborate on ideas. He said he believes in giving each worker enough room "to become their best selves." Being an entrepreneur can be a lonely job, Smith said, so he encourages peer-to-peer mentoring, collaboration, and an inclusive culture in the workplace.
"Kind of like being a dean," Collins joked.
"Wonderful time to be an entrepreneur"
On the topic of growth, Smith suggested that entrepreneurs "always be aware of the competitive market." Identify where your market is going. Don't be egotistical as if you know everything. Be open to knowing where you're growing.
Every single industry on the planet is digitizing, Smith said, citing an Indonesian bank as one example of a company that grew its annual revenues from $400 million to $35 billion after focusing on internet transactions. The world has changed dramatically since Vista was founded, Smith added, noting that half of the Fortune 500 companies from 2000 no longer exist.
"We're looking for those intellectually curious executives who can take feedback and relate it into their markets," Smith said.
Eight years ago, companies were focused on cybersecurity, Smith said. If you don't have a continual climate that can accept refinement and changes in philosophies, "then you have a company subject to a quick death."
"That's the hardest thing to teach, but if you get it right, it will last for decades," Smith said. "There is no greater time to be an entrepreneur in software . . . . This is a wonderful time to be an entrepreneur."
As one of the university's most distinguished alumni, you are an outstanding example for our students by demonstrating the extraordinary impact Cornellians can have across the nation and around the world.
—Cornell President Martha E. Pollack
Smith is chairman of Carnegie Hall, founding director and president of the Fund II Foundation, chairman of Robert F. Kennedy Human Rights, and an emeritus member of the Cornell Engineering College Council; he also serves on the boards of overseers at Cornell Tech and Columbia Business School.
Last year, Smith personally and through the Fund II Foundation gave $50 million to Cornell to fund chemical and biomolecular engineering, support African-American and female students throughout the College of Engineering, and create a fellowship program at Cornell Tech. Cornell named the Robert Frederick Smith School of Chemical and Biomolecular Engineering in recognition of his generosity.
Jon Craig '80 is a writer based in New York City. This article is adapted from the Cornell Chronicle.