Alumni philanthropists took a break from the rigors of Reunion Saturday at the Tower Club Hospitality Suite in the Park Atrium at the Beck Center in Statler Hall.
"The Hospitality Suite is our chance to give a special thank you to alumni in returning classes and locally who are members of the Tower Club or Cayuga Society," said Rob de la Fuente, senior director of the Office of Donor Relations.
Upwards of 300 Tower Club and Cayuga Society members visited the hospitality suite to have a cool drink and a bite to eat, and to chat with faculty and students from across the university. They also saw the fruit of university programs, including three owls and a turtle—all patients of the Janet L. Swanson Wildlife Health Center in the College of Veterinary Medicine.
"We especially appreciated meeting and talking to the faculty," said Nancy Butler '64, who is celebrating her 55th Reunion.
"This is the kind of event where you come but cannot easily leave because there are ten more people you want to talk to!" said Ed Butler '63, attending with his wife.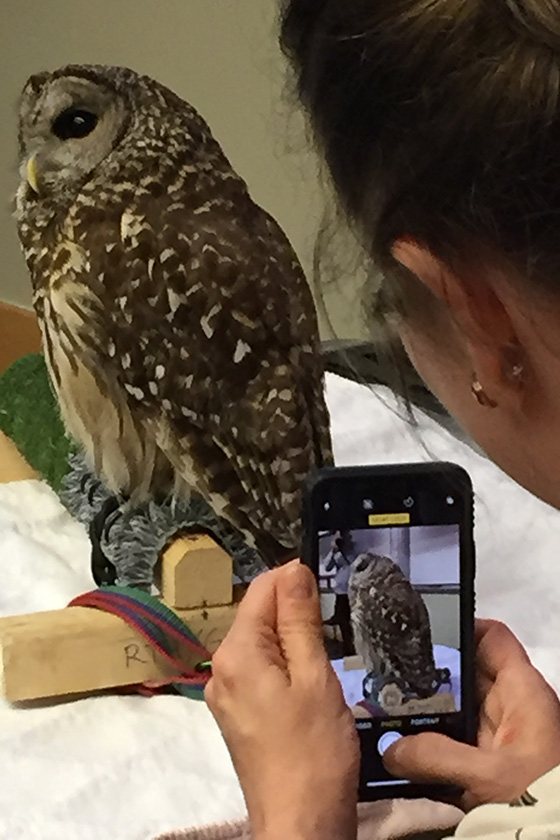 The Tower Club honors Cornell's donors who give $10,000 or more annually. The Cayuga Society recognizes the far-sighted generosity of those who have made a planned gift for Cornell University. Fiscal year 2019 does not close until June 30; in 2018 there were roughly 4,000 people in the Tower Club and 3,400 in the Cayuga Society.
"The giving societies add up to being a powerful source of support for Cornell, and we want to give our guests the opportunity to speak with those who benefit the most from their generosity—our students and faculty," said de la Fuente.