More than 8,000 alumni, family members, and friends enjoyed Cornell's Ithaca campus during four cloudless days of Reunion 2019, June 6-9.
"Reunion is a wonderful opportunity for generations of Cornellians to come together and celebrate their alma mater and each other," said Michelle Vaeth '98, associate vice president for alumni affairs. "This weekend, alumni of all ages gathered in this beautiful place, participated side by side in the same activities, and got to know each other."
Attendance was robust: About 5,768 alumni (a record) came back, the majority of them from classes of the 4s and 9s celebrating their fifth through 75th reunions. Several of those classes set attendance records, as well:
The Class of 1959 set a 60th Reunion record with 151 attendees;
The Class of 1974 set a 45th Reunion record with 230 attendees;
The Class of 1989 set a 30th Reunion record with 384 attendees;
And the Class of 2014 shattered the 5th Reunion record with 964 attendees, and sent up a loud cheer at Saturday's Cornelliana Night in celebration.
Another Cornelliana Night cheer went up for a surprise appearance, via video, of Supreme Court Associate Justice Ruth Bader Ginsburg '54, greeting her classmates on the occasion of their 65th Reunion.
"How I wish I could be with you at Cornell at this intoxicatingly beautiful time of year to enjoy the festivities," she said. The audience, including alumni from the 1940s to current students, responded with a chant of "R-B-G! R-B-G!"
In another instance of intergenerational resonance, more than 300 alumni of the Cornell Glee Club gathered to celebrate the ensemble's 150th anniversary. During a Friday night concert, Glee Club members from eight decades joined voices to sing the group's signature piece, "Ave Maria" by Franz Biebl.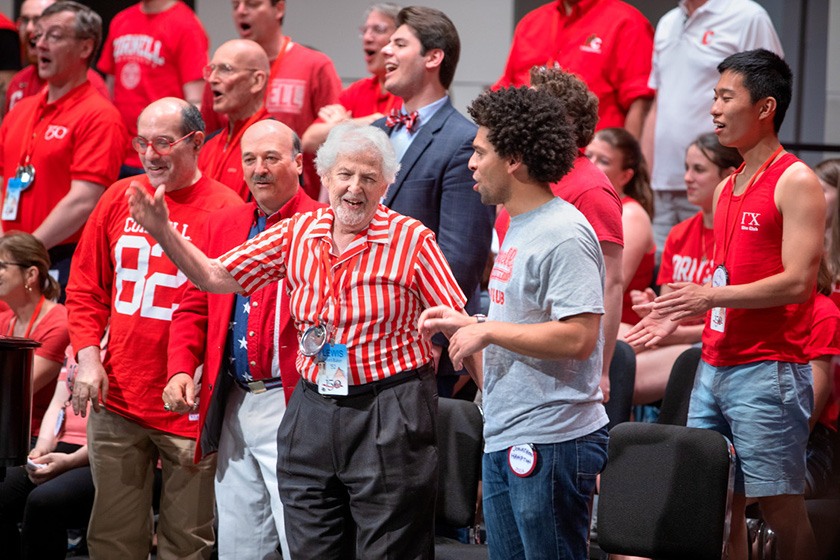 Reunion 2019 was full of such moments, said Lisa Bushlow '91, senior director of class and reunion programs in the Division of Alumni Affairs and Development.
"I loved seeing parades marching through campus, led by the Big Red Band, with hundreds of alumni, family and friends marching behind," she said, recalling one of her favorite moments of the weekend. "It showed participation of Cornellians of all ages, some of whom knew each other and others who just joined the parade."
Good weather—warm, sunny days and cool nights—enhanced the planned program of nearly 400 events. The weekend began symbolically with Thursday evening's "Spirit of '31—Passing It Forward" ceremony. Howard Evans '44 presented Class of 2014 Reunion chairs Julie Ewing '14, Kristen Ewing '14, Julia Buffinton '14 and Aylin Gucalp '14 with the banner their class used to celebrate their fifth Reunion and will bring to future Reunions.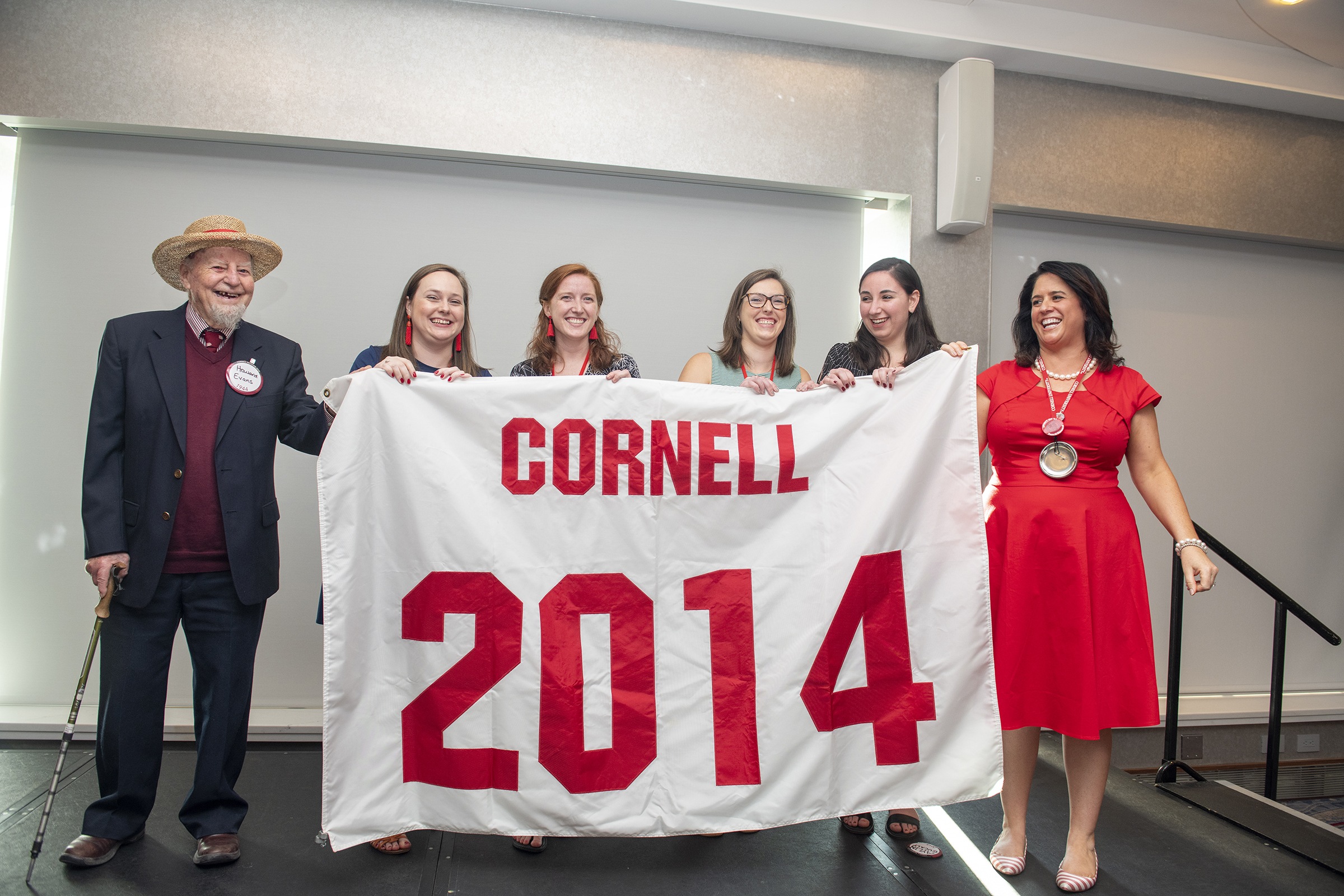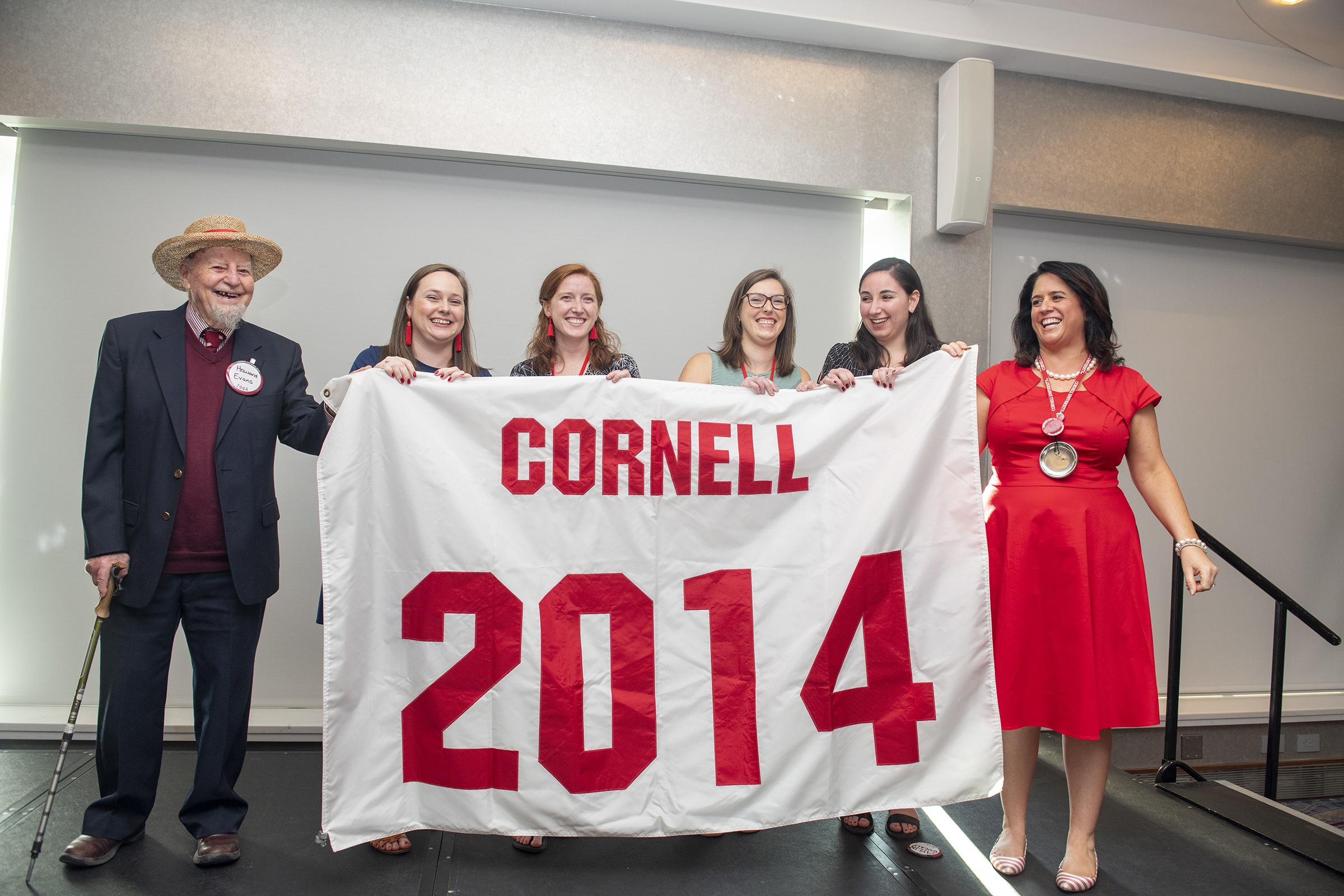 All over campus, Reunion attendees enjoyed a wide variety of intellectual and cultural programming:
The Olin Lecture, a staple of Reunion, featured a conversation between former national security adviser Stephen J. Hadley '69 and former US Rep. Steve Israel, D-NY, director of Cornell's new Institute of Politics and Global Affairs.
In a Bailey Hall event Saturday morning, President Martha E. Pollack had a conversation with three young Cornellians—two 2019 graduates and one rising senior—about their Cornell experiences.
The annual Liberty Hyde Bailey Lecture, hosted by the College of Agriculture and Life Sciences, focused on New York state's beer, wine and hard cider industries.
"Challenges and Opportunities for Reducing Climate Risks," a panel hosted by the Atkinson Center for a Sustainable Future, featured Rafe Pomerance '68, an environmental activist and lobbyist who played an early, pivotal role in raising awareness about the threat of climate change in the 1970s.
"International Politics and the Fourth Estate: The Role of the Media in Social and Political Movements Worldwide," featured Jeffrey Gettleman '94, a New York Times correspondent and Pulitzer Prize winner in conversation with faculty members Glenn Altschuler, Mabel Berezin and Alexandra Cirone.
"The 'Trump Whisperer': Judicial Philosophy and Advising US Presidents," a talk hosted by the Law School, paired Ari N. Melber, JD '09, MSNBC's chief legal analyst and host of "The Beat with Ari Melber" in a conversation with Leonard Leo '87, JD '89, executive vice president of the Federalist Society, about the selection of federal judges.
Children and families got in on the learning opportunities, including a Festival of Animals at the College of Veterinary Medicine, mathematics activities for kids in the Mathematics Library, and a Cornell Raptors exhibit at Saturday's Fun in the Sun event on the Arts Quad.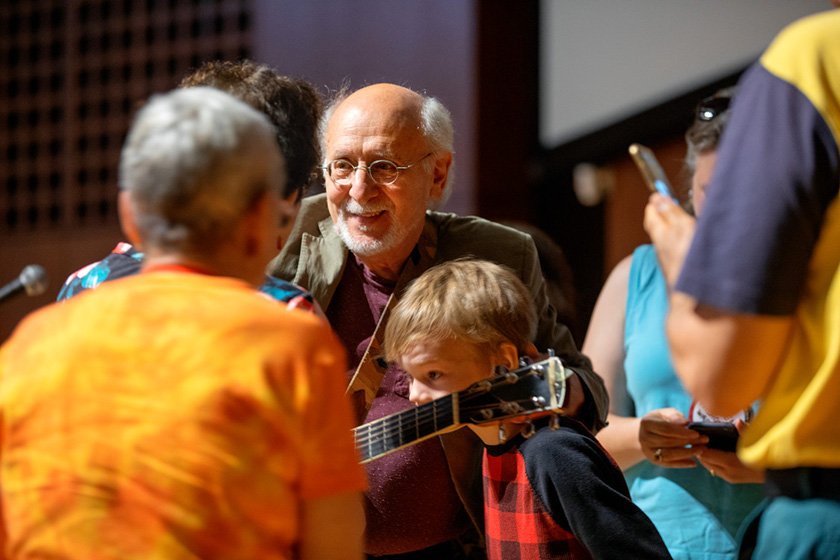 Cornell's three professional schools—the College of Veterinary Medicine, the Law School and the Samuel Curtis Johnson Graduate School of Management—also held special events.
Sharon Lieberman '82, who said she attends Reunion almost every year for the intellectual engagement as well as the fun, attended the Law School discussion between Melber and Leo; she said she watches Melber's show on MSNBC.
"Every time I come to Reunion, I have a completely new experience," she said.
The celebrations culminated with a music- and applause-filled Cornelliana Night. The event filled Bailey Hall and overflowed into Call Auditorium, with several additional livestreams around campus.
Alumni and friends didn't have to be on the Ithaca campus to enjoy Reunion 2019: More than 700 tuned in to livestreamed events throughout the weekend.
This article also appears in the Cornell Chronicle.