Just a few weeks after classes end and students disperse for the summer, alumni and their families will return to campus for Reunion 2019. This year's event is on track to set a new record for attendance, with more than 7,000 alumni and their guests already registered.
From June 6-9, alumni from the classes of the 4s and 9s celebrating their 5th through their 75th Reunions will converge on the Ithaca campus for four days of inspiring conversations, learning opportunities, music and art, and social gatherings. This year's Reunion line-up includes signature events with world-renowned scholars and the chance to spend time with beloved Cornell alumni, both famous and not so famous. The registrants—some of whom are children of alumni—span over 90 years in age.
Reunion is a great place for the generations of Cornellians to build community.
—Michelle J. Vaeth '98, Associate Vice President for Alumni Affairs.
"Reunion is the one time each year when thousands of diverse Cornell alumni and their families and friends gather—to live on campus, celebrate, and learn together," said Lisa Bushlow '91, senior director of class and reunion programs in the Division of Alumni Affairs and Development.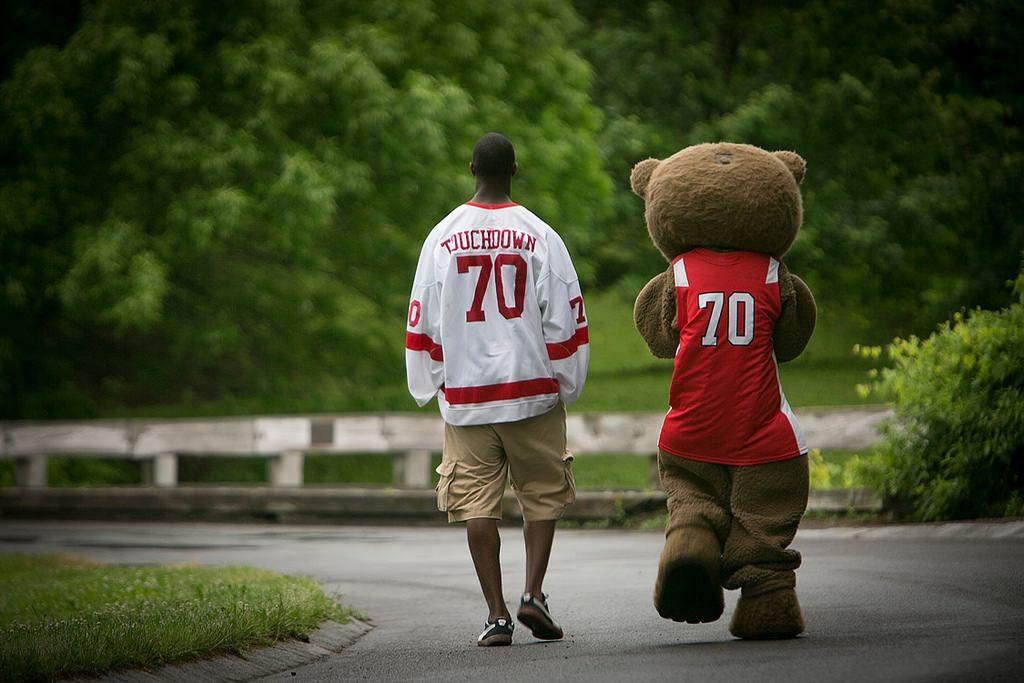 Inspiring conversations
Bushlow hopes that, with 393 unique events to choose from,  this year's Reunion will offer many opportunities for alumni and students to engage in intergenerational conversations. "To me, Reunion is about bringing together a very diverse group of people so that they can learn from one another," she said.
"There are so many things that are different in the experiences of our alumni, including what was happening on campus and in the larger world at the time they attended Cornell," Bushlow explained. "At Reunion we can create a space to ask questions like, 'What was life like when you went here?' and 'What are the challenges you face today?'"
On June 7, members of the classes of 1969, 1974, and 2014 will discuss their experiences as student activists, following a screening of Agents of Change, a film about the '69 Willard Straight Hall occupation. On June 8, President Martha Pollack will convene a conversation with current students to share what inspires them about Cornell and reflect on the challenges they face. Both of these events are open to the entire Cornell community.
The conversations that ensue provide a chance for alumni of different generations and backgrounds to listen and gain a deeper understanding for one another. "When I watch the older alumni standing with their canes to sing our alma mater," Bushlow said, "I appreciate the pride they have for Cornell and just how much their Cornell education means to them."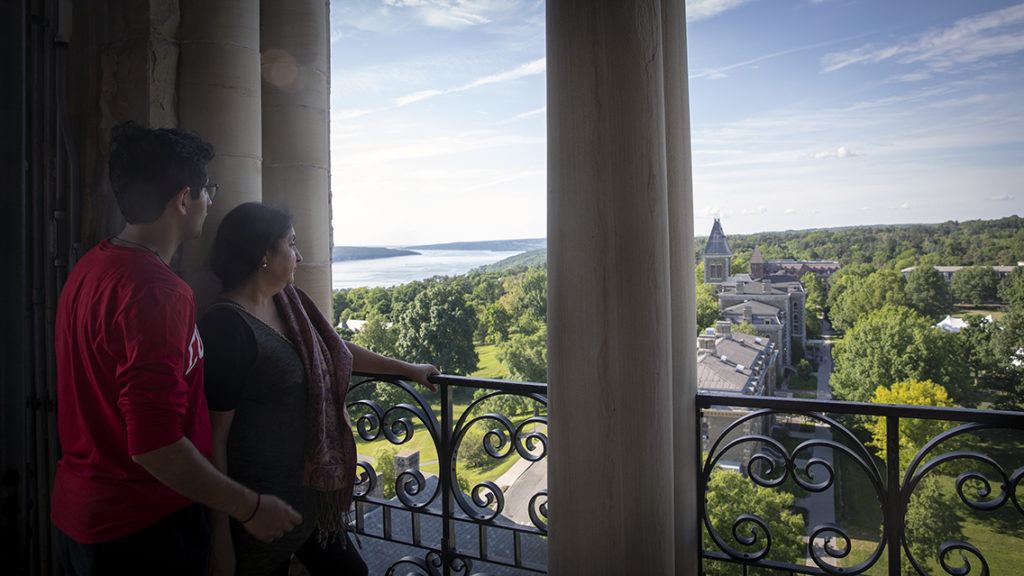 At Reunion, alumni come together to share Cornell traditions—the things that do not change. Reunion planners hope that by the time they leave, attendees will also have a deeper appreciation for one another's differences, as Cornellians spanning continents and generations. "Reunion is a great place for the generations of Cornellians to build community," said Michelle J. Vaeth '98, associate vice president for alumni affairs.
Learning opportunities
This year's Liberty Hyde Bailey Lecture will highlight some of the state's burgeoning agriculture-based industries. "Beer, Wine, and Hard Cider: How CALS Is Helping Grow Business for New York Entrepreneurs and Farmers" is on June 7 in Call Auditorium.
Later that day, the Olin Lecture features former National Security Adviser Stephen J. Hadley '69. Hadley will join in a conversation with former US Representative Steve Israel (D-NY), director of Cornell's new Institute of Politics and Global Affairs. "These two individuals have vast insights into global politics to share with our alumni," Bushlow said.
Both of these lectures will be livestreamed and posted to live.alumni.cornell.edu/ for alumni who can't make it to the talks in person.
Also on June 7, a panel of Law School professors including Stephen Yale-Loehr '77, JD '81, will join Jordan Calazan Manalastas JD '15, staff attorney at the Farmworker Legal Assistance Clinic, to unpack the implications of immigration changes under the Trump administration and what Cornell Law faculty, students, and alumni are doing in response.
On June 8, a panel of faculty and alumni, including Rafe Pomerance '68, chairman of Arctic 21, will consider the challenges of climate change and opportunities for innovative responses.
Reunion-goers can choose from a full menu of talks, panel discussions, and interactive sessions, ranging from building a bee "hotel" in the Makerspace at Mann Library to gleaning entrepreneurial advice at "Startup Sages: Experienced Entrepreneurs Share Tips with Future Founders" at the Samuel Curtis Johnson Graduate School of Management.
Music, art, and fun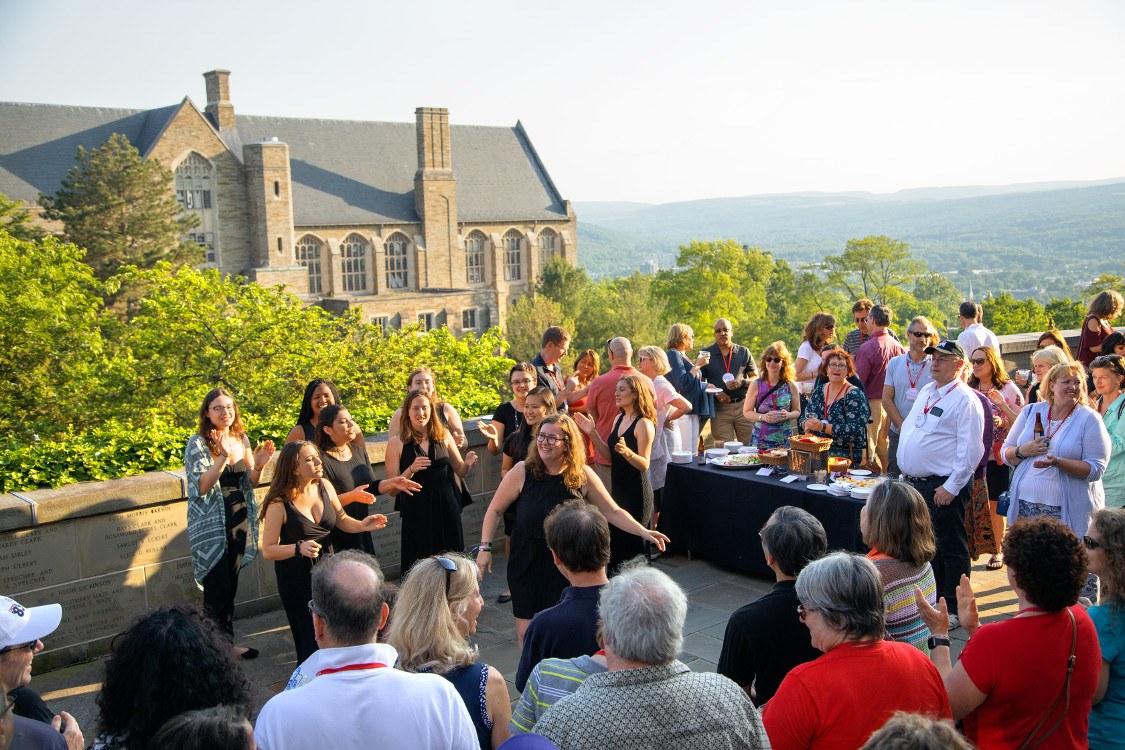 The Cornell Glee Club marks its 150th anniversary this year, and more than 300 Glee Club alumni are registered for Reunion. Friday night's Chorus and Glee Club concert, directed by Scott Tucker and Robert Isaacs, is a tribute to former Glee Club director Thomas Sokol, who died in April 2019. At Saturday's Cornelliana Night, the singers will fill the Bailey Hall stage and overflow into the audience. This popular event will again feature favorite Cornell songs, with the audience encouraged to sing along. New this year, tickets will be required for both of these events and can be picked up at the Statler Hall Tsai Family Atrium until they are gone.
Peter Yarrow '59, of Peter, Paul and Mary, will return to campus for his 60th Reunion. Yarrow, who will turn 81 years old on May 31, will perform a free daytime concert on Friday, June 7 at 11:00 a.m. in Call Auditorium.
Reunion also features "tons and tons" of exhibits, said Bushlow. Alumni can view "Revolution and Restraint: Reconstructing Masculinity through Menswear" at the College of Human Ecology or take in the "Wall of Birds" mural at the Cornell Lab of Ornithology. On Saturday, June 8, the Class of 1969 will dedicate a new outdoor sculpture in the Cornell Botanic Gardens. The installation "Double Allium" is more than 11 feet tall and 11 feet wide, with a steel stalk and glass flower heads.
From the breakfasts hosted at venues across campus, to the scenic tours of Ithaca's gorges, to the Tent Parties on the Arts Quad, Reunion 2019 will be filled with good spirits, reminiscence, and fun.