On Saturday night of Reunion 2017, a packed Bailey Hall rose to its feet to honor Esther Bondareff '37, who joined Cornelliana Night of her 80th Reunion via live stream from her home in Florida. Her smiling face showed larger than life on the auditorium screen as thousands of Cornellians cheered.
"Chills. Tears," Shane Dunn '07 posted on Twitter that evening, along with a video.
The shared moment captured the spirit of Reunion 2017, which brought people and communities together to continue and expand the Cornell experience and set a new record for alumni attendance. The weekend was a team effort, and one that used technology and social media to engage every member of the community, near and far.
Bringing people and communities closer
The intergenerational and cross-community experiences began on Thursday, June 8, during the "Spirit of '31—Passing It Forward" ceremony.
"Our most senior Reunion class welcomes and celebrates the youngest with a spectacular gift and a class banner to be displayed this weekend and for many Reunion weekends to come," said Jim Mazza '88, associate vice president for alumni affairs.
Accepting the banner on behalf of his class, Reunion co-chair Andrew Martinez '12 recalled being a Reunion clerk when he was a student. "We hope to come back for our 80th Reunion in 2092," he said.
The Class of 2012 has a great start on that goal; 888 classmates attended, a 5th Reunion record.
"It was amazing that so many classmates still feel so connected to Cornell and Ithaca," said Reunion registration chair Kendra Saldana '12. "I was happy to be a part of the planning team that put the weekend together."
Helping to present the banner to the Class of 2012 was a highlight of the weekend for Barbara Keeney Mandigo '37. Together with Bondareff's virtual appearance at Cornelliana Night, her presence on campus made for the second 80th Reunion in Cornell history.
"I helpedpass the flag," she said proudly the next day over lunch at the Statler Hotel's Terrace Restaurant. CU For Lunch was a popular midday destination for members of all classes and affinities, and the tables were full on Friday and Saturday with old friends and new acquaintances.
In all, 5,135 alumni attended Reunion 2017. With accompanying family and friends, a record high 7,049 people attended. Five classes—1937, 1952, 1977, 1987, and 2012—tied or broke attendance records. People came from 48 of the nation's 50 states and Washington, D.C. (North Dakota and South Dakota were the exceptions), and from 16 foreign countries.
While the oldest attendees were over 100, the youngest were less than a month old. Dylan Hendel, born May 4, attended with his parents, Alissa (Stock) Hendel '07 and Sam Hendel. Two-week-old Wesley Morales attended with his parents, Kathryn Morales '07 and Luis Morales '07, who met at Cornell.
"It's a cool perspective," said Luis, resting in the shade of the Arts Quad Saturday afternoon while Wesley took a nap, "to think my kid is in the same places I was."
Kenneth Lee '97 and Fion Huiqin Lee '99 eagerly showed their kids, ages 9 and 7, around the places on campus where they once lived, relaxed, and went to classes.
"We're indoctrinating them, but it's not really sinking in yet," Fion joked as her son played laser tag in the "Fun in the Sun Festival" on the Arts Quad, which drew many families.
A few Reunion attendees even brought their dogs.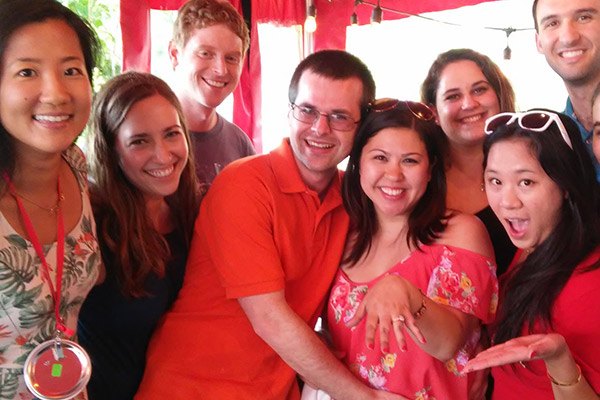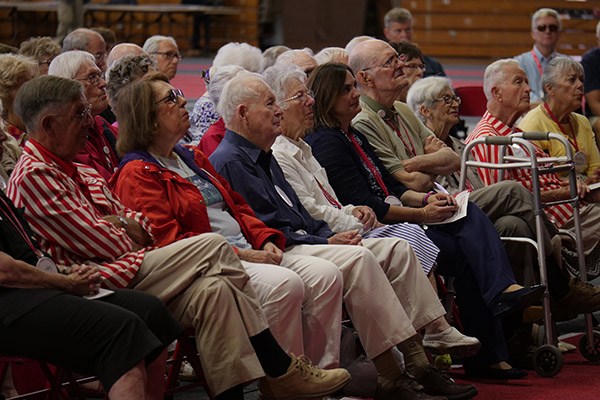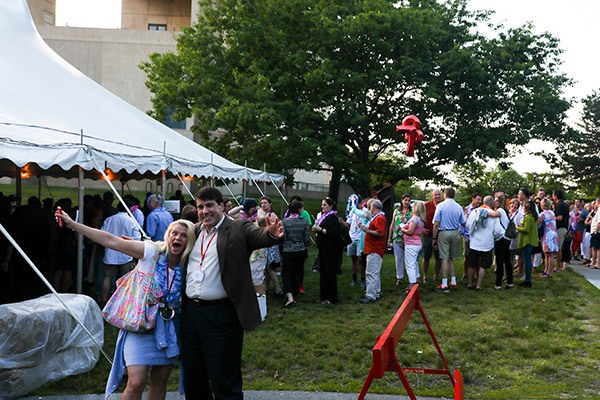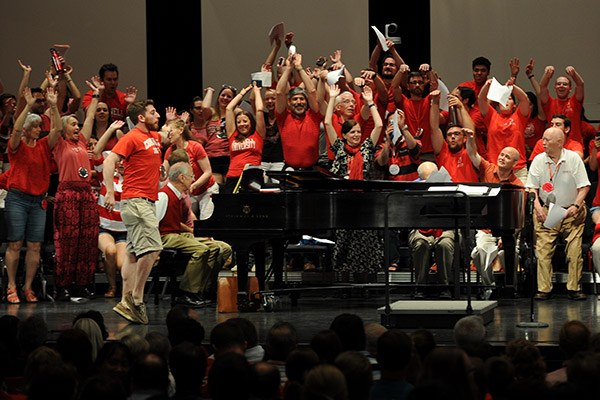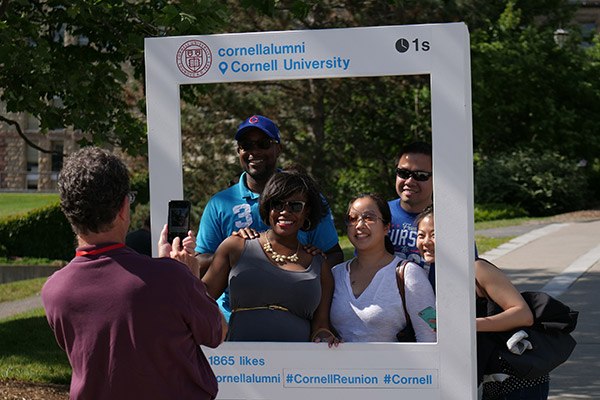 Like many returning alumni, Halsey Knapp '77 came primarily to reconnect with his classmates. A member of the 40th Reunion committee, he noticed an increase in attendance since their 35th Reunion. He thinks that the dramatic political atmosphere pervading the U.S. and the world during the past year has motivated people to engage in all areas, including going to Reunion.
"It gets you out of your routine and daily life," he said, just outside the 40th Reunion headquarters in William Keeton House on West Campus. He had been on his way to a 10 a.m. film screening, but then he ran into his first-year roommate, Neil Ellis '77, and his plans for the morning changed as they caught up.
"Coming to Reunion leaves you open to the unexpected," said Ellis.
Continuing and expanding the Cornell experience
The unexpected for many Reunion attendees included learning from extensive intellectual and cultural offerings.
Laurie Brandt '70, who attended the 50th Reunion with her husband, David Brandt '67, was particularly moved by the film Agents of Change, which features events at Cornell that lead to the Willard Straight Hall occupation in 1968. The film and following discussion, sponsored by the Class of '72, were emotional for many in the audience.
"Just being in the world, you don't see things like this," she said on her way to her next event, "Unlocking the Brain–Cornell's Search for the Key," featuring Cornell Neurotech, a joint initiative launched by the College of Engineering and the College of Arts and Sciences.
Reunion attendees choose from a list of more than 400 lectures, performances, and discussions sponsored by colleges, classes, and the university. Many of these provided updates on Cornell. On Friday morning Martha E. Pollack, the university's 14th president, shared her reflections after two full months in her position. Later that day, during the 2017 Liberty Hyde Bailey Lecture, faculty of the College of Agriculture and Life Sciences discussed ways that Cornell researchers are helping to produce better, fresher produce for Americans.
Other events engaged Reunion-goers with cultural developments and current events. The 2017 Olin Lecture featured Steve Reich '77, named "America's greatest living composer," and a performance of his work by New York City-based Ensemble Signal.
Cornell Mosaic and the Mario Einaudi Center for International Studies presented a forum, "Immigration, Migration, and Refugee Policies Under the New Administration." Three Cornell professors commented on new immigration and refugee policies from various areas of expertise: government, Latino studies, labor relations, law, and history.
Tiffany Doggett '92 was struck by the panel's clearly organized and relevant information, especially in connecting the effect of recent developments in immigration law on Cornell students and communities.
"It's a nice added value when you go back to have this educational experience," said Doggett, who followed friends to the panel and learned a lot. "I definitely feel more educated."
Some Reunion 2017 events were just plain fun, entertaining, or recreational. Families with children of all ages filled the Arts Quad Saturday afternoon for "Fun in the Sun," including not only laser tag, but also a Cornell Raptors demonstration, a Big Red Band concert, and more. Families also flocked to a special kids' edition of the "NY Dueling Pianos Show," a high-energy musical act that performed a show for the big people, too. Cornell Outdoor Education offered canoeing, rock climbing, a high ropes course, and a zip line.
The largest crowds of Reunion 2017 came to see science educator and TV personality Bill Nye '77 give a talk on "Everything All at Once­–How Cornellians Will Save the World." Sponsored by the Class of 1977, the lively presentation on a range of topics, including climate change, filled both Bailey Hall and the overflow space in Call Auditorium and revved up the crowd for Saturday evening's activities: dinners, tent parties, and the weekend's culminating moment, Cornelliana Night.
Engaging the whole community
"Let's face it, you've been busy," Jim Mazza told a full house at Bailey Hall as he opened Cornelliana Night 2017. "Faculty and alumni lectures, gorge hikes, fraternity and sorority gatherings, an early morning 5K run, concerts, wine tastings, trips to the Dairy Bar, and gatherings at many of the colleges and schools. A few of you even made it to the Arts Quad last night to dance under a full moon. Good for you."
Cornelliana Night, a traditional evening of Cornell music, celebration, and recognition also captured Reunion 2017 in facts and figures.
More than 500 class volunteers planned the 16 undergraduate class reunions in addition to reunions of Cornell's three professional schools—Johnson, the Law School, and the College of Veterinary Medicine. Reunion campaigns in 2017 raised $109 million from 6,310 individuals.
As the weekend unfolded, 140 student employees kept Reunion running smoothly by working as clerks, drivers, childcare workers, and in other capacities. Reunion registration fees, including food and lodging, generated $1.75 million, largely benefitting local businesses.
And three couples, all from the Class of 2012, continued a tradition of Reunion Romance by getting engaged over the weekend.
"Reunion is a true team effort, and 2017 exemplified the very best of what can happen when Cornell alumni, volunteers, students, faculty, staff, and community partners come together," said Lisa Bushlow '91, director of Class and Reunion Programs in the Division of Alumni Affairs and Development. "Even the Ithaca weather cooperated this year, giving us three days of sunshine while we synergistically celebrated what we love most about Cornell."