Yonn K. Rasmussen '83, MS '86, PhD '89 and John O. Boochever '81, two alumni-elected trustees finishing four-year terms of service, reflect on their time with the Cornell University Board of Trustees.
Yonn K. Rasmussen '83, MS '86, PhD '89
It has truly been a great honor to serve as an alumni-elected trustee for Cornell. Reflecting on my term, I am struck by the large 64-person board's shared dedication and passion for the university, navigating and providing guidance for opportunities and challenges across topics ranging from the pandemic and student code of conduct, to campus climate on diversity, to radical collaborations, to name a few. Several key highlights stand out in my mind.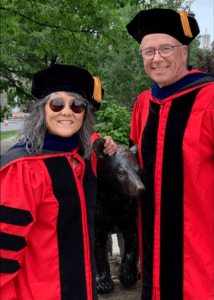 During the pandemic, Cornell emerged as a role model in crisis management across higher education. The university did an outstanding job at reopening its campuses with health and safety as a top priority, while remaining steadfastly focused on its commitment to student financial aid and affordability.
Cornell engaged in a comprehensive review of student mental health, which produced concrete recommendations to bolster the existing infrastructure through the completion of the Mental Health Review report and substantially increased counseling and psychological services resources.
The university adopted a set of core values and launched the Belonging at Cornell initiative. Being part of the board has deepened my perspective and commitment to strive for a world where everyone has a deep, true sense of belonging to be able to thrive and achieve their full potential. Being on the board added perspective to my student mentoring and engagement through the Asian and Asian American Center and the President's Council of Cornell Women, where I also served as a trustee representative.
Having served on the materials science and engineering advisory board for many years, and on the research and innovation committee of the board of trustees, I am proud to see how much progress has been made in establishing the framework and infrastructure to accelerate technology commercialization across the university's vast intellectual assets. Cornell has also created more opportunities for students and faculty to gain entrepreneurship experiences.
The world of higher education will continue to evolve, in no small part due to the rapid rate of technological advances which will radically impact how we disseminate and share knowledge. I am confident, however, that Cornell will emerge even stronger in the future with its intellectual rigor, compassionate vision for society, and beautifully egalitarian atmosphere.
John O. Boochever '81
It has truly been an honor of a lifetime to serve Cornell as an alumni-elected trustee—first, because one is entrusted with the university's safe-keeping and historic mission in an era where its intellectual leadership is needed most; and second, because of the shared experience of working on behalf of such a preeminent institution in concert with equally dedicated custodians of Cornell's noble purpose.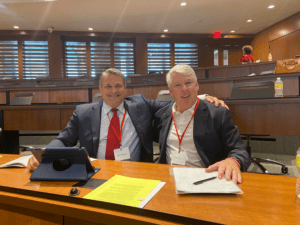 Being asked to run, and the subsequent election process involving the whole alumni community, you arrive with wind at your back and, typically, lots of recent involvement in alumni affairs. But nothing can prepare you fully for the vastness and complexity of the enterprise of Cornell that you are charged with keeping strong and safe—the very definition of "trusteeship." We are talking about 250,000 living alumni, over 10,000 faculty, academic professionals and staff, 20,000 acres of land and buildings, not to mention a $5.5B budget and $10B endowment. These are big numbers that might even impress Carl Sagan!
But the numbers don't tell the story. The work of the board happens in committees—and I followed sage advice to sit in on all of them to find where I could contribute best. I also found great meaning in ad hoc assignments on eCornell's Advisory Board, on President Pollack's Task Force on Racial Equity, and our Washington, D.C.-based trustee advisory sessions. During my time as a trustee, Cornell's leadership remained steadfast and led the university through:
A global pandemic
The role of fossil fuels in our endowment
Racial unrest and calls for social justice
The creation of a new school of public policy and new important centers and institutes dedicated to sustainability, politics, and community engagement
A mental health facilities overhaul
The development of a new values statement for the university
The North Campus residential expansion
Campus police and enforcement reform
And the all-important issue of Cornell Tech's twisty "T" design—and lackluster signage on Roosevelt Island(!)
The past four years have been momentous indeed.
So, as I reflect on my board service, I am humbled by the enormity of the task, proud of the many things we accomplished, and secure that I am leaving an institution more resilient, more inclusive, more accessible, and more exceptional than where I found it.