Mark Kreynovich '19 and Dillon Carroll '20 were first-year roommates and best friends at Cornell, and share a commitment to service, along with a birthday: February 25. They're also now sharing an extraordinary journey.
Mark, who was born in Kharkiv, Ukraine, and Dillon, who grew up in Ridgewood, NJ, dropped everything to travel to Eastern Europe shortly after the Russian invasion of Ukraine. They're now bringing medical and other critical supplies to the border, translating for refugees, and coordinating places for families to stay.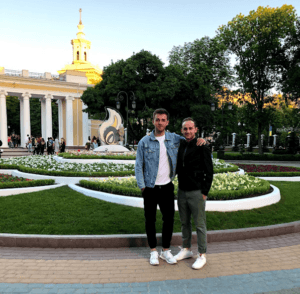 "Becoming a refugee overnight is the lowest point of these people's lives," Mark says, "and we hope to do everything we can to better their circumstances. Our hearts just told us to go."
The friends had traveled to Ukraine together before, taking a trip in 2018. Mark showed Dillon his hometown and introduced him to family members still residing in Kharkiv. With that connection, both watched in horror as the war in Ukraine began on February 24, the day before their shared birthday.
"I spent every summer of my childhood through college visiting my family in Kharkiv," Mark says. "I would be called to the frontlines if I was in Ukraine right now. Despite that, I was sitting comfortably in NYC while my parents' childhood friends and my friends in Ukraine were actively fighting and millions were being displaced."
"I was devastated, both because of my close relation to Mark and seeing the values I so strongly believed in being betrayed and desecrated on an international stage," Dillon says. "I knew that we had to do something."
Hours after deciding they wanted to help in person, Mark and Dillon flew to Vienna and connected with fellow Cornellian Anya Sherman '20, who was already sending medical supplies to Ukraine. They also started a SpotFund, "Mission to Ukraine," to hopefully raise a few thousand dollars for the purchase and delivery of much-needed medical and other supplies. That fundraiser has exceeded their expectations, and raised over $90,000 from more than 600 donors.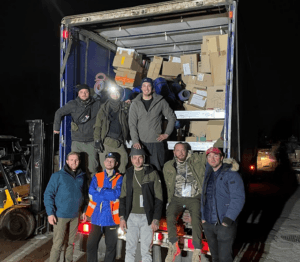 By working closely with people in Ukraine—like family friends Andrei, a commander in a defensive unit, and Olexiy, who coordinates directly with surgeons at a trauma ward in Cherkasy—they've been able to see a direct impact. Their fundraising has supported the purchase and delivery of medical and other critical supplies to the border of Poland and Ukraine.
"We can't deliver 50 tons of equipment," Mark says, "But we can directly support Olexiy. He messages us at all hours of the day telling us what they need, and we can get that to him directly in two to three days."
"We meet very brave people who risk their lives to make sure the supplies get where they are needed," Dillon adds. These supplies include everything from baby food and diapers, to insulin and antibiotics.
It's been rewarding, Mark says, to receive confirmation when supplies make it to the correct locations and can be put to use immediately. "We've been effective in a way that is unique, delivering direct aid," he adds.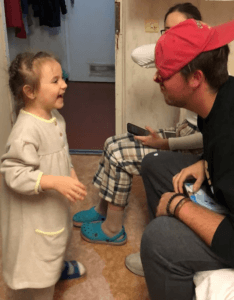 They've also been able to secure temporary housing for six Ukrainian refugee families so far, including a family who'd been sleeping on the floor of a Krakow train station for two nights. Mark says they reached out to Airbnb hosts to secure a place for the nine individuals traveling together—all women and children. They've also been sharing essential information they learned from that experience with other refugees, helping even more people secure their own temporary housing.
"Being able to cover some months of rent upfront for families—it's one of the most important things we've been able to do," Dillon says. "My dad loves the Victor Borge quote, 'A smile is the shortest distance between two people.' Being able to provide a smile to someone, even if for a moment, it's moving."
And they're not done.
Mark and Dillon initially intended to stay for one week, but now say they'll stay as long as possible to continue supporting the Ukrainian people, whom, they note, will also need help long after the war comes to an end.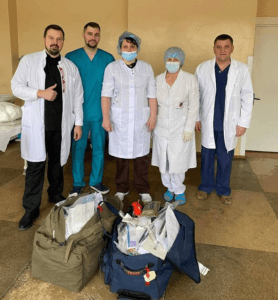 "You don't fully understand the depth of good and evil humanity can contain until you see it, until you're there," Dillon adds, "until you hold someone in your arms and cry with them. It's about fighting for more than yourself. It's about standing up and doing the right thing."
Mark and Dillon explain there are many ways to support the Ukrainian people—from giving time or financial assistance, to telling refugees' stories and continuing to spread the word about what's happening.
"War is hell," Mark says. "We all know that, but we know it abstractly because most Americans have been so lucky to not have it truly affect them. We get wrapped up in our routines, our personal objectives and professional goals, and meeting expectations."
"Think of ways your own skillset or background can help," Dillon says. "Don't underestimate the gravity of the situation. Don't stop talking about it," Mark adds.
Follow their journey: on Instagram @missiontoukraine, @mark_kreyn, @d.carroll25; www.spot.fund/missiontoukraine.