As of July 11, 2021, more than 89 percent of Cornell's Ithaca, Geneva, and Cornell Tech campus populations is vaccinated, including more than 10,100 faculty and staff. Only a single case of COVID-19 infection was identified via surveillance testing in the month of June—an encouraging sign as the university looks forward to resuming operations in the fall.
The pandemic reminded us that, in an instant, anything can change. The exact timing differed for each of us, but we can all remember the moment in 2020 when we felt the world shift. Many in-person classes and jobs transitioned to remote status, as we sought to limit the spread of the virus by staying home. Everything from spring break plans to the Summer Olympics was cancelled or postponed. As career and personal plans were put on hold, our sense of control over the future wavered.
Eighteen months later, as many of us plan for a return to in-person work, Cornell has offered its employees a wealth of resources to help with this next big transition. On June 24 and 25, the university hosted a webinar called "Managing the Anxiety of Returning to Onsite Work." Dr. Gabriel Tornusciolo, assistant director of the Cornell Faculty and Staff Assistance Program (FSAP), shared strategies and tips for coping with anxiety around returning to the workplace.
Whether or not you're experiencing anxiety about returning to the office, I highly recommend taking an hour to watch. This gave me deeper, valuable insights into the diversity of concerns and sparked some reflection on my own situation. I hope you find it useful too.
—Chris Kelly, graphic designer at Cornell
On June 24, eCornell hosted Transforming Our Lives Through COVID-19's Lessons, a keynote focusing on the larger societal shifts which occurred as a result of the pandemic. Four thought leaders from the Cornell Institute for Healthy Futures (CIHF) highlighted some of the lessons we've learned and how these lessons might inform the future. The speakers shared key takeaways from their research on how the pandemic has changed the way we think about work, health, equity, and working and living spaces.
As you envision your own return to in-person life, we hope you find value in these tips and insights from Cornell experts.
Making matters more certain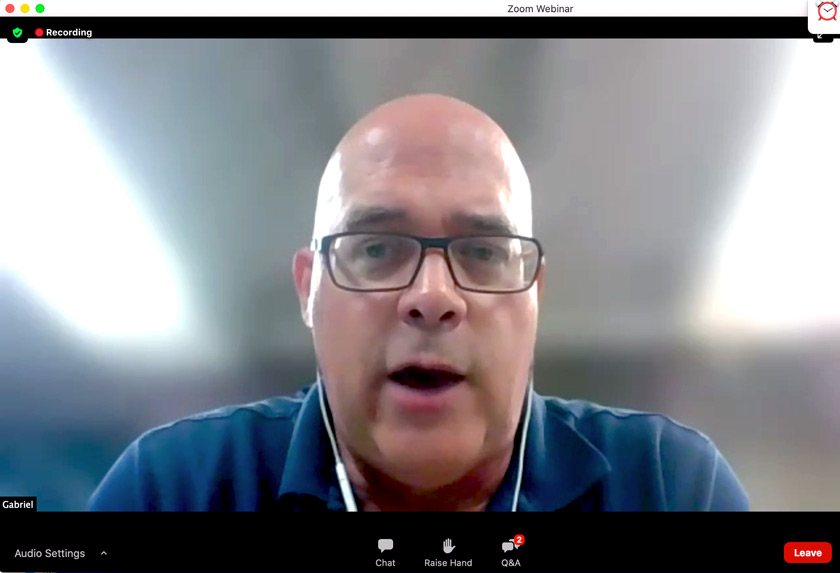 Dr. Gabriel Tornusciolo began his talk by reminding the audience about the fears many of us had at the start of the pandemic: Would our families be safe? Would we have enough PPE? Would we lose our jobs? Gabriel pointed out that concerns about our survival and security are near the base of Maslow's hierarchy of needs. Only when these basic needs are met can we move on to addressing needs around self-fulfillment, such as making a career pivot or finding new opportunities for self-growth.
Gabriel asked viewers to think about the big challenges they faced in March 2020 and compare them to the current challenges of returning to work. "If you think about your safety then and now and the demands on you then and now, which is more challenging," he asked, "leaving or coming back?"
People may want to avoid the workplace, but avoidance over time increases anxiety.
—Gabriel Tornusciolo, assistant director of the Cornell Faculty and Staff Assistance Program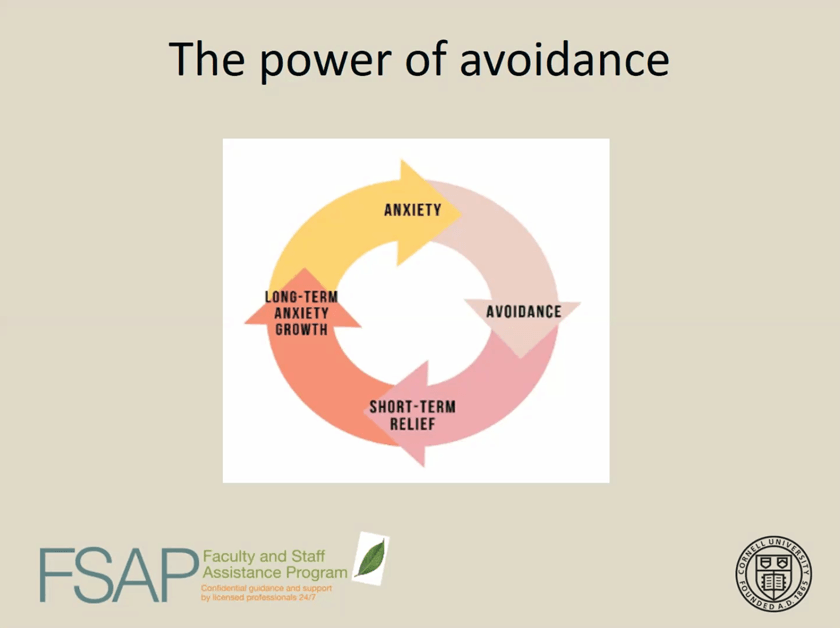 Gabriel explained that over the past year and a half, many of us have become accustomed to working from home, and that has become our new normal. "The office is a place that was once ordinary but is now challenging," he said. "We're being asked to change again. People may want to avoid the workplace, but avoidance over time increases anxiety," he added.
To counter our tendency to avoid risk (and the workplace), Gabriel suggested a technique known as habituation, or prolonged exposure to that which makes us anxious. "It's better to start off and decide not to avoid," he said.
Taking five steps forward
Gabriel shared five strategies to help employees manage their anxiety and ease back into in-person work. The five steps are:
Define what is making you anxious

"We got used to it" slide from FSAP webinar

Gabriel said it sometimes take a bit of digging to figure out what the underlying issue is. Possibilities include fear of losing your job, fears for your safety, fears around loss of freedom, or fears around the meaningfulness of your work. "As you worked from home, you had to consider your values," he said. "What do you truly want from life? I suggest that you ponder this a bit," he suggested.

Define the landscape of your workplace

"Landscape" slide from FSAP webinar

This includes your work hours, the layout of the physical space, measures to ensure worker safety, and employer policies about medical leaves and working from home. Gabriel encouraged viewers to access reliable information to help manage your anxiety, from sources like employer websites and supervisors. Gabriel suggested that employees write an email to their supervisors to share their concerns and potential solutions. He advised employees to "be prepared with concrete suggestions," and supervisors to "create real two-way communication," involving candid conversations and active listening.

Define a roadmap for your return to work

"A good plan" slide from FSAP presentation

Gabriel encouraged viewers to be like Spock on Star Trek, and "lean into your curious, cognitive, intellectual side as you examine whether there's any proof to back up your fear." He suggested making a plan that includes exposure to the various components of a typical workday. "Begin to experience your onsite workday now," he said. "Take the bus or drive to the parking lot, dress in work attire, visit the office to see the space. Identify points of anxiety and you may come up with some simple solutions," he added. For example, if you're worried about making lunch without having access to your home kitchen, Gabriel suggested thinking through how to bring foods you enjoy to work.

Find the good in returning to onsite work

Analysis of collaboration activity across Microsoft 365 tools from February 2020 to February 2021, from Microsoft's report, "The Next Great Disruption Is Hybrid Work—Are We Ready?"

Gabriel shared several positive outcomes associated with returning to onsite workplaces. These include easier communication and collaboration among team members, more positive social interactions, an increase in alone time (time away from family), and a reduction in work hours. "About 70 percent of remote workers work on weekends," Gabriel said, and 45 percent of them work more hours. "It's clear we're working more hours, and in the long-term that can be negative," he added. In a 2021 report, Microsoft found that time devoted to meetings each week has more than doubled for Teams users since February 2020, and 41% of the entire global workforce could be considering handing in their resignation.

Engage in stress-reducing activities

"Examples of stress reducers" slide from FSAP webinar

Gabriel also recommended that everyone incorporate what he called "healthy distractors," such as a favorite Netflix show, talking with friends, and exercise into each day. "It's really important to exercise," Gabriel said. "It blunts your stress response. If you can work out in the morning, you have a better chance of managing your anxiety throughout the day." He also suggested trying one of the many meditation and relaxation apps, and, last but not least, he reminded everyone to "show kindness to one another, and we'll get through this much better."
Solving big problems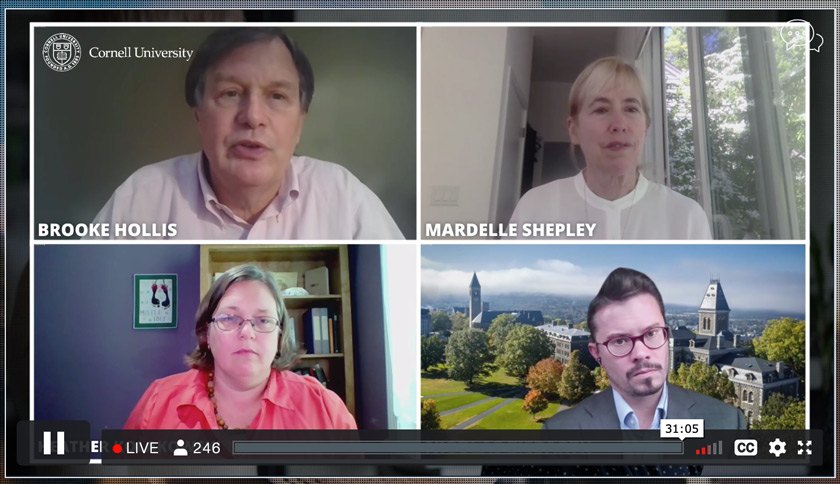 Late in 2020, a few faculty members at the Cornell Institute for Healthy Futures began reflecting on life in the aftermath of the pandemic. Working independently, each of them recognized that the difficult realities of COVID-19 and social justice issues in the U.S. have deeply impacted us as individuals, as families, as communities, and as workers. These experts examined their own sectors and began writing about emerging trends. As they shared their notes with CIHF colleagues and board members, they saw broad areas of overlap.
"We were doing exactly what we founded the institute to do," said Mardelle Shepley, executive director of CIHF and Janet and Gordon Lankton Professor in the Department of Design and Environmental Analysis in the College of Human Ecology (CHE), "(which is) using these disciplines simultaneously to solve big problems in the world." The CIHF faculty joined forces to draft two papers summarizing their findings, which they hope to publish soon. Here are a few takeaways from their research.
Better built environments: Mardelle Shepley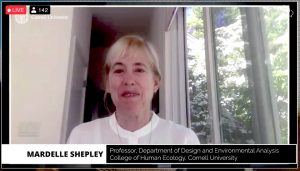 Mardelle Shepley's research focuses on the impact of the physical environment in healthcare, hospitality, and senior living settings. Mardelle said that the pandemic quickly highlighted shortcomings within healthcare settings, like the need to increase space available for storage of PPE and delivery of vaccines, and to increase access to outdoor areas for both testing and destressing.
"The concern is that we've become so tech focused, we're losing our humanity," she said. One way to counter this is "giving people the opportunity to interact with or view nature, by stepping outside for 15 minutes," she explained.
We were doing exactly what we founded the institute to do, (which is) using these disciplines simultaneously to solve big problems in the world.
—Mardelle Shepley, executive director of CIHF
Emerging needs in hospitality settings include how to incorporate robots, better accomplish cleaning, provide safe wellness opportunities, find alternative uses for hotel spaces, isolate family members as needed, and provide contactless food services.
Mardelle said that senior living facilities are "the ultimate platform for bringing hospitality and healthcare together." She cited the need to reimagine these spaces in the post-pandemic era to provide visiting rooms that allow families to maintain relationships without endangering one another, common spaces that reduce clustering among residents, and circulation routes that reduce the number of people passing back and forth.
She advocated for integrating end users into the design process so that the facility reflects their perspectives and needs. "We need to get the right information to begin with, to make sure we do it right in the end," she said.
Better working conditions: Nicolas Ziebarth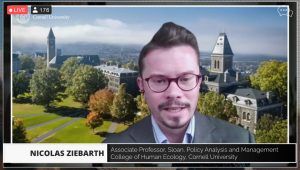 Nicolas Ziebarth, associate professor of Policy Analysis and Management in CHE, is a labor economist and leading expert on paid sick leave. Nicolas said that many employers don't offer this benefit, but he anticipates that in the aftermath of the pandemic, "employees will demand this to care for their children. Other countries are doing this," he added, "and the U.S. needs to, too."
He noted that people who are not satisfied with their workplace flexibility and fringe benefits are now more likely to quit. "They have the bargaining power to ensure they are happy at work," he said. Nicolas also forecasts that we will travel less and do more from home. "It's cheaper, environmentally friendly, and convenient," he said. He views this moment as a great opportunity to increase equity and improve everyday working conditions.
Nicolas pointed out that virus variants will continue to emerge, and that "COVID-19 will not go away." He noted that we have learned a lot about how diseases spread, and he believes that this knowledge will result in more interventions to stop the spread. Nicolas predicts lasting changes in workplaces, including growing unwillingness to allow employees to come to work sick.
"There will be a change of behaviors and norms that will require more distancing in labor and healthcare, and more mask wearing," he said. He also said that "the time is ripe for productive discussions around vaccine hesitancy," among employers, employees, and clients, as they try to find solutions together. "The pandemic proved that telemedicine works," he added, and he thinks that, moving forward, a significant share of medical appointments will be done via telemedicine.
Better food systems: Heather Kolakowski '00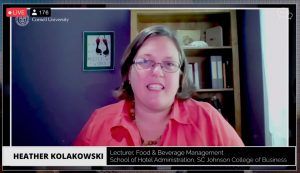 Heather Kolakowski '00 is an alumna and lecturer in Food and Beverage Management at the Cornell School of Hotel Administration. During the pandemic, Heather turned her expertise in the food and beverage sector to focus on increasing access to healthy food. "Many families need support," she said, citing data showing that one in eight Americans accessed SNAP benefits in February 2021. "I anticipate levels will stay high," she said.
"What can we do policy wise?" she asked. She noted that the federal government extended free school lunches through this summer, and that conversations are ongoing about making school lunches free year-round. She also noted the rise of mutual aid societies, where neighbors help neighbors by stocking food cabinets in their communities.
To pay workers a fair wage and offer better benefits to the humans who work for and with us, there is a cost involved.
—Heather Kolakowski '00, lecturer in Food and Beverage Management at the Cornell School of Hotel Administration
Due to concerns about personal safety, low wages, and long hours, Heather said that many food industry workers are reluctant to return and are instead choosing other types of work. "To pay workers a fair wage and offer better benefits to the humans who work for and with us, there is a cost involved," she said. "This is an opportunity to disrupt the industry and make changes, like abolishing tipping and creating a fair wage across the board," she added.
Heather sees potential for the ex-offender population to transition into the hospitality sector. "We need to give populations that have significant barriers to employment the tools they need, and create pipelines for individuals who want to change their lives. It's kind of like dating," she explained. "What are the unspoken rules of engaging with mainstream employers? You need to get to know their expectations. In the past, organizations didn't want to invest the time in this transition process," she said, "but now we have to."
Better things to come at Cornell: Brooke Hollis MBA '78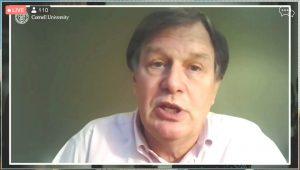 Brooke Hollis MBA '78 is co-founder and executive director emeritus of CIHF and has worked in both the public and private sectors, serving in senior management positions in health and financial advisory consulting. Brooke moderated the panel and called attention to the new Cornell Jeb E. Brooks School of Public Policy, which will investigate many of the issues discussed in the keynote. He noted that Cornell students have access to the data produced by the institute's multidisciplinary experts and invited viewers to keep abreast of the latest CIFH news on Twitter (@Cornell_ihf).
More tips and resources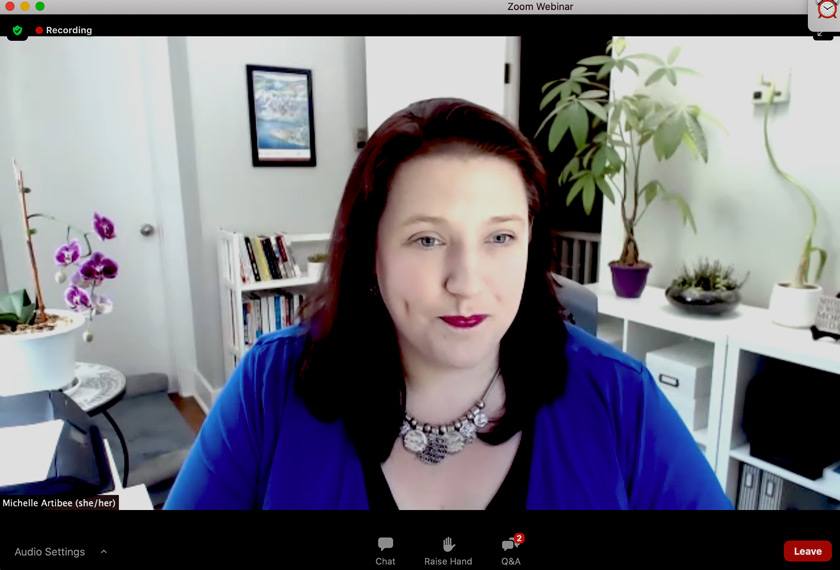 Michelle Artibee, director of workforce wellbeing at Cornell, says to expect that it will take time to adjust to working in-person. "The amount of time needed will vary," she says. "Before returning to the routines of February 2020, consider the newer habits you've developed and what good things you will carry forward," she suggests.
These two articles from Weill Cornell Medicine (WCM) provide some additional tips to support your physical and mental health during this time of transition.
Going back to working out—no matter how fit you were—should happen slowly, says Asad Siddiqi, DO, sports medicine physician and assistant professor of Clinical Rehabilitation Medicine at WCM.
You're fully vaccinated, New York is reopening, and life is getting back to normal. Instead of joy, you feel overwhelmed, stressed, and can't stop asking yourself: How should I behave around others? Get tips to manage your anxiety from Dr. Susan Evans, professor of Psychology in Clinical Psychiatry at WCM.