The grainy black-and-white picture captures a radiant moment. It's the spring of 1950 and three young women are in a dress design class in the College of Home Economics, now the College of Human Ecology. At the center of the picture, a beaming Ellen Forbes Andrews '50 tries on the dress she made for her wedding in June. Standing to the left, Nancy Sprott Stone '50 adjusts Andrews's sleeve. And crouched at the bottom of the picture, fixing the flowing skirt of the bride-to-be, is Ollie McNamara '50, who would find great renown decades later with her fashion boutique chain Capriccio.
"I just love this image. Here she is, 22 years old, helping her friend with the hem on her wedding dress," said Denise Green '07, director of the Cornell Costume and Textile Collection (CCTC), pointing to the image of McNamara, who was born Olga Myslichuk to Ukrainian immigrants and who grew up in Auburn, New York.
Enlarged as a wall-sized backdrop for the still-pristine wedding dress on display in the CCTC's latest exhibit, the picture is a glimmer of the enduring presence of McNamara at the College of Human Ecology, where she has left a legacy as a benefactor.
In 2012, two months before her death, she gave the CCTC 39 pieces of clothing and accessories from her personal wardrobe. From Giorgio Armani to Holly Harp, the European and American brand names she chose for her own closet were the same couture makers she championed in her stores, which closed their doors in 2000.
"There's a lot of unique garments that Ollie McNamara donated to us. She had a strong fascination with silhouette, textile design, surface embellishment, and color," said Green, who is also an assistant professor in the Department of Fiber Science and Apparel Design.
Green draws from the CCTC's wide-ranging collections to illustrate the craft, aesthetics, and the historical and cultural context of design. "For me, as someone who teaches textile design and color theory in particular, McNamara's collection is truly invaluable," she said.
Amanda Dubin '18—a fashion management major and a research assistant at the CTCC—was immediately magnetized by McNamara's sense of style when she chanced upon the alumna's "gorgeous pleated Mary McFadden gown" in the racks.
Doing research after that first encounter, she wasmoved by the fashion icon's autobiography. "Once I started reading about her life, I couldn't stop. I wanted to learn everything that there was to know about her," said Dubin, who wrote a CTCC blog post to celebrate McNamara's life and career.
Dubin describes herself as like-minded, and she dreams of making her mark in the world of haute couture just as McNamara did. "I admire her as a businesswoman in the fashion industry, and I am inspired by all that she was able to accomplish during her life," she said.
At the College of Human Ecology, McNamara's accomplishments extend beyond the span of her life and reach outside the world of fashion and design: In her will, as a final act of generosity to her beloved alma mater, she designated an endowed scholarship to benefit eligible students in any field of study.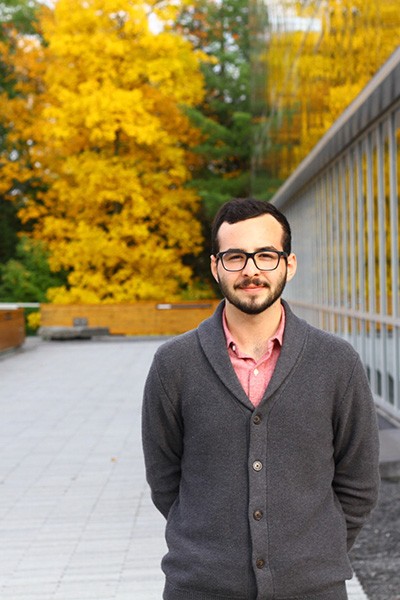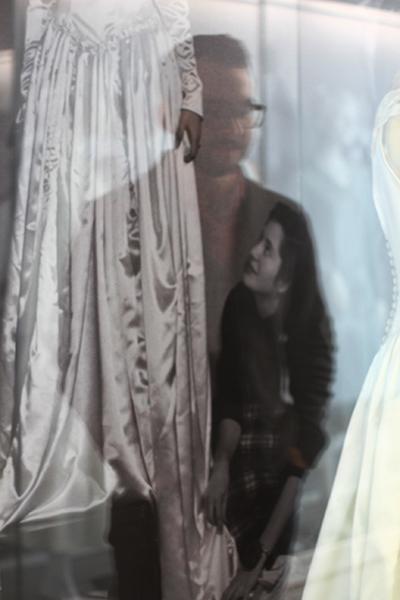 Eduardo Gonzalez '17—a pre-med senior majoring in human biology, health, and society—is the first of these students. "The scholarship gives a huge relief to my financial burden," said Gonzalez, who proudly describes himself as a first-generation college student as well as a first-generation American whose parents emigrated from Monterrey, Mexico, to San Antonio, Texas.
"I really have no other options besides paying for school out of pocket or getting loans if I didn't have scholarships, so without this scholarship I would have been troubled with greater pressure to find financial aid," he said.
In his early twenties and on the cusp of completing his degree and leaving the Hill—just as McNamara was in that picture from more than half a century ago—Gonzalez feels a bond with his benefactor.
"I think she and I have a profound connection via the College of Human Ecology," he said. "Our college, though divided into very diverse departments and majors, shares a common vision to connect people to their different environments."
Gonzalez added: "Knowing that she was also a child of immigrants who went to school, followed her passion, and turned that into a career is super-inspiring."
"I pass through these halls everyday and see the displays. And sometimes I don't really have time to stop and look and think. But I'm glad that, in a way, I had the opportunity to meet Ollie McNamara."