People are stressed, especially at work, says Michelle Courtney Berry MPS '92.
"Because we're distracted, because we're in demand digitally all the time, and because we don't have a moment's break, we get tired," she told her audience at SXSW 2019 in March. "It's revolutionary to talk about self-care."
Berry, who discovered at Cornell her passion for communicating about health, gave a solo presentation, "Mindful Self-care as the Antidote to Burnout at Work." The session was full—and so was an encore session.
"There's such an overwhelming need for a talk on self-care and ways to prevent, interrupt, or treat burnout at work," she says. "There is a true depletion of mind, body, and spirit for so many of our employees, not just in the US, but worldwide."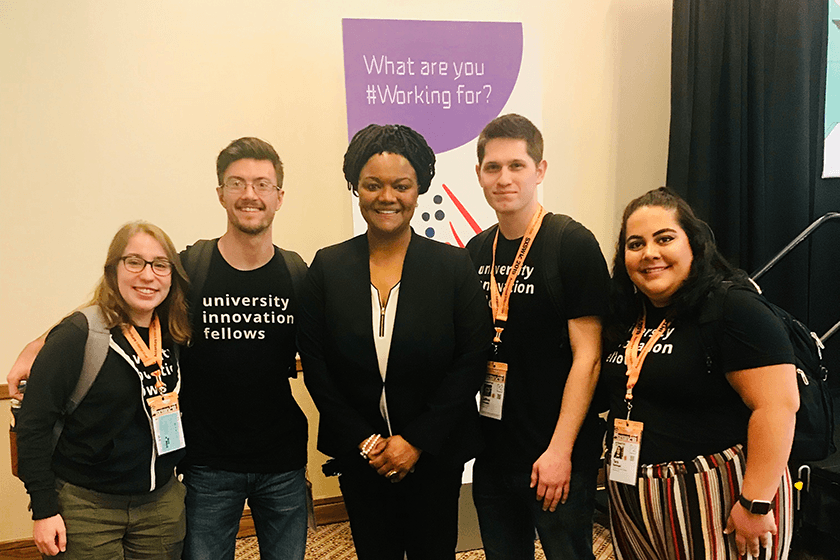 More than one million people miss work daily due to burnout and stress, Berry has found in her research. Also, 70 percent of employees, she says, are unhappy and disengaged. The Harvard Business Review finds that 80 percent of employees say they are close to burnout. While 35 percent of our lives are spent at work, we spend almost 47 percent of our waking hours thinking about something other than what we are doing.
Under all of this, 30 percent of American adults are under-rested, sleeping six or fewer hours a day and many don't eat healthy diets, leading to conflicts in the workplace—or checking out mentally because of exhaustion.
To push back against stress and burnout and the factors leading to them Berry emphasizes that a person's core needs—physical, emotional, mental, and spiritual—extend into the workplace.
Stress is a part of life, she says, but there's a sweet spot between motivating pressure and too much stress. To break the stress cycle, Berry advocates for mindfulness: maintaining a moment-by-moment awareness of thoughts, feelings, sensations, and the environment through a gentle, nurturing lens.
It's revolutionary to talk about self-care.
—Michelle Courtney Berry MPS '92
Practically, she teaches her audiences to tap into the benefits of mindfulness at work by taking good care of themselves. Practice self-care in all dimensions of life, she says: how we think, how we connect with others, how we eat, move, and rest, and other areas. And she teaches audiences and clients to apply self-care techniques at work, including:
The 5-5-5 breathing rule: in a quiet space, breath normally for five seconds, followed by five seconds of inhaling, then five seconds of exhaling. This simple exercise restores normal chemical levels in the body.
Give gratitude to others, a positive way to improve psychological health.
Rest for 15 minutes a day: simply sit alone with your thoughts and de-compress.
Cornell, Berry says, gave her the tools that support her research and the key opportunities that started her career talking to audiences and the media about health and wellness.