Michael Madon '94 likes to say he grew up on an island: the island of Manhattan. His path has led him to Kyrgyzstan as a Peace Corps volunteer, to Iraq and Kuwait for 20+ years of service with the United States Army, to the U.S. Treasury as a senior leader, to the private sector where he founded a successful cybersecurity training company that was acquired by Mimecast. By the start of 2022, he had reached the top of the proverbial ladder, but something still eluded him.
That something was the opportunity to combine his Cornell English degree (passion for the human story), with his Wharton MBA (business acumen), with his military training (experience identifying and mitigating risk), with his technical expertise—to create something new. He says that something came to him like a lightning bolt.
Every single day in this field is like encountering devils and angels, and every day, I'm like, when are my chills gonna come today?
—Michael Madon '94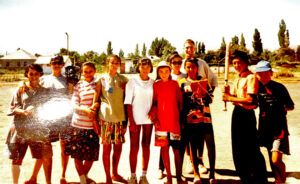 On a plane trip home from a business trip in June 2022, he struck up a conversation with the woman sitting next to him. He asked her what she did for work, and her response was "advocacy." Making a snap judgment that they would have nothing in common, Michael replied, "I'm in sales tech" and planned to end the conversation there.
After a moment of self-reflection, he determined to not be "that kind of person," and asked what kind of advocacy work she did. She pulled her mask down and told him that, after her child died of fentanyl poisoning, she and her husband started a foundation to help those who struggle with mental health challenges, including substance use disorder. The woman's name is Deb Schmill, and her nonprofit is the Becca Schmill Foundation.
Coincidentally, Michael had just come from meeting with a friend who owned recovery centers. His friend had expressed frustration over the lack of tech support to help patients after treatment ended.
"She's telling me this while we're still on the tarmac," Michael says. "I had this lightning bolt that came through my feet and coursed through my body. I remembered, growing up, I lost a childhood friend to a heroin overdose. I remembered soldiers coming back from a bad deployment struggling with trauma—which, in good Army fashion, I had compartmentalized in a very tight ball and put away. And I remembered what my friend said just a few hours earlier."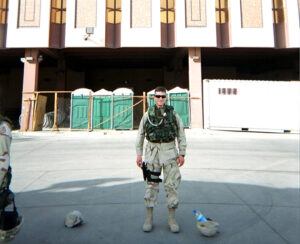 His conversation with Deb continued throughout the flight, both of them cried, and Michael got off the plane with the inspiration for a new venture. Pretaa, inspired by the Latin meaning 'to be ready,' is the brainchild of this chance meeting.
After choosing the name, Michael discovered that the word Preta has another meaning. "It's the Sanskrit name for a supernatural being who is desperately hungry or thirsty and can't stop their desire—just like addiction," he observes. "When we learned this, it just blew me away."
The startup uses wearables like Fitbit—thanks to a strategic partnership with Google, which owns Fitbit—to track the wearer's biometric markers, geographic location, and other signs that they might be struggling. Reports and alerts on anomalies are then sent to health care professionals and patients' support networks.
The Pretaa Fitbit also makes it easy for the wearer to self-report and reach out for help, by asking if they want to talk and then alerting family and friends that their loved one needs extra support. Additionally, the device also praises the wearer for accomplishing health goals, such as taking 10,000 steps or listening to a motivational talk.
Participation is entirely voluntary, and the device is now undergoing pilot testing with people in recovery, who receive the Fitbit after leaving a residential treatment center. Early feedback from pilot participants has been overwhelmingly positive.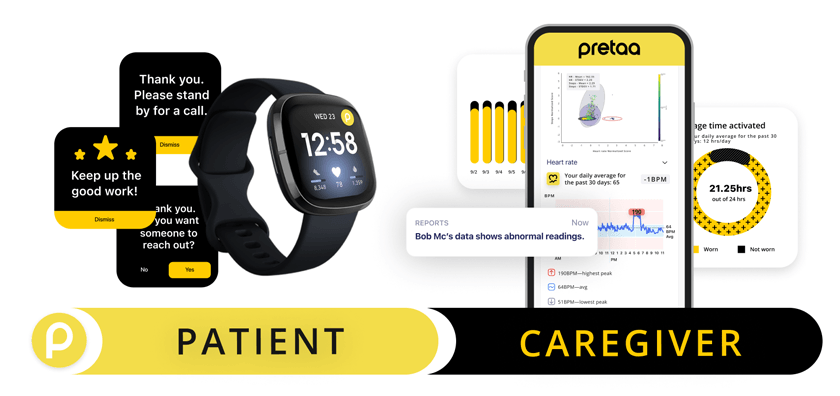 "There's a huge problem after people get treatment," Michael explains. "There's no continuity of care and no social recovery. People are metaphorically and sometimes literally left on the curb. And, so, no wonder the relapse rate is so high and overdoses are skyrocketing."
Michael says wearables like Fitbit eliminate the sense of stigma the wearer might feel, since they're commonly worn by anyone tracking their fitness and health goals. And the three-pronged approach—1) tracking for alarming signs, 2) connecting the wearer to a support network, and 3) incentivizing users through positive reinforcement—creates a comprehensive framework to support a person after they leave treatment.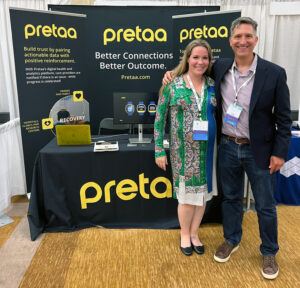 Michael says he gets goose bumps when he talks about how this smart tech can save people's lives and enable family and friends to intervene before it's too late. "Every single day in this field is like encountering devils and angels, and every day, I'm like, when are my chills gonna come today?" he says.
Although substance abuse is the product's first use, Michael notes that its application can broaden. He started with substance abuse disorder because of the current epidemic in this country. "This is an area that we think desperately needs this sort of approach," he says, "but suicidality, especially among teens and young adults, is another space that we will move into."
Looking back at his time at Cornell, Michael never would have imagined himself where he is today.
He says he comes from a long line of labor lawyers. Thinking that he might want to pursue the family business, he applied to the School of Industrial and Labor Relations at Cornell. After a dismal first year, during which Michael describes himself as a "hot mess," he realized that his interests lay elsewhere. Always a voracious reader, he decided to transfer into the College of Arts and Sciences, where he pursued an English degree.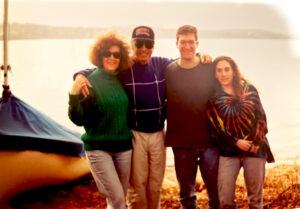 "Fiction appreciates the nuance and complexity of life, which I love," he says. "When there's an openness to disagreement and when there's a nuance to the argument, I love that. And, I love when my mind has changed. Great fiction changes my mind on things all the time."
His favorite thing about Cornell is that it allowed him to fail, generously. In spite of a low GPA after his first year, Michael is grateful to the university for allowing him to stay and to transfer schools.
"Cornell allowed me the opportunity to pick myself back up, all within a loving environment that was big enough for me to try something different and figure myself out."
Michael has served as a CAAAN (Cornell Alumni Admissions Ambassador Network) volunteer for nearly 20 years, meeting with students who are applying to Cornell. He is a featured speaker at Entrepreneurs Doing the Greatest Good, a December 8 event in NYC featuring Cornell alumni like himself who are working to make the world a little better.
"I'm so grateful and honored for the opportunity to do this work," he says. "Aside from being a dad for my girls, I've never, never felt this way about anything, never, not even close."