The Cornell Association of Class Officers (CACO) established the William "Bill" Vanneman '31 Outstanding Class Leader Award in 2005 in honor of an alumnus who served his class tirelessly for over 75 years. On February 4, at a special ceremony during the Cornell Alumni Leadership Conference in Baltimore, Maryland, CACO presented the award to Marshall and Rosanna Frank '61 for their remarkable devotion to their class and the Cornell community.
Cornell love
The couple's love story began at Cornell; through the decades and across the distances they've traveled, their love story with Cornell kept them close to the Hill.
Rosanna Romanelli and Marshall Frank met at Cornell the first week of their sophomore year and were married one week after Rosanna graduated from the College of Home Economics (now the College of Human Ecology) in June 1961. They spent the summer on a honeymoon in Italy, meeting with Rosanna's relatives, before returning to Ithaca in the fall for Marshall's fifth year at Cornell.
While Marshall completed his degree in chemical engineering, Rosanna was a research assistant, working toward a master's degree. Their first child was born at Tompkins County Hospital in July 1962, one month after Marshall's graduation. Marshall's first job in New York City, with a chemical engineering design and construction company, sent him on assignments to several overseas locations including Sydney, Australia; Antwerp, Belgium; Puertollano, Spain; and Dusseldorf, Germany. Returning to the US, Marshall and Rosanna moved to Westchester County, New York, and eventually bought their present house in Chappaqua.
When the early years of work outside the US and raising young children eased up a little, Marshall and Rosanna attended their 15th Reunion. They enjoyed it so much they decided to become more involved, joining the committee planning the 20th Reunion, reconnecting with classmates and renewing their involvement with Cornell.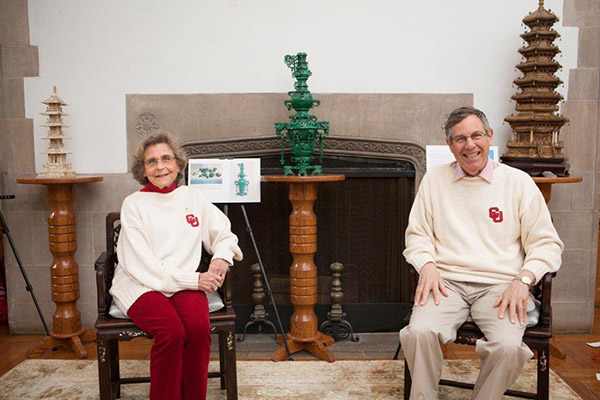 Getting involved
Marshall served Cornell in different roles including lifetime member of the Cornell University Council, class treasurer from 1986 to 1996 followed by 10 years as class president, co-chair of the last three Reunion campaigns, CACO board member from 1990 to1996, Hillel board member from 2000 to 2003, and 55th Reunion registration chair.
Through her work with Reunion committees, Rosanna participated on the Class of 1961 Class Council and eventually co-chaired the 35th Reunion. A College of Human Ecology breakfast during this Reunion reminded Rosanna how wonderful her college is and inspired her to get more involved. She went on to serve on the Human Ecology Alumni Association Board, including a term as president. Rosanna also represented Human Ecology on many other Cornell University boards and organizations. She has since broadened her involvement at Cornell to include Cornell University Council and the President's Council of Cornell Women.
The couple's class involvement includes arranging mini-reunions for classmates in the New York metropolitan area. These events usually start with a guided tour at a museum or attraction followed by a class luncheon in a local restaurant. The mini-reunions help to heighten classmates' interest in Cornell in the intervening years between five-year Reunions and cement friendships made with classmates following graduation.
A special bond
Marshall and Rosanna credit their class affiliation and participation for broadening their circle of friends and connecting them to many wonderful Cornellians they didn't know during their years on campus. They loved working with all the past Class of '61 presidents and officers. Class affiliation has enriched their lives; they will always have Cornell in common with class friends and with each other.
"I think that couples who met at Cornell have a very special bond that deepens their love for and commitment to the university and each other," said Rosanna. "I know it certainly has in our case."
Learn more about the Vanneman award and past winners!