Alumni travel back in time when they attend Cornell Reunions—back to the campus, dorms, and classrooms where they were students. But many attendees also stay up to date by attending Reunion events focused on current events and campus departments.
All over campus, reunion attendees enjoyed a wide variety of intellectual and cultural programming:
The Olin Lecture, a staple of Reunion, featured a conversation between former National Security Advisor Stephen J. Hadley '69 and former Congressman Steve Israel (D-NY), director of Cornell's new Institute of Politics and Global Affairs.
The annual Liberty Hyde Bailey Lecture hosted by the College of Agriculture and Life Sciences focused on beer, wine, and hard cider industries in New York state.
"Challenges and Opportunities for Reducing Climate Risks," a panel hosted by the Atkinson Center, featured Rafe Pomerance '68, an environmental activist and lobbyist who played an early, pivotal role in raising awareness about the threat of climate change in the 1970s.
International Politics and the Fourth Estate: The Role of the Media in Social and Political Movements Worldwide," featured Jeffrey Gettleman '94, a New York Times correspondent and Pulitzer Prize winner in conversation with faculty members. "If journalism is doing well, you're creating empathy," said Gettleman.
"The 'Trump Whisperer': Judicial Philosophy and Advising US Presidents," a talk hosted by the Law School, paired Ari N. Melber JD '09, MSNBC's chief legal analyst and host of "The Beat with Ari Melber" in a conversation with Leonard Leo '87, JD '89, executive vice president of the Federalist Society, about the selection of federal judges.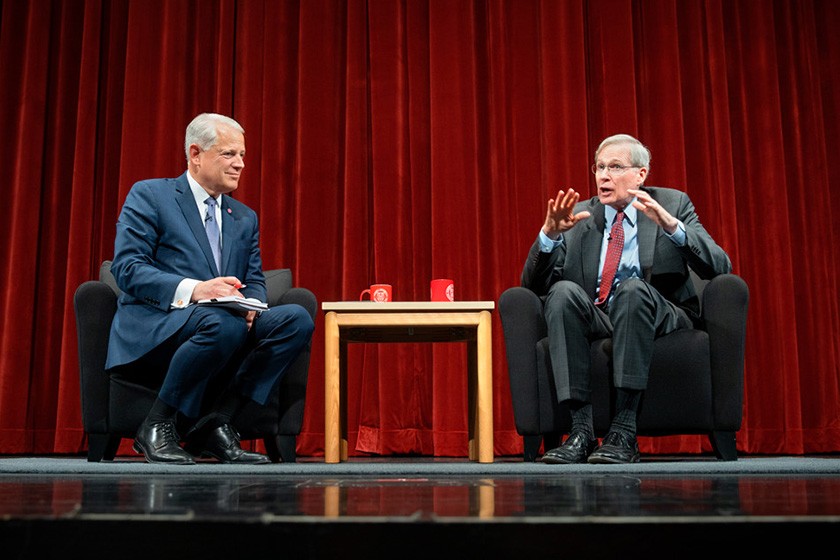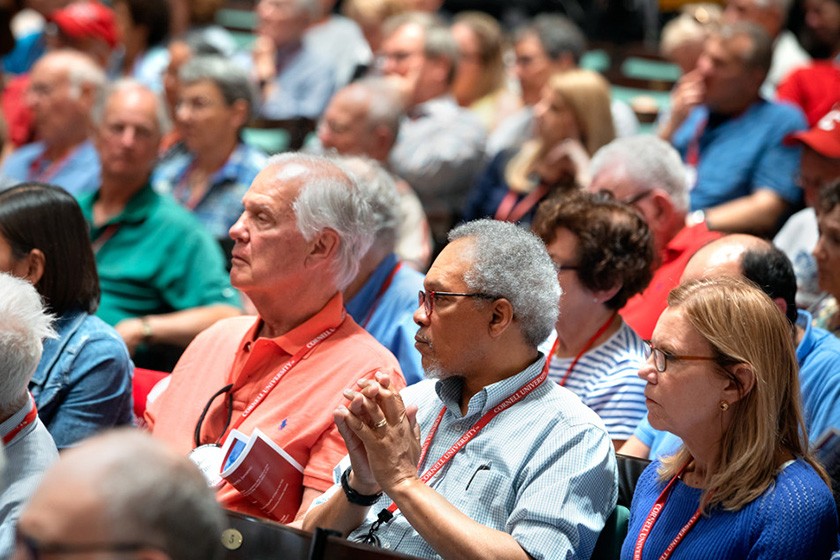 Children and families got in on the learning opportunities, too, including a Festival of Animals at the College of Veterinary Medicine, mathematics activities for kids in the Mathematics Library, and a Cornell Raptor Program exhibit at Saturday's Fun in the Sun.
Sharon Lieberman '82, who attends Reunion almost every year for the intellectual engagement as well as the fun, attended the Law School discussion between Melber and Leo; she watches Melber's show on MSNBC.
"Every time I come to Reunion, I have a completely new experience," she said.