Lamin Johnson's superpower is bringing people together. The Class of 2021 grad and spoken word artist is known for writing thoughtful and poignant poetry that bridges generations.
Lamin has performed two pieces for Cornell, including a poem composed in honor of the launch of Cornell's university-wide To Do the Greatest Good campaign. Alumni from across the globe tuned in to the online event, and many expressed feeling inspired and proud to be a Cornellian after listening to Lamin's piece, "A Farmer & His Dream."
My greatest form of good is continuing to authentically be myself and inspiring others to do so as well.
—Lamin Johnson '21
Discovering a passion
Lamin's path to poetry started early. He immigrated to the U.S. from Sierra Leone at seven years old with his father and stepmother, arriving in a country that he didn't know and surrounded by a language he didn't yet speak. "My mother couldn't come with us—we immigrated without her," he adds, noting that his mother's absence affects how he navigates spaces and relationships to this day. "I was torn from the only love I knew."
At school, he was bullied for looking and sounding different, he says, and felt "distraught."
Lamin turned to books donated through his school, learning to read English with The Cat in the Hat and Shel Silverstein's A Light in the Attic and Where the Sidewalk Ends. He discovered something that would help him navigate this new life.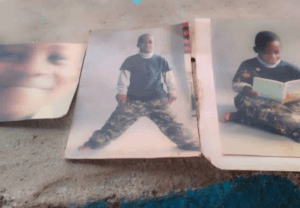 "For some reason, words came easy to me. Books were my way to escape everything that was going on at home," he says. "Through the process of escaping, I discovered something more beautiful, which was a passion for words. And I was drawn to words that rhymed a lot. I became interested in other literary devices and other forms of speech. I started realizing words were connected, and I was really fascinated by that."
As Lamin read more, he developed an interest in mythology, too—which would influence his work later on.
"Being able to apply the hero's journey from those stories to my own," he says, meant "not letting the hardships and circumstances that I'd experienced deter me from my goals and pursuits."
Lamin began writing his own poetry in sixth grade, with an inspiration many of us can relate to.
"There was this girl, and I had a crush on her," he says, laughing. "So I wrote a poem. It was my first ever poem, and it was garbage. But for some reason she really liked it, so that was a subtle positive reinforcement."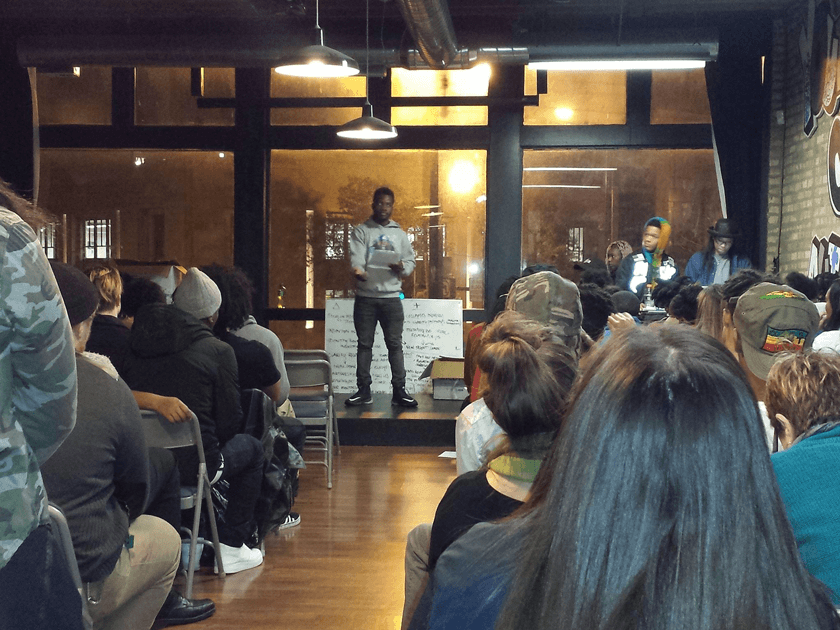 His passion for poetry continued to grow throughout high school. Lamin sought out student competitions like Poetry Out Loud and other performance groups like Louder Than A Bomb (LTAB) in Chicago, and uncovered a real talent for the spoken word.
"It's what opened everything up for me, a sort of poetic Pandora's box," he says. "It's how I discovered my process, what poetry is to me, and the type of artist I am."
And what does that process look like for Lamin? He says he starts just by speaking.
"Most of my pieces I say out loud before I write," he explains. "I'll get the feeling and it'll come. It's a collaboration with me and something else that creates the piece together. Because I've done it so long, I know what that feeling is like, I know how to channel it. It's such a beautiful and unique process and I enjoy it."
The path to Cornell
That's the thing about me and my work and my art—its purpose is to connect people and ideas.
—Lamin Johnson
Lamin came to Cornell after being nominated for the Posse Program. He had met several Cornellians while participating in an internship with Northwestern Law in high school, and says he was "super excited" to apply to Cornell and be accepted as a Posse scholar.
"I had never imagined that I could be in a space like Cornell," he says. "When I got to campus finally, I was struck by the biggest imposter syndrome." Lamin worked hard that first semester, worried and wanting to do well in his classes—working so hard he says he developed some scary health issues. But when his grades arrived, he saw he'd gotten straight A's and realized he didn't need to stress so much. "I was killing myself for nothing. I belonged," he says.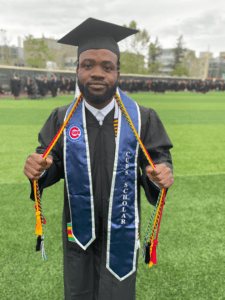 Lamin learned from that experience and began enjoying his time at Cornell more, including pursing his interests in poetry. But there wasn't a spoken word club on campus, so he took matters into his own hands.
"I asked my two Posse mates if they would memorize this poem I had written, and we could perform it at a talent show at the Statler." The group won the talent show and went on to perform several other times around campus, including for Alpha Phi Alpha Fraternity Inc.'s Miss Black and Gold Scholarship Pageant. Lamin and his Posse mates, Darnell Campbell '21 and Laurence Minter '21, became brothers in the organization, something he says was also instrumental in his growth at Cornell.
These experiences cemented Lamin's belief in the power of poetry to join people with different life journeys around universal themes.
"It's connected," he says. "My mind sees things as a series of associations. That's the thing about me and my work and my art—its purpose is to connect people and ideas through poetry and music. And I think that's how I do my greatest good."
Furthering those connections
Since graduation, Lamin has performed twice for Cornell alumni audiences. He composed the piece "Grow (glorious to view)" for Virtual Reunion 2021, and "A Farmer & His Dream" for the October 2021 campaign launch event.
Writing pieces for Cornell specifically isn't too much different than writing pieces on his own, he says. He follows the same process of using his own experiences to help bring life to the piece, and says once he can relate to a theme or idea, writing it comes naturally.
For the campaign launch event piece, Lamin started by researching Ezra Cornell and reading through Ezra's letters about founding the university.
"Cornell is not just the institution; it's the people, and their ideas and how they're all connected," Lamin says. "As I was reading, I was compelled by that. I could relate to that. So, I just started saying it, and the piece was writing itself."
I've had a series of experiences that have allowed me to have a unique perspective in life. I've been able to remold the dark into light.
—Lamin Johnson
Lamin plans to continue pursuing his passion for art—not just poetry, but music, too—and doing more spoken word performances in Chicago, where he currently resides. He's also working with Northwestern's Bluhm Legal Clinic, with the MacArthur Justice Center, corresponding with prisoners who believe they have been wrongfully incarcerated. In a year, he says, he'll know whether he wants to pursue law school as a next step, or if he will pursue poetry full time.
"My true goal is to perform poetry; to speak, to inspire, to encourage. I want to find a way to get organized as an artist and as a poet so when those opportunities come, I'll be ready," he says, adding, "I've had a series of experiences that have allowed me to have a unique perspective in life. I've been able to remold the dark into light. Having experienced the bad, I can recognize it in others and help them find the good."
Lamin strives to sow "little bits of good into different facets of my life," whether it be through inspiring others through his art, helping create change through legal work, being a brother of Alpha Phi Alpha, and supporting his mom back in Sierra Leone. Sharing his journey, Lamin hopes, will show people of all generations that they can follow their passions, no matter what those passions might be.
"Now I know what really matters and how I can do the greatest good," he says. "My greatest form of good is continuing to authentically be myself and inspiring others to do so as well."