Ithaca-area communities gather with Cornell alumni, parents, friends, faculty, and staff for Homecoming 2017, Oct. 20-21, a weekend of learning, football, and all things Cornell.
"Homecoming is a celebration open to everyone," said Terry Hahn, director of Homecoming and special interest programs. "We've planned activities of all kinds – and even some ways people can join in virtually, such as livestreams and the virtual 5K. Fireworks and a fan festival add excitement to this annual event centered around coming home to Cornell."
An online Homecoming planner helps attendees create an itinerary.
Homecoming highlights
The festivities begin at 7 p.m. Friday at Schoellkopf Field with the Fireworks and Laser Light Show, a Homecoming tradition and crowd favorite. The show is free and open to the public and features live music by the rock band, For the Win.
On Saturday, as the centerpiece athletic event, Cornell football plays Brown at Schoellkopf Field, with kickoff at 3 p.m. Tickets are free for Cornell students with a Big Red Sports Pass. General admission tickets can be purchased at cornellbigredtickets.com; on game day, tickets can be purchased at the Bartels Hall ticket office with a credit card or at the Schoellkopf Field gate with cash.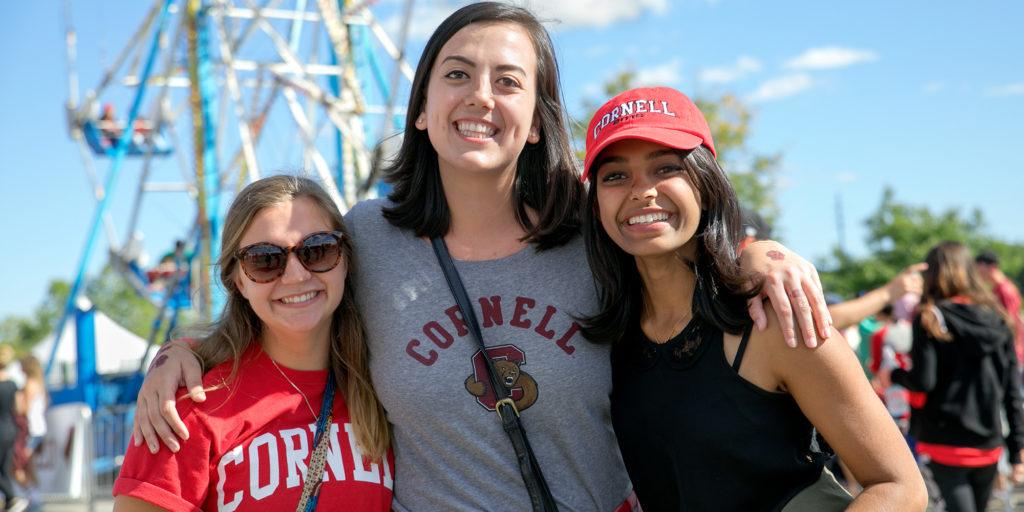 Saturday events
Saturday features more public events, including:
Homecoming 5K, 8:30 a.m., F.R. Newman Arboretum (Registration is required. Proceeds benefit the United Way of Tompkins County.);
Homecoming Arts Tours, an exclusive glimpse of the diverse fine art and cultural offerings at Cornell, starting at 9:30 and 10 a.m. from the MVR Gallery of Martha Van Rensselaer Hall;
Return to the Classroom: "Trashy Fun or Secret Treasure? The Hidden Value of Detective Fiction," a discussion led by Caroline Levine, the David and Kathleen Ryan Professor of the Humanities, at 11:30 a.m., Hall of Fame Room, Friends Hall;
Big Red Fan Festival, noon-3 p.m., Crescent parking lot, with tailgate parties, free music, rides and college showcases;
Glee Club Concert, 7 p.m., Bailey Hall; purchase tickets at GleeClub.com; and
Homecoming Concert, featuring indie-rock band Foster the People, with Towkio, 8 p.m., Barton Hall; tickets at the online Homecoming planner.
Athletic competitions
Saturday also features Cornell athletic competitions including:
Field hockey vs. Brown, 11:30 a.m., Marsha Dodson Field;
Women's swimming and diving vs. Buffalo, noon, Teagle Hall pool;
Women's soccer vs. Brown, 1:30 p.m., Berman Field;
Men's soccer vs. Brown, 4:30 p.m., Berman Field; and
Women's and men's ice hockey Red and White Scrimmage, 7 p.m., Lynah Rink.
Visit homecoming.cornell.edu for a full list of events; for more information, email homecoming@cornell.edu or call 607-254-6185.