In the center of the Big Red Fan Festival, at the height of the Homecoming excitement, BreakFree Hip Hop cleared a circle in front of the DJ tent on the Crescent parking lot. About a dozen members of the Cornell student dance crew performed while a growing crowd of students, alumni, and community members pressed in to watch and cheer.
"We dance to inspire, to bring the community together," said BreakFree member Jonathan Lee '18 as he melted back into the crowd to watch other dance teams.
Homecoming 2016 was all about community. September 23–24, Cornellians and members of the Ithaca community and beyond gathered on campus for the traditional Friday night fireworks and Saturday afternoon Big Red Fan Festival and football game, as well as intellectual and commemorative events.
"Homecoming is a terrific expression of the Big Red spirit," said Fred Van Sickle, vice president for the Division of Alumni Affairs and Development. "We host such a diverse array of Cornellians in one place for a weekend of learning and celebration. It's also a pleasure to welcome neighbors from Ithaca and the surrounding area, and we're always delighted when our alumni come home!"
Homecoming is really a chance for alumni to find out what's going on at Cornell.
—Vernice Arahan '14
This year, Homecoming featured many special and new events.
Homecoming attendees considered the history and future of Black students on the Cornell campus during events planned around a 40th anniversary celebration of the Cornell Black Alumni Association (CBAA). On Friday, in the Willard Straight Theatre, the documentary film Agents of Change—made by Abby Ginzberg '71 and Frank Dawson '72— revisited the student occupation of Willard Straight Hall in 1969.
"It's very emotional to bring this film back here, now," Ginzberg said during the panel discussion following the film.
The CBAA anniversary also included a ceremony dedicating the Africana Commemoration Memorial Garden at 320 Wait Avenue, the site of the original Africana Studies and Research Center, and "Bridging the Gap," a networking event sponsored by the Cornell Association of Class Officers connected diverse alumni and students.
Also new on Saturday was an Arts Crawl to four important hubs: the Cornell Costume and Textile Collection in the Human Ecology Building, the Cast Collection in Klarman Hall, the Foundry, and the Herbert F. Johnson Museum of Art.
The celebration of community continued at the Saturdayafternoon Big Red Fan Festival in the Crescent parking lot, featuring rides, music, and tent parties.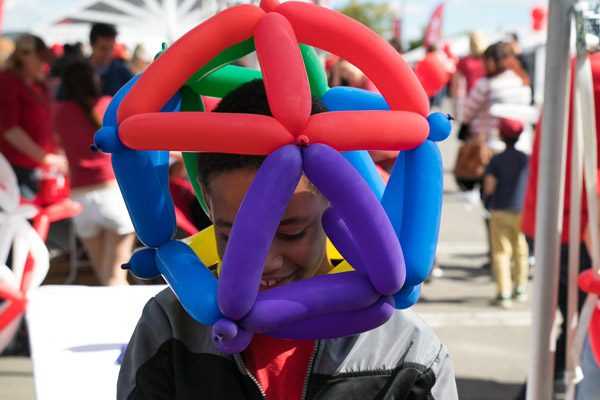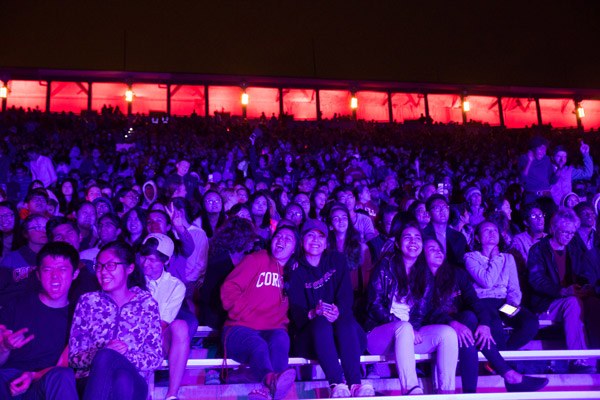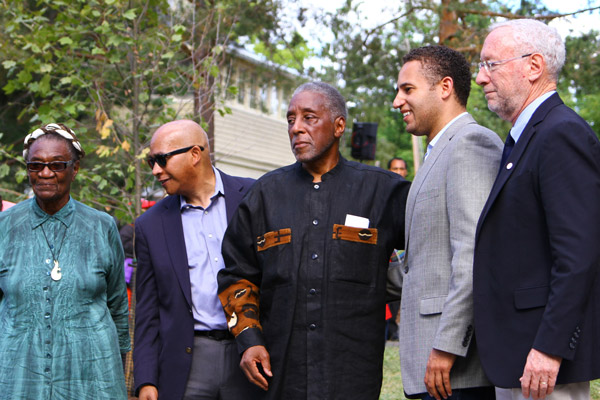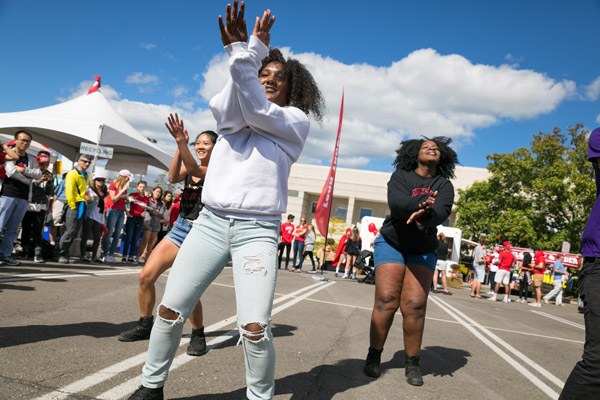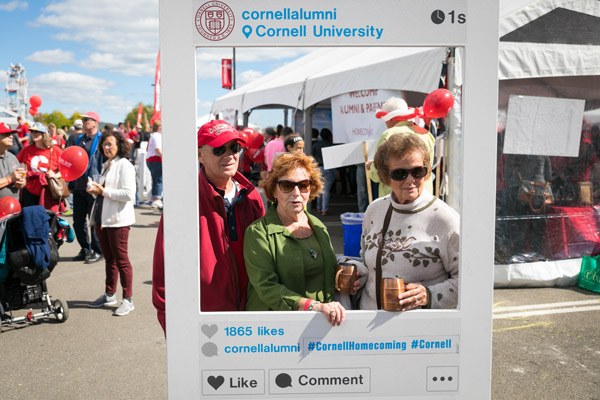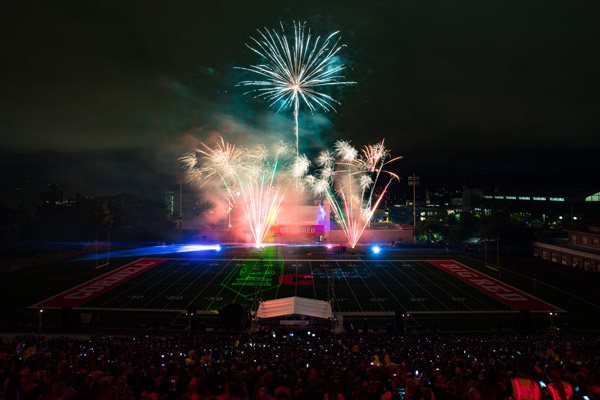 At the young alumni tent, Okenna Oruche '16, who is completing a master's degree in engineering, caught up with his peers and connected with older alumni. "Homecoming brings everybody attached to Cornell together," he said.
For CACO president Simon Krieger '76, MBA '77, Homecoming means family. Holding a sign on which he'd written "I love Cornell because … of Lisa '05 and Jason MBA '09" (his two kids), he said the best part of the weekend was attending the Friday event honoring the 2016 Frank H. T. Rhodes Exemplary Alumni Service Award recipients.
"It highlighted how emotionally attached alumni are to Cornell," he said.
Vernice Arahan '14 came back to reconnect with the university and with fellow alumni.
"I've discovered this weekend what a resource alumni are to this university," she said. "Homecoming is really a chance for alumni to find out what's going on at Cornell."
Every year, new displays are added to the educational showcases at the Big Red Fan Festival, giving everyone a good chance to discover studies, programs, and facts from the brainy side of Cornell culture.
At one of the new displays, the Cornell math department helped visitors of all ages create balloon models of icosahedrons, tetrahedrons, and octahedrons.
"I think this is visibly fun," said Ravi Ramakrishna '88, professor of mathematics and department chair. "We're having fun, and we're getting people thinking."
As the time for the football game approached, the Big Red Marching Band struck up, and the crowd started to move toward Schoellkopf Field for the Big Red's first home match-up of the season.
"We wouldn't miss it," said Andrea Riffle. She and her husband, John, traveled from Florida to watch their son Christian Riffle '20 play and to enjoy their new "home" in Ithaca: "The team and coaches have been making us feel like part of the Cornell family."
Members of the extended Cornell family filled Schoellkopf Field, and a decisive 27–13 win against Yale gave them another chance to press in, watch, and cheer.