On Cornell Giving Day—March 14, 2019—Cornellians all over the world connect with the university, compete in fun challenges, and give millions of dollars in support. Behind these thousands of transactions is one online platform: GiveGab, a company founded by Cornellians and headquartered in downtown Ithaca.
"We have a sense of pride around Cornell Giving Day and helping that day go off successfully," said Aaron Godert MEng '05, MBA '11, the company's COO. "Not to say we aren't excited by our other customers, but there's a little bit of hometown pride for your own alumni group."
A place to start—and grow
Ithaca is the hometown of GiveGab, which was founded in 2011 by Godert and Charlie Mulligan MBA '11, the company's CEO, just after they graduated from the Samuel Curtis Johnson Graduate School of Management. GiveGab was originally designed as a platform to connect volunteers who wanted to help causes they loved with local non-profits in need of people power. After a few years, it became clear that the nonprofits also needed help raising funds. GiveGab stepped up to provide vital fundraising tools for volunteer engagement and donor support.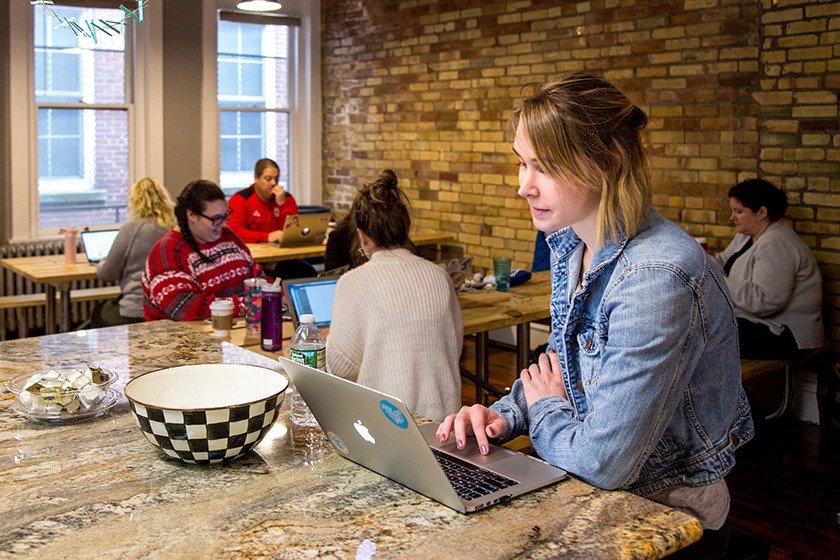 Now a national brand, the company has helped more than 30,000 nonprofits raise money on its platform. In early 2018, GiveGab acquired Kimbia, an online fundraising firm, adding to the company's growth and customer list. "We have customers in every state," said Mulligan. "We have giving days across the country, both in the civic sector and in higher education."
Clients include the University of Notre Dame, Vanderbilt University, and many Public Broadcasting Service stations, along with community non-profits. GiveGab has helped many of these organizations to reach 100 percent of their fundraising goals, including the Ithaca Youth Hockey Association, an arts program in Poughkeepsie, and a sea otter holding facility in Oregon.
Sharing a community
On Cornell's Giving Day, there will be a personal connection between the client—Cornell—and the GiveGab offices in downtown Ithaca. Many GiveGab employees are Cornell alumni, and many students, faculty, and staff on the Hill have previously connected with GiveGab through Ithaca's entrepreneurship community. "We know them, we know the work they've put in, and we're excited for them," said Mulligan.
GiveGab has a deep understanding of Cornell, said Ashley Budd, director of digital marketing for Cornell Alumni Affairs and Development, and the partnership is one Cornell values: "We have relationships with team members from all levels of the company, from the incredible customer support team, which is with us almost year-round, to the product team, which works with us to create new features every year."
There's no end goal in a start-up.
—Charlie Mulligan MBA '11, CEO of GiveGab
Cornell Giving Day has partnered with GiveGab for three years. This year Cornell has really embraced the idea of engaging colleges, units, and departments in building campaign pages, posting videos, and interacting with donors on Giving Day. "We've gotten to know the Cornell team well over the years and we've created something special together that gets better every year," said Amy Gergely MBA '15, GiveGab project manager.
Moving forward
An ongoing association with Cornell is only one reason this growing company makes its home in Ithaca. It's an up-and-coming town for start-ups, says Mulligan, with a large talent pool and an ecosystem of entrepreneurship that has been building since about the time he and Godert started their company. Rev: Ithaca Startup Works, a business incubator and workspace in downtown Ithaca, has been a key contributor to the success of GiveGab and other companies.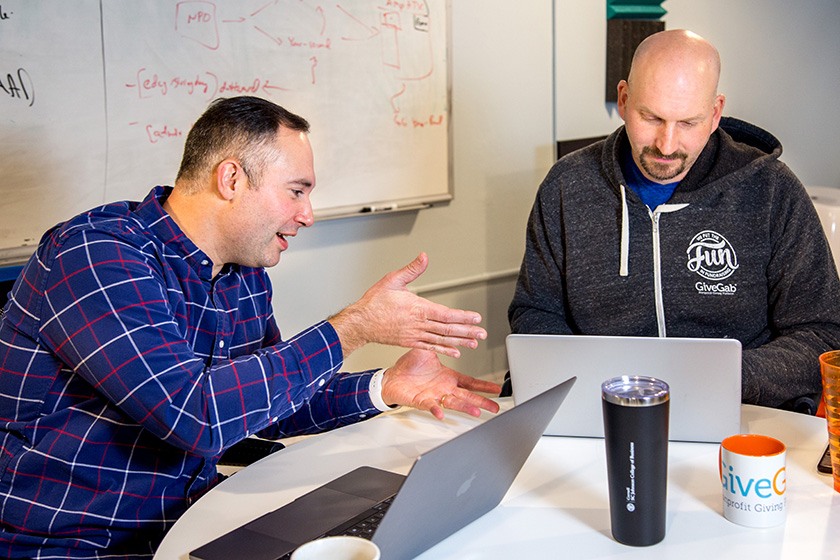 In 2015, GiveGab was named Corporate Philanthropist of the Year by the Association of Fundraising Professionals for establishing "Giving is Gorges," the first giving day for Tompkins County. This is an exciting time for GiveGab, said Mulligan, as the company grows and practices what it set out to do—helping nonprofits and institutions of higher education.
"There's no end goal in a start-up," he said. "I think it's important for us to be excited about where we're headed, but also to take some time to celebrate what we've done to get here. That's what keeps our energy moving forward."