Mabel Lawrence '19 grew up in a home filled with musical theater. When she was eight or nine, she often got home from school near Los Angeles to find her parents, film and television composer David Lawrence and lyricist Faye Greenberg, working with original cast members, such as those in the Disney Channel's hit show, High School Musical. "Our house was one big musical comedy," said Greenberg, who contributed lyrics to the Disney Channel hit; her husband composed the score. "There was always music playing, we were always working on something."
A new angle on the arts
Now a Cornell sophomore, Mabel Lawrence retains a strong interest in theater. But she's approaching it from a different angle than her musical parents. Enrolled in the College of Engineering, she will soon apply for an independent major that combines technology and design, hoping to use the type of problem-solving and trouble-shooting that is used in engineering to create, she says, a "different type of experience for audiences."
To gain practical experience, as do many students interested in theater careers, she has worked on the sets of every Schwartz Center for the Performing Arts show since fall 2015.
"Mabel wanted to be a set designer," since enrolling at Cornell, said Greenberg. "But she was very clear she wanted to approach it through engineering and technology."
To honor their daughter's innovative approach to theater and to assist students like her who benefit from taking part in student productions, Lawrence and Greenberg designated their $10,000 gift to the Department of Performing and Media Arts (PMA) for productions.
Boosting productions
"We devote a significant portion of our annual operating budget to the making of theatre, film, dance, and media projects," said Associate Professor Nick Salvato, PMA department chair. Those selected for performance include student-run projects and student-faculty collaborations.
"It wouldn't be a stretch to say that over 400 students participate in the productions each year," said Pam Lillard, director of productions at the Schwartz Center. The costs of each production include rights and royalties to perform published plays, scenery materials, props, lighting, sound, and advertising.
"The Lawrences' gift contributes beautifully to this part of our budget," said Salvato. "Though the gift hasn't been identified discretely with any one production or element of producing creative work, they are certainly and justifiably excited that the gift enables projects in which students have prominent, take-charge roles."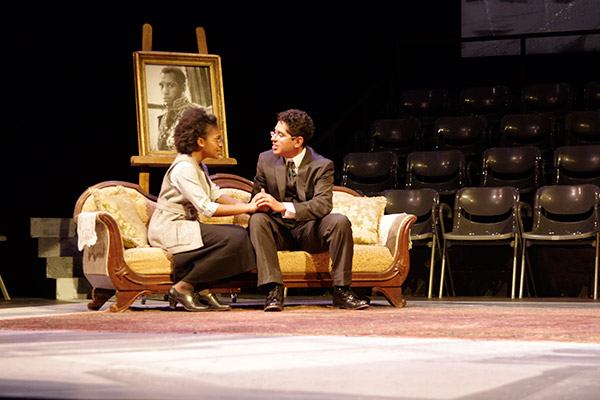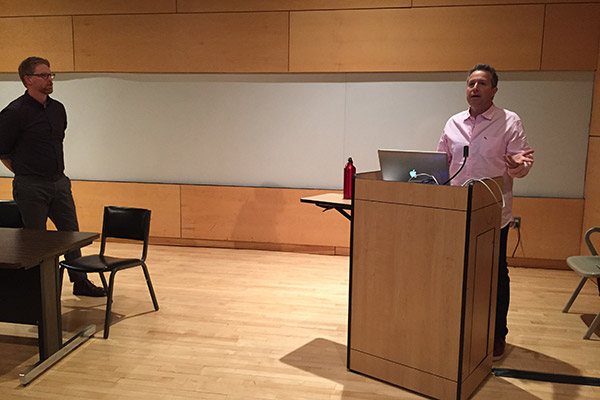 The professional edge
In addition to providing financial support, Lawrence and Greenberg are also committed to sharing their professional experience with PMA students. They visited the department in spring 2016, speaking with students about building careers in the performing and media arts.
"It's a way of opening up students' minds to the realities and wonderful mess out there in the artistic world," said Lawrence, whose score and song credits include the American Pie films and the HBO documentary Becoming Mike Nichols.
He and Greenberg—whose songs can be heard on the Disney Channel, MTV, and Sesame Street, as well as in several family musicals like Judy Blume's Superfudge—plan to return in spring 2017 to lead formal workshops, bringing with them some professional collaborators—theater writers, musicians, and others—to share practical insight into building careers in the arts.
"We have the ability to connect with our friends who are part of music and theater and entertainment," said Greenberg. "We'd love to use that as a resource to help the performing and media arts department."