Ithaca is a special place. This fact is much appreciated by Cornell alumni, who consistently cite the natural beauty of campus, town, and Finger Lakes region as a top reason for coming back.
And the word is out among non-Cornellians, too. USA Today named the Finger Lakes best wine region in the US for 2018. Visit Ithaca, part of the Tompkins County Chamber of Commerce, assisted more than 78,000 visitors from all 50 states and 33 countries last year. Ithaca has more restaurants per capita than New York City, and area farms—another local strength—are contributing more and more not just to Ithaca's culinary scene, but to the region's tourism presence, as well.
Cornell programs and alumni play an integral part in making the Finger Lakes a popular place to visit and had an influential presence at Ithaca's first Agriculinary Tourism Conference in March.
"Cornell is constantly elevating the agriculture and culinary arts of this area to make it a destination people know about, people want to visit, and most importantly, where people want to eat.
—Kendall Blizzard, Agriculinary Tourism Coordinator with Visit Ithaca
Cooperative Extension of Tompkins County was a co-sponsor, along with Visit Ithaca. Cornell alumni appeared on every one of the break-out session panels, and Cornellian couple Mindy Vizcarra '79 and Oscar Vizcarra '79, owners of Becker Farms and Vizcarra Vineyards, delivered the keynote.
"Cornell has expedited the creativity and innovation in the agriculture industry, not only in this region but across the world," says Kendall Blizzard, Agriculinary Tourism Coordinator with Visit Ithaca. "Cornell is constantly elevating the agriculture and culinary arts of this area to make it a destination people know about, people want to visit, and most importantly, where people want to eat."
Natural beauty, agricultural bounty, and artful, progressive cuisine are drawing lots of visitors—including Cornellians and newcomers—to Ithaca and the Finger Lakes for rich experiences. Meet some Cornell alumni at the heart of the movement.
Farm to kitchen matchmaking: Heather Sanford
The Piggery, a whole-animal butcher owned by Heather Sanford MPA '07, sold 41 pigs its first year of operation. Ten years later, it sells almost that many—35—pigs a week, doing a robust business at the storefront on Ithaca's west side and to steady relationships with several local chefs.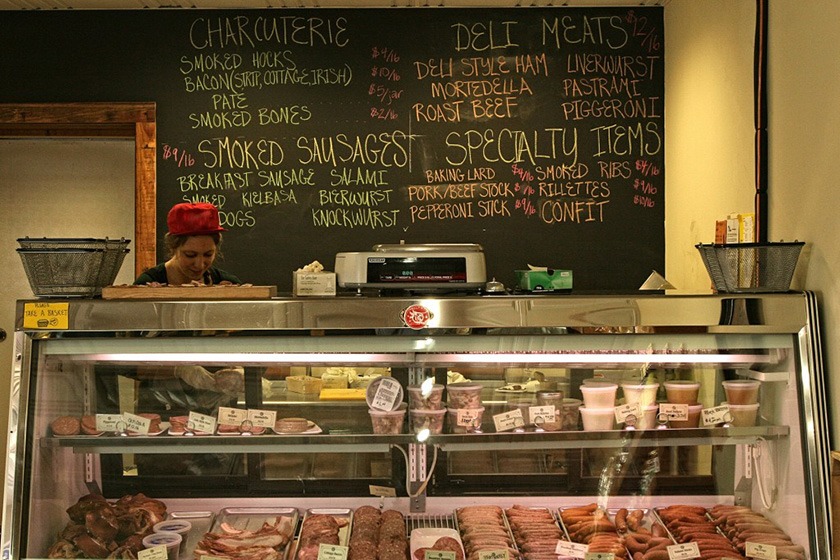 The Piggery's pigs are raised on the business's own farm in Trumansburg, just up Cayuga Lake. Sanford and her staff work hard to supply meat products to area restaurants.
"We are determined to make the scale work," Sanford said at the Ithaca Agriculinary Tourism Conference. Local producers and restaurants work closely, she said—it's a matter of matchmaking agricultural products to creative chefs, such as Frank Purrazzi, chef at Serendipity Catering in Ithaca.
"Keep showing up!" he said to Sanford and other producers on the panel. He and his kitchen staff are inspired when they tour local farms, and when farmers show up to the kitchen back door with new offerings of produce or meat.
Sanford and her crew celebrated ten years in business by throwing a party on May 15 at Stick and Stone Farm in Ithaca.
The seeds of delicious cuisine: Michael Mazourek
Plant breeder Michael Mazourek PhD '08, associate professor in the School of Integrative Plant Science in the College of Agriculture and Life Science, uses his expertise to improve the health and taste of specific vegetables and fruits.
About seven years ago, chef Dan Barber challenged Mazourek to create a better butternut squash. Mazourek had never been asked to breed for flavor, but the experiment turned out well. The success inspired him and Barber, together with seedsman Matthew Goldfarb, to start Row 7 Seed Company, which is based on collaboration between plant breeders and chefs.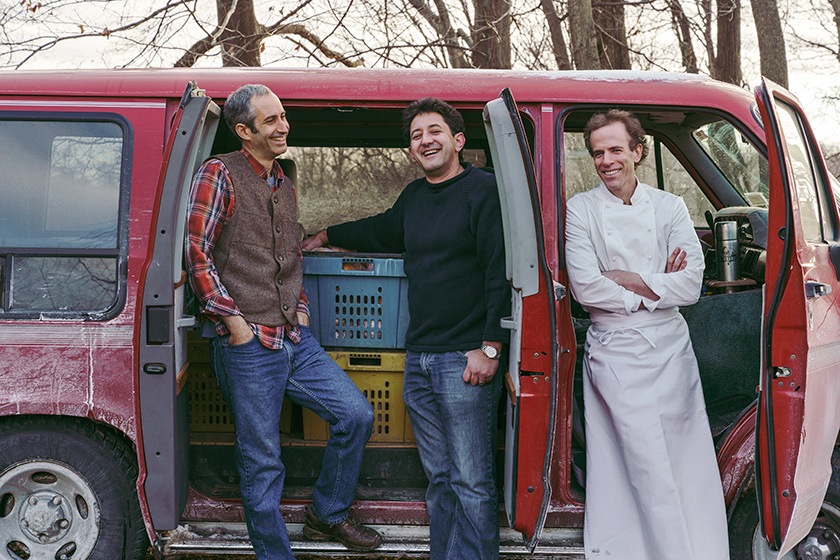 Mazourek's vegetable varieties—which include the Badger Flame Beet, the Habanada Pepper, and the Upstate Abundance Potato—appear on the tables of fine restaurants all over the world, including Noma in Copenhagen and Wolfgang Puck restaurants in China, Turkey, and Bahrain. And Row 7 creations appear near Ithaca, too, at Hazelnut Kitchen in Trumansburg. Row 7 Seed Company partners with dozens of farms across the US, including Plowbreak Farm in Hector.
"It's been great for me to have the opportunity to bring some of this home to my roots with collaborations with Hazelnut, Plowbreak, and other great farms in the area," says Mazourek.
Destination celebrations: Kinship & Company
Rachel Conroy '09, owner of Kinship & Company, helps people celebrate life milestones. For many of her clients, this means planning a wedding in the beautiful setting of Ithaca and the Finger Lakes.
"Most of my wedding clients don't live in the Finger Lakes," says Conroy. About a quarter of them come back for the big day because they are alumni of Cornell or Ithaca College. About half have roots and family here.
"The rest have chosen the Finger Lakes for a destination wedding," she says.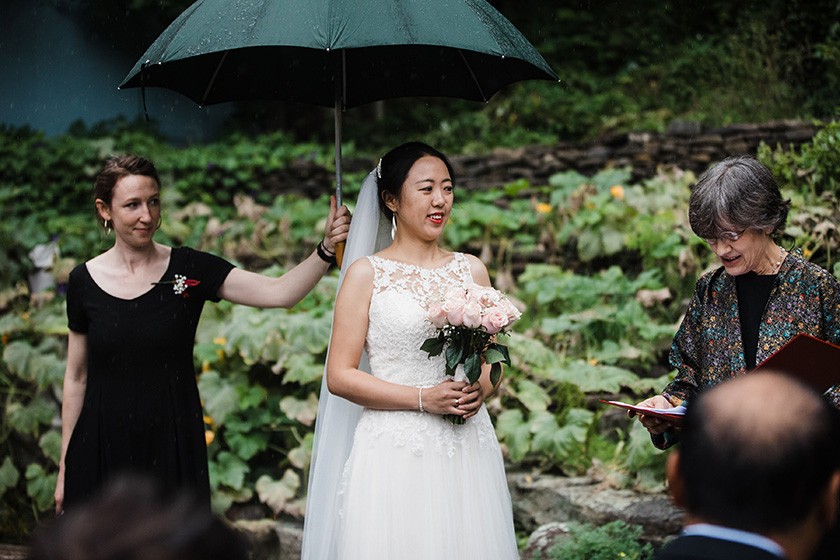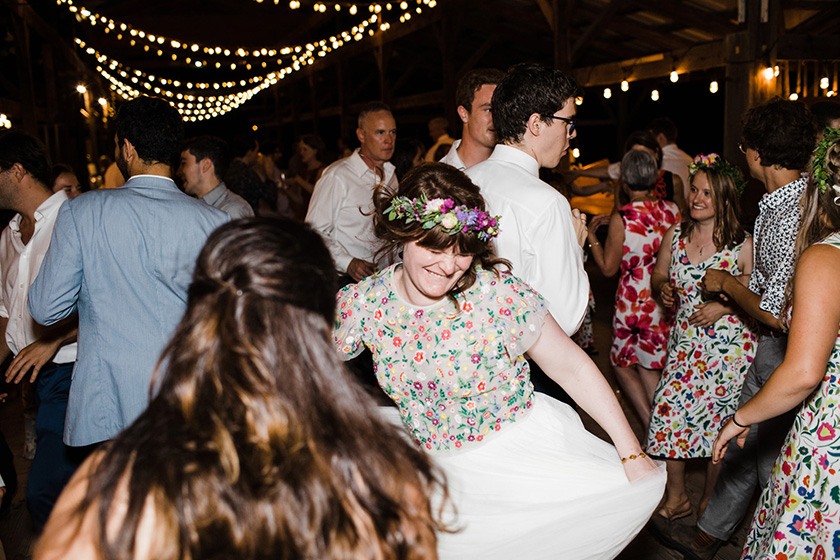 In addition to weddings, Kinship & Company also helps clients plan for a range of life transitions, including anniversaries and new family support.
Conroy brings local chefs and products from local farms to the menus of her events. And in 2018, she started Sweet Bough Wedding Collective with wedding photographer Allison Usavage. More than 90 wedding vendors of all types are listed in the collective's online directory, promoting collaboration instead of competition.
"Ithaca does have a uniquely collaborative environment," she says. "My business would not have been possible without support from others in town."
Conroy graduated with a degree in plant science from Cornell's College of Agriculture and Life Sciences. Although her career has deviated from that path, Cornell helped her gain confidence and learn how to take control of her education and experience: "Those skills have served me well as an entrepreneur," she says.
'Make it feel like their own farm': Becker Farms and Vizcarra Vineyard
Mindy Vizcarra '79 grew up on a farm, but her husband, Oscar Vizcarra '79, emigrated from Peru at 16 to seek his fortune in New York.
"He grew up in the city, so he knows what city people want," says Mindy Vizcarra.
And what people want, the Vizcarras have learned by listening to visitors to Becker Farms—the very land where Mindy grew up—is to experience wide open spaces.
"For somebody who lives in the city, that's a big deal, to just be outside, to see apples growing on trees," she says, "to make it feel like their own farm."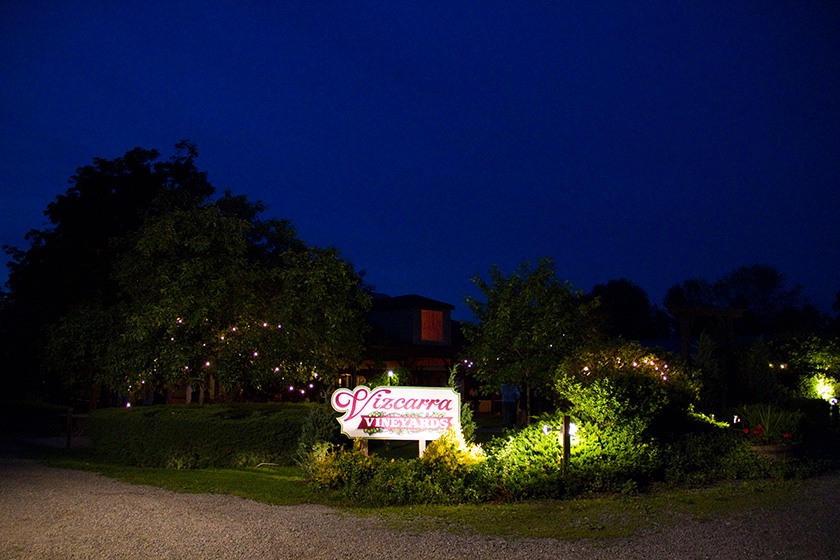 For 40 years, the Vizcarras have welcomed visitors to Becker Farms and Vizcarra Vineyards for a variety of activities. At first, it was apple and strawberry picking right on the farm. Then in 2004, they opened a winery, eventually planting seven acres of their own grapes. When their daughter got married on the farm, a guest asked if they could hold their own daughter's wedding there—and a new business was born.
"We did four weddings the first year, then nine, then 12," says Vizcarra. Her daughter oversees the weddings—which soon increased to 100 per season—and catering. A brewery followed in 2009, overseen by their son, who took winemaking courses at Cornell. Their other son now oversees the Becker Farms community supported agriculture.
Multi-faceted Becker Farms now offers agriculinary tourism at full volume. The Vizcarras combine land, agriculture, and cuisine into unforgettable experiences from weddings to a morning of yoga in the orchard.
"They come out for an afternoon and feel like they're a farmer," says Mindy.